Nikki was in deep thoughts of puzzlement - why was he angry? Why did he act as though she owed him an apology? Nikki can't deny the inevitable attraction between them survived both with passage of time and tangled web of emotional distaste and distrust, to reappear, unbidden and terrifying situation. She kicked herself mentally of still giving him so much importance in her life, she has to think about herself. Would she able to maintain the iced difference she had diligently displayed for his benefit to maintain the distance? Would she able to fight the subtle seductiveness which was the hallmark of his manner? She would never be his mistress ' which she vowed five year ago and to that pledge she would remain steadfast. She never doubted that his intention had ever been, as she accused but disturb by her own act of surrender herself to him willingly. Her own conflicting thoughts are making her uneasy and uncomfortable to judge the whole circumstances happening around her. Finally the night darkness cast its heavy shroud about the woods and sleep overtook her.
After that encounter with him, he never tried to come near and talk to her but simply avoid her existence to acknowledge which was good in return for Nikki but why it still bothering her. She find him busy in himself, chatting with other beautiful staffs girls who is in their sweet teens age who kept him captivated in their musings. She always wanted him to maintain the distance from her but now when it happening she not sure that actually wanted it. That's what she hates most about herself whenever he is around her, all her senses stop working properly. She had to stop one of her part working either heart or mind otherwise she gone mad completely as both making her life miserable if not other. She have to better keep her busy in work so all that nonsense thoughts stop pestering her and let her live her life in peace. Several times during breakfast and meal, she looked up to find his gaze darting from her as though he didn't wish to meet her gaze.
Avoidance was the operative mode she had decided, presumably he had the made the same decision. She went out her way to avoid confronting him just as he made no further move to approach her. Her photography classes had begun as she had expected, the girls were eager and quick to follow her teachings. Nikki herself was having a wonderful time photography not only the wide range of camp activities but also the many natural settings and scenic offerings before her. Nikki rose very early one morning and hustled into jeans and a heavy sweater to ward off the chilling morning. She made sure to capture the sun as its cast the first pale yellow rays on the hills beyond lake. Standing on the dock, waiting for sunrise her eyes capture the dull shadow approaching very fast to her.
To her dismay, it was Abhimanyu clad in sweat shirt and sweat pants indeed sweating profusely from exertion which she evidently disturbed. She would have to like to photograph him thus, though she knew that it would have been a very private picture and she never had his picture that still have the power to make her hell out nervous like teenager. His looking breathtakingly handsome even perspiration had moistened his skin into a healthy shine. The rise and fall of his broad chest as his panting gave away to deeper breathing fascinated her. She knew that she was staring again, yet she could do anything to stop herself. He firmly told her "You are staring" that force Nikki to divert her attention to other side and composed herself of his demeanour. For that matter he was staring too and he again broke the silence with his velvet voice, edge with steel "you are intruding on my terrain".
Nikki open her mouth to object, closing it again as a glint of amusement filtered through the hard gray of his eyes and betray his humorous intent. Trying not to betray her own, she also joined the game "I'm sorry," she insisted firmly but sweetly, "But this my terrain. You stay on the shore, I'll stay here and we'll both do fine". He approached very near to her with firm face without unlocking his eyes with her that left Nikki with no choice other than to swollen the lump and step back from his path. With an easy grin and faint nod, he resumed his jog pacing his steps evenly, moving with the grace of an animal and ease of athlete. She indulged herself in following his form as he progressed along shore, steadily tracing the water's curve as he put distance between them.
Suddenly infuriated with herself, she twirled and stomped off the dock, heading back to her cabin to deposit her equipment and leave again for main lodge before Abhimanyu would himself return on this, the only path to the apartments. Unfortunately her timing off, she had hardly made it halfway down from her cabin when he appeared, walking now, head down and apparently deep in thoughts. She stopped to watch him neared, then he raised head to notice her in front of him. He smoothly and politely inquired "Did you get the pictures you wanted?" while noticing the camera hanging around her neck. The truth is, she hadn't gotten the pictures she wanted but to even greater distress that she hadn't realized it until he mention this very instant. She wondered what had gotten into her mind? Where had that off times treacherous mind been? How she forgot the purpose of early wake up and reached on the top of dock before sunrise?
His gaze narrows to her, demanding an answer. Awkwardly she cleared her throat as she sought the plausible answer "Ah'..no, I didn't. The light changed too quickly. I missed the moment." He apologize like outright mockery "I am sorry" which was two-sided as she was sure that he intended. One was expression of sympathy that she missed her moment and other sardonic note that he fully understands why she missed her moment and that he revelled in his victory. Setting her chin firmly, Nikita sought to regain some measure of dignity "It wasn't better scene in anyway" in hope to cover herself sufficiently. She moved toward her apartment, rationalized it could have been a beautiful scene, had not Abhi been jogging through it. He probably cover the same route regularly, she concluded that there would be no cause for her to even consider trying for another morning's sunrise from that spot.
She curled up in chair by the huge fireplace in the lounge, a cup of hot coffee removing the last traces of chill from her fingertips. Abhimanyu entered the main lounge a while later after having shaved and showered. He was one of the most attentions pulling where numerous head turns to greet him as he passed through the room and headed for stairs. Nikki kept her eyes glued to the fireplace, was keenly aware of his gaze as it touched her. He moved to leave but turned back and approach near her "If you don't mind, can I sit here?" Nikki uninterestingly answered "I don't owe this place. You can sit anywhere you want". Abhi took a seat by gritting his teeth, leaned closed to her by holding coffee in his hand which resting on his thigh "Look Nikki, I know it's difficult for both of us to face each other after so long especially what had happened between us". His words uncomfortable her and moved in her seat to move out little far, as this very topic she never wanted to discuss. He emphasised "See its better if we move on without keeping grudges against each other than it'll be easy for us to live here". Nikki thought how casually he said word grudges as if she had done anything wrong against him, how smartly he put his word of move on in life like he did.
Nikki never shows her weaker point to him and immediately agreed with smile "You are right. There is now point of dragging of something which has no significance in our life. I am glad you come with this solution, it'll surely help both of us to live peacefully here". She put the coffee mug down, got up from her chair, formally said "I have some work, Good bye" and left the lodge, heading toward photo shed where she could bury herself quiet successfully in work.
It was mere two days after that lodge meeting, she finished up her work at the photo shed that particular afternoon and was returning for wash up before supper, when a group of children, easily recognized as seven or eight of youngster campers, emerged from between the tennis courts to pebble road ahead of her. The children engrossed in game, judging from laughs, shouts and chorus of their number such that her own presence is unknown. Abhi walked in. his longs strides shortened to synchronize with the peanut-sized girls, each held by an enthusiastic campers. What froze Nikki in her tracks, however was the sight of another child grasped the hand tightly of their broad, strong shoulder of their adored tennis counsellor Abhimanyu. It's none other than Alya walking, her pigtails bobbing with his each step along with her.
An involuntary shiver coursed through Nikita's body as she watched, she finally turned her back and crumbled onto the large road by the road side. A sense of unease had been born which Nikita could not shake. Nikita had seen the child frequently, though only for brief moments and had not pursued of her daily activities. It had to have been the coincidence, she repeated to herself, pure coincidence. During Nikki's dilemma, she heard his laughter, hearty and instantly identifiable amid giggles of his companion. She turned of nagging curiosity, from where she can observe the merry group of girls. Her pulse skittered alarmingly as she saw, the girls grouped in happy play around Abhi, again Alya in the circle, taps blind-fold Abhi where her hand reached and run away. He clutched her hand next time, twirled her around to pulled her up by his one arm and removed his blind-fold with other. He flies her in air with his both hands and made her sit on his laps. His arms was wrapped protectively about her waist and one small hand was clasped around his neck.
As she watched, Nikki's eyes filled with tears, touched by the innocence of father-daughter scene, she had never thought she would ever see, terrified by its implication. For whatever reason, be it destined or accidental, the two seemed two have developed a special bond relationship. She went to Ms. Desai, to sought out in hopes that she would inadvertently to throw some light on the situation. "What activities she does seem to enjoy the most?" Nikita probed indirectly, hold her breathe. Ms. Desai responded readily and with a grin "She really good in the water sports and on the courts, so she favour those. But she takes interest in boating and ceramic also. Must be that inherited artistic bent." She laughed enviously. Nikita return a forced smile pursued the issue "Has she made any close relationship? Made any real good friends?" This time Ms. Desai look more thoughtful "She's grown very close to several of her bunkmates, particular little Pia. And'." She paused throwing Nikita a mischievous glance ' "well, she seems to have remarkable taste in men. She and Abhimanyu Modi are fond of each other. They both have a jolly time with each other and seek each other company".
How Nikita managed to wrap up this discussion, she couldn't even remember. The worst of her worries had been confirmed. What was she to do now? Sooner or later he would know that Alya was her daughter. What then? Bidden by a morbid obsession which she rationalized as maternal curiosity, Nikita found herself draw the following day to the tennis court at the precise time when Alya group was in the middle of lesson. She had herself come for photographing the camp activities and returned to her cabin by the route which she bypassed without anyone knew. She scanned court for Alya whom she easily spotted, immediately saw Abhi working with a group of three girl that included her daughter. Abhi had moved behind Alya and was leaning over her to guide her arms and body through forehand swing, then backhand, pointing to her stance and talking steadily and reassuringly by her ear. Although her camera hung about her neck just waiting to be used, Nikita was oblivious to it, so riveted was she to be unfolding scene.
Yesterday however she had been able to escape without being seen. Today, she was lost as Abhi straightened and then caught her eyes. If she had hoped he would continue with children and let her watch in her own misery, she was mistaken. With a word of direction to the girl assisting him, he headed straight for the spot where she stood far from tennis court. He challenged casually "I wondered when you were going to grace us with your presence", his slate gray eyes greeting her in his most charming way. He informed her "you chose an excellent time to appear." Now he was all tennis pro, almost indifferent to her as he turned sideways to see how the group was progressing. "This age is usually more fun than results. These girls are now really capable of handling the racquet properly. But we have one little star'''.the one over there with the long pigtails." The description had been unnecessary, Nikita knew to whom he referred. "She is natural, look at her". His voice had lowered to a blend of bridled excitement and unbridled admiration as he paused to watch Alya skilfully return backhand shot, Nikita glanced up in shock at the look of pure pride which lit his face. If only he knew''''.
When he went on, his voice silky smooth through entirely nonsensual, there was added warmth in his tone "Alya seemed to have an inborn talent for the sport. She has all the right moves, the right instincts." Again he paused to watch, now mercifully, for Nikita desperately needed a moment to recover from the jolt of hearing the sound of her daughter's name on this man's tongue, spoken so innocently yet so proudly. Abhimanyu was right; she was a natural, having inherited this superior physical coordination from her father. He turned to Nikita, who had not budged throughout demonstration and asked directly "What do you think?" Nikita admiringly looking toward her daughter smilingly said "you are right. She is great. She will give you run out for your money in another few years, Abhi. After all she is'" and short back in her words realizing of revealing the truth by herself.
Sudden thud voice from the courts interrupts them; turn their attention toward ground where Alya was slipped having her face on the ground. Nikita ran toward ground after leaving her camera behind, Abhi also followed her with haste steps to reach the ground soon. Nikita immediately bowed down to pick her daughter up and asked with teary eyes "Alya baby, are you alright? Where you hurt yourself?" For the instant Abhimanyu was forgotten, She started searching her body for bruises but Alya sweetly replied "I am alright. I am brave girl and you know that". "How'd I do?" the flushed up face turned up to ask her mother, observed her daughter who still so engrossed in game that forgotten to slipped few seconds before. Nikita beamed with a combination of pride and happiness, reached out gentle hand to ease the wayward strands from her daughter's face, smoothing them lovingly over the brown mane "Just great, Alya! You were super. You really improved huh."
The child squealed in delight "Really", Nikita nodded her head and pulled her in big hug and watched her friends waving at her. She lowered her voice to a conspiratorial whisper audible "but if you don't get back there now, the others will think you're two big for your britches!" Mother and daughter laughed. Then Alay looked up questioningly at Abhimanyu and Nikita grew aware of him once more. Nikita's colour drains out from her face of his very presence on this close moment with her daughter. The puzzled look on his face gave way to rueful smile "yup" confirmed gently "Back to work! How about trying the ball-boy?" he asked, knowing full well what the response would be. "Could I?" Alya shrieked, beside herself in excitement. At his node of confirmation, she unknowingly took her hand out of Nikita's hand and moved to play this new game. She turned after a while, impulsively threw her arms around her mother's neck, instinctively Nikita returned her hug and get pack on her cheek from her daughter before she moved to leave. "I love you Mommy. I'll see you later" she cried than gone after waving, leaving in her wake two adults, one smugly satisfied through laced with growing trepidation, other clearly and thoroughly baffled.
As Nikita turned to make timely escape, Abhi spoke "Mommy?" Incredulity marked both his voice and his face. Nikita wonders that she can't distance herself from her daughter in order to hide the truth from this vary man. Hiding the truth from him, somewhere taken her far from her daughter as well of being caught with her but now she don't care if he comes to know about the truth, as fact remain same that he don't get place in their life. "Isn't that what children often call their mother?" she retorted softly. "Their mothers ? Alya''.is your daughter?" Nikita could have been totally different person from the one who had the moments before walked down the court from the way in which he stared at her. Under the circumstances, she saw no point in waffling "Yes, Abhi. Alya is my daughter". "Your daughter?" for a brief instant, she thought she detected the a note of hurt in the deep timbre of his voice and the fogged gray of his eyes. Determined to make her escape before he regained his composure, she lowered her voice and tossed her head in Alya's direction "I think she is waiting for you." His gaze shifted to the child, back to mother, then again to the child in an attempt to assimilate what he'd been told. With that, she turned on heel and made her way off, through the door and on up the hill toward the grove.
Nikita was surrounded by all kind of questions, analysis and prediction as what would happen now? What would he do? What would he say? At worst the revelation could trigger a renewal of the anger, violent anger of which he had already given her taste. What if he did come to suspect that Alya was his child? There were her age, her looks, her ability'''all coincidence? Close call? Would he believe that? Wringing her hand nervously as she paced the floor of his cabin, Nikita find herself drenched in sweat, perhaps from the warmth of the day and the unusually still air, more likely from her own nerves. On an impulse she changed to knee length terrycloth robe, gathered together soap, shampoo and a towel, headed for the shower room in her cabin in hopes of refreshing herself, body and mind. The warm spray gently coaxed her tension filled body into a mood of truce, then relaxation, and as shampoo joined the soapy water rushing toward the drain, she began to feel revived and able to think more clearly.
Reluctantly she turned off the shower, towelling the water from her hair and shrugged into her robe, wrapped her clothes and stepped out from bathroom. As she raised eyes, she cried aloud, a brief but startled shriek, an involuntary reaction to the sight that confronted her. There he stood, closing the door of her cabin, turned and leaning against the front screen door, one hand on his hip, one on the door knob, his feet planted firmly on the wooden floor. He was still wearing his tennis whites and had obviously, taking breaks from his session, just come from the courts. His face baffled Nikita, a far cry of bewilderment and disbelief in which she had left him earlier and now his expression bore anger, hurt, frustration, meanness and jealousy ' each fighting for its own position of dominance among his rugged feature. The picture was frightened, Nikita sensed above all the danger which had quickly obliterated her temporary piece of mind. In her fright she had dropped the terry bundle with dull thud onto the floor. Now she clutched the lapel of her robe, drawing them closer about her as she kept her eyes glued to him.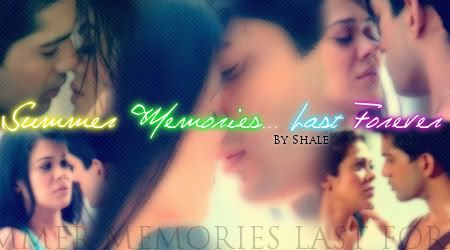 Note: Sorry for delay as preoccupied with lots of work