Posted:

15 January 2011 at 2:40am

| IP Logged

Story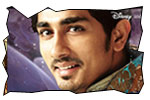 Irendri (Lakshmi Manchu) is a witch who takes over the world from her place - Angarajyam. Moksha (Baby Harshita) is a small girl who has special divine powers. Yodha (Siddharth) is a blind warrior. Irendri wants to kill Moksha and Yodha is entrusted with the job of gaurding Moksha. The rest of the story is all about how Moksha gets rid of Irendri with the help of Yodha. There is also a love story for Yodha.
Artists Performance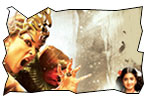 It is virtually impossible for any young hero in Telugu cinema to accept a blind man's role. Siddharth is very brave to brace this character that flows with the narration of the movie. Siddharth is fabulous. Shruti Hassan is glamorous with her exotic looks. However, it is Lakshmi Manchu who steals the show. Her make-up, dialogue delivery and screen presence is terrific. Baby Harshita is impressive with her work. Ravi Babu is nice as the lieutenant of witch with the funny oneliner 'nimma daanimma'. Brahmanandam and Ali have a few funny scenes.
Technical departments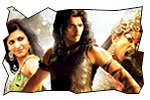 Story - screenplay - direction: Story of the film is like Chandamama katha (fairy tale). The director didn't succumb to the commercial trap and narrated it in a way it should be. Prakash Kovelamudi is excellent with visuals and presentation. He is highly imaginative. He introduced all the characters excellently. However, the movie has only one orientation throughout the movie - witch seeking the kid. A couple of secrets revealed in the second half are interesting. But, he couldn't get the emotions strong enough on the screen to rise the tempo.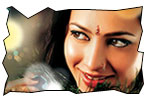 Other departments: Songs are composed by 4 different music directors and all the songs are good. Background music composed by Salim Sulaiman is excellent. Visuals in this movie are of extraordinary quality. It is the result of collective team work by the cinematographer (Sounder Rajan) and visual effects team (Firefly). There are many visual effects that doesn't appear like effects to naked eyes. There are graphics worth 72 minutes in this movie (half of the total runtime). Art direction by Bhupesh Bhupathi is superb. The costumes, make-up and get-ups are of top-notch. Dialogues by T Rajasimha are pretty good and they might sound odd for the regular moviegoers because the dialogues were written in pristine Telugu though he used contemporary cheap words like jaffa. Production values of the movie are humongous. Disney has made sure that their first Indian production is at par with their Hollywood projects in terms of technical and production values.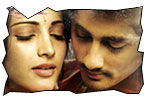 Analysis: When was the last time we have the hero playing the role of a blind man? When was the last time a Telugu movie had a young woman as a villain? Anaganaga O Dheerudu is a brave attempt that defies many stereotypes and cliches of Telugu cinema. But at the same time, it is extremely important for any director to get the emotions flared up at the crux moments. Prakash Kovelamudi who stuck with the script made sure that the story is narrated like a fairy tale, but he couldn't get the right emotions/tempo (suspense or utkantha) towards the climax of the movie. The plus points of the movie are extraordinary visuals, lead performances (especially Lakshmi Manchu) and classic style of story-telling. The negative point of the movie is the lack of emotional depth/connect. On a whole, Anaganaga O Dheerudu is a universal movie that aims at kids in the family and the kid inside you.
Rating 3.25/5
Source: Idle Brain
Film: ANAGANAGA O DHEERUDU
Rating: 2.75/5
Banners: Walt Disney & A Bellyful Of Dreams Entertainment
Cast: Siddarth, Shruti Haasan, Manchu Lakshmi, Vallabhaneni Ram, Baby Harshitha, Ravi Babu, Tanikella, Ali, Brahmi, Subbaraya Sharma etc
Music: Keeravani, Koti, Mickey J Meyer, Salim- Sulaiman
Cinematographer: Soundarrajan
Director: Prakash Kovelamudi
Producers: Devineni Prasad, K Raghavendra Rao
Release Date: January 14, 2011

Story:

A stale tale, the story is set on a fictitious backdrop and here is a serpent witch Irendri (Lakshmi manchu) who wants to overcome death and become immortal. That is only possible if she can sacrifice a small girl Moksha (baby harshitha) who has a divine blessing in her. However, Moksha is protected by Yodha (siddarth), a blind warrior who is her bodyguard. A situation comes when Yodha has to take Moksha to a place to save the lives of few children. Meanwhile, Yodha is in love with Priya (shruthi) who is not to be seen. Now, Irendri is after Moksha so whether Yodha is successful in protecting her or not forms the rest of the story.
Presentation:
The director has come up with a routine storyline and while the presentation was grand, the narrative was terrible. The dialogues were stale, the script was weak and the screenplay was horrendous. Background score was just average but songs and their picturization are the highlight. Cinematography is the minus point for the film. Editing was sharp at the required places. Costumes were mismatch and failed to impress while the art department was outstanding. Siddarth has not fitted the role that well but he puts in his best. Shruti Haasan looks hot and beautiful, nothing much for her in terms of performance. Manchu Lakshmi was the better one and she had depth in her character. Baby Harshitha was alright, Ravi Babu was bad, Ali was better, Brahmi was silly, Subbaraya Sharma was decent, Ram Vallabhaneni was not required, the others didn't have much to offer.
Conclusion:
The film came in with a lot of hype and it failed to meet the expectations. The first half was dull and didn't have energy while the second half gets a little better. Overall, the main defect in the film was its direction and weak narrative without proper grip. The pace of the film was quite mild and sometimes it looked irrational. The only reason it deserves few points is for some exceptional graphics and mind blowing visuals in few scenes. Technically, the film deserves a lot of credit but content and execution is pathetic. At the box office, it is hard to survive.
Bharatstudent Verdict:
Bad!!


Edited by Kavya.... - 15 January 2011 at 2:42am