MIRAPAKAYA MOVIE REVIEW (TELUGU)


Film: MIRAPAKAYA
Rating: 3/5
Banner: Yellow Flowers
Cast: Ravi Teja, Richa Gangopadhyay, Deeksha Seth, Prakashraj, Kota, Ajay, Supreeth, Sunil, Brahmaji, Ravu Ramesh, Ali, Naga Babu, Chandramohan, Surekha Vani, Dharmavarapu, Sudha
Music: Thaman
Cinematography: Ramprasad
Director: Harish Shankar
Producer: Ramesh Puppala
Release Date: January 13, 2011

Story:

A fast moving tale, the story begins with Rishi (Ravi teja) who is a smart and tough intelligence officer but he likes to flirt with girls and wants to experience the emotion of love. He is sent to Hyderabad on a mission and is told to take up the post of a lecturer in a college. Here he sees Vinamra (richa) and it is love at first sight for him. Even Vinamra also likes him. But trouble comes in the form of Vaishali (deeksha) a new student. Rishi's mission is to get close to Vaishali. What is that mission and whether Rishi succeeds or not forms the rest of the story.
Presentation:
The director has come up with a routine storyline and while the presentation was nice, the narrative was decent. The dialogues were good, the script was tight and the screenplay got better. Background score was very nice and songs are the highlight. Cinematography is the plus point for the film. Editing was sharp at the required places. Costumes were mismatch and failed to impress while the art department was very good. Ravi Teja as usual steals the show with his punch dialogues, witty lines, high energy levels and body language. Richa looks good and she suits the role of the Brahmin girl. Deeksha has a contrasting appeal and she looks sizzling hot. Prakashraj was brief, Kota was excellent, Supreeth was usual, Ravu Ramesh was regular. Sunil, Ali, Praveen, Brahmaji gave few light moments. The others did their bit as required.
Conclusion:
The film is basically a commercial entertainer and it followed the formula rightly. As such, the story doesn't really take off in the first half, it is all the lighter elements like the romance, songs, fights, comedy. The real story begins during the second half and breezes of. Though the climax part was weak, overall the film runs high on technical values and the pace also helps providing good entertainment. At the box office, this has a strong chance of becoming a commercial success.
Bharatstudent Verdict:
Regular masala, can be watched once
-------- Bharat Student!
Jeevi rating: 3/5
Punchline: Undercover cop story
Genre: Action/Romance
Type: Straight
Banner: Yellow Flowers
Cast: Ravi Teja, Richa Gangopadhyay, Deeksha Seth, Prakash Raj, Kota Srinivasa Rao, Ajay, Sunil, Rao Ramesh, Supreet, Giri, Ali, Chandra Mohan, Sudha, Raja Ravindra, Naga Babu, Brahmaji, Sanjay Swaroop and Swati (SA)
Music: Thaman
Cinematography: C Ram Prasad
Editing: Gowtam Raju
Fights: Ram - Lakshman
Story - screenplay - dialogues - direction: Harish Shankar
Producer: Ramesh Puppala
Release date: 13 January 2011
Theater watched: Screen 3, Prasads, Hyderabad
Review
Story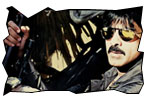 Rishi (Ravi Teja) is a cop working at a special intelligence cell in Delhi. Kittu Bhai (Prakash Raj) is an international mafia kingpin operating from Bangkok. Rishi goes to Hyderabad and joins a college as a lecturer. He takes the under-cover job of lecturer to trap Kittu Bhai through Shankar Anna (Kota) - his channel in Hyderabad. He falls in love with a traditional Brahmin girl Vinamra (Richa Gangopadhay). The rest of the story is all about his triangular love story with Vaishali (Deeksha Seth) and how he brings Kittu Bhai to book.
Artists Performance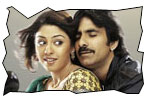 Ravi Teja made sure that his brand comedy and entertainment is intact. He is highly energetic in dances (especially the first song and the last song). Richa Gangopadhyay is fine as a traditional Brahmin girl. Deeksha Seth is okay as a haughty girl. Swati gave a special appearance. Prakash Raj's screen-time in the movie is more like that of a guest artist though he is the main villain. Kota Srinivasa Rao is impressive. One doesn't understand what Sunil is doing in this movie and he is cliched.
Technical departments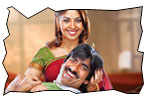 Story - screenplay - direction: Story of the movie is cliched as we have seen loads of movies of cop working under-cover in Telugu since Pokiri. One good thing the director has done is to reveal the cop part of it in the beginning of the film in-stead of showing it as a twist in the end. The director's ability cannot be judged when one directs the movie of Ravi Teja. Ravi Teja takes over the baton with his entertainment quotient and gives story/screenplay a backseat. This movie is no exception. Direction is okay in parts.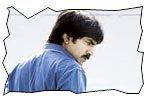 Other departments: Music director Thaman came up with populist tunes in the movie. The songs are good though they are loud at times. Background music is good. Cinematography is average. Dialogues are nice at times. Editing is okay. Fights are neat.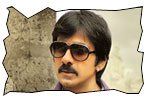 Analysis: The major story of the movie is revealed in the first 15 minutes and the culmination takes place in the last 15 minutes. The rest of two hours is dedicated to the love angle and entertainment. The screenplay that takes place during this 2-hour period is not properly done. It is a proven fact that Ravi Teja's movies have scant respect for story and screenplay and majorly depend on the entertainment aspect. The entertainment is interesting in parts. We have to wait and see how Mirapakai is lapped up by the crowds.
----------Jeevi (Idlebrain.com)
Rishi (Raviteja) is an inspector in Intelligence Bureau. The chief of the IB Narayana Murthy (Nagababu) gets information that Kittu Bhai (Prakash Raj), a mafia don, is trying to spread his tentacles in India and is targeting Delhi first. In the process, he gets killed the ACP (Sanjay Swaroop) with the help of Shankaranna (Kota Srinivasa Rao), a local goon. Shankaranna's son (Supreet) finishes the operation in Delhi. Rishi, though a shrewd and sincere police officer, flirts with girls and romances with them at every opportune time. Though Rishi an orphan, the IB chief brings him up and gives him the job in police department. But Rishi complains that his life was wasted by getting police training and remaining in police barracks and he could not enjoy like all the other youths of his generation. The IB chief sends Rishi to Hyderabad and gets him admitted to a college as a Hindi lecturer as part of an operation. Rishi, who meets Vinamra (Richa Gangopadhyay) at a temple, falls in love at first sight. Learning that Vinamra doesn't trust love at first sight, he warns her not to appear before him again as it would be his second or third sight and he can't stop loving her. Incidentally, Vinamra studies in the same college and in the same class to which Rishi teaches Hindi. Their love blossoms and both lose hearts to each other. At this juncture, Vaishali (Deeksha Seth) daughter of Kittu Bhai joins the same college and Vaishali and Rishi quarrel with each other on their first encounter. Now the IB chief tells Rishi to somehow trap Vaishali and get information about her father. As part of his profession, Rishi traps Vaishali and make her to fall in love with him.
Meanwhile, Rishi learns that the IB commissioner died in the hands of Shankaranna's son and kills him in a planned manner. He also eliminates Shankaranna and his gang too. Vaishali's brother (Ajay) reaches India to take back his sister, but Vaishali convinces him and invites Rishi to meet him. Rishi along with Vaishali and her brother go to Bangkok and meet Kittu Bhai. There Kittu Bhai reveals that Rishi is not a Hindi lecturer as was thought by Vaishali but a police officer. In the climax, Rishi kills Kittu Bhai's son and arrests Kittu Bhai with the help of Interpol police. The film ends with the IB chief revealing the truth and convinces Vinamra to marry Rishi.
PERFORMANCE:
Raviteja maintains the same energy levels and shouldered the entire burden of running the film from the word start to finish. As usual he maintained perfect comedy timing and showed excellent ease in action scenes. He also excelled in romancing with the heroines with equal ease. Richa Gangopadhyay, though portrayed the role of a Brahmin girl and daughter of a music teacher, looked glamorous in modern outfits in songs. Deeksha Seth filled the glamour slot and showed lots of oomph in the character. She is gorgeous and gave a chivalrous performance. Especially, her childish face with perfect body structure, gave a voluptuous feast to the mass audiences. Though Prakash Raj was the main villain of the film, he appears only in the beginning and climax scenes. Kota Srinivasa Rao is at his usual best, while Ajay and Supreet are okay in their roles. Brahmaji and Ali tried to tickle the funny bones of audiences, though Raviteja himself evoked lots of comedy. Chandramohan, Rao Ramesh, Nagababu, Sunil, Dharmaravaru Subrahmanyam did justice to their respective roles.
TECHNICAL:
The storyline is good and the narration is also perfect. The director did not deviate from the path at any given point of time and placed the songs at perfect intervals to give relief. Moreover, the gripping movement of the subject kept the audiences to stick to their seats without leaving the theatre for a break. Cinematography by Ramprasad is good while editing by Gauthamraju is adequate. There are no boring scenes in the film. Music by Thaman is extraordinary and almost all the songs have already became very popular soon after the audio release and the same tempo was maintained in visual scenes too. Re-recording could have been a little more better if he had concentrated further on this movie. Harish Shankar improved a lot in his directorial abilities and at the same time the screenplay was very gripping.
REMARKS:
Mass Raja Raviteja got an unofficial promotion as Mass Maharaja as per the titles of this film. The film appears to be on the lines of Raviteja's earlier hits like 'Anjaneyulu', 'Vikramarkudu' and 'Don Seenu' and the director took a novel way in its narration. Generally a film with action packed drama will have some romantic scenes in between. But in this film, the director starts the film giving an impression that it is an action film, but filled it with complete romantic scenes, and finished by garnishing the action drama in the climax. The audiences could enjoy the film in a festival mood and relax without cursing the hero or the director.
Cast:
Raviteja, Richa Gangopadhyay, Deeksha Seth, Prakash Raj, Kota, Ajay, Supreeth, Nagababu, Chandramohan, Sunil, Rao Ramesh, Brahmaji, Ali, Dharmavarapu Subrahmanyam, Raja Ravindra, Surekha Vani, Sudha and others
Credits:
Music – Thaman, Cinematography – Ramprasad, Editing – Goutham Raju, Producer – Ramesh Puppala, Story, screenplay, direction – Harish Shankar

Banner: Yellow Flowers
Released on: January 13, 2011

--------------
By Indyarocks.com



----------------------------------------

Well going by reviews movie seems to be good(better than PVC
..Raviteja has a sense of humour miixed with mass which drives audience to threater,,hoping for best


Good wishes..
Sri:-)