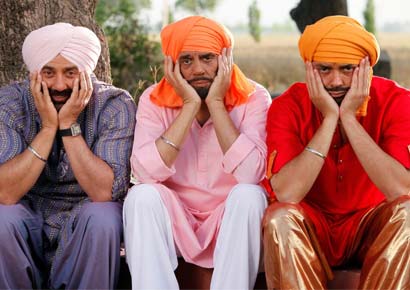 A still Yamla Pagla Deewana
Film: Yamla Pagla Deewana (U/A)
Director: Samir Karnik
Cast: Dharmendra, Sunny Deol, Bobby Deol, Kulraj Randhawa and Anupam Kher
Rating: **
Yamla Pagla Deewana (YPD) is K3G meets DDLJ meets that eternal classic, Baap Numbri Beta Dus Numbri.
As bizarre as that might seem, given the film's lead actors and the fact that you've quite possibly not seen the third film – it had Kader Khan and Shakti Kapoor in title roles, mind you – director Samir Karnik manages, rather attempts, the unlikely blend. Most of the time, he falters.
YPD leaves you confused. It's an effort to sit through the film till interval point, and it's intermittently entertaining after. But what do you do about a film that you like in parts – where two-three sequences bring the house down, while the humour in other scenes falls flat on its face?
Or when you watch an icon like Dharmendra ham his way almost throughout a film. This is not the first time he's done it though.
In the late 80s-early 90s, Dharmendra did a slew of B-grade films that had the then 50-plus actor at the focal point. The actor did his thing – bashed up bad guys and went over-the-top with his comedy – while the masses loved it and his producers made a small profit too.
In YPD, garam Dharam is back in a similar space. The role of a conman, who's low on morals and doesn't think twice before abandoning his family, allows him to get into 'kameena' mode unabashedly.
This is probably how Veeru of Sholay would have ended up at 70. But while the charm's still intact, some bad make-up and tight close-ups diminish the impact.
Bobby, on the other hand, tries to be a young Veeru and fails. As the loud, cheery Gajodhar, Bobby goes completely overboard, and is best in scenes where he plays second fiddle to his father and brother Sunny Deol.
Sunny bhaiyya completes the picture – he plays Paramjit, an NRI living in Canada, who travels to Benaras looking for his father who abandoned Param and his mother years ago and ran away with his younger brother, Gajodhar. When he meets them, he realises that Gajodhar isn't aware of any family other than Dharam.
As the mild-mannered Paramjit, who is quite a handful when he loses his temper, Sunny is in his element. In one scene, the goon whose men he bashes up wonders if he'll have to import none other than Rajini to fight this soft-hearted monster.
At some point, Gajodhar strikes an affair with Sahiba, played by Randhawa (you may remember her as the lead in TV show, Kareena Kareena). Sahiba belongs to a Sikh family from Bhatinda, who takes her away from Benaras because they want to get her married to a well-earning sardar from a decent family. Interval.
Until now, you have been subjected to two badly-choreographed item songs, a sluggish pace and comedy that you don't find funny most of the times.
Post-interval, though, the film gets its act together. Paramjit and Gajodhar land up in Sabah's house as a family from Canada – or Caneda, as they call it – asking her hand in marriage. Sabah's five brothers, the eldest being Joginder Singh (Kher), are supremely protective of her and want to be sure they choose the right groom.
Mayhem follows. So do a string of sardar jokes you may have shared in school, at work, via sms etc. But watching the Deols, an unlikely set of actors for a plot like this, perform them is what makes them mildly enjoyable.
The film finds its groove in the second half, and while many scenes are downright hilarious, you do hope the tempo was maintained throughout.
YPD is not a film meant to be taken seriously. If anything, it spoofs everything the three actors have made a living out of, and while it seems slightly self-indulgent at times, what really bothers you is that it fails to connect consistently.
For Samir Karnik, it's an opportunity lost – to pay the ultimate tribute to a family that gave Hindi cinema two of its most popular 'heroes' and countless films that fans loved.
Apart from an earnest performance by Sunny Deol and some really hilarious scenes in the second half, Yamla Pagla Deewana is a tiresome watch.
Watch only if you are a die-hard Deol fan.