hello guys
from my side
'' A HAPPY FATHERS DAY TO ALL THE FATHERS OF THIS WORLD ''
What Is A Dad?

A dad is someone who
wants to catch you before you fall
but instead picks you up,
brushes you off,
and lets you try again.

A dad is someone who
wants to keep you from making mistakes
but instead lets you find your own way,
even though his heart breaks in silence
when you get hurt.

A dad is someone who
holds you when you cry,
scolds you when you break the rules,
shines with pride when you succeed,
and has faith in you even when you fail...

i want to dedicate this little to my father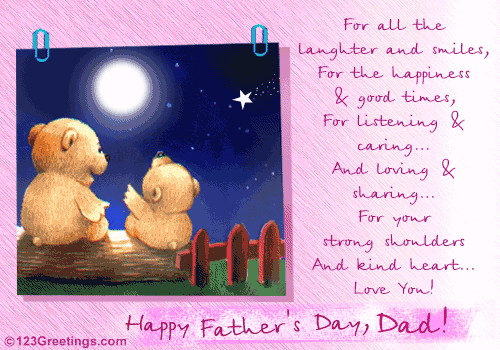 and this is the poem dedicated from tammy to anmol
A little girl needs Daddy
For many, many things:
Like holding her high off the ground
Where the sunlight sings!
Like being the deep music
That tells her all is right
When she awakens frantic with
The terrors of the night.

Like being the great mountain
That rises in her heart
And shows her how she might get home
When all else falls apart.

Like giving her the love
That is her sea and air,
So diving deep or soaring high
She'll always find him there.


Edited by anmol2 - 18 June 2011 at 6:51pm