I have been watching CID for the last 11 years. and never thought this show will be such a close part of my life when I saw this for the first time. and about Daya... I dont know buy my days are turning gloomy when I missed that smile on his face. I am happy when I am watching this show , his face on my tv and cant stop my self from being so so excited about my ever time fav one and only show CID.
when I heard Daya is going to be part of JDJ my first thoughjt was " Daya???? such a shy person takes part in a dance show? the news may be fake." but I just open an appreciation thread in JDJ forum and waited for him to come. there was no sign of him. but they show the entry promo...and I was stuck, lost and out of my mind. for a complete daty or two I cant focus on anything seeing him dancing. It was like the best friend of mine writing an exam or taking part in a stage show. I prayed for him ....prayed for everything to be fine. Because I know wery well that this job will never be so easy to him.
He is a tough cop in the show and do not smile much in the show. I kept those moments from CID when He have that rare smile on his lips. but not many. I am sure from the begining that the huge CID diehard fans like me and many forum members will never let you go without being the winner.
The dancing part was such a pleasant treat for all his fans. the other performers in the show are known to the fans as the familiar tv or film faces and may be knowing their persona much. But in case of CID costars it was just imaginative. what we have is the experience from many CIDians who visited the sets. the interview with Daya , for the last 13 years I have ever seen is the 10 mnts one, and nothing else. The CID stars are always away from media and public. even with internet.
he was shy and the pressure on him never let him do pretty much i nthe show. He have many limitations and he is not that young to tune his body for such a physical strain. he tried his best and made his fans happy. for me he is the best ever and forever.
I am not missing him in JDJ. It is because of him I started watching this show and nothing more left in it for me to watch. when the 'Abhijit ke ateet series' ends in CID I was sure that he will quit JDJ. the same happened and I am sure he is 100 percent happy with the job he done.
he left the stage with a 'namaste'. who else did it? he said that to all his voters and fans that thanks...I will not say that ...but this is what I can give you.
love you so much sir.
some nice moments.
some sigggies I have made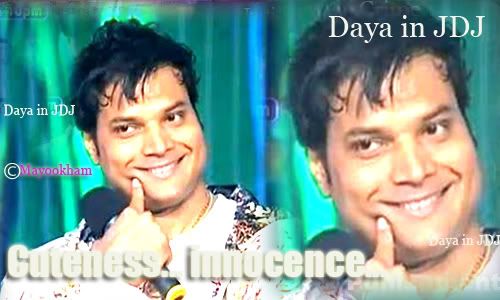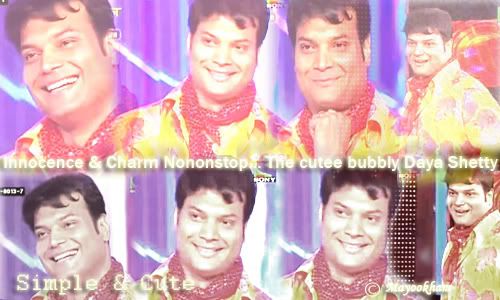 love you so much cutee bubbleeeeeeeee !!!!


Edited by chinnu_manikyam - 31 January 2011 at 9:38pm