update..
so some new extras are brought in and they are taking from the screen space of the leads like this new teacher, who had more time with Abhay today then Piya
I know! They have the weirdest teachers at their college. First its that weird teacher who was crushing after Kabir who talks in the most weirdest way ever, she actually stresses every syllable of speech she talks!
And now this new one, hey have you seen the movie Matilda. I could swear that new teacher looks so much like the evil headmistress in that movie!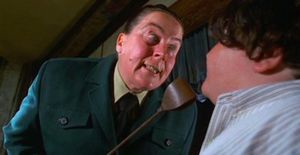 and that lame boss of Panchi, ok we get it! he is a number one womanizer/ Casanova!
so no need to show it every now and then, being chased or some random women coming to him its really pathetic to project his adulterous affairs as funny
I know they have to emphasize on him being a womanizer in every episode. It's like "HELLO we get the point, you are big womanizer and an idiot you don't have to keep proving that!" It's not even funny, it just makes me get annoyed with him more and with Panchi triple.
pleases just proceed with the damn story ! and concentrate on the main aid and the main concept!
Agreed!