Y WE ARE DESITNED TO BE
ONE SHOT
AR FF
part
3
same day
riddhima is in her room
sa:''riddhima tu kal se sanjeevani nai jayegi?''
ri:''kyoon mom?''
asked shocked riddhima
sa:''areey baba hamesha ke liyye mana nai kar rai hun chutti lene ko bol rai hun,ab 2 din bad terii sagai hai aur ooske do din bad shaadi to chutti leni hi padegi na.kitna kam hai teri dresses,jewellary pata nai sab kaise hoga''
hearing it riddhima is dumb-founded
(kahan to bechari ko shaadi nai karni thi aur kahan ab 4 din me shaadi ho rai hai)
ri:''par mom''
but she is cut between
sa:''tumhe pata hai riddhima mai aur shashank kitne khush hai hum apnii aur billy bhai sahib aur annie ki dosti ko relationship me badlna chahte the aur is liiye hamesha se chahte the ki terii shaadi armaan se ho''
(her parents are close friends with armaan's parents since their college)
and seeing her parents's happiness riddhima did not say anything.
same goes in mallik mansion seeing his parents so happy armaan did not said that he did not wants to marry riddhima,he is their only child and for his happiness they give him everything and now atleast he can do this much to make them happy.
after sometime
riddhima was standing in her balcony facing towards sky and tears were rolling on her cheeks
ri:''bhagwanji ap aisaa kyoon kar rahee ho?hum kaise nibhayenge ye shaadi?
y we destined to be together y?
at same time
armaan is also facing sky
ar:''oh god ab kya hogaa is shaadi ka?pati-patni to dur hum to ek-doosre se normally bhi bat nai karte ab kya karenge hum?
y we destined to be together y?
next day
both armaan and riddhima takes leave from sanjeevani and now riddhima was sitting in her house where preprations were on full swing for her so called wedding and door bell rang and she opened the door,seeing armaan at her door
ri:''tum yahan?''
but before he can speak
an:''armaan tu bahar kyoon khada hai?''
thn she saw riddhima and riddhima touched her feet and she give her blessings
an:''tabhie mai sochon par tu riddhima ko bad me dekh lena abhie andar chl''
she walks in while armaan and riddhima gives each-other''not so interesting look''
sa:''areey annie itnii subh yahan?''
an:''han mai apnii bahu se milne ayi hun''
sa:''han bhai ab to hume thode na koi milne ayega''
an:''areey sam mai majak kar rai thi''
sa:''i know''
and they hugged each-other while armaan and riddhima smiled seeing their mommy's friendship
sa:''achaa bta annie koi khas kam tha kya?"
an:''han vo mai soch rai thi ki jo bhi lena hai vo riddhima ki hi pasand ka lun aakhir pehnna to ose hi hai''
sa:''han yebhi theek hai mujhe bhi aj ghr par baki ke kam dekhne hai to tu aj riddhima ko le jaa''
ri:''nai mom aunty apkoo jo lena hai ap le aao mujhe pasand ayega''
an:''nai beta aise kaise pehnna to tumhe hai tabhie to mai armaan ko saath le ayi par ye bhi mna kar rahaa tha ki mai kya karonga mushkil se laayi hun aur u know shaadi ke bad aksar husbands wives ko apnii pasand ki dresses me dekhna pasand karte hai kyoon sam''
she winked at her and
sa:''ya right jao riddhima tayar hokar aao aur jaldi se jao''
riddhima nodded and after sometime they were in mumbai's biggest mall
an:''riddhima pehle tumhari shaadi ka joda dekhe vo humari taraf se hoga na''
ri:''ji aunty''
ar:''mom mai kya karonga ap jao na''
an:''armaan kaisi baten kar rahaa hai pagal ho gayya hai terii dulhan hai to shaadi ka joda nai dekhega kya aur vo terii pasand se hi legii na''
and she walks inside showroom
ar:''kya mom bhi na kabhie-kabhie aur ye merii marji ka legii impossible jo mai bolunga vo to ye kabhie bhi nai legii''
ri:''offcourse ab agr tumhari choice poochi to koi bhi revealing dress par haath rakh doge yahan koi minni skirt nai lenii hai''
ar:''yo basket thanks btane ko par mujhe pata tha''
ri:''oh to zara mai bhi to soono MR.ATTIITUDE ki wedding dress knowldege''
ar:''well shaadi ka joda aisa hona chaiye jise pehen ke eek ladki pari lage matlab vo kissi ke liyye pehle se hi angel hoti hai par jis din vo shaadi ka joda pehne os din special vaali pari lage jis dekh kar log dulhe se jealous feel karee.aur shaadi ka joda heavy vaala ho jisse ki ose sambhalne ko merii dulhan mera haath jo shaadi ke time pakde to zindagi bhar na chode.aur dress red ya marron ya golden colour ki ho takii jab vo blush karee ooski cheeks ka colour bilkul dress ke saath ka ho.aur ooski chunari par dher saare ghungroo lage ho takii ooski chan-chan se mere dill ki dhadkan bad jayye.bas aisaa ho shaadi ka joda aur merii dulhan''
he said dreamingly and riddhima also lost in his description
an:''riddhima-armaan bahar kya kar rahoo ho andar aao''
ar:''par ab to ye nai hogaa''
and he walked in with riddhima and they start seeing wedding dresses but riddhima's heart occupied with armaan's description
ri:''idiot bhi itnaa achaa soch sakta hai?aisaa to kabhie kissi ladki ne bhi nai socha hogaa''
and suddenly riddhima
ri:''mujhe ye vaala pasand hai''
(apkoo jo pasand ho ap imagine kar sakte ho mujhe hina khan ka bridal attire kafi pasand hai so i thought apnii riddhima par to ye bahut achaa lagega)
salesman(sl)
sl:''vao mam apkii choice bahut achii hai?''
an:"riddhima tumhe pakaa yehii pasand hai na chaho to aur dekh sakti ho''
ri:''nai mujhe ye pasand hai''
and she was placing the dress on herself and seeing herself in mirror she blushed imagning herself she did not noticed that armaan too looked at her in mirror
an:''riddhimatum ye sambhal logii beta ye bahut heavy hai''
ri:''ji''
and she thn noticed armaan looked at her and shows her thumsup and after purchasing that vridal dress and some other shopping they leaves
in night
riddhima's room
ri:''mujhe os dress ko dekh kar aisee kyoon laga jaise jo armaan ne btaya vo bilkul vaisi hi hai.aur mujhe kab se armaan ki pasand ki chinta hone lagii mai to os MR.ATTITUDE ko pasand nai karti.
Nai yar riddhima tu bahut soch rai hai job hi ho vo dress hai to sundar hi na aura b chahe ye shaadi majboori me ho par ab mai apnii shaadi me sundar to dikh hi sakti hun na after all zindagi me shaadi ek hi var hoti hai''
She convinced herself and drifted to sleep
Here in
Armaan's room
Ar:''ab ye basket ne merii choice ki dress kyoon li?aur mujhe itnaa achaa kyoon lag rahaa tha jab oosne merii pasand ki dress li?aur maine ose thumsup kyoon kiyya?''
Big deal armaan vo actually life me first time achii lag rahii thi to maine bhi kar diyya aur osne koi merii marji se nai li hogii pasand ayi hogii so armaan dude jyada mat soch so jaa kal MISS BASKET SWEET HEART GUPTA se terii sagai hai terii barbadi ka pehla kadam so boss good night''
He like riddhima convince himself and go to sleep
NEXT DAY
ENGAGEMENT AND SANGEET AR
Armaan was sitting on swing waiting for riddhima soon she comes wearing pink and orange lehnga and armaan looked at her
Ar:''yar mujhe nai pata tha ki basket bhi itnii sundar dikh sakti hai''
While on the other side riddhima also saw him he was wearing white sherwani as usual few buttons open which showed his well-tonned body
Ri:''kabhie bhi mauka nai chodta show-off karne ka idiot kahin ka par achaa dikh rahaa hai''
And she reached to him and setteled beside him
Soon ananya placed red chunari on riddhima's head and shashank and samriti did tilak of armaan
And thn samriti passed ring to riddhima
Which she placed in armaan's finger
All clapped
And thn ananya passed ring to armaan and he slipped it into riddhima's finger
All again clapped
Bi:''chal bhai shanky ab riddhima humari''
Sh:''han billy dhayan rakhna ooska''
An:''shashank bhai sahib vo humari betii hai bad me bahu''
Sa:''chalo bhai bahut hua emotional scenes bacho(pointing to at,an,ra,mu,ab ni)tum kuch dhamal nai karoge''
At:''offcourse aunty''
And thn music starts and
At(points to anjli):
''tera dill bhi jaana bekrar ho jaaye
Ra(points to muski)
''tera dill bhi jaana bekrar ho jayye
Ab(points to nikki):
''rab kare tujhko bhi pyaar ho jaaye
''rab kare tujhko bhi pyaar ho jaaye
An:''mera dill bhi tera talabdar ho jaye
Mu:''mera dill bhi tera talabdar ho jaye
(they points to at and ra resp)
Ni:''rab kare mujhko bhi pyaar ho jayye
''rab kare mujhko bhi pyaar ho jayye
(She hugged abhie)
And now they dragged armaan riddhima on dance floor
Ri:''mai haseena najneena (she points herself)
har taraf ye shor hai(she points all towards the people)
tu dewana ban gayya hai(she points her finger towards armaan)
ispee kiskaa dosh hai(she twirls around armaan)
ar:''mai deewana kam nai hun har kar naa jaonga(he pulled her wrist and pulled her towards him)
dill churane aaa gayya hun dill chura le jaonga(and he start dancing with her)
at:''tere dill par bhi mera ikhtiyar ho jayye(he points first to armaan thn riddhima)
an:"rab kare tujhko bhi pyaar ho jaaye(and they hugged ar)
ra:''tu ada hai tu mohabbat tu hi mera pyaar hai(he picks muskaan)
ab:''mai deewana ban gayya hun dill ko to ikrara hai (he danced with nikki and)
mu:''jaanti hun hai shararat ye jo tera pyaar
hai(she pushed rahul)
ni:''kya karon mai kya karon dill ko to inkar hai(she teased abhie)
they pushed riddhima and she fell on armaan and he caught her from her waist
ra&mu:''rab kare tujhko bhi pyaar ho jaaye''
and all danced
MEHNDI FUNCTION
sa:''chl riddhima jaldi aaa mehndi lagane ke liyye sab intejar kar rahee hai''
ri:''ji mom aaa rai hun''
ri:''kaisi mehndi?yar ek aisee insan ke nam ki mehndi jis se bas jhagre ke alava kch nai kiyya,kabhie socha bhi nai tha ki aj armaan ke nam ki mehndi rachani padegi apnee hathon me''
she sighed and go to downstairs where all were waithing for her
she seeteled down,thn ananya comes with mehndi
sa:''annie aj bhi der se''
an:''sorry sam vo traffic tyjhe to pta hai na''
sa:''han chl chod in baton ko jaldi se riddhima ke haath me shagun ki mehndi lagaa,pehli shuruwat to saas karti hai''
an:''han bas abhie karti hun''
thn she setteled beside riddhima and start applying mehndi
firstly she write ''A'' and thn makes heart around it
an:''lo riddhima likh diyya tumhare armaan ka nam hamesha khush rahoo''
she placed a kiss on her forhead
an:''chalo ladkiyo ab aao aur mehndi lagao''
mu:''areyy aunty ji apne''A'' to bilku aisee likh diyya armaan ko asani semill jayega''
ni:''chl koi bat nai muski hum baaki riddhima ki mehndi me chupa denge
ki armaan dhundta reh jayega''
an:''han aur riddhima beta dhundhe binaa ose chodna nai''
riddhima is dumb-founded hearing their comments
ri(in her heart):"os idiot ko dhundhne kaun dene vaala hai.hey bhagwan 2 din bad mujhe os ke saath ek hi room me oh my god.agar osne kuch kiyya to,
nai riddhima vo itna bhi boora nai hai''
she come out from her thoughts
anj:''ridzi abhie se armaan ke khayalon me?''
and she just lowered her head
sa:''areey chodo merii bachi ko pareshan mat karoo aur mehndi lagao''
only thn nikki asked riddhima to pulled up her lehnga so that they applied mehndi on her feet,she did and only thn armaan comes and rushed to ananya
an:''armaan kya hua?''
ar:''kya kya hua mom ap apnaa phone car me kyoon chod ke aye ho?dad kab se phone kiyye ja rahe hai annie mera hanky nai mill rahaa annie merii tie nai mill rahii aur moreover annie jaldi aao i miss u etc. etc.''
annie is embarssed after hearing it as armaan tells this in front of everyone
sa:''oh ho annie yar ghr jaa nai to billy bhai saab yahin aaa jayenge''
an:''kya sam tu bhi na,aur armaan tu oonko bol nai sakta tha rukne ko''
ar:''kya mom vo rukte hai kya?aur ye sab log mujhe aisee kyoon dekh rahee hai''
an:''kyonki beta tu apnii hi dulhan ki mehndi me aaa gayya hai''
thn armaan saw riddhima and
L1:''oye samriti hum sab jaante hai in ladkon ke bahano ko ladkiyon ko dekhne ke''
anj:''han armaan tujhe sharam nai ati kya?''
ni:''2 din bad tujhe hi ridzi ko dekhna hai''
armaan noticed riddhima,she is wearing green lehnga and short choli that without sleeves
and her lehnga folded upto her knees and riddhima saw that he is looking at her and she feels uncomfortable armaan noticed it and quickly turned his face
ar:''mom mai bahar hun ap aaa jao''
but before annie can say anything
mu:"oye ab aaa hi gayya hai to function me participate kar baith idhar''
she pushed armaan on sofaa
an:''han armaan tab tak mai bhi zara tumhare dad''
sa:''ke saath romance kar lun''
an:''sam pagal hai kya kuch bhi bolti hai''
sa:''achaa yar sorry''
an:''han bachoo chalo tum mehndi lagao hum abhie aaye''
and they leaves
mu:''yar ye kaisa function hai no raula-rappa''
ni:''oye chl fer shuru kar''
anj:haathon pe in haathon pe likh ke mehndi se saajna ka nam
(ridzi saw her hands where armaan's name placed)
ni:''haathon me in haathon me jisse
padti hun mai subhh sham
(and she pints to armaan)
mu:''yad mujhe jab oonki aye
haye re haye bada sataye
(she tease riddhima)
now everbody was looking at riddhima so she
ri:''dekho soorat mai oonki subh sham
she looked at armaan
''hathon me in hathon pe likh ke mehndi se sajna ka nam
jise padti hun mai subh sham''
and now anjie pulled armaan and he danced with all three of them while looking at riddhima
after sometime riddhima's room
anj:''vaise rinsi ab dekhte hai terii mehndi ka rang kitna gehra ata hai''
ri:''kya yar anjie tujhe to pta hai hi sab,bahut feeka hogaa merii mehndi ka rang''
mu:''oye aisaa nai kehte ridzi''
ni:''guyss chodo na ab yee to subhh hi pata chalega jab ridzi mehndi nikalegi abhie so jayen''
anj:''han vaise bhi bahut thak gayye han''
and they drifted to sleep
wheras riddhima saw her hands where ''A'' written and she
ri:''armaan tum hi merii destiny me kyoon ho par mujhe aj itnaa to pata chal gayya ki mujhe tumhare saath kissi bhi bat ko koi dar nai hai,chahe tum mujhe napasand karte ho par kabhie bhi tum kch aisaa-vaisaa nai karoge.
par riddhima tum log shaadi kar rahee ho kabhie to ye rishta tumhe nibhana padega na aisee thodi nai ki tum humesha aisee hi rahoge fir kch der bad sab bolne bhi lagenge tab kya karoge.
bhagwanji ap humesha mujhe hi aisii problem me kyoon fansate ho?''
and with these thoghts she also drifted to sleep.
here armaan
ar:''yar aj kal mujhe basket ko dekh kar kuch ajeeb sa feel hone laga hai aj bhi vo os green lehnge me sundar dikh rai thi aur bahut hi innocent si bhi
armaan dude tu pagal ho gayya hai tujhe BASKET sundar lag rai hai remember dude vo BASKET HAI,NAKCHADHI, aur tujhe kuch feel nai ho rahaa ye sab is shaadi ke env ki vajah se hai.
ab so jaa kal terii so called shaadi hai jo pta nai kuch ghante bhi chal jaaye to bhi mujhe hairat(surprise) hogaa. aur vaise bhi aj apnee is room me teri akele ki aakhri rat hai kal se ye room,ye closet aur ye bed bhi tujhe os BASKET ke saath.
kya nai armaan vo tujhe mar daalegi,kuch soch yar mere room me to koi couch bhi nai hai ab?kya ab ye ooski problem hai mai to yahan pehle se rehta tha ana to ose hai so vo dekh legii.vaise dekhte hai vo MISS SAMJHDAR is ka kya hal nikalti hai
waiting for it DR. BASKET SWEETHEART GUPTA OOPS SORRY MRS.DR.BASKET SWEETHEART ARMAAN MALLIK,
vaise achaa lag rahaa hai mallik surname ooske nam ke saath.han achaa lagega hi after all armaan ka surname hai''
and he also drifted to sleep.
NEXT MORNING
riddhima was in wash-room
anj:''rinsi kitna time le rai hai chl jaldi aaa''
and she comes with her face down
mu:''oye kya hua tera chehra kyoon ootra hai?''
she did not speak and
ni:''riddhima kya hua?''
she did not utter a word but placed her hands in front of them
seeing her hands they also shocked
ni:''ye terii mehndi''
anji:''to ekdam''
mu:''dark black hai''
ri:''han''
ni:''iskaa matlab armaan tujhse pyaar karta hai?''
ri:''yar nai ho sakta aisee vo mujhe dekhna bhi pasand nai karta''
mu:''par ye terii mehndi to kuch aur hi bol rai hai aur generally log kehte hai ki mehndi dheere dheere apnaa rang nikharti hai''
anj:''par terii ka to abhie ye hal hai bad me to pta nai kya hogaa?''
ri:''yar chodo na ye sab bani hui baatein hai aisaa nai hotaa ab dekho mera aur armaan ke case me ye proove ho gayya.hum ek-doosron ko pyaar to kya insaan bhi nai samjhte tab bhi mehndi ka rang gehra hai to logon ki batein galat hai so leave it''
all nodded
ri(in heart):''armaan kal tak mai bhi yehii maanti thi mehndi humsafar ke pyaar ka aaina hotii hai par nai ab aisaa nai hai.par agr ye sach hai to kya tum mujhse pyaar karte ho?''
she sighed and left with an,mu and ni.
HALDI
sa:''chl riddhima armaan ki ootri hui haldi aaa gayyi hai tujhe lagaye fir thodi armaan ko bhi bhejni hai terii ootri hui''
riddhima nodded and sit while others start apply haldi
L1:''ab dekhna haldi se riddhima ki rangat aur bhi nikhar jayegi aur iskaa dulha ise dekhte hi reh jayega''
mu:''han chalo achaa hai ab hero kissi aur par line to nai marega''
ni:''areyy muski riddhima ko dekhne se fursat milegi to kissi aur ko dekhega na kyoon anjie''
anj:''han bilkul vaise bhi ye madam hai hi itnii sundar''
ri(in heart):''vo aur mujhe dekhe impossible ooske liyye to mai duniya ki aisii ladki hun jisse koi sense of fashion nai hai aur yahan in sab ko lagta hai ki vo merii tareef karega''
there is tears in her eyes after all she did not want this kind of marriage its true she agreed for arrange marriage but at least she likes her life partner but armaan no
here in mallik mansion,armaan is sitting and he is very much impatient
ar:''mom apnee ye haldi lga to li ab mai jao mujhe nahana hai''
an:''armaan abhie nai abhie riddhima ki ootri haldi bhi tumhe lagni hai''
and rahul comes with haldi bowl which was sent from riddhima's house
ar(in heart):''ab is basket ki ootri haldi oh my god kya hai pata nai kitni smelly hogii''
and he was making weired faces but he alsoo feels an known fragrance that he feels whenever riddhima is closed to him.
after sometime in his room
armaan looked himself in mirror
ar:''ye abhie,rahul aur champ ne mujhse kis janam ka badla liyya hai, ek dam haldi se nehla diyya mujhe vo basket to mujhe pehle hi napasand karti hai aisee dekhti to aur jyada napasand karegi''
WEDDING AR
Armaan was sitting in mandap and all his friends were pulling his leg aur bechare ka man kar rahaa tha ki oonko mar de but after sometime they stopped and all people present looking at certain sight and armaan followed their gaze
and he saw her she was looking breath taking in her bridal attire simply marvelous
and riddhima feels his gaze and she looked at him and
she just holds her breath,he eas looking very handsome in his sherwani as usual few buttons opened with sehra but today as she feels he looks like greek god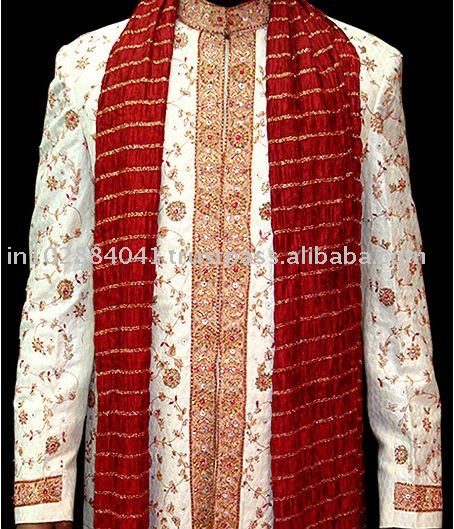 (imagine whichever u like)
and riddhima lowered her gaze after feeling that he is also looking at her,they share a one-minute eye lock and now riddhima sit beside him
and pandit start chanting mantras and armaan was stealing glances at riddhima
thn they exchange jai mala
and pandit asked them to stand up for pheras
armaan stood up and he saw riddhima was trying to get up holding her heavy lehnga and armaan forwarded his hand and riddhima nervously accepted it and they took their phere but armaan did not leave her hand
and after that pandit asked him to full her maang with sindoor and she filled it and some of sindoor fell on riddhima's nose
mu:''areyy vah ridzi armaan to tujhe bahut pyaar karne vaala hai''
all chuckled and riddhima and armaan looked at each-other
and thn he placed mangalsutra around her neck
and now they were husband and wife
after they took blessings fron their parents and after bidaai armaan and riddhima moved to armaan's house and after all cermonies and teasings riddhima was in armaan's from now their room.and soon she heared door closed.................
bas ab age bad me
i am tired bahut bada part tha yar
now pls give ur precious comments
it means lot to me
nikita


Edited by niki.5 - 14 January 2011 at 2:26pm