Shekar Ganguly:Head of the family, successful business man. He runs his family business of textiles.Father of Anurag,Arjun,Adita. Care free dad.
Neelanjana Ganguly: Shekar's wife. She is a very friendly mother.
Anurag Ganguly: The youngest and the most pampered son of the Gangulys.Jobless rich pure hearted 22 years old guy.Loves his family and friends. For him life is just partying,gaming on his ps3,going on vacations and watching movies.Very close to both his sister-in-laws.
Arjun Ganguly: Younger son and joins his father in the business.
Adita Ganguly: Eldest son of the Gangulys and the most responsible one.
Archana Ganguly:Aditya's wife
Ankita Ganguly:.Arjun's wife.
Jatin Kalra: Anurag's friend.The hot chap,works as an asst. director in the UTV production house.
Karan Tacker:Anurag's friend. He helps his dad with his family business.He is a pretty nice guy,who isn't a flirt.He respects girl and maintains descent distance from them.
Jay Bhanushali: Anurag's friend.This guy loves his dog(leo).He is pet freak.Son of a rich father,his parents stay abroad.This chaps parents are separated.Not technically,but they don't live together.He is closer to his dad and his dad has giver him a few responsibilities.So,as of now he is working in his dad's company.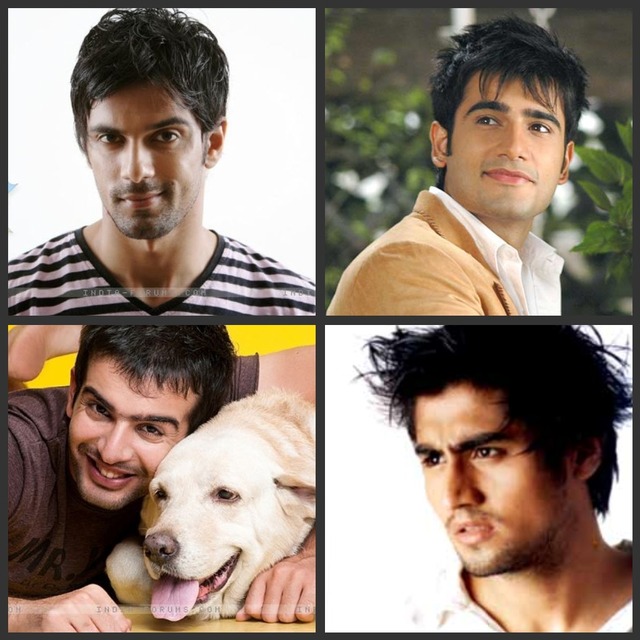 (Above)
Top left: Jatin
Top right: Karan
Below left: Jay
below right: Anurag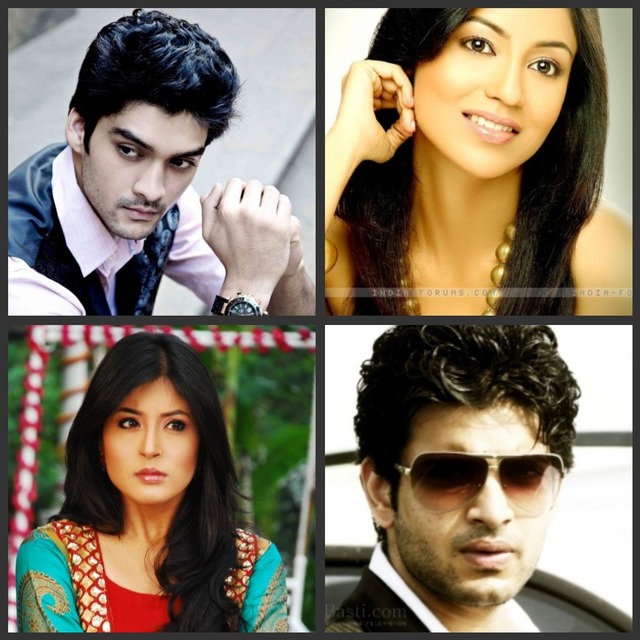 (Above)
Top left: Aditya
Top right: Archana
Below left: Ankiita
Below right: Arjun
Bemul Bannejee: The head of Bannerjee family. A calm minded guy. He has a daugher,Taani and a son,Rajeev.He works for textlies.He is friends with Shekar since his childhood and they are best of friends.He
Laboni Baneerjee:Bemul's wife.
Taani Baneerjee: The girl who just tried her luck in singing. Responsible,loved and a pure hearted girl. She is the modern but traditional Bengali girl. She is 21 and is just done with a few courses in singing. She did he courses in Singapore and just returnted to India.
Rajeev Baneerjee:The serious,responsible chap.Very protective about his sister.He works as an environmental engineer.
Pooja Baneerjee:She is Rajeev's wife and the only bahu of the Baneerjee's.
Mayanak Dalvi: He is Taani's best friend.They have done their schooling together.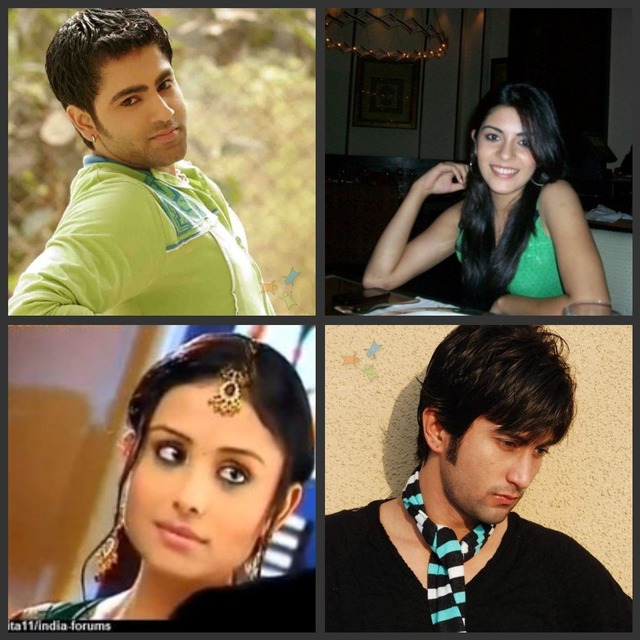 Top left: Rajeev
Top right: Pooja
Below left: Taani
Below right: Mayank
Gangulys and Baneerjees are very close.Even while the Gangulys live in Mumbai and the Baneerjee's live in Kolkata they share a very close bond.Anurag and Taani studied in the same school till their 12th grade,after that Gangulys moved to Mumbai.Now Bemul has shifted his business to Mumbai and wants his family to accompany him there.Though Taani and Anurag were good friends during their school time,they don't remember much of each other now. Soon after she finished her 12th she went to singapore and Anurag went to U.S.A.
___________________________________________________________________________
epipisode 1:
Scene : Ganguly family,at the dining table.Everyone is present except Anurag.
Shekar:Anu kaha hai?
Arjun: Abhi toh bas 9 bage hai dad.Itni jaldi who kaha uthega.
Aditya: Haan,lekin..tu toh roz Anu ki side letein hai,aaj usey ki khilaf bol rahey hai?
Archana: Koi kiseyki khilaf nahi bol raha hai.
Ankita: Haan.Woh toh bas sach bol raha hai.
Aditya:Kya hua sab ko? Kuch kiya kya usney.Roz toh uskey har galti pey parda daltey rehtey hai.
(Anu walks in from the main door)
Aditya: (shocked) : Tu main door sey kyu aa raha hai?
Arjun: Wooh..main..main ney hi usko bahar bheja tha.Woh..kuch laney ke liye..
Shekar: Kya ho raha hai ye sab? Kaha sey aa raha hai,anu?
Adi: Raat ko ghar pe nahi tha?
Anu: Sorry pa,wooh pool party tha.Jay's place.
Anki: Haan..mujhe bataya usney.
Adi: Anu tu aisey kaisie..
Shekar: Theek hai.Tu ney sach bola,mujhe bahut acha laga.
Anu: Like I always say dad..main aap sey kabhi jhoot nahi bolunga.
Adi: Dad agar asiey hi..
Anu: Arey merey kadoos bhai..ab chodiye na aap.Kyu serious ho rahe hai??
Adi: (ignores) Archu..merey blazer lao.
Shekar: Aditya,main bahar intezar karta hoon.
Arjun: Dad app ney kaha ki aap kuch kehna chahte hai.
Shekar: Haan.Woh laboni bhaudi aur bemul aa rahe hai.Main ney kal neelu ko bataya lekin aap sab ko batane ka mauka nahi mila.
Ankita: Oh..maa aa rahe hai?
Anu: Ah! Finally un sey mil sakta hoon.Hamesha toh sirf phone pe baath hoti thi.
Shekar: Haan..toh 2 achey kamrey aur baaki ki tayari kardena.
Arch: Ofcourse papa..hum kardengey.
Shekar: Okay beta.Main chalta hoon.
_________________________________________________________________
Scene: Neelu,Arch,Anki are working in the kitchen.Anu enters.
Anu: Bhabhi..aap ko jhoot nahi bolna chahiye tha mere liye.
Arch: Anu..tu janta hai na apney khadoos bhai ko.
Neelu: Haan..adi subah subah apna mood kharab kar deta.
Anu: Haan..(towards ankita) bhabhi..main aaj Jatin key saath uskey set pey jaa raha hoon..
Anki:Okay..
Anu: Toh aap baath kijeye na arjun bhai sey..
Neelu: Kiskey barey main..?
Anu: Okay mom,its getting late.Bhabhi aap ko samjha degi.Main chalta hoon(quits)
Arch: Kuch nahi maa,uskey bike chahite.
Neelu: KYA!
Anki: Wahi tooh..
(Anu and Jatin walk in to the film shoot)
Jatin: Morning,sir..
Director: Hey jatin,morning.Woh choreographer aa gaya?
Jatin: Main dekhta hoon sir
Direcotr:haan,jaldi.
(director quits)
Jatin: Abey Anu..jakey who choreographer ko le aa na.Mujhe art director sey baath karna hai.
Anu: Kaun hai? Kaha hai? Mujhe toh kuch nahi pata yaar.
Jatin:Um..listen..she is slim,beautiful,simple.
Anu: Saley..yahaa toh sab beautiful hai.
Jatin: Arey yaar..starting hair hai uska and usually shalwars pehnte hai.
Anu: Okay..2mins.
(Anu walks around)
Anu: Hey..umm..aap choreographer hai?
Girl: Jee? Main yahaa ki scavengers dept. ka head hoon.
Anu: Oh.Okay.Sorry.
(Anu walks further)
Anu: Excuse me?
Girl: Yess?
Anu: Aap choreographer hai?
Girl: Naman..kaun hai ye pagal? Dancer sey aakey phoota hai ki main choreographer ho ki nahi.
Anu: Shit! Um..sorry.
(Anu: (to himself) Oh god! Sab beautiful hai,slim hai,damn..aah..wahi ladki hogi)
Anu: Hey
Taani: Sound system read hai?
Anu: Nahi woh main..
Taani: Abhi tak ready nahi hai? Kya kar rahe ho tum log? Ek ghate sey main..
Anu: Dekhiye main..(Jatin enters)
Jatin: Anu..yahaa kya kar raha hai? Lets go dude,choreographer mil gaya.
Scene: Jatin and Anu are in a coffee shop
Anu: Dude..woh ladki kaun thi? Agar tu ney correct time pe entry nahi marey hoti na mujhe toh mardalti woh.
Jatin: Singer hai bey.
Anu: Aaj kal na..sab singer ban rahe hai.
Jatin: Haan..sift tu hai jo koi kaam kaj nahi karta.
Anu: Abey chup kar. Main kaam kar raha hoon..life ko enjoy kar raha hoon.Janta hai kitna mushkil kaam hai?
Jatin: Acha..toh is mushkil kaam ko main aur mushkil kar doonga.Aaj clubbing chaley?
Anu: Nahi yaar,aaj ghar jana hai.Woh bhi jaldi.
Jatin: Kyu?
Anu: Kal laboni maa aare hai.Toh...
Jatin: Toh unkey betey se milna hai?
Anu: Nahi bey..haha.Bas ghar jana hai.
Jatin: Acha..mujhe wapas set pe jana hai.Kal milta hoon.
Anu: Okay.Ciao.Peace!
Precap:
Neelu: Anu,ye Taani hai.
Anu: Hey!
Taani: Maa,aap ney bataya nahi ki anu spot boy hai
Anu: KYA?
___________________________________________________________________________