naps questions!

Here are few questions for you:
1) What makes Ashi-Yuvi special?? (Should be essay-type answer)
okay am no great shakes at writing loong essays...bt ashi yuvi for me are a part of me..trust me nitz..wen it ended in 2006..i felt as if i lost 4 fantastic frnds...bt soon i learnt to live wid d fact that they were inside me...making me pave my way in this world exactly in der style...the remix style..
ashi made me fearless..i used to be ninny
..all nervous and stupid..even tho im a gud orator..goin fr debates and declamations were a pain/.bt in 9th std i gathered my wits..and followed my heart..bcz it said dat wahi karo jo mujhe accha lage..main yahi karna chahti thi
...i was in 9th wen it ended so ya d enlightenment came den!
as for yuvi..he taught me to be driven wid my passion for my capabilities..those lied in d fact dat i was very sensetive toeards ppl..and used to always lend dem a ear...so leaving science and taking up psychology and sociology were my biggest decisions that made my mind and my soul happy and content wid where it is now today...bcz behaviorial sciences have helped me evolve as a human being..iv learnt new things and its because of my belief in Them..
ashi yuvi arent mere characters...they are beliefs that made me sail through the most important part of my life,no matter how absurd it might sound...they are a beautiful scintillating dream..the kind u dont wanna get up from..and u noe wat my adorable dobi..ill sleep forever if i get to sway with them and their passion for life and self gratification..for the mind!
2) You favorite AY scene? Why??
favorite!?? like absolute fav...hmm tough one...so difficult to choose...okay ill give 3 scenes..plz cqnt choose one!
scene one has to be FOLLOW YOUR HEART..why because it was the purest confession of love..the purest...she made him realise his true potential..she made his ideas.his dreams a reality..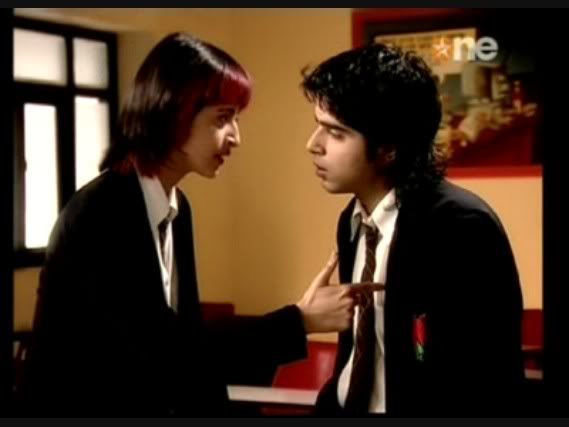 look at this pic naps..u noe ashi believed in FYH no doubt..bt she saw it before her eyes ritethis instant..she knew that she had forged a connection with her maktub..her true soulamte..she connected wid him..i mean dis scene is so intimate..nt because of the kiss that they share.bt because of their eyes..they saw a new world in each in each oders beliefs!
scene two wud be the uniform hug and d bet phase...
..and the real hona wala scene (yeah dis cums under scene 2
)..
lol im kidding d second scene is wen ashi conforts yuvi aftr he finds out dat YD is a cheating twit..!
aftr d weekend vacation thing
scene 3 wud be their maktub so obv..
3) Why is Misha Misha and not Yuvi?
because misha is crazy...and believe it or. not..yuvi aint that crazy.hes d sane and sensible one..ashi drives on instincts...bt somehow i dnt even get ur question.dou mean why is misha misha n nt ashi??
4) Find 'X'
dear napsie..dis shows that ur vella dese days...lol..i quit maths aftr my 12th boards..so x y z cn do their chiggy wiggy somewhere else..bt for ur satisfaction..
3x= 42 +6=48/3x
x=16
5) Give your top 20 fav. dialogues by Ashi and/or Yuvi!
(All should be from different scenes)
hmm..okay
1) ashi: kaun hai ye idiot?
yuvi: god anvesha ur language!?
2)ashi: hey bhaggu u r nuts
yuvi: yes i am..am i not!?
3)yuvi: ashi tum mere liye bahut special ho..i mean din ke 24 ghanton me se 20 ghante mujhe tumhe marne ka dil karta hai..aur meri ye feelings sirf tumhare liye hai
4)ashi: duh uh i love u
5)ashi: pink bunniessssssss???? arrghhhhhhhhhhhh kya hum ab stage pe pink costumes aur hath me carrots le kar gana gayenge
timbo tumhe inspiration kaha se mili..NAIL PAINT SHADE CARD SE?
6)ashi: perfect hona zaroori nahi hai..real hona bahut important hai
7)ashi: i miss u babyyyyyyyyyyyyyyyyy
8)yuvi: ye tumhara pagal pan hai na..its just inectious..
(god d way he says ittttttttttttttttttttttt)
9)ashi: kya hua..koi match haar gaye ho ya sara saman kho gaya hai?
yuvi: tumhara dimag kho gaya hai..just go n find it n leave me alone
10)yuvi: sorry..main apne babes ke rules n regulations bhool gaya tha..d fifth rule..im sorry
11)yuvi: u n creative..my teeny meeny toe...
12)
yuvi: ashi....wacko psycho bahar aao...
ashi: kya hai mr psycho pathetic?concert stage pe hai..back stage nahi
yuvi: ashi..mujhe mere joote do..mere fans mera wait kar rahe hai..mujhe jana hai!
ashi: joote..??tumhare joote yaha kyun honge..tumhe kya ye koi dustbin lagta hai???
13) ashi:"Ten gram ka brain hain nahi...tabhi bhi peena chahta hai...woh bhi sad jayega
14) yuvi(hell scene wen pri cums at d bar): priyanka tum bhi peeti ho????/
d way he expressed his wonder
15)yuvi: woh kehti hai ki main usse aaj se nahi bahut pehle se janta hu.aur kahin na kahi mera dil kehta hai ki haan..main usse pehle se janta hu..i love her
16)congratulations pres yuvi...congrats pres ashi..we won..today u won..
17)maharaj yuvraj..kya aap iss aam janta ki baat sunenge
yuvi: sure aam janta
dats all i rem!
bas aur yaad ayenge toh bataungi
Okie thats all i have so far!
thank thee lorddddd!