--
-----
---------------
BBians open the post ...n are wondering what is Spidey doing dancing
Tanu walks in
n waving a
Tanu - Oh well well....dun worry guys...thats just our Spidey celebrating the birthday of a super special BBian

BBians are wondering who is Tanu talking of
n secretly praying that she doesnt blabber n eat up the entire post
Tanu *clearing her throat* -- Ahem Ahem Ladies n Gentlemen *looks around to spot the few men* ...
Well today we gather here to usher in the Birthday of the biggest....
on Planet Earth..
...err i meant.. Planet IF
and lolz its not me
*relieved muh*

Wat
u guys din figure out who it is???? Well ....lo another hint... he happens to be a pyara..sa... chota sa.... cute sa......
Bandar
(a nickname i gave him just a day back
)
Him......(BBians gasp) yes yes...guys.. its a HiM
(BBians..finally another guy
in this ocean of crazy women
) ..
hmm so He is one of the bigggggeeesssssttttttttttttttttttttttttttttttttt IF addicti have ever seen......
(I mean he ensures to grabofy his dads laptop to yap on IF even on his holidays ...n not to forget sneak in on IF inbetween his EGGJAMs
Wait till i tell kakima about it
)

He is one of the
bestessstttttttttt
n
mosttttttt creativeeeee
Member on IF....with countless signature and even VMs (n i think icons too) to his credit
Yep....this GUY is super CREATIVEEEE
! Not to forget his crazzzyyy posts both at the BB and mainly at the SGP forum which always liven up the forum and our mood

To the world...he tries to show that he is a
BRAHMACHARI
(dunno what the english of this is
? sowwiee i din give TOEFL u see
) but in his heart...he
yearns
......he
longs....
he
dreamsss...
and he
WANTs
..........just dat special ...one ...n that is the one n onlyyyyyyyyyyyy
*Ragini Khanna*
errr i meant
*Tandoori Chicken*
--
---
-------
---------------
He also happens to be one of my
CLOSEST buddies
on IF .....
Being a probashi Bangali... he is
quiet and sweet
..just like a rasgulla... most of the times....! But bewareeeeee..... if any one dared..utter a word
against his TC
aka Tandoori Chicken (the lub of his life
Ragini *couf couf* Suhana *couf couf* Bharti ) ......
Hell hath no fury like him scorned...!!

Sweet ....Humourous...Optimistic....Unique... Naughty .... Amazing.....Kind
well thats
HIM
...
my Kid Brother...... SHOUNAK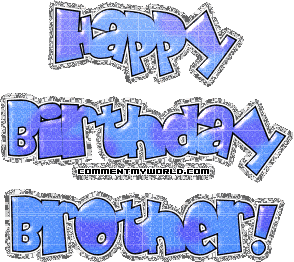 This is a special wish Although we're miles apart
Remember dear brother, You're always close in my heart
We may not be together On this very special day
I wish all the best for you And that it's great in every way
Another wish I have for you Is that this life brings ..
Many blessings in your future And a parade of wonderful things

Happy Birthday Brother!!
So without further ado.... time to...blow the candle..
&
Attack the cake...

--
------
--------------
Shounak...what ya searching????
The posts done dude..
--
-------
------------------------
LoLz..ok ok..i know..i know..i shouldnt be nagging ya on ur Special day kid bro.. so here u go...a full
WADROBE MAKEOVER
......for ya !!
(Remember my ashirwad of DKNY bhava
)
DKNY wadrobe
Emporio Armani Perfume
Gucci Shoes
RayBan Gogs
&
Tissot Watch
--
-----
Shounak....please tell me ur happy with these....
(m practically bankrupt u see)
--
------
-----------------
But how can we wish u a Happy Birthday without gifting u something special n custom made just for u
Birthday Bandar
... errr
Boy
here ya go...
Hope u liked it..

Shounak....may this day be the beginning of all the best times of ur life...! May every hour of every day..fill ur life with the greatest happiness...!!
God Bless...!!
Love U Loads..!!


Edited by Armu4eva - 06 January 2011 at 11:07pm