PART 12
The days of the wedding were arriving, today is the mehendi ceremony NT was going to Meera's house to give the mehendi that will be applied to her, she took Geet with her, as Dev was busy Maan drove them to the Bakshi's.
NT has to apply some mehendi on Meera's hand as shagun; she put a dot on her palm, at the same time Rajji who was hugging Geet slipped and landed near NT her hand joined with Meera's, Rajji had the spot of mehendi on her palm also;
Mrs. Bakshi smiled and said now Rajji will soon get married, Rajji blushed and ran from there and Yash, who was standing there talking to Maan, also blushed.
Maan was amused by the whole scene and asked NT what was this?
She told her if the mehendi from the bride's hands gets imprinted in any girls hand, it is said she will soon be married,
oh said Maan then you should talk to Rajji's parents about Yash,
NT hit him on his shoulder and he giggled.
NT: you want your path to be cleared
M; mine, how?
NT: if the elder sister marries then only younger one can be married
M: NT, what is this?
NT; as if I am blind
M: come lets go now, it's late, and there also we have to start the ceremony
NT: ok let's go (Maan was searching Geet) looking for someone
M: yes, where's Geet
NT (smiling): she will stay here (raises her eye brows teasingly)
M: why?
NT: she's Rajji's sister so she will stay with her until the wedding, I gave her 4 days leave
M: she did not bring her suitcase
NT: no, Rajji took it in the morning
M: she knew?
NT: no, it was a surprise, now come on aren't we getting late?
Maan leaves reluctantly with NT looking again and again hoping to get a glimpse of her, but hard luck
On the other hand Geet also did not like the idea of staying at the Bakshi's she was quite disheartened that without her consent Rajji brought her things and also the fact that NT supported her by giving her leave,
she was not liking that she did not get a chance to talk to Maan about this, she scanned her things that Rajji had carried in the morning,
and was relived to see at least all dresses she brought to wear for the wedding were there, but how will she know which one Maan will wear when.
She has to trust her instincts.
Since Maan and Geet have met it was for the first time that they were away from each other, both were restless;
Geet half heartedly went to attend the mehendi ceremony, she wore a mehendi color salwar suit, when she came down much later Rajji whistled seeing her.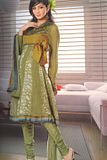 To Geet's surprise Khurana's have come to attend the ceremony both bride and the groom were to be applied mehendi simultaneously.
She searched for Maan he was wearing mehendi color kurta.
NT elbowed Dadi and showed how the two love birds were wearing similar color dresses.
pls comment
silent readers pls hit the like button it takes just a second
I hope you all like it please hit the LIKE BUTTON if so
and please leave COMMENTS
part 13
http://www.india-forums.com/forum_posts.asp?TID=1581943&PID=38917767&#38917767


Edited by smj1977 - 06 February 2011 at 3:17am