Shah Rukh Khan-Vishal Bhardwaj film on Chetan Bhagat's novel put on hold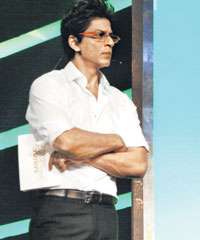 DNA / Soumyadipta Banerjee / Tuesday, January 4, 2011 10:34 IST
Filmwallahs in Bollywood called it a classic case of passing the buck, when it comes to the latest development around the big screen adaptation of Chetan Bhagat's novel 2 States. The film, which created a buzz right from its announcement as it had actor Shah Rukh Khan and filmmaker Vishal Bhardwaj teaming up together for the first time, has apparently come to a halt even before anything concrete could take off around it.
"After the rights were bought over from the writer (Chetan), the initial crew finalised for it was Sajid Nadiadwala as the producer, Siddharth Anand as a director,and actors Priyanka Chopra and Saif Ali Khan in the lead roles. Things changed thereafter," says a source.
Saif Ali Khan and Siddharth Anand were replaced in the film. The new director Vishal Bhardwaj flew to Berlin to meet Shah Rukh and Priyanka Chopra for the film.
"Both were confirmed for the project. When Vishal started the process to take the film to the floors, there was a change in it again. This time, Shah Rukh wanted a fresh face instead of Priyanka," reveals the source.
"We don't know the details but Shah Rukh apparently wanted a fresh face. Though this may not be the case, but Priyanka was eventually replaced," adds the source.
Now, it is learned that apparently Shah Rukh has developed cold feet about the project. "Shah Rukh is keen to make a film with Vishal, but the project has got delayed. He (Shah Rukh) is too busy with Ra.One and doesn't have time to devote to any other movie right now. The project as of now is not taking off with Shah Rukh," the source ends.
URL of the article: http://www.dnaindia.com/entertainment/report_shah-rukh-khan-vishal-bhardwaj-film-on-chetan-bhagat-s-novel-put-on-hold_1490066-all
By: Upala KBR
Date: 2011-01-04
Saif Ali Khan's demands take toll on Ekta Kapoor-Vishal Bhardwaj film
After much speculation, debate and controversy, the film Dream Sequence, to be produced by Ekta Kapoor and directed by Vishal Bhardwaj, has been put on hold.

Says a source, "Right from day one, Dream Sequence (Jaagte Raho) was ridden with problems.




Initially, Saif Ali Khan and Deepika Padukone were to play the lead but first Saif and later Deepika distanced themselves from the project.

At one point, Abhay Deol was to fill in for SAK, who then showed a renewed interest in doing the part, and then had second thoughts for the second time."

New priority

While the hunt for the cast was on, Bhardwaj was offered the opportunity to direct Shah Rukh Khan in the film adaption of Chetan Bhagat's Two States, and that became the priority, as the director has never made a comedy before.

Ekta's film was to go on floors first but Bhardwaj gave away his dates to SRK. Says an insider, "Saif wanted top actresses like Kareena Kapoor, Deepika Padukone, Katrina Kaif or Priyanka Chopra to co-star with him, so Dream Sequence has been put on hold for some time.



Vishal Bhardwaj

Vishal had his own casting issues and between the wish list and permutation-combination of the two actresses, the chances of taking the film to the floors only got dimmer as time passed.

Vishal is very upset with Saif as he feels it's because of him that DS has been put on hold."

Pehle main!

Another reason for the film not taking off, is that it is very similar to Inception, even though Vishal swears he had written his story before Christopher Nolan made his Hollywood hit.

Adds the source, "And to top it all, the film was becoming too expensive and the project wasn't seeming commercially viable.

Balaji Motion Pictures is a conservative company and they weren't sure if they could risk an experimental film with a big star at a big cost, and so Ekta has now postponed the film indefinitely."

While the shooting of Two States begins in May, Ekta will start another film in March with Vishal's assistant at the helm.

Bhardwaj and Saif Ali Khan remained unavailable for comment.