Instead of counting candles,
Or tallying the years,
Contemplate your blessings now,
As your birthday nears.
Consider special people
Who love you, and who care,
And others who've enriched your life
Just by being there.
Think about the memories
Passing years can never mar,
Experiences great and small
That have made you who you are.
Another year is a happy gift,
So cut your cake, and say,
"Instead of counting birthdays,
I count blessings every day!"
Have my prelims going on
(omg what I'm doing on I-F then
) so couldnt open my PS past some days to make u any gift.....
But yea I somehow managed to make a lame one today....
Hope u'll like it.....
May you get all you desire & deserve!!
Hope you had a great day!
All the best for your boards and hope you rock them totally!
May you celebrate many many more birthdays and may each one be a special one!
God Bless..... Keep Smilin'....Keep Shinin'....Keep Rockin'....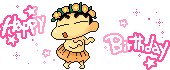 Edited by manasi_31 - 06 January 2011 at 4:50pm