Dun think Where I disappeared these many days without giving written updates...
The reason is that...I am being busy these days...but I think i am seen here and there in random topics....
Okay...Coming to the point why i gave a DARSHAN after long time
Is to celebrate the JANAM DIN of a very very special genda phool...
U heard it right...
Oops!!!
Read it right...

Well, This month is a birthday season in our SGP forum....
Starting from Sanaya di on 1st Jan till Manasi (manasi_31) on 31st Jan...
There are many birthdays in this month....
And now, time to celebrate the birthday of one among the very few "MALE" population of our forum....
I think u guys have guessed it by now...

But Here is a poem from my side about that person...Erm..Journey of that person in this forum till the extent I know...
WARNING: READ THE POEM UNDER RISK
A special day for a very special one
May he have all the success and fun..
He was honoured as the Best Shishya
And for some people, He is a Sweet Bhaiyya..
His favourite is "TANDOORI CHICKEN"
And he is a fan of Pyaara Shin Chan
In Apna SGP, He had been Raunak
He is none other than our SHOUNAK
Iss poem padne ke baad..
I know u all will go mad..
So, before ur condition gets Pathetic..
Lets Wish our Rapchik Ragz Fanatic...
(Shwets...This is the standard of my poem and its the reason why i wont write poems)
Guys...Spare me now...I will complete my post
and after Shounak's party...U can throw all tamatar and eggs at me for this stupid poem..

Now seriously...
I wanna say...
This guy, shounak...Is a very special friend of mine....
One of my best friends in this forum...
He is the one who gave me advices at many times...
And we just had loads of fun together along with others of our Genda Gang...
I just love the moments we all spent...
For some, He is Shishya,
Some call him Shounak Baba..
For some one, He is champ...
But For me...He is a Rock Star and one of my Sweetest Brothers...
HAPPY BIRTHDAY SHOUNAK!!!
From the depth of my heart,I wish you all the success and happiness of the world....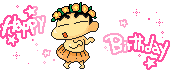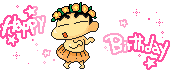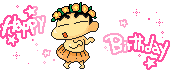 MANY MANY HAPPY RETURNS ONCE AGAIN yaar...

Chalo...Shounak baba
BLOW THE CANDLES
CUT UR FAV SHIN CHAN CAKE
I cant give u all the gifts like flowers etc cuz u r not a girl...
A birthday song specially specially made 4 u...
And Two siggy gifts from my side....

And A TANDOORI CHICKEN PARTY
exclusively for u...
(Veggies...Plz dun mind...This is Shounak's B'day and its his favourite...)
& Tandoori chicken Pizza

And now other delicacies for u
and every one here as well......

uff....hogaya...
I arranged the party and wished Shounak...
Now, Its ur turn to wish him...
A very Happy Birthday...
Love,
Harika


Edited by haaki_ragz - 05 January 2011 at 6:01am