Hey guys
HAILAAA i dont even remeber when was my last update
and i have NOO EXCUSES i know
these last days i was just too lazy to write
and not inspired
..maybe coz i was sick who knows
anyways SOWWIEEE
and i have VERY long update for you..12 pages long
so keep your chappals to yourself
probably a long boring one as i said i was out of ideas
but fikar not the next updates are going to be way better
and posted wayy sooner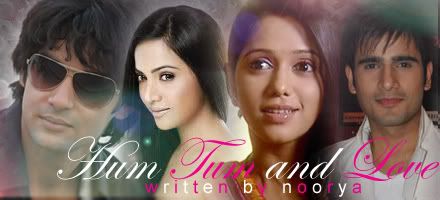 PART 11
The next day Shilpa was in Khanak's cabin talking about yesterday's lunch. Khanak was curious to know what Shilpa and Karan were talking about but Shilpa was more interested by Khanak's work here.
Shilpa: so tell me something...how did you end up giving love advices to people? (khanak rolls her eyes)
Khanak: c'mon not again yaar! I don't know why you guys are so surprised with my work
Shilpa: are you kidding me! Khanak! you don't believe in love then how can you kind of guide people and advice them about it
Khanak: who said you need to fall in love or believe in it to understand what it is about?...I know my work and see my readers like it so plzz can you guys just get over it? (shilpa smiles)
Shilpa: okay fine...then tell me something else...do you have a boyfriend? Or have you ever loved...no for you the word should be "appreciate" or "like" a guy?
Khanak: Shilpa plzz do me a favour and shut up
Shilpa: c'mon Khanak I wanna know about your love life!
Khanak: but I don't have any...yeah I dated guys but it wasn't serious so for god sake stop it!
Shilpa: fine! So let's go for lunch then
Khanak: sorry but I can't today I have lots of work...but why not tomorrow?
Shilpa: yeah cool...gotta go now I'll see you later
***
Shaan parked his car and was grabbing his phone from his car while Shilpa reached the parking lot and saw him. She smiles and seeing his phone in his hands she decided to call him.
Shaan: yes m'am?
Shilpa: hey lover boy! (he smiles)
Shaan: wow...someone's in a good mood!
Shilpa: well...good day good mood! What are you doing?
Shaan: heuu..nothing work (shilpa gets confused)
Shilpa: really?...you mean tum...abhi office mein ho?
Shaan: nahin Shilpa main iss waqt Hawaii mein chill kar raha hoon...office mein nahin tho aur kahan hoon yaar (shilpa didn't know what to say as she was confused about why he was lying)
Shilpa: okay...let's have lunch together then?
Shaan: sorry yaar I have a meeting...but why not dinner?
Shilpa: yeah..sounds nice...
Shaan: where?
Shilpa: my place
Shaan: done! Tho main tumse 8 baje milta hoon
Shilpa: okay...bye
She was very confused about his lie and thinking over and over again wasn't helping her to understand. So she decides to wait till tonight and find out the reason.
In the other side Shaan was looking at his phone with a feeling of guilt. He didn't want to lie but it could be suspicious and risky to awake curiosity in Shilpa or Karan with the fact that he spends lot of time with Khanak.
He brushes his thoughts aside and heads towards Khanak's cabin.
He slightly opens the door to peek in.
Shaan: knock knock! (khanak looks up and smiles)
Khanak: hey! Come on in (he comes and sits where Shilpa was few mins ago)
Shaan: how is LoveGuru?
Khanak: hmmm could be worse...you?
Shaan: I am always fine
Khanak: I know! And I hate to say it but I sometimes envy you (his smile grew)
Shaan: is Miss Khanak Sharma confessing here? (khanak laughs)
Khanak: shut up! kuch loge?
Shaan: no thanks I'm fine...let's go for lunch?
Khanak: yeah I just need to...(a knock disturbs them and Mona comes inside)
Mona: hi Khanak darling I was just...(her eyes fall on shaan) hey handsome
Shaan: hi gorgeous! (giving her his best charming smile)
Mona: hmm did I miss something? I think you spend more time with Khanak than her hottie boyfriend (she looks at khanak shocked) OMG! You broke up with hottie and now you're dating handsome??
Khanak: What? Noo! We don't date each other!
Mona: relax darling I'm just asking..kyunki tum dono ko humesha saath dekh kar aisa hi lag raha hai...
Khanak: Mona...we are not dating each other alright. I'm still with Karan...but Shaan is single! (mona looks at shaan with a big smile and he looks at khanak surprised)
Shaan: heuu...actually..No!...i'm not single
Khanak: really now?
Shaan: yes...Khanak...I have a girlfriend (mona rolls her eyes)
Mona: God kill me...
Khanak: do I know her?...I mean what's her name? (he thinks for a sec and his smile returns)
Shaan: of course...it's Shilpa!
Khanak: WHAT! (his smile grew at her reaction)
Mona: I think I should leave right now...(and she runs from the cabin like a mouse. Khanak was still fixing shaan a lil angry)
Shaan: what?
Khanak: Shilpa!
Shaan: relaxxx it's not true...
Khanak: I know it's not! But why the hell you took her name?!
Shaan: it's the only one which crossed my mind
Khanak: are you serious?! Shaan you date girls every day and Shilpa is the only name to cross your mind?
Shaan: but why are you getting so hyper it's not true
Khanak: I know but Shaan tum Mona ko nahin jante! kal newspaper ki front page pe tum aur Shilpa hoge! (he rolls his eyes)
Shaan: big deal...and btw it's all your fault with your "Shaan is single" thing...and believe me it's a good thing...ho sakta hai Karan insecure feel kare iss baat ko lekar aur Shilpa ko lekar possessive ho jaaye..infact hume ab iss Mona Rosa ke samne roz aana chahiye bohut maza aayega
Khanak: aur tum Shilpa se kya kahoge? She is soo going to kill you Shaan!
Shaan: and I'm sure we are soo going to have fun...
***
At restaurant:
Khanak: so what are we doing next?
Shaan: I have no idea...and madam you're the LoveGuru not me
Khanak: whatever...lekin hume kuch din ke liye break lena hoga varna Shilpa aur Karan ko shak ho sakta hai
Shaan: haan aur aise hume sochne ke liye bhi time milega
Khanak: hume kuch aisa karna hoga so these two can talk and break that ice between them...they need to spend more time together
Shaan: btw I'm spending my evening with Shilpa so I can try to get some informations about yesterday
Khanak: were you ever...attracted by her? I mean did you try something? (shaan smiles)
Shaan: I knew this was coming...okay I can't deny that when I met her for the first time I said to myself this girl is gorgeous...but strangely I never tried anything...we just bonded very well and became great friends...so no woman! I am not attracted to your best friend's ex and my current fake girlfriend Shilpa aur ab mujh pe shak karna band karo! (khanak laughs)
Khanak: I'm sorry Shaan
Shaan: about your question?
Khanak: this but also about my behaviour yesterday when that waiter though we were a couple
Shaan: don't be then it's okay
Khanak: no it's not...I behaved like an idiot because I was just taken aback but it doesn't mean my behaviour was right...you're a great guy Shaan and any girl would love to be with you
Shaan: any girl? (she nods a big smile on her face) any?
Khanak: any...
Shaan: what about you?
Khanak: what me?
Shaan: are you among those girls Khanak Sharma? (giving her a flirtatious smile)
Khanak: hmmm..very interesting question Shaantanu Khandelwal...
Shaan: I am born interesting
Khanak: then who's not interested in interesting people? (raising her eyebrow)
***
Shilpa was waiting for Shaan to come. She cursed him the whole day for disturbing her with his lie and all she wanted was her answer. She somehow had to get an answer otherwise this thought was gone to drive her crazy.
Finally the doorbell rings and she opens the door.
Shaan: hello beautiful lady (she smiles)
Shilpa: hi...come
He barely steps inside that his nostrils were caressed by the good smell of food.
He knew what it was...noodles! he loved noodles made by Shilpa.
Shaan: what do I smell?
Shilpa: you don't know?
Shaan: of course I do know I'm just making sure (they go in the kitchen)
Shilpa: yes it is noodles Shaan
Shaan: do you know that I love you?
Shilpa: wow...so much love just because of noodles
Shaan: just noodles? Shilpa tumhe pata nahin ke tumse ziada acha noodles koi nahin bana sakta (she smiles and gave him a glass of red wine) it's great to spend the evening together
Shilpa: does it mean you don't like it when we are with Khanak and Karan?
Shaan: I never said that we have a great time all together...but I need to spend time with my buddy also
Shilpa: maska lagana band karo and help me with the dinner
Shaan: that was rude and for your information I'm your guest
Shilpa: acha? I thought you were my friend...
Raising her eyebrow with a naughty smile she knew Shaan had no choice but help her.
They spend a great time together catching up with time and eating the noodles.
Shilpa had forgotten to ask about this morning's incident and when it crossed her mind she didn't want to spoil the nice evening she was having.
After few hours they were both sprawled on the couch with their wine glasses in their hands.
Shilpa: can I ask you a question?
Shaan: and you need to ask permission before? (she smiles)
Shilpa: are you dating someone? (shaan's face lit up)
Shaan: nope! why you know a girl?
Shilpa: Nooo! I'm just asking...and if you ever fall in love will you hide it from me?
Shaan: why would I do that Shilpa? You're my friend
Shilpa: janti hoon..but sometimes even friends hide
Shaan: maybe..but I'm not a friend like that...
Shilpa: even if I know the girl? I mean if she is a very close friend of mine?..let's say Khanak (she looks at him to see his reaction but there was nothing) if you fall in love with her? infact if you two date each other will you hide it from me?
Shaan: I seriously don't know why you're asking me all these weird questions...but to answer then no Shilpa I won't do that...infact I will ask for your help to woo her
Shilpa: and you seriously think I'm gonna help you? (he looks at her with his wide eyes)
Shaan: what you won't?
Shilpa: why are you so surprised? You really think I'm gonna help you to woo my friend and that just for a day?
Shaan: and what if I'm really in love with her?
Shilpa: hmmm then I will think twice before helping you
Shaan: can you just stop being mean plzz...and now it's my turn to ask...kinda similar question slightly changed…have you ever been in love? (she was like frozen but just for a sec. she then puts her glass on the table to avoid his eyes)
Shilpa: why are you asking this?
Shaan: aise hi...you never told me about your past iss liye (a faint smile draws her lips)
Shilpa: Shaan what's the need to remember the past? (shaan thought it wasn't a good idea to ask that question and feels bad for her)
Shaan: I'm sorry Shilpa...I didn't mean to hurt you..tumhe kuch batana ya apne past ke bare mein baat karna nahin hai it's fine I understand (she makes herself comfortable and rests her head on Shaan's shoulder before taking a deep breath)
Shilpa: five years ago...I met him five years ago...nice, intelligent, sweet..voh bohut hi acha ladka tha..aur voh mujhse pyaar bhi karta tha lekin keh nahin paa raha tha...but finally one day he told me...(a smile draws her lips remembering that day) usne mujhe basket ball court mein bulaaya tha...we were really in love and we were happy together...(she suddenly frowns and loses her smile) par har love stories ki tarah humari khushi bhi humesha ke liye nahin thi and we broke up...uske baad maine kabhi kisi se pyaar karne ki himmat nahin ki...I was completely broken and that pain...(she closes her eyes as the pain she was talking about just showed up)
Shaan: does it eases with time or disappears?..the pain...?
Shilpa: I don't think it disappears...I think you get used to it..it becomes a routine in your life to feel this pain in a corner of your heart...but I don't wish it to anyone not even my enemy...
Shaan: I'm sorry...
Shilpa: don't be I've learnt to live with it now so it's fine...(she sighs) but can we talk about something else than my tragic love story? (shaan wraps his arm around her and kisses her forehead)
Shaan: sure..let's talk about the good looking dude you have in your house right now...
***
A couple of days passed. Shaan was working and Karan was quite surprised that he didn't move from the cabin yet. These past few days all Shaan used to do was going out for his so called meetings. So Karan was checking every now and then from his file a very focused Shaan typing on his laptop.
Karan: tum aaj kahin jaa nahin rahe ho?
Shaan: I said no karan
Karan: so you're staying here? The whole day? (he stopped typing on his keyboard and looked at karan annoyed)
Shaan: tumhe koi problem hai mere yahan hone se? tum kaho tho main chala jaata hoon
Karan: no I'm just surprised ke tum aaj bahar nahin jaa rahe ho kisi "meeting" ke liye
Shaan: ab jab meeting hai hi nahin tho joothi banaoun kya?
Karan: iss mein kaun si naayi baat hai..(he whispers to himself)
Shaan: kuch kaha?
Karan: haan..aaj tum nahin tho main jaa raha hoon
Shaan: really? kahan?
Karan: Akshay bhaya se milne
He laughs and taking a file heads towards the door. But Khanak opened it first and bumped on Karan.
Karan: Sunshine? What are you doing here? anyways tum yahin rukho main kuch hi der mein aata hoon
Khanak: no it's fine..main Shaan se milne aayi thi
Karan: ohh..okay then I'll see you later (he leaves the cabin and khanak was almost running to shaan)
Khanak: Shaan!! I found the solution!
Shaan: and good morning to you Sunshine!
Khanak: listen I'm serious!...we are going to Goa! (he frowns thinking that he might heard wrong)
Shaan: sorry..come again (focusing on her lips this time)
Khanak: we are going to Goa! (he heard it right but was still confuse)
Shaan: we? are going to Goa? (she sits on the chair)
Khanak: should I repeat again?
Shaan: no no it's fine..but why are we going to Goa?
Khanak: shaan hum Karan aur Shilpa ko lekar plan ki next step dhoond rahe the naa and it's Goa! So you I and the two love birds are going there! (getting the point now he rolls his eyes)
Shaan: love birds! arre yaar tho pehle aise bolo naa mujhe itna confuse kyun kar rahi ho!...and now tell me ki Karan aur Shilpa ka Goa se kya connexion hai?
Khanak: nothing lekin hum banaayenge naa! hum chutti lekar vahan jaayenge and of course you and I will spend the whole time together so Karan and Shilpa have no choice but talk to each other...(shaan loved the idea...not about Karan and Shilpa but he spending more time with khanak. Khanak noticed that he was lost somewhere) Shaan? What happened to you? (her voice brought him back to reality)
Shaan: hun?...kuch nahin..I think it's a great idea
Khanak: I know...and now all we have to do is convince the love birds..aur Karan ko kaise manana hai mujhe already pata hai (he smiles)
Shaan: so I guess my target is Shilpa...lekin one last question..yeh jaan kar ke voh dono vahan honge...do you think voh phir bhi maan jaayenge?
Khanak: hum unko yeh baat bataayenge tab maana karenge naa..(giving a mischief smile)
Shaan: so you mean hum unko kuch bataayenge nahin…okay LoveGuru I think tum kuch ziada hi apne dimaag pe zor laga rahi ho...we'll all go together right so what will happen then? (she rolls her eyes)
Khanak: God shaan you really suck! It's simple main kahungi ki maine tumhe invite kiya aur tumne Shilpa ko! (shaan raised his brow approving the idea)
Shaan: Khanak you are such a devil!
Khanak: I know... (feeling proud) okay lets have a coffee now and yeah call Shilpa also
Shaan: why Shilpa?
Khanak: kyunki tum usse apne iss girlfriend drama ke bare mein bataoge
Shaan: What? Noo!...not now
Khanak: don't be stupid tum usse bataoge coz I wanna see Karan's reaction
Shaan: fine! Let's go!
Karan: where are you going? (both look at the voice direction and find Karan near the door)
Khanak: not you but we. You me and Shaan coffee peena jaa rahe hain
Karan: kyun tumhare office mein coffee nahin hai kya?
Khanak: hai but I was bored there...
Karan: okay lets go..vaise bhi it was weird to see Shaan here whole day (shaan gave him a fake smile and they leave)
***
They reach the coffee shop and Karan heads towards a free table. Shaan wasn't following him and instead he was looking around hoping to see Shilpa already here. He noticed her long dark hair and heads towards her. Khanak follows him and getting confused Karan does the same. When he recognised Shilpa for a sec he felt annoyed that no one told him she'll be there.
Shaan: hello lady! (she looks up and smiles)
Shilpa: hey lover boy!
Khanak: hi Shilpa (she gets even more happy to see Khanak but her smile fades seeing Karan)
Shilpa: hi…
Khanak: tum yahan kya kar rahi ho? (Karan gets confused by her question)
Shilpa: actually mujhe yahan pass hi kuch kam tha aur phir mujhe shaan ka message mila (looking at him) you said you're alone
Shaan: sympathy paane ke liye (giving her a cute smile)
Shilpa: Shaan I told you mujhe aaj bohut kam hai
Shaan: c'mon ek cup coffee ki hi tho baat hai..apne busy schedule mein se paanch mins le sakti ho naa (just then the waiter comes) four coffees please
Shilpa: vaise khanak how come tum bhi inke saath ho? don't tell me Shaan ne tumhe bhi dhoka diya (Shaan raised his brow looking at Khanak)
Shaan: haan Khanak…don't you dare to say that! (she smiles)
Khanak: no actually it was my idea...kam pe bore ho rahi thi aur voh do Mona and Rosa were just too annoying (looking at Karan) they are really missing you (he rolls his eyes)
Karan: yeh do items bohut weird hai...yeh bol kar ke I have a girlfriend phir bhi mere peeche pade hain (Shilpa was taken aback by his revelation. She was feeling suffocated and looks down to hide the pain in her eyes. Khanak signs to Shaan to clarify her misunderstanding and he nods)
Shaan: aise bol rahe ho jaise teri koi asli girlfriend ho (Shilpa frowns and looks up at Shaan confused) iski koi girlfriend nahin hai sab se jooth bol kar Khanak ko apna girlfriend banaya...lekin voh dono iske pyaar mein kuch ziada hi pagaal hai (and he starts laughing. Shilpa strangely felt relieved and smiles slightly)
Karan: has saale...I just wish ki aisa ek din aaye jab voh dono tere peeche padenge
Shaan: brother..don't you worry...tera yeh jo curse hai ab mujhe bhi lagi hai kyunki teri yeh Mona ab mere peeche padi hai (Karan laughs) that's why I called you Shilpa..I need to tell you something
Shilpa: to me? mujhse kya kehna chahte ho?...oh wait tumhe meri permission chahiye (she said sarcastically)
Shaan: actually kuch din pehle main Khanak ke cabin mein tha aur Mona bhi vahan thi...agar main kuch kehta nahin tho abhi tak hum dono ki shaadi bhi ho jaati so….bachne ke liye maine usse kaha ki...
Shilpa: Shaan what??
Shaan: I said...(clearing his throat) that you're my girlfriend!
Shilpa: YOU DID WHAT? (She yelled with her wide eyes. While Shan was confessing Karan had a sip of his coffee but the moment he heard that he swallowed it awry, got stifled and started coughing badly. Shaan and khanak look at each other amused then she patted his back)
Khanak: you okay?
Karan: yeah I'm fine...
Shilpa: stop smiling! (looking at Shaan) tumne mera naam kyun liya!
Shaan: I don't know…uss waqt mujhe aur koi naam sujha nahin but it's all Khanak's fault!
Khanak: what? maine kya kiya?
Shaan: tum hi tho Mona se keh rahi thi "Shaan is single Shaan is single"
Khanak: haan..tho maine todi kaha ke tum Shilpa ko apni girlfriend banao!
Shilpa: guys tum dono kyun lad rahe ho problem mujhe hai!
Shaan: c'mon Shilpa iss mein problem kya hai?...tum meri real girlfriend baan tho nahin gaayi naa...aur vaise bhi yeh drama tumhe roz nahin karni hai sirf unn dono ke samne karni hai (she wasn't convinced) LoveGuru tell her naa it's not that bad
Khanak: okay sometimes it's fun...aur phir unn do bimbos ko jalte hue dekhna bohut acha lagta hai!
Shaan: exactly! Shilpa yaar plzz maan jao meri izaat ka sawaal hai!
Shilpa: fine I'll do it! But you owe me a big one lover boy!
Shaan gets happy and kisses her hand. Karan was silent he wasn't even looking at them and kept himself busy with his phone. Khanak had her hands under the table and she was texting Shaan secretly.
< From Khanak to Shaantanu >
Godd!!! Karan's reaction was to die for!!
Shaan has a slight smile on his face and just like Khanak he texted her back secretly.
< From Shaantanu to Khanak >
I don't know about the reaction but he himself was about to die!
I think he hates me now...
< From Khanak to Shaantanu >
I'm glad you actually did that mistake stranger!
And about Karan hating you...maybe deep down but just a lil bit
<From Shaantanu to Khanak >
I hate you LoveGuru!
But a part of me wish Mona and Rosa were here...
They were texting each other for the next five mins when Karan's expression changes into desperation. Out of nowhere he saw the two people he less expected but above all less hoped.
Rosa and Mona! God was being kind to Shaan and Khanak today...
Karan: you gotta be kidding me!
Khanak: kya hua?
Karan: vahan dekh...teri best friends (Khanak and Shaan look at each other completely shocked)
Shaan: seriously?
Khanak: I don't believe this...
Shilpa: Shaan I'm not doing it
Shaan: of course we are doing it darling...(he holds her hand and waves to Mona who gets excited seeing them)
Mona: OMGGG!! What are you guys doing here? (Karan rolls his eyes thinking why she was acting so stupid)
Karan: coffee shop hai tho coffee peene aaye hain...
Rosa: awww hottie! Do you know how much we missed you...kahan the tum?
Karan: I was busy with work
Rosa: itna busy the ke hume bhi bhool gaaye..hume chor apne lady love ko bhi bhool gaaye...(Mona looks at Shaan)
Mona: so handsome...aaj finally apni girlfriend ke saath ho...Shilpa..baby we are soo happy for you and Shaan (Shilpa smiles. Karan was completely acting deaf and was torturing his poor mobile. Rosa couldn't take her eyes off him but was very annoyed by his phone as he was depriving her from his mesmerizing brown eyes)
Rosa: Oh Karan leave that mobile! todi der humse baat karo naa...kahan the tum I missed you soo much! (he puts his phone in his pocket, faked a smile and looked up at her)
Karan: like I said..I was very busy with work tho kisi se milne ka time nahin tha...
Mona: don't be such a workaholic darling...don't forget you have a girlfriend…
Karan: don't worry for us..Khanak ko meri kam se koi problem nahin hai...aur vaise bhi we live together so we spend all our evenings together..right Sunshine?
Khanak: of course! And we have fun all the time (not able to bear their love story she moves her gaze to Shilpa)
Mona: okay Shilpa darling now you tell us about Shaan...is he a good boyfriend?
Rosa: a real gentleman I guess...(with her dreamy eyes. Shaan raises his brow)
Shaan: haan baby...(softening his voice at the last word) tell them ki main kaisa boyfriend hoon...(Shilpa smiles nervously)
Shilpa: he's...he's nice
Rosa: nice? that's it? (Shaan looks at her disappointed)
Shaan: c'mon Shilpa...you think I'm only nice?
Shilpa: ab main kya bataoun Shaan? I mean...(Mona cuts her)
Mona: aww don't ne shy darling just say it! (her big eyes were examining the faces before her. From Mona and Rosa to Shaan who was eager to hear what she has to say about him..to Khanak who was just smiling reassuringly. And finally her gaze stopped at Karan. He was also looking at her curious and a lil worried at the same time. He was also feeling the pressure she was going through and she noticed that. A bunch a memories hit her at that moment..how this guy in front of her loved her...a slight smile draws her lips)
Shilpa: he's the best...he's the guy every girl dreams of...(she was completely lost in her memories and her eyes were focused on Karan who strangely was feeling related to the description. He wondered if she was actually talking about him) Always trying to make me happy...meri har ek wish poori karne ki koshish karta hai (Shaan was feeling very proud of himself while Rosa and Mona were ready to cry upon their miserable love lifes) he loves me very very much...duniya mein kisi ne mujhse itna pyaar kabhi nahin kiya hoga..shayad meri apni family bhi nahin...jitna usne kiya hai (Karan's heart skipped a bit. When they were together Shilpa used to tell him that he loved her more than her own family so he was sure now she was talking about him. Shilpa moves her gaze from him and looks down as they were getting moist)
Mona: Oh my sweet Lord! Shaan you're soo romantic! (he smiles)
Rosa: I just wanna die! When is my turn coming!...Shilpa you're really lucky (she just smiles)
Shilpa: Shaan...I have to go mujhe kam hai
Shaan: fine...let me drop you (Khanak looks from Shilpa to Karan and gets a better idea)
Khanak: no Shaan you can't! (they all look at her surprised) I mean heuu...tumhe tho abhi meri help karni hai naa
Shaan: help? kiss liye?
Khanak: c'mon Shaan tum bhool gaaye?...hum todi der pehle baat kar rahe the tumhare cabin mein...(she moves her gaze to Karan and Shilpa to make him understand)
Shaan: Ohhh yeah help!!!...how can I forget…(looking at Karan) dude tum office jaa rahe ho naa tho Shilpa ko bhi drop karo (she nervously looks at Karan who couldn't say no and a part of him didn't want to)
Shilpa: Shaan iski koi zaroorat nahin hai main taxi mein jaoungi (Karan gets up)
Karan: it's okay I'll drop you...mujhe vaise bhi office jaana hai so it's fine
Shilpa: really Karan I'm fine...don't bother yourself
Karan: it's okay Sho...(her eyes widened..he was about to call her Shona but he stopped midway. Karan shuts his eyes just for a sec and opens then) Shilpa...let's go (she couldn't refuse anymore so bidding adieu to everyone she follows Karan silently)
Mona: okay...hum bhi chalte hain work is calling!
Rosa: you two don't get naughty here alone
Mona: don't be silly tumne suna nahin how madly Shaan is in love with Shilpa...anyways bye sweeties (finally these two leave also so Shaan and Khanak are left alone)
Shaan: I'm being bad but that was just great! Yeh dono ko dekh kar main itna khush ho jaounga..kabhi socha nahin tha
Khanak: no problem..and Shilpa agreed to play the drama...could it be better!
Shaan: but I think Karan hates me...upar se Shilpa kya kya bol rahi thi mere bare mein...I'm very impressed thought...she gave me an ideal boyfriend image!
Khanak: wait a sec...you really think she was talking about you?
Shaan: I guess the answer is no...(looking confused)
Khanak: and I think tum yeh din mein sapne dekhna band karo...she was talking about Karan!
Shaan: seriously?...wow that means he was badly in love man!
Khanak: and he still is...aur Shilpa ke baatein sun ka now I'm damn sure she is still in love with him...
***
None of them were talking. Karan was focused on the road but his mind still lost on the so called Shaan's description. Few mins ago he was absolutely sure she was talking about him but he wasn't anymore. He wanted to ask her but he couldn't. So he kept his confusion to himself and focused on the traffic while Shilpa was looking at him every now and then.
Shilpa: thanks...(he moves his gaze towards her) mujhe drop karne ke liye (he slightly nods and looks back at the road)
Karan: tumhe jaana kahan hai?
Shilpa: mujhe ghar chordo plzz (he looks back at her confused)
Karan: par tumhe kahin kam tha naa?
Shilpa: actually...main bas vahan se jaane ke liye bahana bana rahi thi...
Karan: Mona and Rosa? (she nods. He looked back at the road and an almost invisible smile draws his lips but it was still noticed by Shilpa) har kisi ki life mein interfere karna unka kam hai so just ignore them
Shilpa: no it's just that I wasn't ready to play Shaan's girlfriend that soon so...I was a lil nervous (Shaan and Khanak...these two stroked her mind again and his lie start to bother her. Her silence awakes curiosity in Karan so he looks at her again to see that she was lost somewhere)
Karan: what happened?
Shilpa: can I ask you something?
Karan: what?
Shilpa: were Shaan and Khanak always together like that?...I mean they look like the best of friends. Whenever I meet Shaan so most of the time Khanak is with him (Karan thinks for a sec)
Karan: yeah they've become very good friends and they are getting closer these days...(exactly what she thought..they are getting closer. But how close are they? And was it friendship closeness or something beyond that? All these questions were provoking a bad turmoil in her mind which was once again noticed by Karan) Shilpa? (she looks at him confused as if she didn't know who he was for a sec then shakes her head to push her thoughts away) what happened to you? It's the third time I'm repeating my question
Shilpa: heuu...I'm sorry I was...what did you ask?
Karan: I said why are you asking me this?
Shilpa: actually...(she wasn't sure it was a good idea to discuss with him about that) nahin...forget it it's nothing
Karan: something is disturbing you right?...mujhe batao maybe I can help
Shilpa: nahin aisa kuch nahin hai Karan...I think my brain is working too much and I'm loosing it...(curiosity was badly taking over Karan and now he wanted to know at any cost)
Karan: c'mon Shona you're so stubborn! Batao naa baat kya hai? (Shilpa was looking at him with her face glowing and twinkle in her eyes. Still unaware of what he just said he looks at her puzzled) kya hua?
Shilpa: you just call me Shona (he didn't know how to react so once again shifts his gaze towards the road)
Karan: I'm...I'm sorry I meant Shilpa
Shilpa: don't be...it felt nice to hear it again after all those years (Karan was feeling uncomfortable so brought back the topic to Shaan and Khanak)
Karan: heuu...tumne bataya nahin...what's the problem with Shaan and Khanak?
Shilpa: nahin koi problem nahin hai it's just...(she takes a deep breath) okay...kuch din pehle main Khanak ke office mein thi aur parking mein maine Shaan ko dekha...aur jab maine usse phone kiya usne mujhse kaha ki voh office mein hai
Karan: you mean he lied to you?
Shilpa: yeah! Voh Khanak se milne jaa raha tha and I just don't know why he lied
Karan: you sure voh Shaan hi tha?
Shilpa: of course...voh mere samne kada tha par usne mujhe dekha nahin...aur uss se pehle I proposed Khanak to have lunch together but she refused saying she had lots of pending work aur Shaan ke saath gaayi (Karan didn't what to say. It sounded so impossible for him...Khanak and Shaan? It was just too hard to believe they always fight with each other. Now Shilpa noticed his absence) I told you I was loosing my sense...I must be badly sick to think something like that
Karan: no I was just trying to figure it out but...(she cuts him)
Shilpa: okay can we just forget this conversation? I'm sure I'm wrong so there is no use to think about it
Karan nods and in just few secs the silence was back and lasted till they reach her place.
Shilpa quietly gets out of the car thanking him politely before. Karan could read her eyes and she was still disturbed by her thoughts and now she regretted to have mentioned it to him. As she turns to leave his voice stops her.
Karan: Shilpa...(she turns back to look at him) ziada socho mat iske bare mein...I'm sure Shaan had a valid reason to lie (she slightly smiles and nods and Karan left)
Love and Luck to All