Helloz people
phew finaly im done with the part
im just too busy these days
and i dont even know why
anyways here u go and even though he is not going to realise yet
i hope im not rushing with shaan's feelings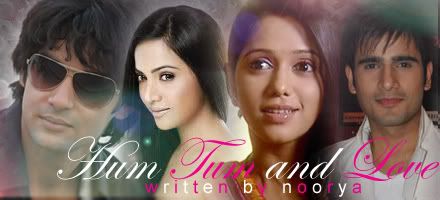 k
PART 10
Shaan and shilpa were in his room catching up with time after having lunch at his place instead of staying at the mall.
Both shaan and khanak knew what the next step of their plan was. Khanak was having lunch with karan. She first waited for him to eat coz the moment she would take shilpa's name his mood will change. So when he was done with his food and was just playing with the rest she thought it was the moment to start.
Khanak: are you okay? (he looks at her confused) I mean with the lift incident and all
Karan: yeah im fine..mujhe kya hoga...(still playing with his food)
Khanak: karan..what happened with shilpa there?...coz when the door opened you guys were so close to each other..(he looks at her nervous)
Karan: nahin..its nothing like that...tum janti ho shilpa andhere se kitna darti hai..aur ab usse band kamre se bhi toda problem hoti hai so I was just helping her
Khanak in her mind: im gonna kill you shaan! I told you lights ko on rakhne ke liye!
…………….
Shaan in his mind: oh shit! Khanak mujhe mar dalegi! (and to shilpa) but are you fine?
Shilpa: yeah im fine...thanks to karan usne meri bohut help ki aur mera dar bilkul bula diya
Shaan: good...vaise hai tho ek number ka khadoos lekin bohut helpful hai
Shilpa: don't be mean shaan...he is not a bad guy
Shaan: really?...vaise tum karan ke bare mein kya sochti ho?
…………….
Karan: what do you mean main uske bare mein kya sochta hoon?
Khanak: matlab jo kuch hua uske baad...shilpa ko dekh kar tumhe bura nahin lagta? Ya phir gussa?...and I am seriously confused ki main kya karun...talk to her or not...
Karan: khanak..tumhe agar shilpa se baat karna hai tho tum kar sakti ho...voh dost thi tumhari and its okay with me I really don't mind
…………….
Shaan: boring! He is such a boring guy yaar! Tumhe pata hai jab usse bahar kehne ke liye bolta hoon tho voh kya kehta hai..."dude im really tired..ghar jaa ke soona hai" bloody khumbkaraan! (shilpa was starting to feel slight anger within her)
Shilpa: what is wrong with you shaan? He is your friend so why are being so mean?
Shaan: mean?...shilpa tum usse janti nahin ho seriously!...jab dekho tho janaab gusse mein hai ya uska mood off rehta hai...kabhi tho lagta hai ki aaj ke zamane ka devdas hai
Shilpa: what rubbish!
Shaan: sachi bol raha hoon...I mean aisa kaun sa ladka hai jo ladkiyon mein koi interest nahin dikhata?
Shilpa: har koi tumhari tarah nahin hai alright! And there is nothing wrong with that
……………
Khanak: I don't wanna talk to her ever again! Infact you know what main usse wapis jaane ke liye bol dungi...I don't want her back here! (same thing was happening to karan here)
Karan: tum aisa kuch nahin karogi
Khanak: why not?...usse wapis apne duniya mein jaana chahiye
Karan: khanak voh yahan kam ke liye aayi hai aur voh bhi shaan ke kehne pe
Khanak: so what? ab mere kehne pe voh wapis jaayegi
Karan: khanak enough yaar!...maine kaha naa mujhe uske hone se koi problem nahin hai then why are you so insisting?...voh kam ke liye aayi hai so just let her do her work okay!
Khanak: par karan…
Karan: bas!...mujhe aur baat nahin karni iske bare mein...
Saying this he heads towards his room leaving a very satisfied khanak behind. Shilpa left shaan's plance in anger and he was very proud of himself.
***
Shaan was walking towards that girl. She had her back to him and was playing with a kid. The wind was blowing her hair and she was struggling to move them backward. A slight smile draws his lips seeing her like that. With every step he was taking the sound of her laugh was getting closer to his ears. He loved that sound...it was so melodious and enjoyable to hear.
He stops just a step behind her and slowly rests his hand on her shoulder. The girl slowly turns but before he could see her face his phone rings.
Shaan opens his eyes and realised that he was dreaming...again! he sits on his bed and rubs his face before checking his phone to see khanak's name appearing on screen.
Shaan: yes khanak?
Khanak: don't tell me you were sleeping shaan!
Shaan: khanak..yaar teri timing itni buri kyun hai...tum do mins baad phone nahin kar sakti thi main bas uska chehra dekhne vaala tha (khanak was confused on the other hand)
Khanak: shaan yeh tum kya bakwaas kar rahe ho? (shaan sighs)
Shaan: nothing hmm...forget it..phone kyun kiya?
Khanak: tumhe aaj ka plan yaad hai naa?
Shaan: haan yaad hai tum fikar mat karo...bas time pe office ponch jao aur vahan se drama shuru
Khanak: fine I'll see you then...
***
Shaan karan and shilpa were together in shaan's cabin talking about the property and fixing the final date to start the factory work. Still according to plan, khanak comes there and apart from shaan shilpa and karan were a lil surprised.
Khanak: wow I think im disturbing you guys (pretending to be surprised seeing all of them together)
Shaan: not at all LoveGuru..vaise bhi we are done
Khanak: great! Then hurry up yaar mujhe bohut bhook lagi hai (karan looks from khanak to shaan confused)
Karan: tum log kahin jaa rahe ho?
Shaan: lunch ke liye jaa rahe hain…and btw why don't you guys join us? (shilpa was all nervous not ready to answer while karan wasn't convinced after the convo he had with khanak but also he wasn't sure he wanted to spend time with shilpa)
Karan: heuu..actually I think...(khanak cuts him)
Khanak: it's a great idea! (karan looks at her confused) im sure we will have fun
Shaan: yeah then let's go!
***
They reach the restaurant, shaan and shilpa were walking together while karan and khanak were behind them. Karan still wasn't really confortable with the idea to spend time with shilpa. But what annoyed him more was that it was Khanak who agreed to the idea whereas she was the angry one yesterday.
Karan: why did you say yes? (khanak looks at him confused)
Khanak: what?
Karan: tumne shilpa ke saath aane ke liye haan kyun kaha?
Khanak: kyun tumhe koi problem hai kya? (he tried to sound as convincing as he could)
Karan: nahin tho..mujhe koi problem nahin hai...voh tum hi tho kal kafi kuch bol rahi thi uske bare mein so I was surprised when you liked the idea…
Khanak: karan...mujhe shilpa se problem thi kyunki maine socha you don't like her...but you said there isn't any problem for you so im also fine…
She gives him a very cute smile and takes seat. The whole time shaan and khanak were talking to each other hoping that shilpa and karan will exchange some words as well. But of course nothing as such happened. They were just exchanging few nervous glances. Feeling desperate shaan decides to talk about something they hopefully will get interest in.
Shaan: vaise khanak...how's your show going?
Khanak: good...vaise we are taking a break very soon..I think I have one or two interviews left
Shaan: any idea about the guests?
Khanak: nope..but why are you asking? Tumhe aana hai kya? (shaan smiles)
Shaan: no thanks…but listen why not shilpa? (shilpa looks at him with her usual big eyes in shock)
Shilpa: What??
Shaan: yeah! You're a very successful lawyer and im sure you'll have fun there
Shilpa: shaan I don't think it's a very good idea...
Khanak: why not? (along with shilpa karan was taken aback) I mean if you want to of course...but I think it'll be great to have you there as my last guest...and if you want shaan can also come as you guys work together…infact karan you come also and talk about your project with shaan (he looks at shilpa then back at khanak)
Shaan: that's a great idea LoveGuru! Im sure whole Mumbai will love this inerview (before the idea goes futher karan decides to protest)
Karan: guys wait..im not doing this
Khanak: why??
Karan: bas im not doing it...mujhe koi interview nahin dena hai
Khanak: c'mon karan! what's the problem?...it's just a talk show
Karan: I know it's a talk show..but im not interested in it...agar mujhe yeh karni hoti tho bohut pehle karta but I just don't like it (shilpa felt it was due to her he was refusing and it pinched her heart)
Khanak: stop being so selfish yaar! Jab tum mujhe apne uss stupid and boring parties mein le jaate tho main maan jaati naa..then can't you do this for me? (shaan caresses his forehead knowing this will lead to another fight)
Karan: tho ab kya force karogi jaane ke liye?
Shaan: guys! (looking at khanak) tum pehle apne boss se baat tho karo..agar approval mila tho show tak hum isko bhi maana lenge
Karan: hello..kya maana lenge? I said no naa aur yeh badalne vaala nahin hai
Shaan: theek hai mat maan..tho phir hum zabardasti hi karenge phir (shilpa hides the smile on her lips)
Khanak: okay mujhe washroom jaana hai we'll talk about that later
Shilpa: can I come with you? (khanak smiles at her)
Khanak: sure lets go (both leave and shaan looks back at karan)
Shaan: whats the problem?
Karan: nothing why?
Shaan: then why you don't wanna come?
Karan: yaar ab tu shuru mat ho jao..
Shaan: karan yaar voh tumhari dost hai tu itna bhi nahin kar sakta uske liye?
Karan: shaan dekh ab tu apna yeh emotional blackmail shuru mat kar alright..I said no then why are you guys insisting so much?!
Shaan: theek hai mat aao! Par jab khanak tumse naraaz ho jaayegi aur baat nahin karegi naa tho meri madat maangne ke liye soch bhi mat...khadoos kahin ka!
Karan: do you know that I can hear you? (shaan gives him a fake smile)
***
Khanak was arranging her hair and clothes in front of the mirror and noticed shilpa's reflection staring at her so she turns.
Khanak: what?
Shilpa: why are you behaving like this?
Khanak: like what? (she takes few steps and stops in front of khanak)
Shilpa: khanak you are behaving as if our meeting never happened that day...tum vahan se bina kuch kahe bhaag gaayi aur aaj you're completely fine and behaving as if we are the best of friends inviting me everywhere (khanak smiles)
Khanak: look...uss raat se pehle mujhe humesha yahin laga ki karan ki dukh ki waje tum ho...but after that day...I found out that its actually because of me...tum dono ke beech jo kuch hua was because of me
Shilpa: don't be stupid khanak..you know whatever happened wasn't your fault so stop blaming yourself
Khanak: acha? Do you even realise ki agar main tum dono ke zindagi mein nahin hoti tho naa hi karan London jaane ke liye inkaar karta aur naa hi aaj tum dono alag hote
Shilpa: but do you realise ki agar tum nahin hoti tho main aur karan kabhi ek saath hote bhi nahin...khanak…agar tum nahin hoti tho shayad karan mujhe kabhi propose hi nahin karta (khanak holds her hands)
Khanak: shilpa im sorry...for whatever happened...sorry if I've hurt you
Shilpa: khanak you don't know how good it feels talking to you like that...I know we can't be friends again like we used to but the fact that you don't hate me is more thann enough
Khanak: who told you we can't?...you'll always be my friend no matter what (feeling relieved shilpa hugs her overjoyed)
Shilpa: thank you khanak...im soo happy to have you back in my life
Khanak: I promise shilpa...everything will be fine (shilpa looks at her with her wet eyes) now let's go varna shaan aur karan yahan aa jaayenge
Shilpa and khanak were coming back to their table when khanak stops having an idea. Shilpa looks behind and finds khanak looking confused.
Shilpa: kya hua?
Khanak: listen...ek kam karo tum jao aur plzz shaan ko bar pe baijh do I need to talk to him about the show but plzz karan ke samne mat bolna just tell him I need his help
Shilpa: alright main baijhti hoon usse...
Shilpa did what exactly khanak requested. She just confused shaan saying that khanak needed his help for something and he leaves from there. Shilpa sits at her place and just then realised that she was left alone with karan…again. Nervousness took over her and she started playing with the strand of her hair. Karan wasn't feeling confortable either but the moment he noticed shilpa torturing her poor strand a slight smile draws his lips. Feeling the need to calm her stress he decides to speak first.
Karan: so…you're doing khanak's show? (she looks up at him nervously)
Shilpa: heuu...yeah..I guess so...I mean if her boss agrees...and you?
Karan: no I don't think so
Shilpa: kyun?
Karan: bas...maan nahin kar raha hai
Shilpa: it's because of me isnt it? (karan didn't know what to answer. Yes she was the reason he wasn't coming but he didn't know what exactly he was feeling towards her) karan...that day I asked you something in the lift but you didn't answer and here again you're not giving me my answer (karan was feeling anger growing within him)
Karan: can we just stop talking about that?
Shilpa: im just asking a simple question and want a simple answer...(feeling annoyed with his behaviour now) if its me then just say it I will not do it...vaise bhi idea mera nahin tha..naa hi show ke liye aur naa hi lunch ke liye
Karan: dekho..mujhe iske bare mein koi baat nahin karni hai so let's just stop it...and why the hell are you talking about that lunch idea??
Shilpa: coz its obvious that you're not comfortable with my presence..aur shayad tum bhool rahe ho lekin start tumne hi kiya show ke bare mein baat karna...you know what just forget it tumse baat karna hi bekar hai! I don't even know why you're forcing yourself to be nice with me
Karan: you're right its my mistake! So can we plz stop talking now?!
***
Here khanak and shaan were watching them discreetly. Khanak was happy that the idea worked and they were talking to each other. And from their place they couldn't see that karan and shilpa were actually arguing.
Khanak: thank god yeh dono kuch tho bol rahe hain ek doosre se (shaan smiles)
Shaan: yeh sab tho theek hai lekin tumne mujhe yahan kyun bulaaya?
Khanak: time pass karne ke liye! Stupid unn dono ko akela chodne ke liye aur kiya
Shaan: how smart yaar really! Mujhe vaise laga nahin tha ki humara plan actually kam karega
Khanak: plan se yaad aaya (hiting him on his arm) stupid! I told you lights ko on rakhne ke liye! Agar shilpa ko kuch ho jaata tho! (rubbing his arm due to pain shaan was looking at her angry)
Shaan: yaar khanak ab mujhe kya pata tha usse band kamre se problem hai!
Khanak: shaan she is your friend tujhe kaise pata nahin
Shaan: I know she is my friend..lekin maine London maine koi detective todi rakha hai uss pe nazaar rakhne ke liye
Khanak: shaan you're impossible!
Shaan: thank you! (a waiter behind them was watching their fight very amused. Shaan looks at him annoyed) tum kyun has rahe ho bhai? Bohut funny scene chal raha hai yahan pe?
Waiter: no sir…voh bas jiss tarah aap apni girlfriend ko maana rahe ho mujhe nahin lagta kam karega (shaan and khanak look at each other shocked then khanak looks at the waiter)
Khanak: WHAT??..NO no no! im not his girlfriend!...aap...dekhiye aap apna kam kijiye alright
Waiter: im sorry m'am...aap dono ka jadga dekh kar mujhe laga aap couple ho so…(she cuts him)
Khanak: listen…zaroorat se ziada socho mat..we are not a couple okay...now just focus on your work (shaan was taken aback by her reaction)
Shaan: what was that? (she looks at him confused)
Khanak: what?
Shaan: itna overreacting kyun kar rahi thi?
Khanak: tumne suna nahin usne kya kaha? He thought im your girlfriend!
Shaan: and is that such a bad thing? I mean main itna bura hoon ki tumhe meri girlfriend kahne par tum aisa react karo jaise main duniya ka sab se bura ladka hoon
Khanak: ohh God shaan! Did I hurt you?
Shaan: just forget it khanak!
He looks aside bothered with her behaviour and for making fun of him. Khanak examines his face for a second and suddenly bursts into laughing.
Shaan looks up at her very annoyed but soon his expression changes into amazement. His heart skipped a beat seeing her laughing like that. He loved her smile...he even told her once but he only realised today how beautiful she looked smiling. And her laugh...it was the most pleasant sound his temples have ever heard. That sound…it was too familiar for him he already heard that before...it was exactly the same sound in his dream this morning. He was surprised by this discovery and didn't know what to think.
Khanak finaly managed to calm her laugh and looks at the lost shaan.
Khanak: kya hua? (he skips from his thoughts looking at her)
Shaan: hun?
Khanak: whats wrong??
Shaan: nahin..kuch nahin…chalein? (she nods and both join back shilpa and karan)
***
Khanak and karan were engrossed in a conversation while shaan was lost in his thoughs. He couldn't stop himself from staring at her. He found his gaze always being pulled towards her specially when no one was looking and that was badly annoying him. Why khanak was affecting him so much these days..why she was soo similar to his dream girl..these questions were haunting him now. He never felt this way before specially for a girl. Shilpa was his very good friend but he never experienced this strange feeling with her so why it was different with khanak he thought...
***
Late that night, shaan wasn't able to sleep. He was at the bar of his house with his glass of scotch lost in his toughts when he felt a hand on his shoulder. He looks up and finds sunil.
Shaan: dad? aap abhi tak sooye nahin? (he sits besides him)
Sunil: tum bhi tho jaag rahe ho...
Shaan: yeah voh bas neend nahin aa rahi thi...scotch?
Sunil: sure (shaan poured him some and gave him the glass) problem kya hai?
Shaan: koi problem nahin hai dad..
Sunil: baap hoon tera aur teri shakal dekh kar saaf dikh raha hai ki koi baat pareshan kar rahi hai tumhe...office ka tension?...ya phir personnel matter? (shaan gave him a helpless look) alright...tho mamla personnel hai...aur problem kya hai? (shaan sighs)
Shaan: I don't know dad...mujhe khud pata nahin ki problem kya hai
Sunil: beta shaan...aise situation mein sirf do hi reasons hai...ya tho tum uss baat ka samne nahin karna chahte aur usse avoid kar ke bhaagna chahte ho...ya tho phir my son you have a serious problem
Shaan: kyun?
Sunil: arre tum pareshan ho lekin waje bhi pata nahin
Shaan: dad you're really not helping me
Sunil: and how am I supposed to help you?...tum mujhe apne problem ke bare mein kuch bata nahin rahe ho (he has a sip of his scotch) par haan..itna bata sakta hoon ki pareshani ladki ko lekar hai (shaan looks at him surprised)
Shaan: is it that obvious?
Sunil: nalayak kaha naa baap hoon tera!...mujhe pata nahin hoga tho aur kisse pata hoga
Shaan: right aap mere dad hain... (with a sarcastic voice) tho aap hi bataaye naa ki meri problem kya hai
Sunil: well...genuinely jab koi ek ladki ko lekar confuse hota hai tho that means usse pyaar ho raha hai (shaan has a sip of his drink but the moment he hears the word "pyaar" he gulps it in shock)
Shaan: WHAT??!! Yeh aap kya bol rahe hain dad! aisa kuch nahin hai alright..problem ek dost ko lekar hai pyaar kahan se beech mein aa gaaya?
Sunil: chill son..main tho bas aise hi bol raha tha...phir mujhe yeh batao ki dost ko le kar kaun sa problem hai?
Shaan: actually dad...pata nahin kaise bataoun...lekin meri ek dost hai jiske bare mein main aaj kal kuch ziada hi sochta hoon...you know like...as a friend of course...lekin pehle kabhi aisa nahin hua tha...mujhe humesha uski fikar hoti rehti hai
Sunil: tho iss mein kaun si naayi baat hai? (shaan looks at him confused)
Shaan: matlab?
Sunil: shaan..tum humesha se aise hi the...tum apne family aur apne doston ko lekar humesha aise overprotective rahe ho tho yeh baat tumhe ab kyun pareshan karti hai?
Shaan: I know...lekin its different dad...ek dost ko lekar maine pehle aisa kabhi feel nahin kiya hai...infcat I don't even know what's that feeling (sunil sighs and gets up)
Sunil: alright then...good night
Shaan: what? Kahan jaa rahe ho aap?
Sunil: raat ki do baje hai tho soone jaa raha hoon...
Shaan: but dad apne meri problem solve hi nahin ki..infact usse aur bhi bhara diya aur ab jaa rahe hain (he rests his hand on shaan's shoulder)
Sunil: beta iss mein main tumhari koi madat nahin kar sakta...agar tumhe sach mein tumhari iss confused feeling ke bare mein kuch pata nahin then you have to find out..lekin yeh kam sirf tum hi kar sakte ho...(he patted his back and heads towards his room)
Shaan: pyaar..aur voh bhi khanak se...dad bhi naa...kuch bhi bolte hain yaar...
Love and Luck to All