Helloz
i dont why but i dont feel safe coming here
SOWWIEEEE for being SOOOO LATE
but i have two reasons!
first coz it was again a full ShaNak one
so i had to add at least one ShiRan scene
and also coz this part was seriously acting talli with me
and i dont really like how it turned
but still im here with a very long and probably
boring part but i wasnt very inspired for that one
and sorry i couldnt reply to the comments
i was already late so it was better to post the part directly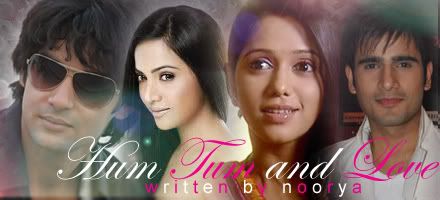 PART 9
As soon as Shilpa left khanak sent a message to shaan informing him about everything and that shilpa wants to talk to her so they decide to meet and discuss the matter.
Shaan: voh tumhare office mein tumhe congratulate karne aayi thi?
Khanak: yeah! I mean she was behaving as if nothing happened between us and we are still best friends!
Shaan: and you proved her wrong right? uss se kuch galat keh kar
Khanak: of course not! Infact I was kinda shocked with her behaviour...she even said that im her friend and she's very happy for me and I was just dumbstuck! But I was feeling guilty as if I was betraying karan...(shaan sighs)
Shaan: khanak…c'mon yaar you did nothing wrong...ek tho tune shilpa ko nahin bulaaya and shilpa...yaar she is such a sweet girl and she was and maybe still is your friend...aur ek baat kahun...i really cant believe ke usne karan ke saath kuch bura kiya...im sure there's a solid reason...
Khanak: sach kahun tho...even I don't wanna believe it...i mean I know shilpa and she really loved karan...shaan they were planning their future together so how can she leave him?
Shaan: who knows maybe that's what she wanna talk about...maybe she thinks she owes you an explanation (khanak thinks for a sec)
Khanak: hmm maybe you're right...
***
The next day khanak woke up later than usual as she spent her whole night thinking about her meeting with shilpa. So she first gets ready for work and then goes downstairs to make the breakfast but for her surprise it was already ready. She finds karan on the couch with his eyes closed but what cought her attention was his clothes. He wasn't ready for office yet.
Khanak: karan? (karan opens his eyes and looks at her direction)
Karan: hi...tum aaj late uth gaayi...(she sits besides him on the couch)
Khanak: yeah…I was tired but..why aren't you ready for office? Late jaa rahe ho?
Karan: heuu actually...maine socha main aaj ghar pe hi rehta hoon...kam pe jaane ka bilkul maan nahin kar raha (khanak sighs and takes her mobile to call someone)
Khanak: hello Ria?...listen im not coming today so if u wanna take your day u can okay? Bye (karan looks at her confused when she hangs up)
Karan: tum kyun nahin jaa rahi ho? (khanak crossed her legs and rests her head on his shoulder)
Khanak: I wanna spend my day doing nothing with my stupid buddy (karan smiles and wraps his arm around her) you wanna talk about it?
Karan: not yet…
He drops a kiss on her head and then rests his cheek on it. They stayed like that for a while not saying anything. Khanak's presence was more than enough for karan to feel better. There was no need for her or even him to say anything. Being just by his side during these not so easy days was what he needed most in life.
After some time khanak decides to do something to change his mind rather than just stay here.
Khanak: shaan se milne chale?
Karan: par voh tho office mein hoga naa
Khanak: so what?..im sure voh bhi bore ho raha hoga
Karan: okay...but let me change first
Khanak: ya you go and change tab tak I'll call that idiot! (karan goes in his room and khanak calls shaan)
Shaan: hello LoveGuru!
Khanak: shaan are you busy?
Shaan: hmm yeah kind of...
Khanak: what do you mean kind of? God don't tell me you're with a gal!
Shaan: yes I am!...kyun you're feeling jealous? (with a mischievous smile)
Khanak: yeah right!...anyways its time to say bye to her
Shaan: what? nooo why?
Khanak: coz me and karan are coming at your place!
Shaan: ohh like that...theek hai main bas dus mins mein ponch raha hoon
They disconect the phone and karan comes down wearing a blue jeans with black shirt and both leave.
Harilal welcomes the two as Madhvi and Khusboo were out for shopping and Sunil and Akshay at office.
After a while shaan reaches home and was happy to have these two at his place and specialy karan.
Shaan: hello guys! (he sits on the couch besides khanak) aaj kya hua jo tum logon ko meri yaad aa gaayi?
Karan: main tho ghar pe rehne vaala tha par khanak tumse milna chahti thi
Shaan: really?? (giving a mischievous smile to her) mujhe bohut miss kar rahi thi kya?
Khanak: shut up! aisa kuch bhi nahin hai alright...hum bas ghar pe bore ho rahe the tho maine socha kyun naa humare joker se mile (karan laughs)
Karan: vaise shaan...i hope tu busy nahin tha
Khanak: of course karan! Shaan was very busy...apni aaj ki naayi project ke saath busy tha..hai naa shaan?...vaise tumhare project ka naam kya tha?
Shaan: how mean khanak!...ladki ho kar ladki ke bare mein aisi baat karti ho...auraatzad ki respect karo yaar!
Khanak: oh plzz! Tum tho aise baat kar rahe ho jaise tum ladkiyon ki bohut respect karte ho...roz ek ladki ko date karte ho and that to get only one thing! (shaan gets into his dramatic mode making a desapointed face)
Shaan: im hurt khanak...you really think I want only one thing from girls? (karan raises his eyebrow as he knew shaan was just pretending)
Khanak: am I wrong stranger?
Shaan: of course you're wrong yaar!...vaise what im doing voh tum kabhi nahin samjhogi Miss I don't believe in love
Khanak: really now? So plzz...mujhe batao..i do wanna know why Shaantanu Khandelwal changes his girlfriends like his shirts
Shaan: because Shaantanu Khandelwal is looking for his special girl! (khanak burst into laughing and looking at her karan was at the edge to explode but noticing shaan's annoyance he controls himself) what's so funny?
Khanak still laughing: you idiot!...(calming herlsef) shaan you really think dating a girl every day will help you find the "special" one?
Shaan: of course!...voh tho mere ghar pe aane se rahi naa...tho mujhe hi dhoondna hoga usse
Khanak: but don't you think you need more than just one day?...how can you be soo sure that she is or not the one just in a day?
Shaan: oh hello...mujhe yeh jaan ne ke liye hundred dates ki zaroorat nahin hai alright!...if she is special then I will know it
Karan: par shaan...dude don't you think Mumbai mein aisi ek ladki nahin hai jisse tune abhi tak date nahin kiya ho?
Shaan: ha ha how funny man bohut ache jokes marte ho...(karan smiles)
Karan: okay a serious question...do you have any idea about the kind of girl you want?
Shaan: not really...but I know how she shouldn't be
Khanak: really?...How?
Shaan: like you! (she frowns)
Khanak: just shut up okay! And you know what I am just too good for you! Agar tumhari uss special girl mein naa meri ek bhi quality ho then you should really feel lucky! (it was leading them into another argument and karan was feeling it)
Shaan: tujh mein koi quality ho tho main lucky feel karun naa...i can spend a lifetime thinking about a quality par kuch milega nahin bossy LoveGuru!
Khanak: you know what you will never find your stupid special girl and you know why?...coz you don't deserve her you stupid jerk!
Shaan: jerk!?...tumne mujhe jerk bulaaya!!
Khanak: that's whaat you are! (karan decides to stop the fight as it was going to far)
Karan: ok guys time out!...if one of you once again utter a wrong word then im leaving got it?
Shaan sighs: yaar karan...tujhe chor ke ab yeh mujhse itna ladti kyun hai? that was your job dude!
Khanak: that's because mujhe karan se bhi ziada irritating dost mila (karan looks at her with wide eyes)
Karan: you think im irritating??
Khanak: c'mon karan...you can't deny the fact that we always fight
Karan: and of course it's my fault right Miss bossy?! (now it was shaan who was feeling a fight)
Shaan: heuuu can we come back to my special girl topic?
Khanak: can we just talk about something else?
They spend the whole afternoon talking and having a good time. Khanak was feeling nice seeing back the smile on karan's face. He was looking incomplete without it..he wasn't karan.
And karan was actually feeling nice after a quite long time. Spending time with shaan and khanak used to distract him. Khanak checks the time and realised she had to meet shilpa and she was getting late. She takes her purse and stands up
Khanak: guys I gotta go I have to meet someone
Karan: kaun?
Khanak: heuu...she's a reader of love advices so she wanted to meet coz she needs my help
Karan: fine I'll come with you (khanak looks at shaan as she needed help and he stands up abruptly)
Shaan: nahin! (karan looks at him confused) heuu I mean...tum kyun jaa rahe ho? You should stay here..akshay bhaaya bhi aane vaale hain..I think he wanna talk to you about a project
Khanak: karan tum akshay bhaaya se milne ke baad hi ghar jao and I'll see you there...vaise bhi the meeting is private so you cant come
Karan: alright then...you take the car and shaan will drop me
Shaan: sure! Of course...I'll drop you
Khanak: ok bye im late (khanak runs from there leaving shaan with a confused karan who was trying to understand why he insisted so much to stay)
Shaan smiling: wanna drink?
Karan: no thanks..(after a second though) actually yes..I'll have a scotch
Shaan: scotch it is!..chal bar pe chalte hain
***
Khanak reaches the place. She was late and shilpa was already there waiting for her. She has her back to khanak sitting on a bench. Khanak takes a deep breath and walks towards her.
Khanak: shilpa? (she looks up and feels relieved to see khanak)
Shilpa: hi...thanks for coming (khanak sits besides her)
Khanak: sorry im late
Shilpa: no its okay don't be...
Khanak: you thought I woudn't come right (shilpa smiles faintly)
Shilpa: you're his friend khanak
Khanak: but im here...and I want to know why (khanak was someone straightforward. If she had a question she would ask directly and that's something shilpa loved in her. That though brought a smile on her face)
Shilpa: tum bilkul nahin badli ho...aaj bhi baat ko ghooma nahin deti
Khanak: kuch baatein kabhi nahin badalte...par iska matlab yeh nahin ki hum nahin badalte...I've changed..you've changed and karan...karan is just not karan anymore…(shilpa lowers her gaze for a sec then looks around her and remembers this place)
Shilpa: remember when we used to come here? (a smile draws khanak's lips)
Khanak: if I remember?...we always used to annoy karan here and this is where he gave us twin devils name (they both laugh)
Shilpa: kitna taang karte the hum dono usse...I really miss those days (she looks at khanak with a serious expression) do you also hate me? (khanak's heart pinched on the word also. She knew something happened between her and karan that day at office but what she also knew was that he didn't hate her. He was angry and badly hurt but he never hated her)
Khanak: I tried...I really tried and thought that I hate you. After you left karan never mentioned you name again..it was as if you never existed in our lifes. So I thought I hate you till I saw you again and realise that I don't actually...(shilpa's eyes get moist feeling peacefull in a corner of her heart that at least khanak don't hate her)
Shilpa: I really missed you khanak..karan..Mumbai..our friendship...with every passing day I was missing all this very badly...infact I wanted to come back but it was too late...
Khanak: but it was your choice..you chose that life..you decided to leave us behind...kisi aur ke nahin par ek baar..sirf ek baar karan ke bare mein soch sakti thi naa? you knew he loved you more than life itself and yet you left...
Shilpa: yes he loved me...but we both know he loves you more khanak...aur tumhare liye voh khud ko aur baki sab rishtey bhool sakta hai...(khanak gets confused on her last sentence and frowns)
Khanak: what do you mean? (shilpa realise that she did a mistake by mentioning that and thinks of a way to avoid the topic)
Shilpa: nothing...I just said that karan really loves you
Khanak: no..what did you mean by mere liye voh khud ko aur baki sab rishtey ko bhool sakta hai?
on which song he perfomred on at the gr8 awards
Shilpa: khanak nothing really..maine aise hi bola...anyways its getting late I should leave now (she quikly takes her purse and was about to leave when khanak call her)
Khanak: wait shilpa (she stops in her tracks and nervously turns back to khanak) jab se main aayi hoon only you were asking questions..now its my turn...I've only one question and I want my answer...(shilpa was feeling very nervous) why you and karan broke up? What happened that night after the graduation?
Shilpa: it doesn't matter anymore...paanch saal ho gaaye uss baat ko ab koi faida nahin uske bare mein baat karna
Khanak: par mujhe jaan na hai shilpa...kyun karan ne mujhe yeh baat kabhi batana nahin chaha?
Shilpa: khanak plzz...just forget it (she was pleading her)
Khanak: shilpa...I told you I want my answer..aur jab tak tum mujhe bataogi nahin main tumhe jaane nahin dungi
Shilpa: khanak I don't understand why you wanna know it now? After five long years...faida kya hai?
Khanak: coz I wanna know what happened between you!...karan is my friend and he needs my help so I have to know the truth...and you are...you were a part of my life shilpa...a very important one so I have the right to know the truth
Shilpa knew it was a lost cause to argue with khanak. If only she could go back in time and never mention that topic but it was too late and the damage was done. And now she has no choice but to reveal the truth to khanak. Shilpa sighs and narrates her the whole story.
Khanak was frozen at her place. She wasn't able to move or say a single word. She couldn't believe she was the reason behind their break up. The two people she loved the most suffered for five years and went through hell just for her happiness. She hated herself..she just wanted to die and desapear from their lifes. Shilpa was very worried so taking a step forward she holds khanak's hands.
Shilpa: khanak plzz say something...khanak! (her voice brought khanak back to reality and she frees herself from shilpa's hold looking into her big worried eyes. And all she could do was taking steps backward and whisper)
Khanak: im sorry…im really sorry……im sorry...(and she quikly runs from there)
***
Khanak was driving her car not knowing where she was going. All she wanted was to run away from that cruel truth..run away from her thoughs. She tried to focus on the road but her vision blured. She rubs her eyes and feels her fingers wet which confuse her. Not paying much importance to that she again focused on the road but her vision was still blured. She abruptly stops the car very annoyed and checks what was wrong with her eyes. They were too warm and badly wet. She soon realised that she was crying. For the first time khanak was crying. That badly as if a tap was broken and the water wasn't ready to stop from flowing. She was suffocating in the car so she rushed out of it. She was trying to breathe laying against her car but her tears turn into sobs and she slips to the ground.
She hated herself for crying but she held them back for a very long time now and she needed to cry...cry until she feels better.
***
After her moment of breakdown khanak realised that she was at the beach. She decides to stay there for a while. She was sitting on the cold sand watching the waves hitting the enormous rocks. She was silently crying rubbing her bare arms due to the cold breeze.
The next moment she felt sudden warmth. She turns her face and was surprised to find Shaan knelt down covering her with his jacket. He gave her a warm smile and sits besides her.
Khanak: tum yahan kaise?
Shaan: shilpa ne phone kiya...
Khanak: but how did you find me?
Shaan: well...pehle maine socha poori Mumbai ghoomun teri talash mein...aur phir maine socha ki tum aur karan ziada different nahin ho tho yahan aaya (she gave him a faint smile)
Khanak: aaj tak koi nahin janta tha ki main yahan aati hoon...not even karan
Shaan: God...tumne karan se itni badi sachai chupaayi (her smile vanishes thinking what she hid from him was nothing compared to his truth)
Khanak: it's all my fault shaan…whatever happened between karan and shilpa is all my fault...karan ne meri waje se shilpa ko choda...kyunki voh uske saath london nahin jaa sakta tha...for him I was his responsibility. The two people I loved the most suffered and that coz of me..
Shaan: no it's not khanak...nothing here is your fault...tumne karan se kaha shilpa ko chorne ke liye? Ya phir kya tumne uss se kaha tumhare saath rehne ke liye?...no khanak...jo hua sab unn dono ka faisla tha...
Khanak wasn't able to hold her tears so once again breaks down hugging shaan very tightly. For the first time shaan saw a weak khanak...a very helpless and broken khanak...it pained him seeing her like this. But something was disturbing him...when khanak hugged him for some strange reasons his heart skipped a beat. It wasn't the first time she was hugging him but it never felt this way before. He couldn't see her crying so all he wanted was to ease her pain. This strange feeling was soo deep that he was ready to endure that pain for her. He wanted the fun loving and always smiling khanak. He tightens his grip around her making her feel better and safe in his embrace.
Being in his arms actually calmed khanak. She was still crying but her sobs stops.
Khanak: I destroyed my best friend's life shaan...meri waje se voh dono aaj saath nahin hai..maine unko alag kiya hai shaan...I wish main kabhi unki life mein nahin aati hoti I just wanna die! (shaan makes her face him feeling a sligh anger within him)
Shaan: don't you ever say such stupid things again khanak!...tumhe iss baat ka ehsaas bhi hai ki tum karan ke liye kitna important ho?...tumhe sach mein lagta hai ki karan ne shilpa ko choda kyunki tum uski ek resposibility thi?...if yes then you're a fool khanak!...dont you realise how much he loves you?...now I get why he never told you about that...agar uss din voh tumse sach bolta tho usse pata tha ki tum usse shilpa ke saath jaane mein majboor karti...tho usne kuch nahin kaha...not coz you were his responsibility...iss liye kyunki voh apne pyaar ke bina reh sakta hai lekin apne sunshine ke bina nahin...(he wipes ther tears from her cheeks and she was carefully listening trying to agree with him) khanak we all love you very much aur tumhare jaise dost ko koi khona nahin chahta...tumhari best quality pata hai kya hai…you're a damn strong girl khanak tum har problem ka samna kar sakti ho...where is that confident girl I met five years ago? The girl who doesn't use to spoil her life with tears and sadness?
Khanak: after that day everything changed
Shaan: no khanak..you think it has changed...but I know somewhere deep down inside you that girl is still here...you have to bring her back..show us the real Khanak Sharma
Khanak: what do you mean?
Shaan: khanak you always help people around you...be it your close ones or some strangers...you changed my life five years ago and now its time for karan and shilpa...hume unhe wapis milana chahiye
Khanak: what? shaan you know karan will never..(he cuts her)
Shaan: he will...he still loves her and with our help he will realise it
Khanak: and how are we going to do that?
Shaan: c'mon yaar...it's me and you...the mahan LoveGuru and Shaan...yeh kam hum dono nahin karenge tho aur kaun karega (finaly after hours khanak's smiles was back and once again shaan's heart skipped a beat)
Khanak: tum utne bhi stupid nahin ho...
Shaan: thank you..ab ghar chalein?
Khanak: not yet...todi der aur rukhte hain (shaan nods and khanak rests her head on his shoulder tightening her grip on his arm) I love you stranger...(for khanak it was simple words but it wasn't the case for shaan. These words meant something deeper for him and he himself didn't know why these simple words coming from khanak affected him so much)
***
Few days passed and after several meetings and fights shaan and khanak decide to put their plan is action. It was a very simple begging which was taking place in the mall. Shaan and khanak forced karan and shilpa to come with them and somehow they had to get stuck in the lift.
Khanak was dragging karan in the shops to pass the time waiting for shaan to call.
Karan: khanak yaar tu akeli aa sakti thi naa!...I told you im tired
Khanak: c'mon karan kya bhudhon ki tarah baat karte ho!...aur vaise bhi tujhe pata hai mujhe akeli shopping karna bilkul acha nahin lagta
Karan: I know par aaj hi kyun? Hum kisi aur din bhi aa sakte the naa?
Khanak: karan are you going to ruin my day with your endless complain?
Karan: im not complaining alright!
Khanak: then stop acting like a child and let's have fun!
…………………………
Shilpa: tumhe yahan kyun aana tha?
Shaan: mujhe voh...kuch kharidna hai
Shilpa: par tumhe meri kyun zaroorat hai?
Shaan: kyun?...heuu...kyunki I have to buy a gift (shilpa smiles)
Shilpa: wow really? Kiske liye?...khanak? (shaan knew he was lying to shilpa but hearing khanak's name he felt unsettled as if he was caught)
Shaan: khanak? nahin tho tum..tum khanak ka naam kyun le rahi ho? maine khanak ka naam kahan liya...(shilpa was looking at him confused)
Khanak: relax shaan maine bas aisa socha...why are you getting so hyper? (he realised that he indeed acted stupid)
Shaan: im not hyper...im just saying it's not khanak...
Shilpa: okay...tho phir kiske liye?
Shaan: kiske liye...?...meri ek dost hai tum nahin janti usse
Shilpa: hmm girlfriend of the day hun?...and do you at least have an idea?
Shaan: shilpa yaar tu kitni sawaal poochti hai...im your friend not a client...tumhe saath laaya hoon taki tum meri help karo...now excuse me I have to call my friend (shilpa smiles and shaan calls khanak)
Khanak: hi..I was waiting for your call
Shaan: I know sweetheart...im sorry (shilpa raises her eyebrow and on the other hand khanak's controls her laugh) tum poonch gaayi?
Khanak: yes I'm done and you?
Shaan: haan main apne dost ke saath hoon..abhi lift ka wait kar rahe hain
Khanak: great...aisa karte hain main tumse abhi milti hoon okay (karan looks at her confused)
Shaan: done (and he disconects the phone. Karan looks at khanak waiting for his explaination)
Khanak: mujhe kisi se milna hoga
Karan: are you serious? (giving her a stern look) tum mujhe yahan majboor kar ke laayi ho aur ab kisi aur se milne jaa rahi ho
Khanak: relax bas do mins ki baat hai...tum ek kam kar tum lift le ke niche mera wait kar main bas aati hoon
Karan: khanak main ghar jaa raha hoon
Khanak: do mins karan
Karan: khanak I know you...tum at least ada ghanta logi
Khanak: I wont!...infact agar do mins baad main nahin aayi naa tho tum ghar jao
Karan: phir baad mein mera dimaag mat khao
Khanak: haan haan ab jao dadaji varna der ho jaayega
Karan: what?
Khanak: nothing just go yaar!
Khanak pushed him inside the elevator and feels relieved that her plan worked.
Shaan did the same with shilpa. He gave her a lame excuse and told her to wait for him donwstairs. As the lift's door opens a man comes out. He was hiding karan so shilpa didn't see him and enters inside. When she looks up and finds karan she froze at her place. Karan's gaze was blocked at her and the moment she could react and wanted to get out of there it was too late and the door closed.
Khanak and shaan were watching the whole scene from distance hoping none of them will ruin the plan by getting out. And as the door closed they get very happy and run for the next step of the plan.
Shilpa went to stand in a corner to keep as much distance as she could avoiding any eye contact with karan. All she hoped was to reach the groundfloor so she can get out of there before karan says something which will hurt her badly again.
Karan was looking at her every now and then...he remembered the harsh words he thrown in her face and was feeling very guilty regretting each of them.
He wanted to apologize but something was holding him back so he waited just like her for his destination.
The day before shaan and khanak convinced the technician to help them. So before karan and shilpa could reach the groundfloor he stops the lift abruptly and turns off the lights.
Khanak: nahin lights off mat kijiye shilpa hates that..usse dar lagta hai
Shaan: really? Yaar that's even better!
Khanak: what?
Shaan: trust me...(to the technician) ab yahan vahan ghoom ke dus paanra mins ke baad hi wapis lift ko chalu karna (he agrees and both shaan and khanak leave feeling very proud)
Here in the lift, when it stopped shilpa tightly holds her purse as she was afraid. Karan knew she didn't like dark places but what caught his attention was something else. It was indeed dark in here but enough visible for him to notice that she was sweating. Forgetting the awkwardness between them karan talked to her.
Karan: are you alright? (she was breathing deeply)
Shilpa: im...im fine..(karan wasn't convinced so he takes few steps towards her)
Karan: shilpa what's wrong? Tumhe tho andhere se aisa dar nahin tha pehle
Shilpa: no..it's nothing to do with darkness...voh kuch waqt pehle London mein bhi main lift mein akeli phas gaayi thi for almost three hours...tab se mujhe band kamre se toda problem hoti hai...(not even aware of it tears were rolling down her cheeks and it was getting hard for her to breath. Karan cups her face trying to distract her)
Karan: shilpa look at me..don't worry tum yahan akeli nahin ho...im here with you aur main tumhe kuch hone nahin dunga alright...(she nods still nervous) just forget where you are okay...(she takes a deep breath closing her eyes for a sec to calm down. Karan wipes her tears and she slowly looks up at him) ek kam karo yahan baith jao you'll feel better (they both sit on the ground beside each other)
Shilpa: thanks...(he smiles)
Karan: vaise tumhe ab andhere se dar nahin lagta hai?
Shilpa: lagta hai...kyun?
Karan: nahin kyunki usually jab suddenly andhera ho jaati hai tho tum kisi na kisi pe chipak jaati ho..par abhi tumne ziada react bhi nahin kiya (she feels embarassed coz he was right. she always used to grab his arm almost scratching with her nails..she even did it with khanak)
Shilpa: bas I didn't want to look stupid so I tortured by purse this time (karan knew the real reason but didn't say anything and instead he offers his hand and shilpa looks at him confused)
Karan: you never looked stupid
Shilpa slowly rests her hand on his palm and he tightens his grip. They get lost into each other's eyes. Karan didn't remember that he was angry at her..all he knew was that she needed him that moment. Shilpa was wondering why he was soo carring towards her. Few days back he told her those harsh words and he clearly made her understand that he hated her to the core. But right now he wasn't the same karan..he was her Karan.
Karan soon realised that he was loosing track of what he was actually trying to do so moves his gaze.
Karan: btw tum yahan kya kar rahi ho? I mean mall mein?
Shilpa: voh...shaan ko koi gift kharidna tha kisi ke liye tho meri help ki zaroorat thi usse
Karan: par voh hai kahan?
Shilpa : I dont know...usne mujhe niche wait karne ko kaha aur khud gaayab ho gaaya
Karan: yeh shaan bhi naa! im sure tumhe chor ke apni kisi girlfriend se milne gaaya (she smiles)
Shilpa: that's shaan naa
Karan: yeahh...he is just like sunshine...main tho humesha kehta hoon ki yeh do ek doosre ke liye baane hain (shilpa smiles)
Shilpa: khanak aaj bhi vaise hi hai? about boys?
Karan: abhi tak tho kuch badla nahin hai...par haan ek baar shaan ke waje se usne ek ladke se flirt kiya (she looks at him with her big green eyes)
Shilpa: what??! Really??
Karan: I still remember that guy was completely lost not understanding what was happening
Shilpa: Oh God! I wish main khanak ko aise dekh paati...(seeing that she completely forgot her fear a relieved expression captures his face)
Karan: you're feeling better?
Shilpa: how couldn't I when you're around...(he was taken aback and shilpa realised what she said) I mean...you distracted me...so I feel much better (he managed a smile) thanks...
Karan: shilpa...I think I owe you a sorry (she looks at him confused) voh...uss din office mein mujhe tumse aise baat karne ka koi haq nahin tha...I just lost my temper and said those things im...im sorry
Shilpa: plz don't be...tumhe sorry guilty ya kuch bhi feel karne ki koi zaroorat nahin hai...
Its okay karan I completely understand you don't like my presence do you?
Karan didn't know what to say on this. He was confused..he himself didn't know what he actually felt. If he hated her then why he was so worried and tried his best to distract her from her fear...if her presence disturbed him then why since they were stuck here he didn't show a glimpse of anger towards her...shilpa was waiting for a yes or no but he couldn't give her an answer. She didn't know what the silence meant...did the person she loved the most hate her in return?...that question was hauting her now and she badly wanted her answer.
Shilpa: karan...if you...(but before she could finish her sentence the lift's door opens. Khanak and Shaan were standing in front of them with some other people watching them. Shilpa moves her gaze from karan to the other two and nervously was about to stand up when karan's grip on her hand pulls her back. They both move their gaze to their hands to realise karan was still tightly holding hers. They look at each other surprised and feeling embarassed karan frees her hand. Khanak and shaan were secretly smiling to each other happy that their plan somewhere worked. Helping shilpa to stand up they both walk out of there.
Shaan: guys tum log theek tho ho?? (shilpa and karan look at each other)
Shilpa: ya don't worry shaan...bas kuch der ke liye lift kharab ho gaayi thi
Karan: tum dono saath mein kaise?
Khanak: arre main tumhe dhoondte dhoondte shaan se mili..phir hume pata chala ki lift kharab ho gaayi hai so we called the technician
Shaan: ab jab hum sab saath mein hai tho let's have lunch together what say?
Karan: nahin dude aaj nahin…vaise bhi khanak ne mujhe aane mein force kiya and im very tired...maybe some other time…par khanak if you wanna stay you can
Khanak: nahin main bhi chalti hoon...mujhe kuch kam hai so...next time
Shaan: okay…so I guess it's me and you lawyer (shilpa smiles faintly)
Khanak and karan left on the right side and shaan and shilpa on the left one. Their ways part and the two confused mind give each other a last glimpse as if they were getting seperated against their wills. As they turn their back to each other shaan and khanak look at each other giving thumbs up as the first step of their plan has succeeded.
Love and Luck to All


Edited by ...Noorya... - 25 March 2011 at 4:46pm