Hellozz
im gonna skip all my bla bla with my sowwies
for the late update coz its the same reason
vaise this part is almost only ShaNak
so sorry ShiRan vaalon
but pakka they will be back soon hun so
worries not and keep ur chappals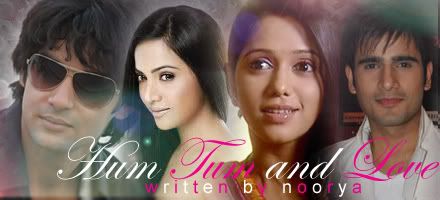 PART 8
Shaan and Khanak reach the office and heads towards his cabin. But to their surprise the cabin was empty so they were quite confused.
Shaan: yeh dono kahan gaaye? (looking at khanak questioningly)
Khanak: how do I know!
Shaan: haan right...how do you know...
Khanak: don't you guys have a meeting or something?
Shaan: nahin...aaj bas shilpa se milna tha and then the routine work
Khanak: wait let me call karan (she tries to call him but his phone was off) damn! Stupid phone off rakha hai!...shaan im sure something wrong happened varna yeh dono kahan jaa sakte hain
(just then shilpa enters the cabin and froze at her place seeing khanak thinking that it might be her turn now to show her hate. But khanak couldn't react and just kept looking at her and shaan decides to break the ice between the two ladies)
Shaan: shilpa tum yahan? (she looks at shaan trying to give a normal expression)
Shilpa: voh…main apna bag bhool gaayi thi (he sees it on the table and gave it to her) thanks...
Khanak: karan kahan hai? (shilpa remembers what happened here looking at khanak with teary eyes)
Shilpa: shayad kisi kam se chala gaaya ho...(she lowers her gaze trying to hold back her tears but khanak noticed the pain in her eyes)
Khanak: did something happen? (shilpa looks up at her surprised but couldn't say the truth so just nods negatively)
Shilpa: I gotta go...bye (she quicky leaves from there before her tears betray her. Khanak was still looking at the door so shaan slowly takes few steps towards her)
Shaan: hey..you okay? (she gives him a faint smile)
Khanak: yeah..im great……she was lying (he looks at her confused) you know...i don't know why par people cant lie to me...mujhe humesha pata hota hai jab koi mujhse jooth bolta hai aur yeh baat karan aur shilpa bohut achi tarah jante hain...but they still try to lie just like how she tried now...im sure karan ne uss se buri tarah baat ki hogi that's why she was sad and badly hurt…when she left I've decided...i've decided to hate this girl for the rest of my life...par usse aisa dekh kar mujhe bura laga
Shaan: khanak...just because you want to hate someone it does not happen…shilpa tumhari bohut achi dost thi...and even today somewhere deep down inside she holds a special place in your heart
Khanak: how can she shaan?...she destroyed karan's life so how can I still care for her? How can I feel bad when she's hurt? (shaan holds her hand)
Shaan: coz you have a very kind heart...you can lie to yourself khanak but you heart knows the truth...(feeling exhausted by dealing with all these feelings khanak rests her head on shaan's chest and he wraps his arms around her)
Khanak: I didn't know you can be senstive (shaan smiles)
Shaan: as I told you earlier...you guys don't know Shaantanu Khandelwal yet…vaise khanak tumne kaha ki karan ne tumhe uski break up ka reason nahin bataaya
Khanak: yeah...usne mujhse vaada liya ki main kabhi uss se yeh baat poochun hi nahin
Shaan: but why? I mean isnt it weird coz as far as I know you guys don't hide anything from each other...tumne kabhi iske bare mein socha nahin? (khanak brokes the hug and looks at him)
Khanak: socha hai...par mujhe kabhi mera jawaab nahin mila...and I can't ask karan anything
Shaan: don't you think its time to get your answer and know the truth? At least hume yeh tho pata chale ke akhir karan aur shilpa ke beech hua kya jo unka break up ho gaaya
Khanak: I don't know shaan...
Shaan: you don't know what?
Khanak: I don't know if I want my answer (shaan looks at her confused) I mean I do wanna know but...but i think I need time to take my decision
Shaan: don't worry khanak...main already bata chuka hoon but just know that im with you
Khanak: I know stranger...i think hume karan ko dhoondna chahiye
Shaan: sure..lets go
They were searching karan for hours now but still no sight of him. ShaNak were quite tensed now and wondering where he had desapeared when suddenly something strokes khanak's mind.
Khanak: OMG im soo stupid! Shaan beach pe chalo!
Shaan: what? beach pe kyun?
Khanak: just lets go! That idiot is there!
Shaan obeys and heads at the beach. After reaching there they started searching him but he was no where to be found. Khanak convinced that he was here kept checking every corner of the place and a lonely guy sitting on a rock catches her attention. She knew it was him so almost runs towards him with shaan following her.
The guy was obviously karan. He was lost in his thoughts and a mixtured feeling of guilt and anger was haunting him. He heard his name but was so lost that he didn't pay any attention.
But as khanak was getting closer so did her voice to his ears and recognizing her karan looks behind him and saw khanak and shaan coming.
Shaan: yaar pehle nahin bata sakti thi? at least poora Mumbai ghoomna nahin padta
Khanak: shut up shaan!
Karan: khanak? (khanak comes and brutarlly hits him on his arm)
Khanak: stupid! Idiot! can't you answer your bloody phone! (karan was taken aback by her behaviour and looks at shaan confused who signs him that he was a dead man with a big smile on his face)
Karan: khanak kya hua tum hyper kyun ho?
Khanak: kya hua!! Main kab se phone kar rahi hoon tum utha nahin sakte! (he checks his phone and realised it was off)
Karan: sorry yaar bhool gaaya tha ki off hai
Khanak: how can you be so irresponsible karan?!...i was freaking out thinking something wrong happened to you! poori Mumbai mein chakkar maara tujhe dhoondne ke liye! Do you even know how I was feeling?!
Karan: khanak im really sorry...main bas toda pareshan tha tho phone pe dhyaan hi nahin tha (khanak knew why he was here so takes a deep breath and calms her anger)
Khanak: im sorry mujhe...mujhe aise react nahin karna chahiye tha…ghar chalein?
Karan: yeah lets go...(looking at shaan) im sorry dude...tujhe bohut pareshan kiya aaj..and also for my bad behaviour this morning
Shaan: its okay man forget it
***
Few days passed. Karan and Shilpa don't see each other anymore as shaan always meets her at his place to avoid any tension between them.
One day khanak was home and saw that karan was standing near the window of his room lost in his thoughs. She knew he was thinking about Shilpa as his tears betrayed him. Suddenly shaan's words start ringging in her ears and leaving the place she calls him and decides to meet him.
She soon reaches Khandelwal house and Harilal opens the door. Madhvi and Khushboo were downstairs and were very happy to see khanak after a quite long time.
Mad: khanak beta its soo good to see you kaisi ho tum?
Khanak: im fine aunty...
Kh: kitne time baad ghar aayi ho khanak...tum tho hume bhool hi chuki ho
Khanak: nahin khushboo bhabhi...actually main kam pe toda busy thi tho kuch karne ka time hi nahin mil raha tha...
Mad: khanak...beta you look very tired..any problem?
Khanak: no nothing at all aunty im fine...(hiding the truth) shayad todi neend ki zaroorat ho
Kh: khanak don't be so careless...if you don't sleep well tho tumhe dark cercles ho jaayenge sweety...and you need to look gorgeous for your show...(khanak just smiles and shaan clears his throat standing behind khushboo)
Shaan: excuze me...par agar aap logon ka yeh ladies talk khatam hua ho tho can I stole khanak? (khushboo who was in a very good mood stands up and goes near shaan)
Kh: stole hun...kya chakkar chal raha hai yahan?...kahin...Dilwale Dulhaniya Le Jayenge tho nahin hai naa...(khanak smiles embarassed and shaan looks at khushboo)
Shaan: plzz bhabhi...first of all yahan koi chakkar nahin chal raha..aur agar hota bhi...tho aap khanak ko tho janti hi hai...Dilwale Dulhaniya nahin balki Dulhaniya Dilwale Le Jayegi hoti (kh couldn't control her laughter and khanak was looking at shaan angrilly but couldn't say anything in front of madhvi and shaan was taking advantage of the fact)
Mad: shaan stop annoying her!...(looking at khanak) khanak..beta agar mere iss bewakoof bate ne tumhe bohut pareshan kiya naa tho tum mujhe batana theek hai (khanak nods all happy) and shaan...meri beti ko pareshan mat kiya kar
Shaan: haan haan ab beti mil gaayi tho bete ki koi zaroorat nahin hai naa
Kh: don't worry shaan...koi tere side ho ya nahin main humesha tere side rahungi coz you're the world's best devaar (shaan smiles and looks at khanak)
Shaan: chalein?? (khanak nods and they go upstairs in his room)
Kh: bye lovebirds...
She winks at shaan who smiles shaking his head. The moment shaan closed the door behind him and turns to face khanak he gets a hard punch in his arm and screams.
Shaan: OUCH! Khanak! what the hell are you doing?
Khanak: what the hell I am doing??!! what the hell you were doing idiot! (he was caressing his arm still in pain)
Shaan: what? ab maine kya kiya?
Khanak: tum niche kya bol rahe the mere bare mein!
Shaan: c'mon khanak...that was a joke!
Khanak: shaan that was mean!...and definitely not funny!
Shaan: yaar tu hyper kyun ho rahi hai? you seriously need to chill (khanak takes a deep breath and sits on his bed)
Khanak: forget it...main tumse ek zaroori baat karne aayi hoon...i've decided and...im ready to know the truth (shaan sits besides her)
Shaan: good…how?
Khanak: I don't know...i can't ask karan
Shaan: and shilpa?
Khanak: socha hai...but what if she informs karan?
Shaan: how can she do that khanak? voh dono tho ek doosre se baat nahin karte hain
Khanak: haan par mujhse sach chupane ke liye koi reason chahiye...and they both know the reason...and if one finds out that I wanna know the truth tho voh doosre ko inform karega (shaan thinks for a sec)
Shaan: yeah...tho shilpa se baat karna cancel!
Khanak: tho kya karein?
Shaan: tension mat le hum koi raasta dhoond lenge
Khanak: but when shaan? I just cant see karan like that anymore...voh apne aap ko saza de raha...ya kam pe khud ko busy rakhta hai ya shilpa ke bare mein soch kar voh poora din apne kamre se bahar nahin nikalta...he is just not Karan anymore
Shaan: I promise LoveGuru...we will soon find a solution...
***
The next day Shaan and Karan were busy in their works. At least karan was as shaan was still thinking on how to help khanak. He looks at karan who was completely lost in his file. Shaan was at the edge to directly ask him about his break up but he knew how dangerous this mistake was coz khanak would kill him. So to keep is life and still find a solution for khanak he gets an idea.
Shaan: dude teri help ki zaroorat hai (karan doesn't look up from his file)
Karan: kya?
Shaan: mera ek dost hai...aur usne apni...(thinking for a second) apni behen se ek baat ko chupaaya hai
Karan: shaan iss mein kaun si badi baat hai? har bhai apni behen se kuch naa kuch tho chupata hai
Shaan: haan…but no...look they are very close to each other...voh dono best friends ki tarah hai aur kuch chupata nahin ek doosre se...just like you and khanak (karan finaly leaves the file and gets interest in the story)
Karan: shayad koi reason ho...i mean ho sakta hai tera dost apni behen ko hurt nahin karna chahta…par yeh sab tum kyun pooch rahe ho?
Shaan: heuu...voh uski behen jo hai...she needs my help
Karan: now I get it! Yeh sab uss ladki ko patane ke liye kar rahe ho
Shaan: yaar tum har baar aise conclusion kyun banate ho?...uss bechari ko meri help ki zaroorat hai...voh sachai jaan na chahti hai
Karan: tho usse apne bhai se baat karni chahiye...voh uss se poochti kyun nahin?
Shaan: koi faida nahin voh kuch bataayega nahin...(looking at karan) bohut khadoos hai voh idiot! (karan was looking at him confused)
Karan: okay…I think she just needs to let it go...im sure koi reason hoga jo usne baat bataayi nahin...infact uski bhalaayi ke liye hi hoga (shaan rolls his eyes desapointed)
Shaan: ek kam kar mere bhai...tu wapis apne uss file pe focus kar kyunki meri help tho tu kar hi nahin raha...tho apna yeh philosophy baan kar!
They both get back to their work and shaan was very annoyed.
Another few days passed and ShaNak were still clueless about how to find the truth. On day khanak was in her cabin trying to reply to her letters but she wasn't able to think beyond Karan and Shilpa. She rests her head on her seat closing her eyes when someone knocks at her door. Thinking that it might be Ria she doesn't open her eyes.
Khanak: come in...(shilpa enters her cabin and finding khanak like that she changed her mind)
Shilpa: im sorry I think im disturbing you...(she immediately opens her eyes recognizing her voice)
Khanak: what are you doing here?
Shilpa: I just wanted to see you but..i don't think it was a good idea at all...i should just leave...(she was about to close the door but khanak stops her)
Khanak: wait! (she stops in her tracks and looks at her) come sit
Shilpa: are you sure?
Khanak: yeah come (she enters and sits on the chair in front of khanak) wanna drink something?
Shilpa: no thanks...
Khanak: yahan kya kar rahi ho?
Shilpa: shaan ne bataaya tha that you work here...so I suggested you got what you wanted in life and I just wanted to congratulate you
Khanak: that's why you're here? To congratulate me for my achivement
Shilpa: khanak...yahin tho tumhara sapna tha naa…and you're my friend and im very happy for you…actually how about a coffee? (khanak didn't know what to think. She realised that she doesn't hate her but she was feeling as if she was betraying her best friend)
Khanak: look...i know you just want to be nice with me but...i cant do that..i cant act as if everything is fine between you me or Karan. (shilpa lowers her gaze)
Shilpa: how is he?
Khanak: you know the answer shilpa...he is just like you (feeling hurt she looks at khanak with her big eyes)
Shilpa: khanak...kya hum baat kar sakte hain?
Khanak: right now im busy I don't think it's possible
Shilpa: its ok we can do that another day...tomorow afternoon park mein? (khanak hesitant thinks for a sec)
Khanak: okay...but not afternoon…around 6 pm? (shilpa smiles)
Shilpa: sure...i should go now and let you work
Shilpa leaves her cabin and khanak was wondering why she wanted to talk to her. She took her mobile to send a message to shaan asking him to meet her as soon as possible.
Love and Luck to All