Hello guys
ok before u guys kill me with ur chappals
let me say that i am really sorry for being sooooo late
i had my exams and after that i was sick
so was really not in mood to write or think
and Pooja THANK YOU SOOOO MUCH for your
wonderful siggy yaar
[There is a short part in red its Karan's flashback
]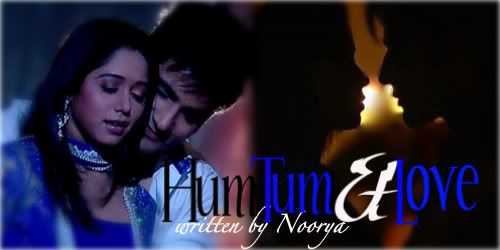 PART 3
Karan and Khanak reached the party and were very well welcomed by Sunil and Akshay. Karan introduced khanak to some business partners and Khanak sees Madhvi and Khushboo in the crowd. She excuses herself and goes to meet them.
Khanak: hello aunty (madhvi gets very happy to see her)
Ma: khanak!...tum yahan?
Kh: small world mom...maine kabhi nahin socha tha ki life mein main ek hi din mein do baar khanank se milungi (khanak smiles)
Ma: par khanak tum yahan kya kar rahi ho?
Khanak: well...yeh jo party hai yeh mere dost ke liye rakhi hui hai
Kh: OMGG! Tum Karan Oberoi ki dost ho????
Khanak: haan voh mera best friend hai
Kh: aur tumhe pata hai jiske saath voh deal kar raha hai voh mere father in law ki company hai
Khanak lookin at Ma: aap Mister Khandelwaal ki wife hain
Ma: yes...aur tumhara dost mere bete ke saath deal kar raha hai
Khanak: OMG main kuch hi der pehle Akshay se mili...i still cant believe apka itna bada beta hai
Kh: get ready khanak kyunki tumhe iss se bhi badi shock lagne vaali hai (khanak gets confused)
Khanak: kyun? Aisi kya baat hai (madhvi laughs)
Ma: kuch bhi nahin beta...actually mere ek nahin do bete hain and infact Shantanu ko aana hi chahiye
Kh: khanak mujhe tho abhi bhi believe nahin ho raha that you're Karan Oberoi's friend!
Khanak: well main karan ko tab se janti hoon jab voh famous bhi nahin tha...we are childhood friends. Humesha saath rahe hain school, college and now...hum dono ne apni family se door aa kar apna sapna poora kiya
Kh: that means tum dono saath rehte ho aur voh bhi apni family se door! (khanak just nods)
Ma: bohut yaad aati hogi naa unki?
Khanak: yaad tho aati hai...par main phone pe baat karti hoon humesha
Ma: koi baat nahin...ab agar tumhe apni parents ki yaad aaye naa tho tum humare ghar aao
Khanak: that's really sweet of you aunty...
While khanak was talking to madhvi and khushboo, Shaan reached the party. He looks around him saw some familiar faces but was looking for Karan. He saw his dad and bro talking with him so headed toward them. He was standin exactly behind Khanak but both have their backs to each other and madhvi khushboo were soo lost in their conversation with khanak that they did not realized Shaan's presence.
***
The party was on Karan was stuck with some people talking about business. He was looking at Khanak time to time to make sure she was fine. But khanak in return gave him her best murderer type look and murmering some very bad words for sure. She then headed toward the bar and takes a seat.
Khanak: excuse me...can I have a glass of water plzz (the waiter nods and after few secs gave it to her) such a boring place! I will kill you Karan! Bas ek baar ghar jaaye yahan bohut ziada witnesses hain (she drinks her water) ziada der tak nahin rahenge! Do ghante se yahan hain par deal sign karne ka koi irada hi nahin..idiot!
Shaan was talking to a man when he noticed khanak sitting at the bar. He excused himself and started walking towards her. Of course here again she has her back and all he could see was that girl with long dark hair and this slim figure in this beautiful dress. He liked what he saw and was curious to see her face. With the intention to go and flirt with this girl he was getting closer the person he wanted to meet for the past 5 years now. Khanak was not aware of shaan's presence who was now few steps away and decided to spend some time talking with the waiter.
Khanak: suniye...aap humesha aise parties pe kam karte ho?
Waiter: no m'am'kabhi kabhi clubs mein bhi kam karta hoon aur din mein bar mein kam karta hoon (khanak smiles)
Khanak: apko pata hai ek waqt tha jab main bhi ek bartender thi (shaan stops on hearing this. He remembered his gradution day and his meeting with khanak)
Waiter: apko dekh ke tho aisa bilkul nahin lagta
Khanak: I know...dress ki waje se naa?...par u know I was a great bartender aur mujhe vahan kam karne mein bohut maaza aata tha (shaan was focusing on this very familiar voice'he talked to her only one time but he never forgot her voice)
Waiter: tho phir kam kyun chor diya?
Khanak: kyunki mera sapna bartender hona nahin tha dude! (that was it. Shaan was sure it was the same girl coz she always talked about her dreams. And now that he was close enough he recognized her voice and he stopped just behind her) mere sapne tho ab shuru hue hain...iss shaam ko chorke coz seriously this party really sucks yaar!
Shaan: I don't agree
Khanak was surprised by the voice behind her and turns. Shaan was already smiling but when he saw Khanak's face his smile grows more. Khanak was looking at him confused first but after thinking for a sec she recognized him.
Khanak: Tum!
Shaan overjoyed: SUNSHINE!!!! (and he just hugs her tightly as if he found back his childhood friend. Khanak was really surprised)
Khanak: hey stranger...good to see you too...(shaan still smiling brokes the hug)
Shaan: I can't believe hum finaly mil hi gaaye! Tumhe pata hai main iss din ka kab se wait kar raha tha
Khanak: really? (and they both sit around the bar) mujhe tho laga itne saalon baad tum mujhe bhool gaaye hoge...
Shaan: main tumhe kaise bhool sakta hoon'tum voh insaan ho jisne meri poori life
badal di...mujhe mere mom dad...mujhe voh sab mila jo main chahta tha and its all because of you......tumhe pata hai main tumse phir milne aaya tha lekin...
Khanak: lekin main vahan nahin thi...I told you hum nahin milenge
Shaan: par that was cheating yaar! Tumhe pata tha ki voh tumhara akhri din hai
Khanak: uss din main tumhe yeh batana bhool gaayi lekin aaj bata deti hoon
Shaan: what?
Khanak: humesha meri baat ko maan na because im always right (shaan smiles)
Shaan: par uss din maine bhi tumse kuch kaha tha
Khanak: kya?
Shaan: yahin ki hum zaroor milenge...and see finaly after five years it happened (khanak laughs) tum janti ho..uss din ke baad main roz yeh wish karta tha ki main tumse sirf ek baar milun tumse voh baat kehne ke liye...and finaly after five years and three months of wait main aaj tumse keh sakta hoon
Khanak: ok first of all WOW! Tumhe yeh waqt ke bare mein seriously pata hai?
Shaan: that desperate I was too meet you (khanak smiles)
Khanak: and what do you wanna tell me?
Shaan: thanks...(khanak gets confused) thanks uss din mujhse baat karne ke liye...mujhe samjhane ke liye..meri life badal ne ke liye (khanak smiles again)
Khanak: voh tho bas ek itefaaq tha
Shaan: I think it was destiny
Khanak: sorry but I don't believe in destiny...but anyway..you're welcome stranger (shaan smiles)
Shaan: Shaan...my name is Shaantanu Khandelwal (khanak's expression changes and she gets surprised)
Khanak: Khandelwal? You mean tum Madhvi aunty ki bete ho?? (shaan is completely shocked on hearing this)
Shaan: tum meri mom ko janti ho?!!...wait a second...don't tell me main itne saalon se tumhe dhoond raha hoon aur tum meri mom ko janti ho!
Khanak: relax...aisa kuch nahin hai voh main aaj mall mein mili unse and your bhabhi also...tho iska matlab yeh hai ki Karan ke saath deal tum kar rahe ho?
Shaan: ek baat batao...tum aaj mall mein unn sab logon se mili ho jinhe main janta hoon (khanak smiles)
Khanak: nahin...actually Karan....(but before she could finish Sunil was making an announcement)
Su: ladies and gentlemen...aap sab ko tho pata hai ki aaj ki shaam humare liye kitni khaas hai (khanak and shaan join them) aaj humari company Mr Karan Oberoi ke saath partnership karne jaa rahe hain. Tho main chahunga ki mera beta Shaantanu yahan aa jaaye (shaan smiles and goes where his dad and Karan were) aur ab jab hum yahan hai tho bina aur wait kiye tum dono iss deal ko sign karo aur celebrate karein
Karan sees Khanak in the crowd and signs to her to join him what she does. Shaan seeing her gets confused. Sunil gives a pen to Karan and he signs the deal and as usual wraps his arm around khanak. Shaan was really surprised seeing them together and did not realised that sunil was handing him the pen. When he signed the deal people started apllauding and Karan hugged Khanak. Shaan was still looking at them and he saw the neckless around Khanak's neck and remembered the mall's incident with Karan and how he was in hurry to see Khanak so conclued that they were together.
***
After the deal was signed Karan stayed with Khanak and spent the rest of the time with her when he saw Shaan.
Karan: hey shaan! (shaan was talking to someone so excused himself to join them)
Shaan: so enjoying the party?
Karan: trying yaar but im seriously tired...btw iss se milo
Khanak: hum ek doosre ko jante hain (karan gets surprised)
Karan: really?? Kab se?
Shaan: well techniquely 5 saal se
Karan: what??...sunshine tumne kabhi bataaya nahin
Khanak: I did Karan...tumhe yaad hai maine tumse kaha tha ki main bar mein ek ajeeb bande se mili thi (shaan felt embarrased and karan remembered)
Karan: ohh yeahh stranger!...wow now that's called destiny
Khanak: not again...(and she walks towards the bar)
Karan: tho tum dono ek doosre ko jante ho
Shaan: not really...hum bas ek hi baar mile hain aur aaj yahan
Karan: then don't worry ab jab hum saath kam karte hain tho tum sunshine ko bhi jaanoge
Shaan: sunshine......yeh naam kisne diya hai usse (karan smiles)
Karan: maine...you know hum ek doosre ko bachpaan se jante hain aur humesha se saath rahe hain...voh bohut hi ek hasti hui positive ladki hai...sab ki life mein khushiyan laati hai kabhi udaas nahin rehti (shaan looks at khanak and smiles)
Shaan: lagta hai tum uss se bohut pyaar karte ho
Karan: she is the most important person in my life...I don't think duniya mein kisi ne hum dono ki tarah dosti ki hogi (shaan looks at him confused)
Shaan: what? Tum dono dost ho?
Karan: yeah we are best friends...tumhe kya laga?
Shaan: nahin voh...aaj mall mein jo hua I thought...I don't know teri girlfriend hogi (karan laughs)
Karan: no man we are just friends...par jab main uske office jaata hoon tho Khanak meri nakli girlfriend baan jaati hai
Shaan: Khanak?...uska naam Khanak hai?
Karan: tumhe abhi tak pata nahin tha? (he asked with a shocked expression and shaan nods in a no) ok you guys really need to talk yaar (and they both joined khanak at the bar)
Khanak: guys..tum log yahan bore nahin ho rahe ho? mujhe tho seriously aisa lag raha hai jaise aaj meri life ki last day hai'tum logon ka kam bhi itna boring hai kya?
Karan: tum yeh sab choro...tune Shaan ko apna naam abhi tak nahin bataaya tha!
Khanak: oo goshhh I didn't!!! (she looks at shaan) im sorry main baaton mein bhool hi gaayi
Shaan: nahin koi baat nahin...aaj tak main tumhe Sunshine hi bulata aaya hoon but I like Khanak
Khanak: tumhe kisne??...(she looks at karan) you did?
Karan: ab mujhe kya pata tha ki madam apna naam batana bhool gaayi...aur tumhe apna naam chupana tha kya??
Khanak: shut up dude! (and looks at shaan again) anyways im Khanak Sharma (and she shakes hands with shaan)
Shaan: nice to meet you again...im Shaantanu Khandelwal but you can call me Shaan
Karan: and im Karan Oberoi (both khanak and shaan look at him and start laughing)
Khanak: vaise shaan maine abhi tak bola nahin but best of luck iss joker ke saath kam karne mein
Karan: joker hoga tera hone vaala pati!...shaan tu isse janta nahin hai...let me tell you yeh dekhne mein ladki hai but koi ladke se kum nahin hai aur tu isse meri girlfriend bana raha tha (shaan was confused and didn't know how to react to their fight)
Khanak: what?!! Main tumhe ladka dikh rahi hoon!!! And what do you mean main...main tumhari girlfriend baan ne ki layaak nahin hoon (shaan tried to calm them down)
Shaan: guys...(but they were not ready to stop)
Khanak: you know what..bhool jao apna yeh natak...dekhti hoon kaise handle karte ho Rosa aur Mona ko...and you know what mujhe tho lagta hai ki tum gay ho!! (shaan laughs but immediately controls himself) infact main naa last time teri help karti hoon aur sab ko yahin baat kehti hoon ki the dashing bachelor Karan Oberoi is GAY!! (she raises her voice on the last word and karan looks around to assure himself that no one heard her)
Karan: what are you doing?!!...kisi ne sun liya tho usse sach mein aisa lagega!
Shaan: guys
Karan: tu rukh yaar...maine kaha tha naa she is soo jungli bili type!
Khanak: how dare you calling me bili
Shaan: GUYS!! (khanak and karan stop their fight to look at shaan surprised) kya..kya kar rahe ho yaar...kab se lad rahe ho...(they look at each other angrilly one last time and then look at shaan) aur tum dono saath mein rehte ho??
Karan: haan...hum humesha se saath rahe hain..infact I think hum ek doosre ki bina reh hi nahin sakte..kyun buddy (looking at khanak)
Khanak: im not your buddy stupid! Main tumse baat nahin kar rahi hoon (karan smiles n starts teasing her by lightely pulling her close to him)
Karan: c'mon yaar..I know you love me ab maan bhi jao naa (shaan was feelin a new fight coming and khanak was trying to free herself)
Khanak: karan leave me! Maine kaha naa mujhe baat nahin karni
Shaan: dude I think you should leave her...phirse tum dono ka jagda shuru ho jaayega
Karan: don't worry man...vaise bhi yeh jagda nahin tha..yahin tho humari dosti aur pyaar hai hai naa sunshine (khanak wasn't able to control her smile anymore and laughs)
Khanak: you're sick you know that!
Karan: but that's why you love me buddy
Shaan: do you know that you guys are weird??
Khanak: kyun??
Shaan: arre abhi tho tum dono pagaalon ki tarah jagad rahe the aur ab..weird...
Karan: well ab tumhe iss do weird insaan ke saath apni life ka ek hissa spend karna hoga kuch der ke liye...we are business partners..aur sunshine tho humesha meri saath hai so that means you will have to bear both of us
Shaan: and why do I feel that it's gonna be the most adventurous part of my life (khanak smiles) vaise ek aur question...yeh tum dono girlfriend boyfriend ka natak kyun kar rahe ho?
Khanak: kyunki iss bande ko landkiyon se chutkara paani hai...(shaan was still not getting the point)
Shaan: matlab..?
Khanak: matlab ki Mumbai ki saari ladkiyan blind ho gaayi hai aur iss namune se pyaar kar baith thi hai'par isse koi interest nahin hai uss ladkiyon mein (shaan's elbow slips from the table and he looks at karan with big eyes)
Shaan: matlab tum sach mein...I mean..woh ho?? Gay? (karan looks at him in horror and khanak laughs)
Karan: WHAT?...NO...nooo man what are you saying!
Shaan: mujhe kya pata yaar..tujhe ladkiyon mein interest nahin hai tho koi bhi aisa sochega...
Khanak: see! Im telling karan kisi ko tho pasand karni hogi naa
Karan: sunshine plzz yaar don't start again...shaan main....im not who type okay...its just that mujhe koi girlfriend nahin chahiye..I have my best friend and I just want to focus on my business..yeh love ke liye mere pass koi time nahin hai..(looking at khanak) aur tu tho baat hi mat kar'pehle khud ko dekh lo
Khanak: ohh c'mon yaar..meri baat bilkul alag hai ok
Shaan: really?? Voh kaise?
Karan: main bata tha hoon....madam ka ek column hai Celebs' World Magazine mein...she gives love advices but she doesn't believe in love (shaan lifts both his eyebrows pleasantly surprised)
Shaan: what? you don't believe in love but you're a LoveGuru type (karan laughs on the remark and shaan not able to control himself joins him)
Khanak: ha ha! Shut up both of you!...yeah I give love advices but I never said I don't believe in love'its just that I don't believe in loving someone
Shaan: wow...tum dono sach mein weird ho...ek ko pyaar karna hi nahin hai tho doosri ko pyaar pe yakeen hai but not in loving someone....sirf main hi normal hoon jo pyaar pe believe bhi karta hoon aur pyaar karta bhi hoon
Karan: no way! Tumhe kisi se pyaar hai??
Shaan: kisi se nahin dude..bohut logon se..and by that I mean girls of course
Khanak: ok you're a love machine type..har koi ladki se pyaar ho jaata hai?
Shaan: ab bhagvaan ne itni pyaar karne vaali baanaya hai tho pyaar ho hi jaata hai naa
Karan: seriously...maine life mein pehle kabhi aisa bakwaas nahin suna tha
Shaan: dude...hum dono ek doosre ko theek se jante nahin so I don't know if I should say it but...I don't feel safe with you yaar (karan looks at him annoyed)
Karan: and I think I know you enough to say...shut up man!
Khanak: ok guys enough...karan lets go naa'im feeling damn tired
Karan: ok chal chalte hain...aaj ke liye bohut tadpaaya tujhe..kal milte hain shaan
Shaan: I guess!
Khanak: see ya stranger! And this time im sure hum phir milenge (shaan smiles and they leave)
***
It was quite late now and the Khandelwal mansion was very calm as everyone was sleeping. Shaan took a shower and wasn't in mood to sleep yet so decides to work on his project. He took his laptop but all he could do was thinking about this day where he finaly met Khanak.
He remembered his intentions when he first saw her at the bar and a naughty smile draws his lips.
Shaan: I don't believe it...itne intezaar ke baad akhir main tumse mil hi gaaya Sunshine...I mean Khanak (and he smiles) main tho bhool hi gaaya tha ki tum kitni ajeeb aur pagaal ho...(remembering her fight with karan) par tujhse ziada tera dost Karan...yeh dono tho mujhe marvaayenge...
On the other hand it was Karan who wasn't sleeping. Standing near the window looking at the full moon he was lost in his thoughts. He was thinking about the conversation he had about love with Shaan and Khanak. indeed their conversation was funny at the party but it wasn't the same way he was thinking about it'ek ko tho pasand karni hi hogi naa'main jaa rahi hoon'ek ladki jo tumse pyaar kare'I love you Karan'I love you very much'main ab aunty se aur jooth nahin bol sakti yaar'tum mere saath aa nahin sakte I can understand lekin mujhe phir bhi jaana hoga aur yeh baat tujhe samajhni hogi'
Karan: ek baar pyaar kiya uska zakham abhi bhi theek se bhara nahin hai...bohut mushkil se maine khud ko samhal liya hai aur life jeene ki koshish kar raha hoon...mujhe phir se yeh galti nahin karni hai..Khanak ke elava pehli baar maine kisi se itna pyaar kiya...apni poori zindagi uske saath jeena chahta tha...lekin humara safar shuru hone se pehle hi usne mera saath chor diya.....I hope tum jo chahti thi life se tumhe mil gaaya ho....
Love and Luck to All


Edited by ...Noorya... - 01 February 2011 at 3:57pm