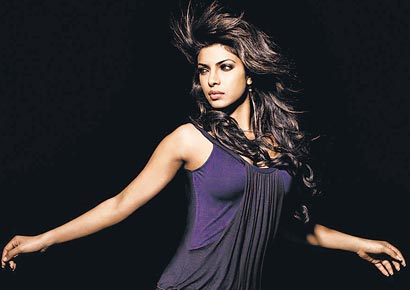 Priyanka Chopra
Priyanka Chopra and Shah Rukh Khan have made it to the list from an international survey that ranks global celebrities on the basis of their fans on different social networking and video-sharing sites.
Priyanka leads the pack from India as she is ranked number eight while Shah Rukh follows her in the number nine position. The top slot in the survey has gone to US actor Selena Gomez, while actor Jackie Chan is at number two.
Priyanka, who was chilling in Goa apprently told a friend of hers that she was very happy after hearing the news of the survey.
"It was her Twitter fans who informed her first about the results of the survey. The best part of the website is that it is not a random survey but it is sole function of the website ' to track celeb popularity. The list has been brought out after constant live monitoring of the social networking sites," says the friend of the actor.
Priyanka doesn't want to increase or decrease her activity on the Internet. "I am an Internet junkie. I like tweeting and voice blogging. It's kind of a chill-out, unwind zone for me. But you know something, it all depends on my mood. I have my moody days too when I don't like doing any of these. I just like to switch myself off on those days," Priyanka had said before leaving for Goa.
What seems to have gone against the Indian stars is that they don't have a dedicated channel on a popular video website with subscribers following them.
"Chances are that Shah Rukh will slip from the list further because he has lately become very inactive. Ranbir, though, he is not on the site is also very popular on the Internet according to the survey,"
http://www.dnaindia.com/entertainment/report_priyanka-chopra-tops-shah-rukh-khan_1489172