~~~ LOVE YOU ~~~
Pyaar hai ya saja, aai mere dil bata
tootata kyon nahi dard ka silsila
is pyaar mein hon kaise kaise imntihaan
ye pyaar likhe kaisi kaisi dastaan
ya rabba de de koi jaan bhi agar
dilbar pe ho na, dilbar pe ho na koi asar
ho ya rabba de de koi jaan bhi agar
dilbar pe ho na, dilbar pe ho na koi asar
pyaar hai ya saja, aai mere dil bata
tootata kyon nahi dard ka silsila
kaisa hai safar wafa ki manjil ka
na hai koi hal dilon ki mushkil ka
dhadkan dhadkan bikhri ranjishein
saansein saansein tooti bandishein
kahi to har lamha honton pe fariyaad hai
kisi ki duniya chaahat mein barbaad hai
ya rabba de de koi jaan bhi agar
dilbar pe ho na, dilbar pe ho na koi asar
ho ya rabba de de koi jaan bhi agar
dilbar pe ho na, dilbar pe ho na koi asar
koi na sune sisakati aanhon ko
koi na dhare tadapati baahon ko
aadhi aadhi puri khwaishein
tooti footi sab farmaaishein
kahin shak hain kahin nafrat ki deewaar hai
kahin jeet mein bhi shamil palpal haar hain
ya rabba de de koi jaan bhi agar
dilbar pe ho na, dilbar pe ho na koi asar
ho ya rabba de de koi jaan bhi agar
dilbar pe ho na, dilbar pe ho na koi asar
ho o o pyaar hai ya saja, aai mere dil bata
tootata kyon nahi dard ka silsila
ho o o o ho o o o
na poocho dard bandon se
hansi kaisi khushi kaisi
musibat sar pe rehati hain
kabhi kaisi kabhi kaisi
ho o o o... rabba, rabba ho o o ho
rabba ho o o, ho o ho rabba
Armaan was driving with tears flooding down his eyes. He remembered the moments he spent with his shona.
FLASHBACK:
Ar: Shilpa kitna time aur lagega.
Sh: bas do min. armaan. Have patience
Ar: do gante se tum do min kar rahi ho and ab agar tum bahar nahi aayi toh I'll come inside.
With this he went inside and smiled seeing Shilpa struggling to tie the pleats of her saree/sari.
Sh: (mumbling) stupid sari. Oh god!!! Armaan's gonna kill me today.
Ar: (smiling) Help?
Sh: (turned to see him and smiled sheepishly) I guess.
Armaan got on his knees and touched her bare stomach sending shivers down her spine and making her gasp. Soon he made the pleats and got up. Seeing her eyes closed he smiled loving the effect he had on her.
Ar: oye hoye.
And kissed her eyes one by one going to her nose and then he parted her lips with his thumb and placed his on hers. The gentle kiss turned out to be the passionate one without them knowing both were on bed with armaan on top of shilpa and kissing her madly. Both deeply engrossed in the moment didn't realize when Armaan opened her sari pleats and left wet trial of kisses on her waist. Soon they were disturbed by armaan's ringing phone.
Ar(getting up annoyed) Kya hai?............haan ok'''. We are coming.
Shilpa chuckled seeing his annoyed expressions but soon blushed remembering their moments and corrected her sari.
Sh: Armaan chalo. We are getting late.
Ar: Janna zarori hai kya?
Sh: (nodding in no but then yes) Armaan chalo it doesn't look good ki party ke host and hostess ki late aaye.
Sh: after all its are reception party.
FLASHBACK ENDS.
Ar: Why shilpa''.why god damn it. Kya itna hi jan payi ho mujhe inn do saalo mein. Itna ki yakeen tha mere pyar per. Kahan se kahan aa gaye hain hum.
FLASHBACK
Armaan came home tired and just wished to be in his wife's arm.
Ar: Shona. Where are you? I'm home baby.
He checked everywhere and found her on the terrace, hugging her from back he started nuzzling in her neck when she pushed him with a jerk.
Sh: Don't you dare touch me.
Ar: Shilpa tum yeh kya keh rahi hoon.
Sh: How could you Armaan.
Ar: how could what shilpa (going near her)
Sh: kya tum kal riddhima ke saath the.
Ar: haan. Uska phone aaya tha kuch case discuss karna tha.
Sh: ghar per aur who bhi puri raat.
Ar:Hum case discuss kar rahe the and I just slept.
Sh: Jhoot
Ar: (getting angry) Shilpa''. Tum kehna kya chahti ho.
Sh: Wohi jo sach hai. Yeh sach.
With this she threw the photos of him and riddhima.

And many more.

Ar: shilpa yeh sab. Who gave you these.
Sh: That doesn't matter Armaan.
Sh: Mujhe laga that um riddhima ko bhool chuke ho but I guess I was wrong tum riddhima ko aaj bhi nahi bhoole even after 2 years of our marriage.
Ar: Shona listen to me. Plz
Sh: Don't come near me. I hate you armaan.
Ar: but I love you.
Sh: I hate you.
And she went away.
FLASHBACK ENDS
Ar: ek mauka toh diya hota shilpa. Bas ek mauka.
He decided to go to riddhima's house to tell her about these photos and talk about who could do this.
Went he arrived the door was open so he went inside but stood rooted to his spot hearing riddhima talking.
Ri: haan . Armaan bahut jald mera hoga. I
get want I want.
Ri: Haan. Jab kal raat armaan ghar aaya that toh I mixed sleeping pills in his drink. Aur phir meine uski aur apni photo click kar ke aaj shilpa ko bhej di. Poor girl doesn't even know that. I know woh kabhi armaan per doubt nahi karti isliye kuch dinno se jab bi woh aati mein aur armaan humesha saath hote.
Ri: I'll get my love back . I love him so much. Mein humare beech kisiko nahi aane dongi. Not even that
Not being able to bear any more he got into his car to tell shilpa the truth. To get his love back when he received a phone call.
Ar: hello'''kya. Mein abhi aaya.
Shilpa had met with an accident and was admitted in Sanjeevni.
Armaan reached his destination and blood shot red eyes and asked for shilpa.
Ar: Sister. Dr. shilpa kahan hai?
Lovely: Dr. Armaan woh ER mein hain.
Going there he foung the complete gang and seeing armaan's condition everyone rushed to him.
Ra: Armaan woh.
Ar: how did this happen .
Ar: tell me for god sake (shouting)
Ra: She was coming here but lost control over the car.
Armaan was crying and everyone was trying to console him when Dr.keerti came.
Ke: Armaan acha hua aap yahan hai.
Ar: Is she fine.
Ke: (lowering her eyes) Armaan injuries itni nahi hai she would have been safe in normal condition but
Ar: but what dr.keerti?
Ke: She is 1 month pregnant and her condition is critical agar unho ek gante mein hosh nahi aaya toh we wont be able to save the baby and even her life could be at sake.
Hearing this Armaan fell to the floor and started crying badly. Rahul rushed to him but all in vain.
Soon riddhima joined them and came forward for her fake sympathy
Ri: Armaan don't worry she'll be fine.
Seeinh her no longer Armaan could control himself and slapped her really hard.
An: Armaan yeh tum kya kar rahe ho.
Ra: Ammy toh pagal ho gaya hai.
Ri: Armaan
Ar: Don't you dare. I cant believed I ever loved a girl like you. Ek baat yaad rakhna agar shilpa ya mere bache ko kuch bhi hua toh I'll not spare you. I'm warning you.
Ni: Ammy toh yeh.
With this Armaan narrate everything making everying shocked and ridz scared.
Ri: Armaan meine aisa kuch nahi kiya. Zaror shilpa ne.
SLAP
An: how could you ridz. Aaj mujhe sharam aa rahi hai that you are my sister.
Ri: di
An: Don't you dare call me di.
Ni: Get out of here. GO
Ar: Can I go and see her plz dr. keerti
Ke: yes you may.
IN THE ER
Armaan entered to see his lady love attached with wires. Looking at her pale face his tears which had stopped again started to flow.
Ar: I'm sorry baby. Agar meine tumhe janne nahi diya hota toh tum safe hoti aur humara baby bhi.
As if realizing the touch and feeling his love shilpa responded and the nurse rushed to call dr.keerti who later declared she was fine just weak.
Seeing her fine everyone came to see her.
Ra: Shilpa aap theek toh hain na.
Sh: smiled a bit
Mu: Oye khotte tu chup kar.
Ni: guys stop. Tum theek hona. You scared us and specially armaan. Kabhse ro raha hai. (signaling everyone to go out and let the two talk)
Ar: Shilpa tum theek hona
Sh: Go Armaan. Just go (crying)
Ar: Plz shilpa bas ek baar meri baat sunlo phir tum jo kahogi mein who hi kahonga.
And he narrates everything to shilpa.
Ar: I swear shona. Mere aur riddhima ke beech aisa kuch nahi hua. I swear on our baby. (and he got up to go just to be stopped by shilpa)
Sh: I'm sorry nd hugged him tight.
Ar: I love you shona. And don't you ever do this again, I will never let you go. I Love you and Our baby.
Sh: Me too.
SOME MONTHS LATER
Shilpa was sitting in their room with Armaan head on her lap talking to their baby when shilpa felt a sudden pain at first which she ignored thinking it to be the normal pain. But after some time she clutched armaan's hand tightly
Sh: ahh'''Armaan
Sensing the urgency Armaan took her to sanjeevni and was pacing around and the rest remembering the time Armaan teased them when in the same situation.
AFTER 2 HOURS
Muski came out
Ar: Muski shilpa theek hai na.
Mu: Haan '..Oye congrats hero it's a boy.
Ar:(smiling)Can I see them ?
Mu: yes

IN THE ROOM
Armaan entered to see shilpa lying on the bed tired but with a diff. glow on her face.
Ar: I love you kissing her forehead.
Sh(smiled)Me too.
Soon the nurse came holding their angel.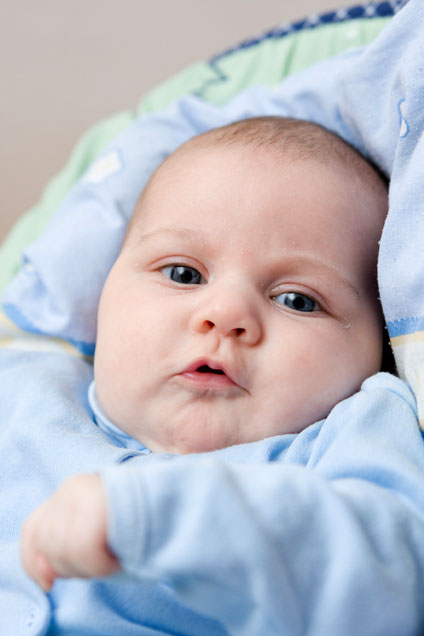 Armaan took their baby in his arms and kissed him smiling proudly at the symbol of their love.


Edited by neha2607 - 08 February 2011 at 9:11am