Hey my lovely CCBM-ians !!!

here cums a simple one yet straight from the heart,
wishes for you and Your loved one....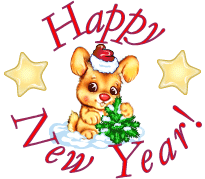 here's me on behalf of the whole CCBM Dev. Team wishin' you all a very very Happy Ending for the Year '10 and a Sooper-Dooper Awesome Fresh Start for 2011 with loadz of love, luck, success, prosperity, fame, money & everything in store for you allll !!!!!!! We had an awesome 2010 with so many surprizes, love, new friends, etc, etc, etc...so, thank u all for bein' a part of each other's life!!!!!!

God Bless Everyone....& Thank you all for makin' 2010 a lovely year with so much love & appreciations !!!
It's Party time...........Go Keep Rockin' n hv full-on masti, dhamaal, fun-shun !!!
Teddy bear hug to all my friends and all the members of the India-Forums.
We hope to entertain you all with loadz more stuff this year !!! A Big shout to allll the amazin' people who touched our life's in so many various ways and gave us a reason to cherish all our life and keep it safe in our hearts !!

LOve & HUgs
Shikhu


Edited by starry.phoenix - 03 January 2011 at 10:58pm