Howdy, people! How are ya'all? I'm back with a continuation of sorts for the introduction. the story hasn't come into full swing yet... but we'll get there soon! Hope you like the part. Don't forget to give me your valuable comments, suggestions and constructive criticisms. Also, LIKE the "PM list" post on Page 4 if you wish to receive a pm! Have a nice day!
Part 2 - Sometimes the right choice....isn't the best one... (b)
"Ahh! Riddhima beta, come meet him...may I introduce you to ' Mr. Abhimanyu Modi!" said Padma, her mom with a smile radiating a youthful glow on her face even at the age of 48.
Padma had been through a lot of difficulties in her life after Kartik's sudden death. They had been a happy couple, blessed with a little princess whom Kartik called, "Ridzi"with love. Shashank had acted cupid between the two during Graduate school on Smriti's suggestion. Smriti and Padma had both conceieved their first kids at the same time and basked in the glory of this beautiful period of their lives while both Shashank and Kartik pampered them. Kartik had gone as far as dressing up as a servant and forced Shanky, his best bud, to do so as well only to get a photograph with "Ramu Kakas" inscribed underneath it. That was the last memory the four friends shared together before the clique broke into pieces, the college buddies matured into adults and life became a struggle for all three of them. Nonetheless, Kartik had been by Padma's side throughout Riddhima's childhood in the form of memories while Smriti and Shashank never gave her a chance to sit down and lament the loss even after they separated. Thus, Padma still glowed like she did in her adolescent years, the same charm and sophistication reflecting off her face.
"And this is my daughter, Riddhima! Why don't you two sit and talk a little while I go out and get some pasta for the girls?"said Padma excusing herself.
"Uh..Hi! Riddhima, I know you feel a little awkward about the whole situation but let's scratch out what happened a couple of minutes ago..." with this Abhimanyu shrieked out loud "Yabadabadoooooo...!!!!"
Riddhima giggled at his attempt to break the ice. " Hi!....Riddhima." She forwarded her hand for a handshake while Abhimanyu leaned in to kiss her hand.
"Mr. Modi..." A tinge of crimson crept up her cheeks.
"Abhi, friends call me Abhi! And before you ask, I'm here to whisk you away!" Abhi said with a wink accompanying it.
"Huh? I don't seem to get what..."Riddhima was cut inbetween as Abhi continued.
"Riddhima, umm...I had first seen you when I visited Columbia University to sponsor some research studies 6 months ago. Later, I found out that Dr. Shashank, our family friend, was almost a father to you. I have,since, been falling for you every day and can't seem to get enough of you. This is why I finally gathered enough courage to come over to your house and befriend you. I wouldn't force you if you feel uncomfortable about it but I wanted to put forth my feelings for you before you judge me." Abhi said with soulful eyes that seemed to strike a chord in Riddhima's heart.
He waited for two minutes before he started again. " I understand you need time to think over things but if you choose to give it a shot, meet me at the Rockefeller Center next Friday at 8 pm. Have a good night's sleep and have fun with your friends." Abhi said as he stood up to make his way out of the house.
Riddhima finally managed to give him a small smile, pleased to know he'd give her time to think about it, when he spoke again. "Oh and ...Riddhima (he whispered huskily) I love you!!!"
___________* * * * ____________ * * * *____________ * * * * ___________ * * * * __________

"Hello" Shashank sighed as he heard Smriti on the other end of the phone.
"Shashank???" questioned Smriti. Although they had separated long back, the love had stayed intact.
" Uh...Hi....kaiseee ho, Smriti?" asked an uncomfortable Shashank while the way he took her name sent jitters down Smriti's spine.
Oh come on, what am I? A teenager? " Tumhara beta theek hai, just a second, I'll hand it over to him..." said Smriti with an indifferent tone but deep down the butterflies in her stomach told a different story. Shaskank suppressed a sigh at yet another failed initiative and continued "Uh...theek hai..."
For the past twenty years, whenever either of them tried to initiate a conversation or to restore what had been lost giving up their egos, it had always ended in a brief but cold comeback wiping out any chances of reunion.
"Hi, Dad! Kaise ho aap? Aapko pata hai mujhe John Hopkins ne part-time internship ke liye accept karliya hai. Aur I've heard the girls out there are also hot!"chirped away a delighted (name= gimme a wild guess, ppl)!
"Ahem-ahem..." came a synchronized cough from both Shashank and Smriti on both ends of the phone. "Bilkul Kartik ki carbon copy hai...shaitaan kahin ka" said Smriti ruffling his hair.
"So, Mr. Kartik jr. aap finally New York mein yahan Riddhima aur mere saath kaam karne nahi aa rahe?" asked an amused Shashank. He was proud of his son's achievements and the fact that he was called upon by John Hopkins made his heart swell with immense pride. It was a great accomplishment, the hard work of Shashank and Smriti along with their son's genious. They had reached a mutual decision two decades ago that no matter what, their son's childhood will not be stained with the sour memories of their relationship. Their son would always spend some quality time with his dad during summer but never once came down to New York, for the painful memories that came along with it.
"Papaaaa...."he whined. "I'm looking forward to Hopkins aur aapko pata hai mein wahan nahin aana chahta, atleast abhi nahi dad!"
"Even if there are more hot chicks here?"asked Shashank suppressing his naughty grin.
"Daddddd......?" asked Armaan as he questioned his dad with a smirk.
"Beta, tumhara jo bhi faisla ho mein aur Smriti usme hamesha tumhara saath denge aur hamare bete ko itne bade institution se offer mila hai, isse bade garv ki baat hamare liye kuch nahi hosakti. Look out for your couriers this week beta! Mein ek surprise bhej raha hun tumhare liye!" said Shashank with an accomplished look on his face.
"Is baar kya hoga dad... you just sent me a gift last fortnight" said he with an excited look on his face.
"Is baar mein tumhe jo bhejunga usse dekh ke tum sab bhool jaoge beta!!!"Shashank said with a dreamy look." Achha! Chalo, mujhe dinner ke liye bacchiyon ko bahar le jana hai.Talk to you later beta!"
"Bye, Dad! Aur us motu ko bolna, kam khaye....nahi toh sach mein basket jaise gol hojayegi"
"Hahahaha! Meri beti ko tumne dekha hi kahan hai abhi...." Shahsank said with pride in his voice.
"Bye beta, love you, take care!"Shashank continued." Aur beta.....Smriti ka bhi khayal rakhna...."he whispered into the phone.
______________________________ Three days later _______________________________
"Ting Tong! Ting Tong!" someone at the door rang the bell impatiently as Armaan took off his headphones and rushed to the door.
"Gosh! What the..." Armaan exclaimed.
"Hey! Young man, there's a courier for you" said the middle-aged guy with a warm smile.
He looked around but didn't find anything interesting, "Where is it?"Dad ne hi bheja hoga!But this guy isn't wearing a uniform or anything....hmmm!
"Here, it is!!! Young man...Have a nice day!"said the guy handing him a small box.
"Thanks! You too!" he replied back looking at the size of the box quizzically.
He slammed the door and rushed to the couch, tore the gift-wrap and opened the box. In laid a key glistening like the early stars in the twilight sky."Congrats, Maani!!!" the inscription on the key read.
He rushed downstairs to find a Mercedes Benz SLR McLaren Roadster waiting for him. He jumped high up in the air and hopped into the car. "Oh My God! I can't believe it....!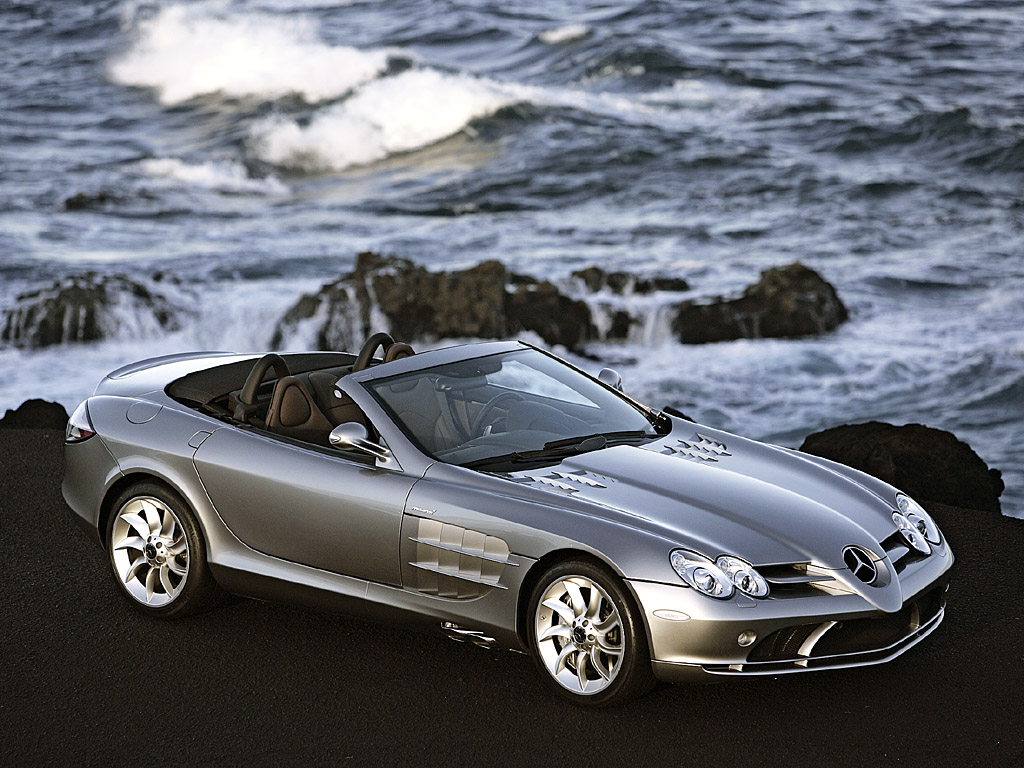 He called his dad up "Dad, you are awesome, I love you so much for this....!!!" he said, practically relishing the moment on cloud nine.
"Excuse me?" a female voice replied....
"Uh???" he said a little taken aback.
"Dr. Gupta is busy in a surgery at the moment. Is there a message I could take for him?" asked the female with an American accent again.
Must be some doctor-chick at Presbyterian!!! " Uh....ummm...just let him know that I received his gift.... he'd know who it is...Thanks! Bye!" he replied and put the phone down hastily.
"But, what's your name and how is he gonna.....????" the female questioned only to hear an engaged ring on the phone. "What nonsense!!!"
____________________________ * * * * * * * * * * * * * * ______________________________
While on the other hand, Armaan noticed a sticker on the steering wheel of his brand new car.
"Beta, take a look at the envelope kept on the dashboard and let me know if you like it!
Love, the most awesome dad on earth ;) !!!"
He found the envelope and opened it with anticipation and emptied the contents onto the passenger seat and out came a photograph of the most beautiful girl he had ever laid his eyes on...
To be continued....


Edited by repercussion - 12 January 2011 at 2:29am