DJ'S SPIN ON THE ROAD
LT took DJ/VJ Nikhil Chinappa out for a spin on his recent visit to Lucknow
Tushar Behl I TNN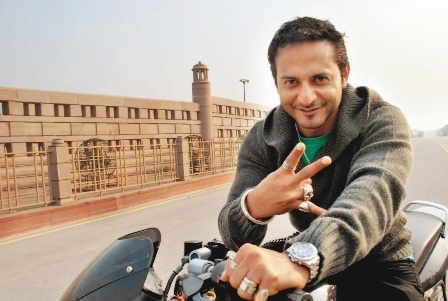 One of the most soughtafter DJs and VJs in the country, it's only expected that Nikhil Chinappa would have more than average knowledge of music. But what few people know is that Nikhil also has a keen interest in cricket and can rattle off names of League players without thinking twice. Excited about the World Cup, we ask. Not really, since it's the IPL he's looking forward to more excitedly. Understandably, the Banglorean roots for Team Bangalore and can spend hours discussing the team's performance, its wins and losses.
So is Team Bangalore more important than Team India? "No, that's not the point," he clarifies, "I would love to see Team India lift the World Cup. But what I feel for my home team, well, that's just different."
Cricket aside, Nikhil will soon be making a foray in films and sharing screen space with Rajeev Khandelwal and Kalki Koechlin. "I'm playing a police officer in a flick called "Shaitan", which is been directed by one of my friends Bijoy Nambiar. He insisted I do this role," says Nikhil, adding,"Though it is not a very big part, it's quite significant in the context of the story." And Nikhil found the role exciting enough to agree to. "I'm happier doing tiny roles in good films than playing the lead in a boring film," he avers
. And you can't get Nikhil to do something he's not convinced about. "I believe that you must give your 100 per cent to anything you do or don't attempt it all," he says.