Originally posted by Mehak_Luvs_Rani
Originally posted by Star_No_1



Saathiya was released 22-December-2002
Chalte Chalte was releaseed 13-June-2003.

Therefore Rani started shooting for Chalte Chalte months before the release of Saathiya.
And at the time she signed on to do CC - she was riding on the failures of Pyar Diwana Hota Hai (April 2002) and Mujhse Dosti Karoge (August 2002).

Who says she started filming for it months before Saathiya?
As far as I remember,she started filming for it in 2003 itself and they completed the movie in few months! It wasn't a huge project to begin with!
And as I said,she had rejected Chalte Chalte before because she thought her role to be similar to Saathiya's but the second time she was approached,she bailed SRK out-I should just find you the article I guess!
EDIT: Here you go! Read it for yourself!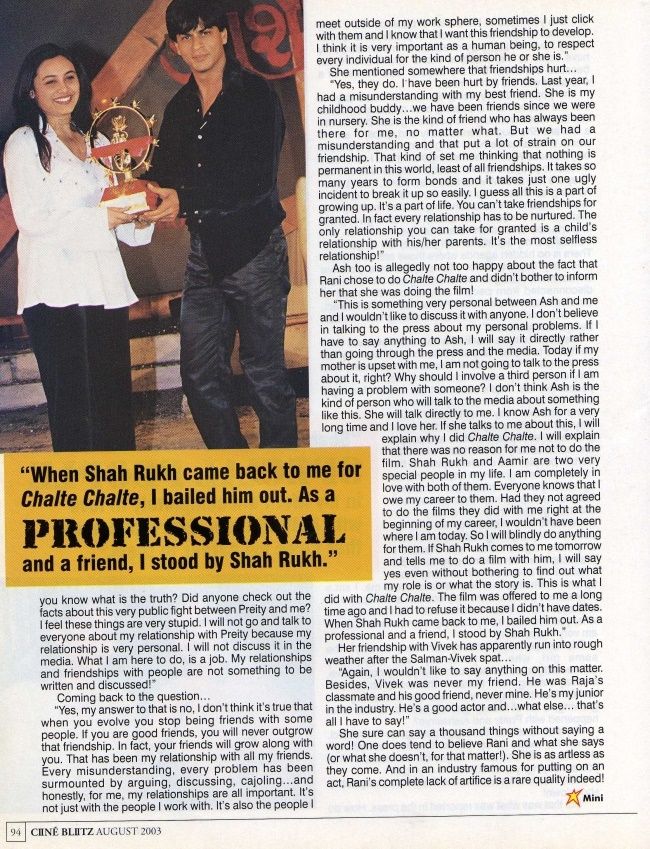 2nd column,2nd paragraph..it starts with Ash question!
Thanks for sharing! I never read this, I like what she said in it! I guess my dislike for Rani grew when she was on KWK and Kara asked her the question and she hinted that maybe Ash was insecure! I still can't say who is in the wrong and who in the right b/c in the article it says Rani stood by SRK! So she chose one friend over the other, so yeah the equation will probably never be the same with Ash and Rani again! I know she's owes him her career, but still can't expect Ash to be ok with that, especially since she was thrown out of the film for unfair reasons! And they were unfair b/c if they weren't, I don't think SRK would have apologized!
But moving on, this was good to read, and I liked how she said whatever she needs to say, she'll directly to Ash! I wonder IF they ever did talk it out b/c I feel like if they did then everything would be fine between today!!