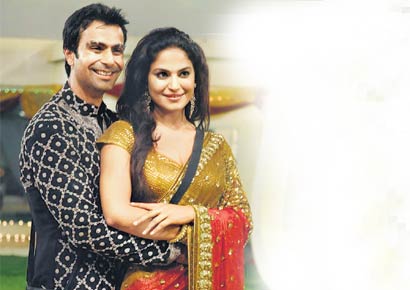 Ashmit Patel and Veena Malik
Actress Veena Malik created a sensation with her moves and so-called 'friendships' and closeness with her male
contestants especially Ashmit Patel in a reality TV show.
Commenting on her 'friendship' with co-contestant and actor Ashmit, she says, "Ashmit and my friendship started when I came to know that he is a Thalassemia patient. I was the ambassador of such an organisation in Pakistan, that worked for thalassemic patients. I started interacting with him often and gradually realised that he is a very fine human being and now we are very close. I love him (Ashmit) but I also want to add that the fact is we are just very good friends."
When asked about the fact that the Pakistani media reported about how they felt Malik's behaviour on the show was disgraceful, she quickly replies, "I am an individual who loves to play and have fun and that is what I have been doing in my life and on the show."
So was her conduct on the show fake as claimed by some other contestants on the show? "I don't understand why my fellow contestants said so about me. I am just a normal girl and I am sure all young girls behave like this. I didn't do anything that will bring shame to me, my family or my nation."
Ask her if Bollywood is on her mind and she says, "Yes, if I get offers I will be honoured to do films in Bollywood. I had never planned this but if it happens, nothing like it. I'd love to do an action-comedy film." When asked if she would do an item song, she says, "Yes, definitely! I love dancing and people have seen a glimpse of that. So if I get to dance I will. But I will be most happy if I get to dance with (actor) Salman Khan."

http://www.dnaindia.com/entertainment/report_veena-malik-on-her-friendship-with-ashmit-patel_1486268