whops forgot to post the 2nd part here it is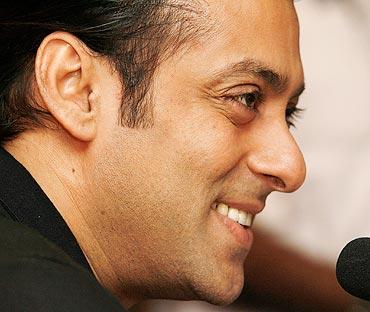 Raja Sen
in Mumbai

Salman Khan tellsRediff.com's Raja Sen about his ability to sniff out a hit film while it's still being made, how his painting is a big jhol, and much more.
Haven't read the first part? Please click here!
Legend -- and relatively credible word -- has it that Salman Khan was utterly shattered when Shah Rukh Khan finagled Will Smith from Sallu's guest-list (when the Hollywood actor arrived in Mumbai in February 2006), only to throw a party for him at his own bungalow.
Salman cut a melancholy picture at his own Smith-less party.
Smith, reportedly, looked somewhat bored at SRK's party, where Salman wasn't invited. Undeterred, Salman turned up in a motorbike, yanked Will unceremoniously, casually and instantly from the party, and before anyone could react, took him to his own. If fellow guests are to be trusted, Smith got wonderfully jiggy at the new venue.
Image:
Salman Khan
Photographs:
Vijay Mathur/ Reuters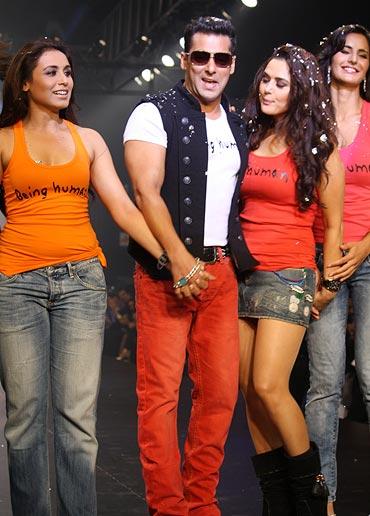 It isn't a very hard story to believe, Khan's off-screen persona being that of an old-school superstar, the picture of defiance, the ultimate rebel without a cause.
Depending on who you believe, he thrashes actors in bars and sends over expensive watches in morning-after apology.
He's also quite the philanthropist, and judging from how he got all of Bollywood's A-list heroines to shake their collective caboose for his Being Human charity earlier this year, he's doing quite the bang-up job.
There are whispers about his constantly roving eye, and an almost mob-like entourage, which gets him anything he points to.
And then there are those who vow he's the most honourable man in the industry.
The myth, then, is as self-contradictory as the man. The role Khan seems to fill, in fact, is that of the man-child, who thrives on indulgence, indulgence we now have to spare, being so frequently cynical the rest of the time.
Image:
Salman with Rani Mukerji, Preity Zinta and Katrina Kaif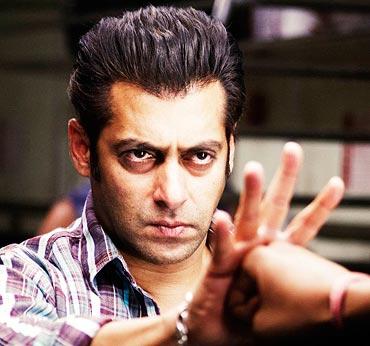 "How well do you think the media knows me, or any of my closest people?," Salman snorts, instantly sneezing hard.
Battling a cold valiantly, he takes turns blowing into a formerly white kerchief and wrapping it tightly around his knuckles, as if preparing for a street-fight.
Occasionally, when thinking hard, he absently bites into it, tugging it with its teeth as if insight can be sucked out of cotton.
When emphatic, he punches the air in front of his face, a phlegmatic pugilist jabbing at invisible, omnipresent opponents. "Nothing ever bothers me. Nothing."
He says every part of the public persona is inaccurate, but he can't be bothered to go about telling people what to think.
He laughs scornfully when the aggressive, 'bad-boy' image is brought up. "Please. Listen, do you hear the questions they ask me? All the time? They ask me the kind of things my own father would never ask. I don't care, and I don't react. The day I start reacting to it..." He trails off in a dramatically threatening voice, before winking.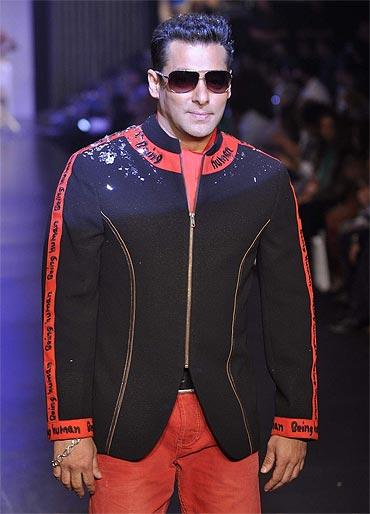 "Naam, Don, Majboor, Sholay, Deewar, Zanjeer," he rattles, with the unthinking ease of a man used to listing his favourites among his father's screenplays.
Son of Salim Khan, one-half of Bollywood's most celebrated screenwriting pairs Salim-Javed, Salman confesses a desire to direct. "I always wanted to direct. I really thought that I would, somewhere, make a good director," he mumbles softly, before saying that he does make creative suggestions to directors he works with, but backs off because it is, eventually, their call.
"You don't have cinema till the time you don't have a story. You have a story to tell and you shoot the film with the worst technique, and that film will do well. And you have the best technique in the world, but the lousiest script, you can do anything you want to do, but that film will not work."
So then do all the hits have strong stories? "There is something, dude," he shrugs. "Something they like. The character, the script, something clicks, and they want to go see it. Why would they want to go see something they don't like?"
Image: Salman Khan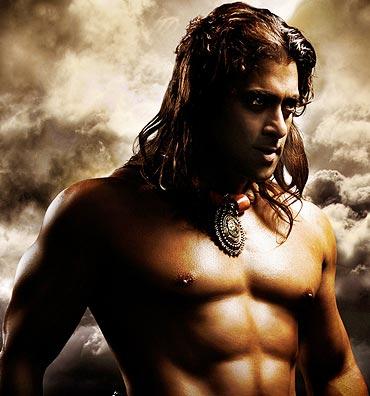 He prides himself on his unerring script sense -- "The ones that I thought will do well, so far, pretty much all of them have," he says. His thinking is that if he wants to see the film he's making, everybody would want to see it -- but that doesn't reflect as well on his hit-loss record, with far more forgettable films showing up than actual hits.
"Well yes, but the script is not usually made the way it was. They start improvising, they start changing, they get scared, yeh bhi daal do, woh bhi daal do," he says.
So what went wrong, then, with Veer, a film he wrote and produced earlier this year, a catastrophic failure?
"First of all," he insists, "Nothing went wrong with it at all, at the box office. But in my head, I felt a lot of things went wrong. I wanted to shoot for 18 more days."
I ask him why he didn't, considering it was a pet project he was completely in control of, and Salman disarms me with the sort of answer no megastar could possibly dare to give."Dad didn't let me," he sighs, almost pouting. And then falls silent.
Image:
Salman Khan in Veer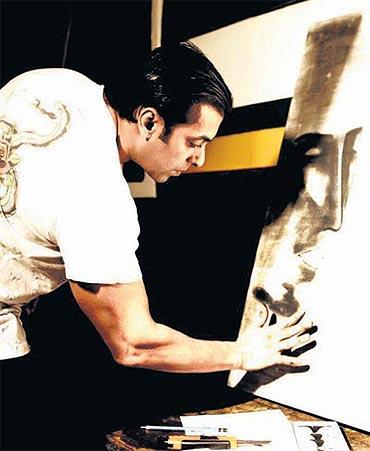 Moving on, I ask him about another bizarre Salman contradiction.
"Painting?" he grins. "Painting is a big jhol (loosely translated as a con job). I wanted to buy three paintings for my house. The artist charged me a lot of money, and they didn't turn out the way I wanted them to turn out. So I thought, 'Let's try.' So I started painting, started getting good at it. I was fortunate to find my own style in the first five-and-a- half, six months. Artists take the longest time to find their way to say what they want to say."
Salman's paintings are sold at exhibitions with the money going into a charitable trust, and that's clearly what fuels his fire.
"So I'm getting better and better at it, and the money's going to a good cause," he says.
He isn't under many delusions about why his paintings sell. "When somebody's buying an artist's work, two things are important: One is the amount of experience that he has, and two is a business plan: How long is he going to be there? After that, we're going to make so much money because we've gotten his art, and after he's dead, he obviously can't paint anymore. So," he pauses, briefly sounding alarmingly morbid, "they make money."
"Here, how many paintings am I going to make anyway? I'm an actor. I paint when I find the time," he says, explaining that it's usually at night.
And how does he rate his own art, honestly? "If my name is not signed, it's below average. Once my name comes down there, it's outstanding work." A smug grin accompanies the jab this time, the grin of a star who knows his worth. However unreal.
Image: Salman Khan, the painter