Hello Hello Hello my fellow Slytherins~! Let me introduce myself~ It is ME AMI~! I'm too lazy right now to properly introduce myself so just check out my Slambook or Homepage or whatever if your really that interested~!
I was actually thinking of calling our Slytherin page the ... don't hit me ...
Slytherin's Hideout ~BIOTCH~! [[none of y'all other niggas allowed!]]
It was actually suppose to be ghetto fabulous and bad-ass but nevermind we'll just do like everyone other house is doing and call it the "Common Room"~! But I did like the BIOTCH part.
Anywho~! Since there aren't many NICE pics here (no offense) representing us Slytherins, I've decided to share something with all of you and none of you other Houses can copy! Mhu haha!
Ta da!
The SLYTHERIN Potterpuffs
made my Naomi aka Potterpuffs of LiveJournal! Yes she is a brilliant and a genius. Unfortunately she stopped production of the Potterpuffs but her PotterPuff fans haven't which is great~! Anywho, wow her not me!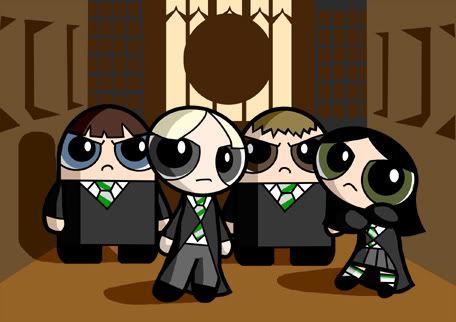 We're a very clever bunch who aren't scared of anyone. Not even you Voldermort~! No wait ... I take that back he is kinda spooky.
Okie dokie here are a couple of things we all Slytherins should be aware of~!
Patron
Salazar Slytherin

Head
Professor Severus Snape - Potions

Colors
Green & Silver

Ghost
The Bloody Baron

Mascot
Silver Snake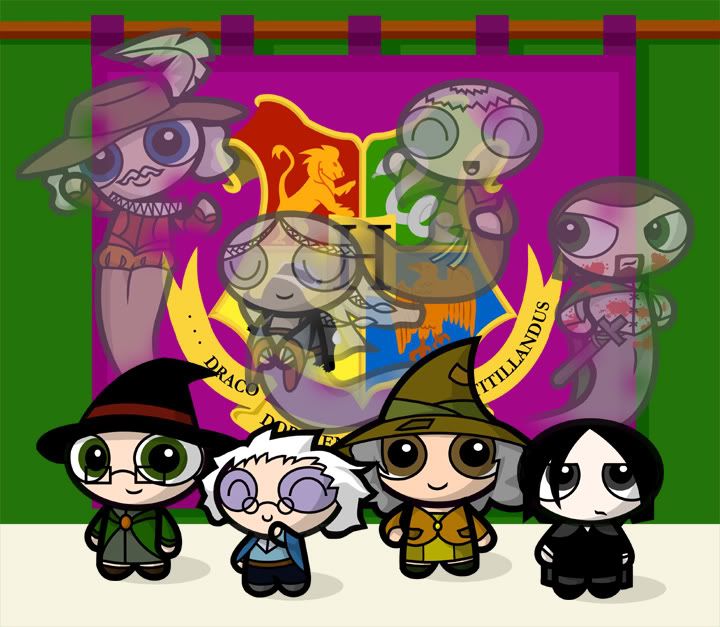 Meet Draco Malfoy! The pretty boy of our house~!
Here he is partying and getting buzzed with Pansy at the Slytherin-only Yule Ball After-party~!
Yes ... we Slytherins know how to party hard~! Not to mention we have wicked style!
observe =>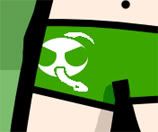 Malfoy's boy shorts ... NOW Paris Hilton would agree.... "THAT'S HOT!!!"
And here is Malfoy doing his regular mischief with Hermione Granger. Apparently they did a little more than arguing this time~!
Naomi you are simply a genius ... I swear~!
And *ahem* here is Draco with Harry inside a closet ... all I can say is ... THINK WHAT YOU gals THINK WHAT YOU WANT~!
I find it to be rather humorous actually rather than appalling.
Oh and we can't forget of our dearly beloved headmaster Professor Snape~!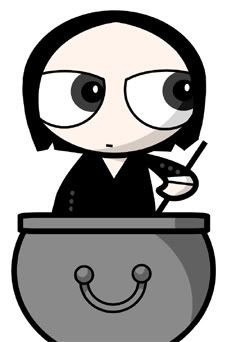 He's also the Potions Professor but always wished to be the Professor of the Dark Arts course.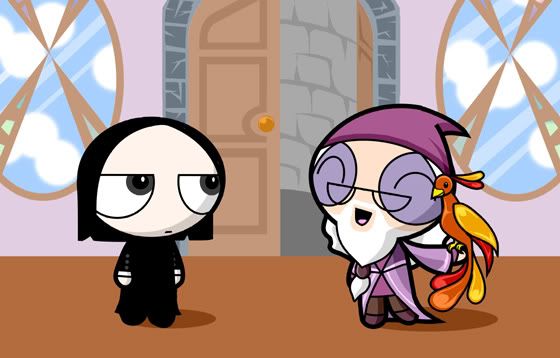 Here Snape is with Dumbledore~!
I like this picture a lot because Snape & Harry have finally gotten along with eachother. Of course this makes no reference to the story or anything.
Another very creative Potterpuff lover that goes by the username "iiconic" in LiveJournal created "Serverus Snape's Diary". YEs ... our Professor has a diary and a very funny diary too I might add. These people are simply amazing I tell you~!
By the way this is rated PG-13 just so you know.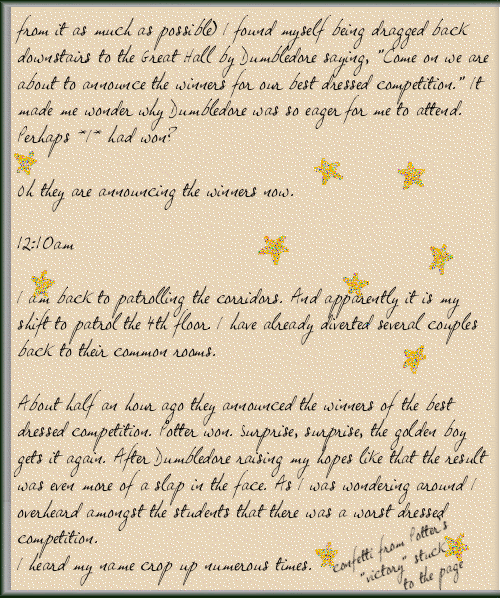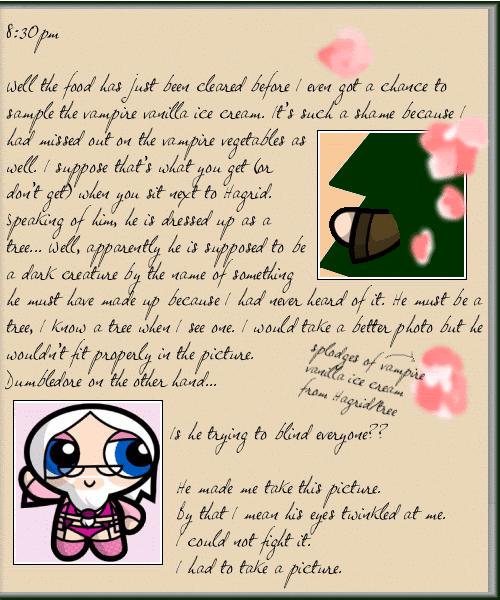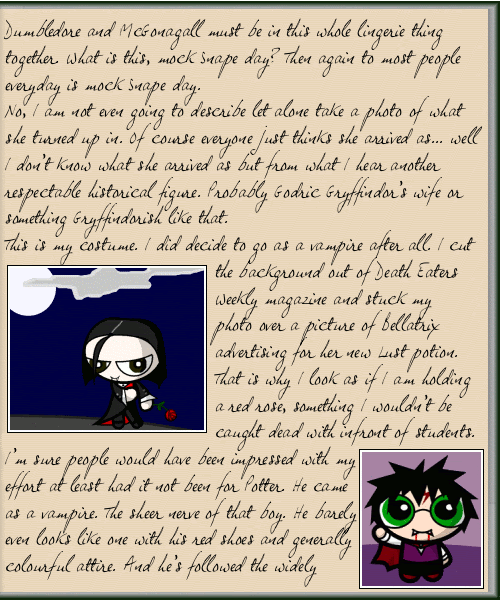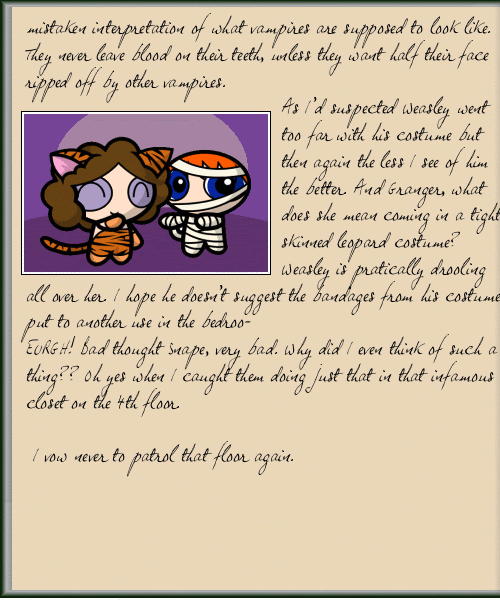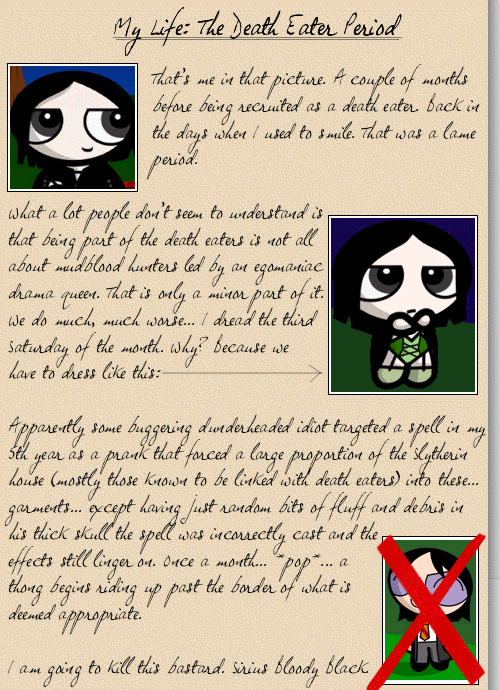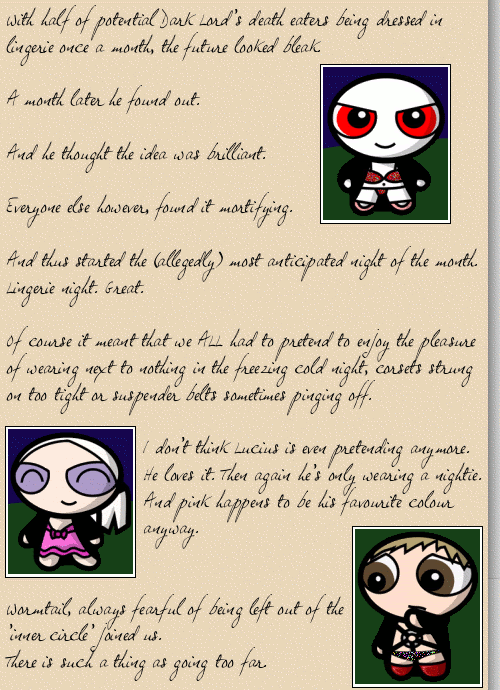 It really does sound like Snape doesn't it? Fascinating isn't it?
Oh and last but not least we can't forget about our dear Tom Riddle~!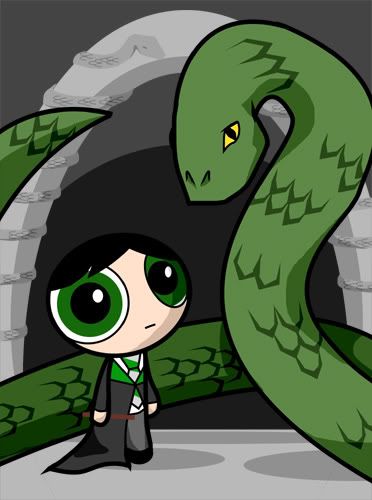 psst.. he has issues....
There's also a couple of avatars you guys are free to use. They're mostly made by Naomi and other Potterpuff fans so think of them when you use them cuz. usually at LiveJournal your suppose to CREDIT whoever's avatar your using but since there's nothing like that here then go ahead and use em'.
Malfoy (drunk) and his stylish boxers + partying with Pansy



Draco & Hermione *smooch!*


psst ... Harry & Draco are in the closet ...

Snape being himself





Tom Riddle

Others



Note: This greeting was made by LJ user "littleyuzu" (hey just giving credit to whoever made it~!)


Edited by |iami5o4| - 29 December 2005 at 1:58am