Birthday boy Salman Khan in Dubai
Mumbai:The several recent 'controversies'plaguing actor Salman Khan have apparently prompted his family to take him to Dubai to celebrate his birthday.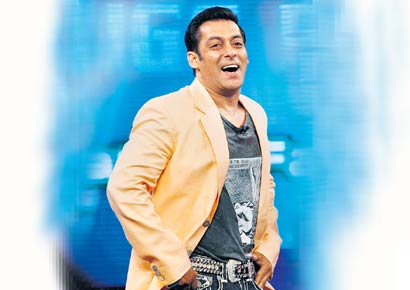 When contacted before they left for Dubai, Salman's father and writer, Salim Khan confirmed that it was a 'family decision'to celebrate his birthday (today) abroad.
"We will be celebrating his birthday in Dubai. We will be back only on January 3 next year," said Salim.
When asked why Dubai, Salim answered, "It's for no particular reason. We just needed to be there as a family.It's just a family vacation for us."
Though it could not be ascertained whether everyone in the Khan family (brother Sohail and family, brother Arbaaz and wife Malaika, mum Salma, stepmum Helen, sisters Arpita, Alvira and her husband Atul) would be there in Dubai, it's learned that they would be stationed in one of the Khan family properties there.
Sources add that a shopping trip was planned for the ladies of the family following the birthday celebrations. "The whole Khan family is of the opinion that it's best to keep Salman away from the public eye as he is not in his best mood at present. Besides, they don't want any controversy centering around his birthday celebrations.
For the record, actor Katrina Kaif and her close Bollywood pals don't figure in any of the plans, so I guess it's understood why it's best that Salman brings in his birthday in Dubai," adds a source.


Edited by Salmanayesha - 27 December 2010 at 8:14pm