Remus John Lupin
Professor Remus John Lupin[3] (10 March, 1960 – 2 May, 1998), also known as Moony, was a half-blood wizard, son of Mr. and Mrs. Lupin, and later a werewolf. He attended Hogwarts School of Witchcraft and Wizardry and was sorted into Gryffindor house. During his school years, he was one of the Marauders; he was the best of friends with James Potter, Sirius Black, and Peter Pettigrew. Together they created the Marauder's Map. After Hogwarts, Remus and his friends joined the Order of the Phoenix and fought in the First Wizarding War. However, Pettigrew betrayed James and Lily Potter to Lord Voldemort, out of fear. Remus lost all of his closest friends in various ways by the end of the First Wizarding War, though he and Sirius Black later reclaimed their friendship.
Remus taught at Hogwarts School of Witchcraft and Wizardry as Professor of Defence Against the Dark Arts during the 1993–1994 school year. He was also a teacher of Harry Potter, James's son, whom he taught how to make a Patronus, but resigned after Severus Snape revealed to the public that Remus was a werewolf. He fought against the Death Eaters once more in the Second Wizarding War, during which he lost his friend Sirius. In 1997, Remus married fellow Order member Nymphadora Tonks and had a son, Teddy Lupin. Remus fought at the Battle of Hogwarts, during which his wife was killed by Bellatrix Lestrange. Remus was also killed by the Death Eater, Antonin Dolohov, during the same battle in 1998. However, he briefly appeared again through the Resurrection Stone for Harry, along with James, Lily, and Sirius in 1998.
Remus was born on 10 March, 1960 to Mr. and Mrs. Lupin. Little is known about his life as a human. At an early age, Remus was bitten by a werewolf, Fenrir Greyback, after his father insulted Greyback, and became a werewolf himself. His parents did everything that they could in order to try to find a cure for him, but there was none. Although he and his parents were unsure of the safety of allowing him to attend school at Hogwarts School of Witchcraft and Wizardry, the Headmaster, Albus Dumbledore, did not see why he could not attend and encouraged him to become a student.

Played by- David Thewlis

Nymphadora Tonks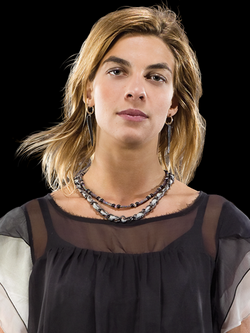 Nymphadora Lupin (ne Tonks) (c. 1973 – 2 May, 1998) was a half-blood witch, daughter of Ted and Andromeda Tonks and a Metamorphmagus. She attended Hogwarts School of Witchcraft and Wizardry from 1984 to 1991 and was Sorted into Hufflepuff House. After leaving Hogwarts, Tonks joined the Ministry of Magic and trained to become an Auror under Alastor Moody, qualifying in 1994. In 1995, she joined the Second Order of the Phoenix, working undercover in the Ministry and helping to guard the Department of Mysteries. In June of 1996, she fought in the Battle of the Department of Mysteries and at some point fell in love with Remus Lupin. Remus, feeling he was too poor, old, and dangerous for her, rejected her feelings, although he felt the same way. In the wake of the return of Lord Voldemort, Tonks was assigned to Hogsmeade as part of the Auror task force sent to guard Hogwarts. Tonks later fought in the Battle of the Astronomy Tower and, after seeing the love Fleur Delacour held for Bill Weasley despite his injuries, publicly declared her love for Remus. The two were married in the summer of 1997, and Tonks became pregnant shortly after. She gave birth to a son, Teddy, shortly after Easter in 1998. In May of that same year, Tonks fought in the Battle of Hogwarts, and was killed by her aunt, Bellatrix Lestrange.
Played by-
Natalia Tena