Originally posted by kavya.b
no no no nooooooo
cricket ground is no that small....
look at this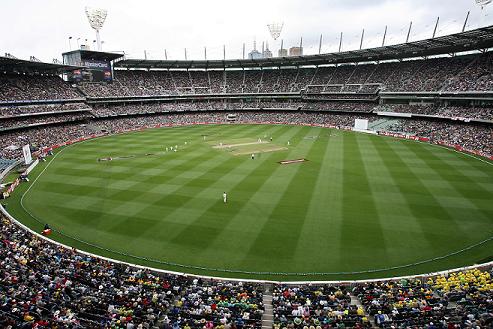 can u see a line round the inner boundary of play round? that's the boundary for the game.....if a ball crosses the boundary, 4 or 6 runs are given to team A, i'll tell u the conditions ltr
in the ground, u can see the pitch as well...ryt?
that's batsmen's place....u cannot expect the ball to to stay within the pitch, even u n i can get it outside the pitch
wickets are the 3 sticks in the pic i posted earlier....i'm cmng there ltr....first understand this
Ok yeah I see the boundary. So if they past the boundary line, the 4 or 6 runs are given automatically right. So there is no outs right?
Which side is the pitch on?
This picture is too small for me to see
I think my eye sight has gotten weak now
Ok so the ball is bound to get out of the pitch! Gotcha XD
Yep I gotcha about the wickets.