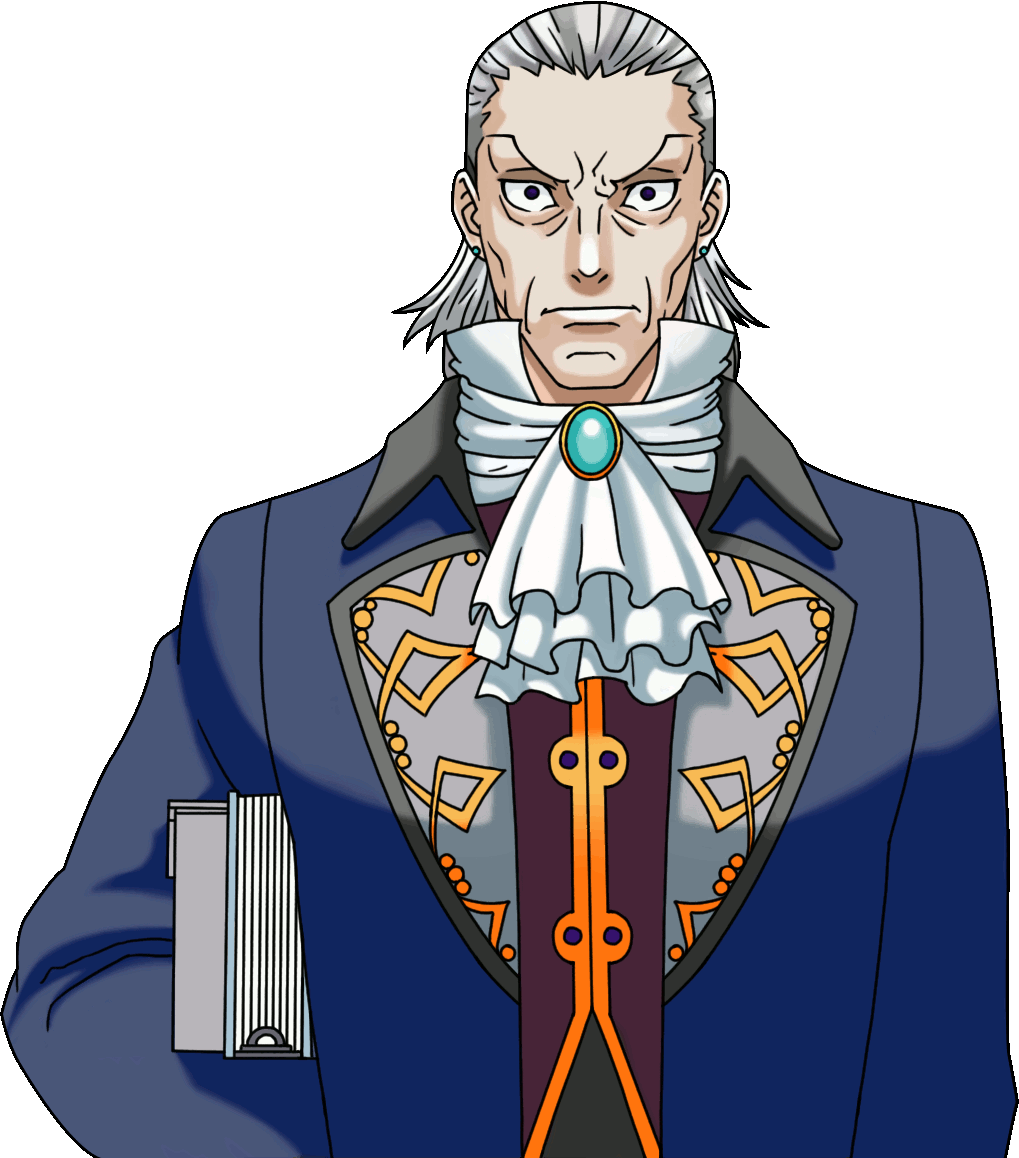 Manfred von Karma
was a renowned prosecutor who went undefeated for 40 years, earning him numerous "King of Prosecutors" awards, before finally meeting his match in
Phoenix Wright
.
In 2001, Manfred von Karma argued a case against esteemed defense lawyer Gregory Edgeworth. Although he won the case, von Karma was penalized because of Edgeworth's accusation that von Karma was using forged evidence. Von Karma was shocked beyond belief; he had never been penalized before. The one thing he valued above all else was his perfect record.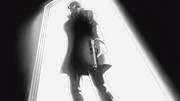 Von Karma enters the lift.

Added by Gerkuman Soon afterward, an earthquake struck the courthouse, leaving von Karma wandering in the darkness. He felt his way to an elevator and tried to use it, but nothing happened. Suddenly, a gunshot rang out and von Karma was struck in the right shoulder, causing him to utter a terrible scream. Then, the power came back on, and the elevator doors opened. To his surprise, von Karma found a pistol at his feet, along with three people lying unconscious from oxygen deprivation. When he saw that one of the passengers was Gregory Edgeworth, he picked up the gun and shot him in the heart, killing him instantly. He left the gun and fled the scene, taking a "vacation" to heal his injury from the incident. Meanwhile, the case of Gregory Edgeworth's murder, known as the DL-6 Incident, was held against Yanni Yogi, one of the other people on the elevator, who plead temporary insanity to get off the hook.
The third person in the elevator was Gregory's son Miles. Six months after Gregory's death, von Karma adopted Miles as his own, and trained him to become a ruthless prosecutor like himself. For the following 15 years, von Karma's demonic scream from the DL-6 Incident would haunt Miles, and Miles would believe that he had shot his own father.

Five years later, von Karma sent a letter to Yanni Yogi with a detailed plan to murder Robert Hammond and frame Miles Edgeworth. He instructed Yogi to burn the letter after reading it, but Yogi chose to lock it in his safe. On the night of "revenge", Yogi called Hammond and Edgeworth to Gourd Lake. Hammond arived first, and Yogi proceeded to kill him. He then put on Hammond's coat and waited for Edgeworth. Once he arrived, the two went out on a boat, where Yogi fired a pistol twice with his left hand, both bullets intentionally missing Edgeworth, and then jumped into the lake. He then put the coat back on Hammond and threw the body into the lake. Meanwhile, back on the boat, Edgeworth picked up the pistol in his right hand, in shock at what had happened. On shore, Yogi called the police, claiming to have witnessed the murder, and Edgeworth was arrested. Von Karma had chosen this time to frame Edgeworth because it would be his last chance to get Edgeworth convicted of the DL-6 murder before the statute of limitations expired on the case.
Manfred von Karma was the prosecutor in the resulting trial of Miles Edgeworth. Like most of von Karma's other cases, von Karma had intended for this case to be a quick and clean guilty verdict, and laid his usual unbearable pressure on Edgeworth's lawyer Phoenix Wright. However, quite unlike other lawyers, Wright persevered through von Karma's increasingly desperate tactics and met von Karma with desperate tactics of his own. Von Karma eventually met Wright in the evidence room containing the DL-6 files. Wright had figured out everything and only needed the evidence to win his case; in desperation, von Karma took out a stun gun, used it on Wright, and stole all of the evidence save the bullet that had killed Gregory Edgeworth, which Wright's assistant Maya Fey had managed to take before being shocked herself.
Eventually, Yogi was unmasked in court. However, after the not guilty verdict was read, Edgeworth immediately confessed to killing his own father in the DL-6 incident. Wright proved Edgeworth wrong, that von Karma had been the real killer. Wright knew that von Karma would have left the bullet Edgeworth had shot in his body and suggested that a metal detector be used to prove that Edgeworth had really shot von Karma, whereupon von Karma screamed the same scream Edgeworth had heard before passing out during DL-6. His plans exposed, von Karma started
banging his head against the wall of the court
. He had suffered two defeats at Wright's hand, the only two he had ever received. Manfred von Karma was later sentenced to death and executed for his crimes.