Originally posted by carisma2
hi!!!!!!!! Carisma!!!!!nice one!what abt today's episode atyachar?
Emotional Athyachar
Ek Chootki Sindoor!
At the TN the THAKS were gathered up and in walks SS with KN, FL WHENEVER I SEE ykw in ur atyachar i always laugh. This pic really suits her.

SS Ordered for KN to GET OUT OF TOWN on business, But Shaktia refused and pointed a suggesting finger at BABA
who point Blank refused.
His moto was
'Thakur Krishna Singh need not work' "Waise bhi hum bohot kaam kartey
retreated back to the Kriya Sanctury.
Baba Celebrated Pratigya's birthday with a mid-night feast of triple chocolate gateau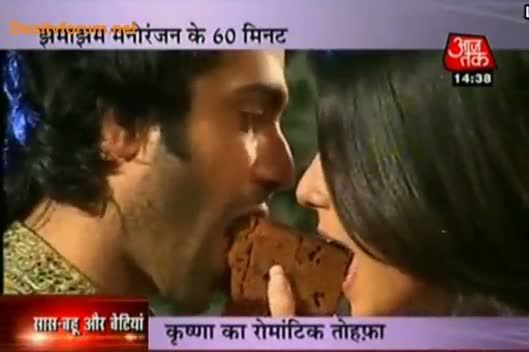 THIS IS CUTE !!!!!!!!!!!!!

mmmmm.....hmmmmmmm. He PROMISED her a big gift for her birthday.
Baba goes to seek his pocket money from SS,
In the hope he will
get a handful of green notes, but instead he was given
500 hundred Rupees.
But being the persitent Baba that all love... He pressed his dad for a CHAM CHAMATTI GADI
get a handful.. a handful of Galiyaan.
But then Shaktia deided to throw his 2 pence in "If you ever earned - You would understand the value of money".
But he was soon shut up by Krish and KN apologised " Galati hogayi maaf kardo"
smirking. By now Raja NAL had lost every ounce of last patience and proclaimed
the revelry she bestowed upon her sister's Birthday. Right! Holy Cow - Be prapared for the latest war, Tsunami, Hurricane rita whatever you want to call it is taking place under the TN roof.
Daddy really is! "How dare you, who pays for your and your wife's upbringing in this house, I'm pratctically washed out spending fortunes after you (a bit if a exaggeration ss?) your fancy Raja Nal clothes, shoes, make up and lipsticks! Everything you own is mine!". He didn't stop there "You are incapable of buying your wife ek chootki sindoor!". (I find this ek chootki sindoor has become a dangerous thing in the showing, Girls have died for this ek chootki sindoor'OM Shanti OM', FL destroyed her life for this ek chootki sindoor and now God knows what's going to happen to Baba for this EK CHOOTKI SINDOOR).

the Adrenaline rush really hit home and a raging baba raced into the Kriya Sanctury
disregarding Mr and Mrs Ansooo the early Visitors and pulled out
Praigya rushed out "Krishna, Krishna kya kar rahey ho? Yeh kaprey humney badi mehnaat se rakhey they peechli episode mein!-"
She watched as he threw the clothes and shoes at his Bauji.
Right The engaging Popecorn moment has arrived
Baba is in full action "Tumo kaa lagtha hai? humo khudh kama kar khaa nai saktey, Tumo
jaisa aadmi itna naam kamaliye ho shahar ma tho humo bhi kisi se kuch kum naina!".
With that he walked out!
That's all for today folks
Enjoy