To all my dear friends...

May your world be filled with warmth and good cheer this Holy season, and throughout the year! Wish your Christmas be filled with peace and love...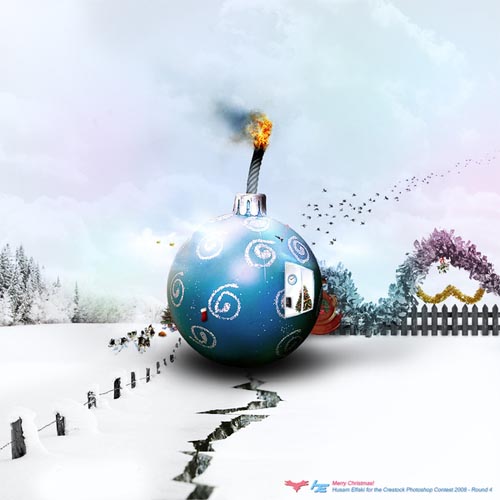 History of Christmas Celebration
he approaching of winter season tells us that Christmas is around the corner as we associate the winter with the Christmas celebration. The history of Christmas dates back over 4000 years and it tells us that celebration during the winter season were common, way before the Christ child was born and celebrated as Christmas on 25th December. In the Western world, the birth of Jesus Christ has been celebrated as Christmas since 354 AD, replacing an earlier date of 6th January. The main reason behind Christmas celebration was to replace the Pagan festival with the Christian one, which coincided with the pagan rituals of Winter Solstice or "Return of the Sun". The stories related to Christmas are based chiefly on the Gospels of Saint Luke and Saint Matthew in the New Testament. According to Luke, an angel appeared to shepherds outside the town of Bethlehem and told them of Jesus's birth. Matthew tells how the wise men, called Magi, followed a bright star that led them to Jesus.

Fundamentally Christmas celebration is based on the intertwining of two ethnic patterns, Roman transition rites and Germano-Celtic Yule (jiuleis) rites-feasting and mortuary practice. Before the Christmas celebration there were mid-winter festivals in ancient Babylon and Egypt, and Germanic fertility festivals also took place at this time. Even the birth of the ancient sun-god Attis in Phrygia was celebrated on 25th December, as was the birth of the Persian sun-god, Mithras. As far as the facts are concerned it tells that Christmas was not celebrated in the early days of the church till Pope Julius I who choose 25th December as the day for the celebration of Jesus birth and slowly with passage of time the practice was adopted by the Christian church in Antioch around 374 and later in Constantinople and in Alexandria. Eventually the customs and traditions, which were associated with the celebration of Christmas, were practiced among people. Like the gift giving which was linked with the presents of the wise men. Trees, which were decorated with apples, were associated with the biblical Garden of Eden and the firelight that represented the light of Christ.



Edited by chipak - 23 December 2010 at 10:15am