Emotional Athyachar
Pratigwa kaa birday!
At the TN,
Krishna THAKUR Singh was on his way out (Naa don't get too excited he's not on his way out to look for work)
He was abruptly stopped by the TN free loader
"Devarji oh Devarji" She called out at the innocent Baba. He turned and looked up and saw her standing at the
top balcony ordering for his presence. He played dumb at first
but the constant harrassment continued "Devarji - Yahaan aye".
Sighing he went up to meet her and asked her to BAKBO!
The FL advised that it is DevRANI's Birthday tomorrow, and wanted to enquire about his plans.
Krish was surprised and Thanked FL for her kindfull thought (Hahahahaha)after she told him that Pratigya has a facination for ChamCHAMATI cars
Since their young sisterhood days.
Pratigya viewed this clandestine aquaintance from below and darted FL with her eyes.
At night baba tried to make Pratigya sleep, But she didn't want to and wanted to do her work
But Baba wasn't having any of it.
But Baba was intent on giving her sleeping tips: Close your eyes
and take your favourite teddy
and close the lights
and count sheep
and soon Beauty became a Sleeping Beauty and then he waved
and ordered a Chocolate Gateau to be made.
He waited till midnight and then woke her
up. She was confused over his intentions - But followed him. He took her blind folded
with his hands to the
terrace. He surprised he with
and she was sooo Happee. He waved a big Thankyou
to Chandu
and Tunna and the IF girls for doing the lovely fireworks display.
He surprised Pratigya with a lovely cake
and
shared the cake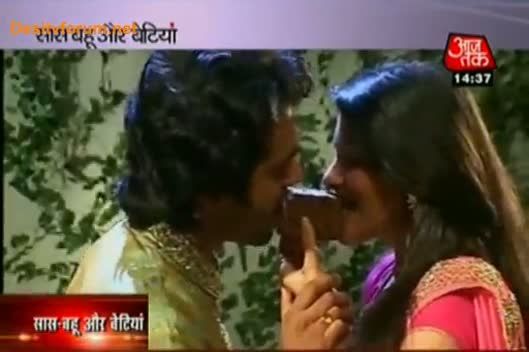 and celebrated.
He carried her back to the Kriya sanctury after a long kiss. FL watched with extreme jelousy.

Next morning Kriya
emerged looking
dashing together
and FL burned some more. The THAKS gave her half hearted
Birday wishes.
But Along came Pratigya's parents
Mr and Mrs Ansoo, they walked past FL ignoring her and hugged their beloved daughter Pratigya.
demanded some loose change for Pratigya's present.
So SS
tried to fob him off with a little bit of money. But Baba demanded enough
That's all for today
If you liked it please press Like
Thanks Dosa.