PART 4
Abay : Kal hum shaadi kar rahe hai..

Pia : What????

Abay : Yes Pia. I cannot live without you.

Pia : Par Abay...

Abhay became angry and said. " its final Pia".
After saying these words he walks out of the room closing door behind him. Pia was standing there with a shocked face. She was really scared seeing Abay's angry face. She loved him but she can't marry him as she gave her word to her father that she'll marry Kabir even though she doesn't love Kabir. Kabir is a good and sweet person but she can't love him, because her heart was only beating for one person ABAY.
Abay was not like Kabir. He was arrogant and rude from outside but he was soft-hearted person from inside. He loved Piya a lot but he never showed her that he loved her. But when he came to know that Piya was going to Kabir he changed and started to express his love. But she avoided him which made him come more close to her.
Abay (ST) : I still remember our first meeting. I was in garden lost in thoughts. I don't know why but air around me made me felt so good. Like someone is going to come. Someone special. I laughed at my thoughts and turned around and saw a shadow moving. I don't know why but my heart told me to follow that shadow.
I followed that shadow and realized that it was a girl. I don't know why but in a trance I came towards and was close to her. I was facing her back. Suddenly she turned around and collided with my chest and fall back. But before she hit ground, my hands automatically snaked her waist. I looked her face to find her eyes tightly closed in fear.
Flashback
Abay : you are safe.
Pia : ''.(still with closed eyes)
Abay : open your eyes. You are safe.
Suddenly she opened her eyes and saw Abay, the man who always disturbs her in her dreams. There was a small eye-lock. Abay was lost in her eyes. The moonlight falls on her face making her look like an angel. He saw her cheeks turning into light pink shade making her look more beautiful. He suddenly noticed her pink luscious lips and felt an urge to taste it. He inched closer to her face and she closed her eyes in submission. But their romantic atmosphere was disturbed by Misha. Misha was shouting Pia's name. Fortunately, Misha didn't saw them in this position. They broke away from each other before Misha came.
Misha : Piya'what are you doing here? Come in, everyone was searching for you. (Suddenly noticed Abay) Hi.
Abay : Hi.
Misha : you are not coming inside?
Abay : well, yes I was about to come but suddenly I saw (looking at Pia)
Misha : Pia.
Abay : Yes, Pia.
Misha : OK, lets go in. Come.
They went inside. Abay was stealing glance at Pia and Pia was also doing the same. Pia was little sad because Abay doesn't know who is she and the most importantly, her name. Kabir came and talked to her. She just smiled at him but was not listening to him.
Misha was elder to Abay but they were not friends or enemies. Abay used to take drinks with Misha and Kabir. Even though Kabir and Abay hated each other, they never let any outsider to interfere in their matters. Abay helps Kabir and Kabir helps Abay at critical times.
Afterwards Misha called Abay and Kabir to have drinks. Kabir called Piya and gave her a glass but she refused saying that she don't drink which made Abay and Kabir surprise. She was modern but kept her traditional values. Kabir and Misha took a sip and were talking to each other. When Abay was about to take a sip but stopped in middle when he saw Pia rolling her eyes in anger. Suddenly he kept the glass back with a small smile which made Kabir and Misha wonder.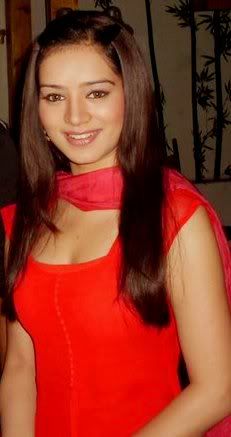 Pia was wearing this dress

Misha : Kya hua? Why are you not drinking?
Abay : well, I'm not feeling to take it.
Kabir : you OK?
Abay : Yup.
Misha : then ???
Abay : well I don't wanna take it today.
Misha : Sure.
Abay : Yup.
Misha : OK, I hate to waste. (Saying this she took his glass and drank in one go.)
Kabir : Mish'.
Misha : what???
Kabir : you are something.
Misha : I know. (Laughed)
Abay looked at Pia and smiled. She too gave him a shy smile.
Abay (ST) : what's happening to me? What magic she cast on me that I can't take my eyes off from her. Why did I stop myself from taking that drink? Why I feel happy seeing her smile? Her eyes, her eyes make me feel an unknown happiness. Ye mujhe kya hua?
After sometime, Dobriyal family left from RM. Before going Kabir came near Pia and said a sweet goodnight and a shy smile. But she took it in friendly manner. Abay and Pia had a small eye-lock before leaving. Without talking, they with their eyes said "GOOD NIGHT. SWEET DREAMS."
Flashback ENDS
Raichand Mansion
Haseena and Misha was consoling Madhu. But she was crying non-stop.
Haseena : Madhu, please don't cry. Chand and Arnav will bring her back.
Misha : Haan Mama, don't worry. Everything is going to be fine. She'll come back home soon.
Madhu : meri bacchi, I just wanna see her now.
Haseena : Madhu, please don't be like this. You have to be strong. She'll come soon.
Voice : Yes she'll come soon. I'll bring her. And that's why I came back.
PRE-CAP : Entry of new character.
Abay Pia Romance
Past cont.
just wanna thank my friend missglam &ilove99for supporting me.


Edited by Ash534 - 28 June 2011 at 10:51am