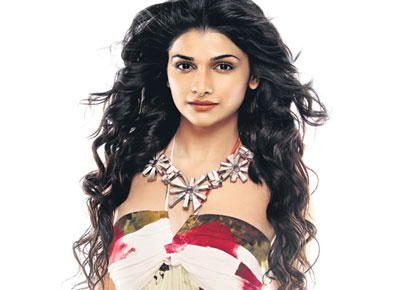 Prachi Desai
Whenever actress Prachi Desai bags a film, some of her detractors point at her proximity to soap queen Ektaa Kapoor as being the reason behind it.
Desai, who has hitherto maintained a diplomatic stance, admits that the gossip now haunts her.
"I'm aware of this gossip. I kept quiet about it as I was new in the industry. But I have done enough work to show that I don't need anybody's recommendation to get work. Simply because Ektaa and I go on holidays together doesn't mean that she's recommending my name to film producers. We are independent and we don't need each other's approvals for anything we do. I don't need Ektaa's approval for signing a film," fumes Desai.
She nevertheless admits that Kapoor and her mother Shobha have been an integral part of her life, but clarifies that the TV queen has never guaranteed her a single role in Bollywood.
"Milan Luthria and Ajay Devgn (director and hero of Once Upon A Time in Mumbaai) are friends from ages, but people will never dare to say that Milan worked with Ajay because he was a friend. He roped in Ajay because he was the best man for the role. Similarly I was taken in because I suited the role. I have never discussed my work with Ektaa. It hurt when I heard the gossip the first time, but now I have told myself, 'What the heck?' I have stopped bothering about it completely," Desai adds.
Desai further informs that she is not doing any film by Kapoor for the time being. "I am not working with her for at least the next two years and might not work with her till the next five years. I can tell you that I have not been asked to be a part of any film that is going to the floors from her (film) production house. But that doesn't mean it has affected my relationship with Ektaa. Our relationship is life long, only that our work issues never fit anywhere there," she asserts.
When asked, Kapoor maintained, "I am happy with the way Prachi's career has shaped up in Bollywood... What makes me more proud is that she's doing everything on her own, and without any help."