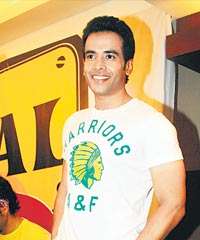 Tusshar Kapoor
The general perception is that actor Tusshar Kapoor's every move is carefully guided by his elder sister and TV czarina Ekta.
Everything from what films he should sign, who he should hang out with and how he should go about his life in general. Ask Kapoor about this and he says that this is not at all true insisting that he is quite independent.
"Ekta is my elder sister and she, of course, dotes on me but that doesn't mean that I haven't grown up or that I still turn to her for decisions regarding my life. I am capable of taking my own decisions," says Kapoor.
According to the actor, even if Ekta wants to fuss over him, she doesn't get the time to, because of her hectic schedules!
"Arrey! There are times when I don't get to see her for days together. She is so busy these days! Even if I get to catch up with her once in a while over dinner, she is too tired or I am too tired to hand over or take instructions. Ekta and me ' we have our own lives now and don't get the time to interact with each other anymore. So even if either of us wants to, it's not possible to interfere in each other's life," says Kapoor.
Soon to be seen in Sooraj Barjatya's next, Love you Mr Kalakar, Kapoor says that he is happy playing the kind of roles that he always wanted to.
"I loved the script and I decided to take this role on my own. It's a very sweet role where I am playing a lover boy in keeping with the Barjatya tradition of movies," he muses.
Before signing off we ask him about his apparent growing closeness with actor Radhika Apte,which supposedly didn't go down well with Ekta and he says, "I don't need anybody's approval on who to talk to," Kapoor concludes.