http://www.in.com/news/entertainment-news/fullstory-prachi-desai-to-unlock-her-sensual-side-17746075-b47853c783c53af437b0c57f8345a9f981d3690f-rhp.html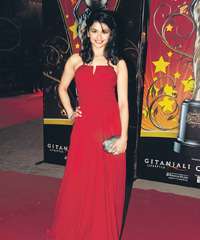 Actress Prachi Desai says that she has come a long way since her first movie outing in the Farhan Akhtar-Arjun Rampal starrer Rock On!!.
In fact, Prachi says that it's just a matter of some more time before she surprises her audience even more. "Rock On!! was a complete change for me. I liked the way it introduced me to the big screen. But yes, there are more surprises in the waiting. I have signed up for a couple of films and my look will be completely different in them. There is plenty of scope in these roles that will allow me to unlock my sensual side. Right now I'm experimenting with my looks and I'm sure everybody will like it when they see the end result," says Desai.
According to the actor, she would like to "play it smartly" when it comes to changing the general perception about her girl-next-door image. "I don't want to do go for a drastic image makeover. I want to do it smartly and over a period of time, I want to prove that I can carry off any role and any outfit," says Desai.
The actor admits that there was a time when she also used to suffer from weight issues but she says that she handled that period well.
"There was a brief phase when I had discovered that I had put on weight and it gave me sleepless nights. I was so worried about it. But then I decided that I needed to tackle it normally and not get too stressed about it. Apart from that phase, I was always lean and never had a problem with the way I look," she adds.
Tell the actor that her career took off on a reverse mode of sorts and she agrees.
"Most actors start with modelling, then graduate into films and then they do TV. For me the graph has been completely ulta. It was TV first, and then came films and then it was the ramp followed by modelling assignments. But I am grateful to God. I really think the journey has been very special for me," she concludes.