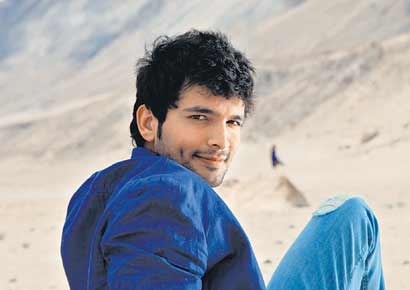 Diganth will soon start shooting for Jazz starring Prachi Desai and him in lead roles.
He's grown slowly but steadily into Gen Next's most promising actor in Sandalwood. Now, Diganth is gearing up to charm Bollywood as well.
The dimpled star has, in what can only be a perfect launchpad for a newcomer, big dreams of making a mark in Bollywood and is soon going to start shooting for Jazz, a romantic comedy, opposite Prachi Desai.
"I'm delighted to have landed such a great offer. Mani Shankar, who has made films like 16 December and Knock Out, will be directing this project. It's a romantic comedy and most of it is set in London," says Diganth. The actor, admitting that he was only waiting for the right opportunity to take his first step into Bollywood.
"The things that impressed me about Jazz were the script and the team. It was an offer that I simply couldn't have refused. I wanted something substantial for my break in Bollywood and consider myself lucky to have got a solo project like this," says Diganth, who will begin shooting for the film from August in a two-month single schedule stretch.
Does this mean that Diganth will be wrapping up work in Kannada films for a bit? "No way," says Diganth, adding, "Yes, I want to try my luck there. I am going to give this film my full focus, which is why I have tried to finish most of my current Kannada projects like Lifeu Ishtene and Kaanchana."
Diganth also reveals that he's got the support of some of the big players in Sandalwood, when it comes to his Bollywood innings. "I have two new projects on hand; one is with veteran producer Rockline Venkatesh and the other with Indrajit Lankesh.
When they learnt about my Bollywood project, both of them allowed me to shoot for the Hindi film first, even though it clashed with the dates they required for their films. They have been extremely supportive and accommodating," says Diganth, who appears to be thrilled to bits with this big break.
****************************************************************************************************
Awesome, I'm loving it when I see positive things happening for her.
Dude is cute too.