Published: Thursday, Dec 16, 2010, 10:55 IST
By
Sneha Mahadevan
| Place: Mumbai | Agency: DNA
Actor Preity Zinta may have been in the news for problems relating to her cricket team, but she stresses that movies are very much on her list of priorities even now.
Though we barely got to see her on the big screen in 2010, the actor is now ready to shine on the silver screen.
"Movies will always remain my priority. When I take up something new I make sure that I put in my 500 per cent into it. When I took up the responsibility of a cricket team I made sure that I concentrated only on that. I refused films left, right and centre but now I am ready to get back to films."
The actor who has always been vocal about doing performance-oriented roles rubbishes the concept of women-centric films. Though Preity also did a few of those — Heroes and Heaven On Earth, she says that she took them up only because they demanded lesser number of days from her.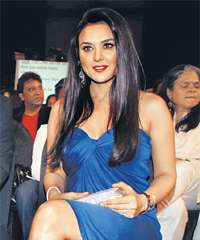 "I really believe there is nothing like a woman-centric film. I started my career with a 20-minute role in Dil Se and 12 years later, people still remember me for it. Off late, I have been busy with my team and I couldn't travel or shoot for a full-blown film. These two films required just 15 days from me and no travel."
Preity, who interacts with her fans regularly on Twitter says that her fans keep her going even today. "99 per cent of my fans on Twitter want me to get back to films. Some of their messages are so heart-warming. A few of them say that they want me to come back because they want 'real' good actors back on screen. All this feels so good. So I am all set to scorch the screen now," she smiles.
source: http://www.dnaindia.com/entertainment/report_my-fans-want-me-to-do-films-says-preity-zinta_1481837