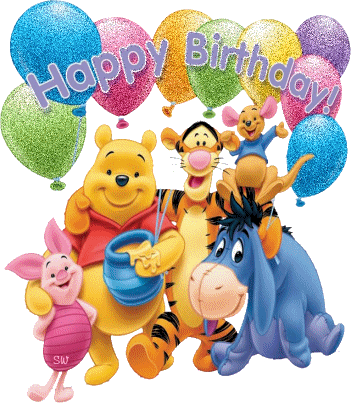 December 16, an adorable, beautiful, gorgeous, funny, and intelligent girl was born. <3 Ahhh!! Its Damn sweet
Thanku!!
I first new you as angeldmg16 and now, I know you are truly an angel who was God's gift to me as one of my closest best friends!
Aww Zaynoo thts so cute yaat thanku so much !! Muah I love all of our memories together, be it on the Heaven, or even on YM. I love tht too
We've had such loooong chats, so many jokes, so many smiley fights, gosh, I love them all! Same
Your presence makes me smile, and you have ALWAYS been there for me. Aww Zaynoo I am really Glad
When I was confused, you'd always helped me out. Same as u do for me
When I was weak, you always made me stronger. U did the same too!
When I had a frown on my face, you'd turn that frown into a loud laugh.
Really
Actually, that laugh usually ended me up on the ground, because I would laugh so hard!
OMG, remember that on "ROCK ON" smiley? I could NEVER do it right, and you'd do it with in seconds!
It's like /m|
wait no, /m\
or wait, maybe this \m/
ANWAYS,
Ofcourse i remember ROCK ON emo
U always 4gt how to make den i will show u and den u do the same but again it didnt come
We did this almost 4 or 5 times in our chats
I thk its \m/
and i really Missed Our ramdan Sehri Chats
My adorable bestie NORI! It's your BIRTHDAYYYY! <3
I hope you have an AMAZING. AMAZING. KaSh-filled birthday! I wish you ALL the happiness in the world, all the success, joy, laughter, love, health, wealth, and don't forget KaSh, in your life! Never Ever
Always keep smiling because I love you that way!
Love you LOADS, and LOADS, and LOADS!
Thanku so much Zaynoo
I love u too
Muah !!
Oh, and eat LOTS of cake. :D
It's my mom's birthday on your birthday too, so now doubt I'm having cake. :) I'll even eat an extra piece of cake... in your name.
Awwwww its Aunty Bday too thts so cool
Belated Happy Birthday Aunty !!
And i love ur Daughter
LOVE YOU! And HAPPY BIRTHDAYYYY!
Zaynoo <3
Thank you!! Zaynoo
I love u too
And sry for replying late u knw na i am lil bit lazy
_____________________________________________
I'm wishing you another year
Of laughter, joy and fun,
Surprises, love and happiness,
And when your birthday's done,
I hope you feel deep in your heart,
As your birthdays come and go,
How very much you mean to me,
More than you can know.



Your heart and values seem so right,
We share our views without a fight.
Our memories live with eyes so true,
Adventures grow in a life's canoe.

I wish you more than words can say,
That you will never, cease to play.
Happy birthday for today,
I'm here for you, on this special day.
From Ayesha/Aish
Aishhhhhhhhhhhhhhhh
Thanku so much yaar
Missed u alot Come back Soon
________________________________________
Dear Nori,
Million's of Greetings
Thousands of Colors
100s of Wishes
Kilogram's of Sweets
Lots of Smile
That's What I wish for you.
Happy Birthday Angel.......
MANY MANY HAPPY RETURNS OF THE DAY!! MAY UR ALL WISHES AND DREAMS COME TRUE...
May God bless you Nori...
with lots of love n care,
srishti...your kashti...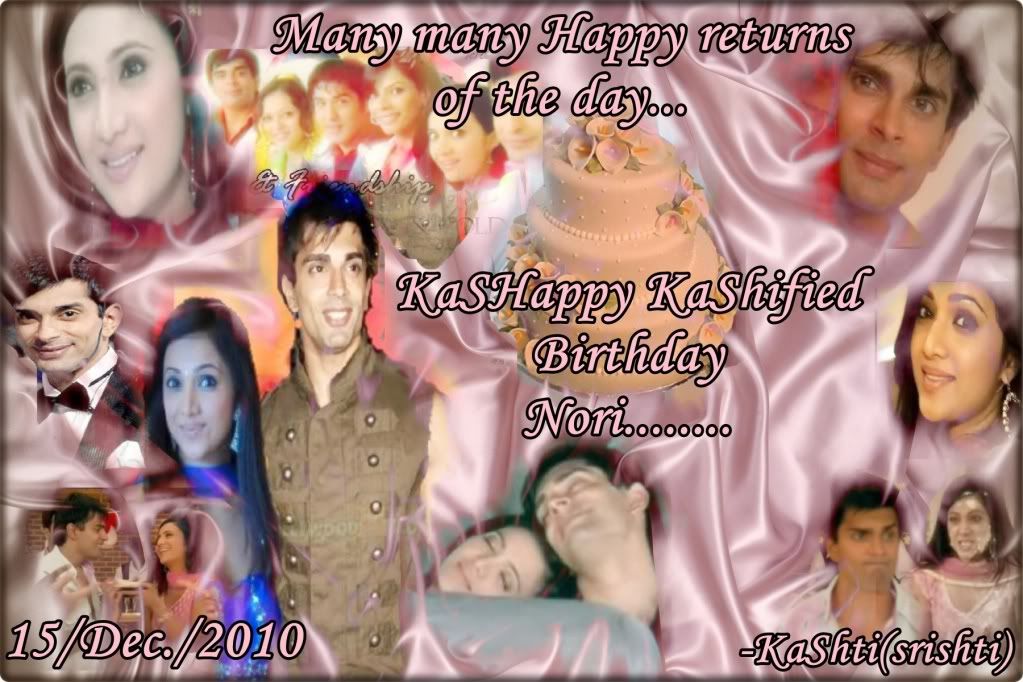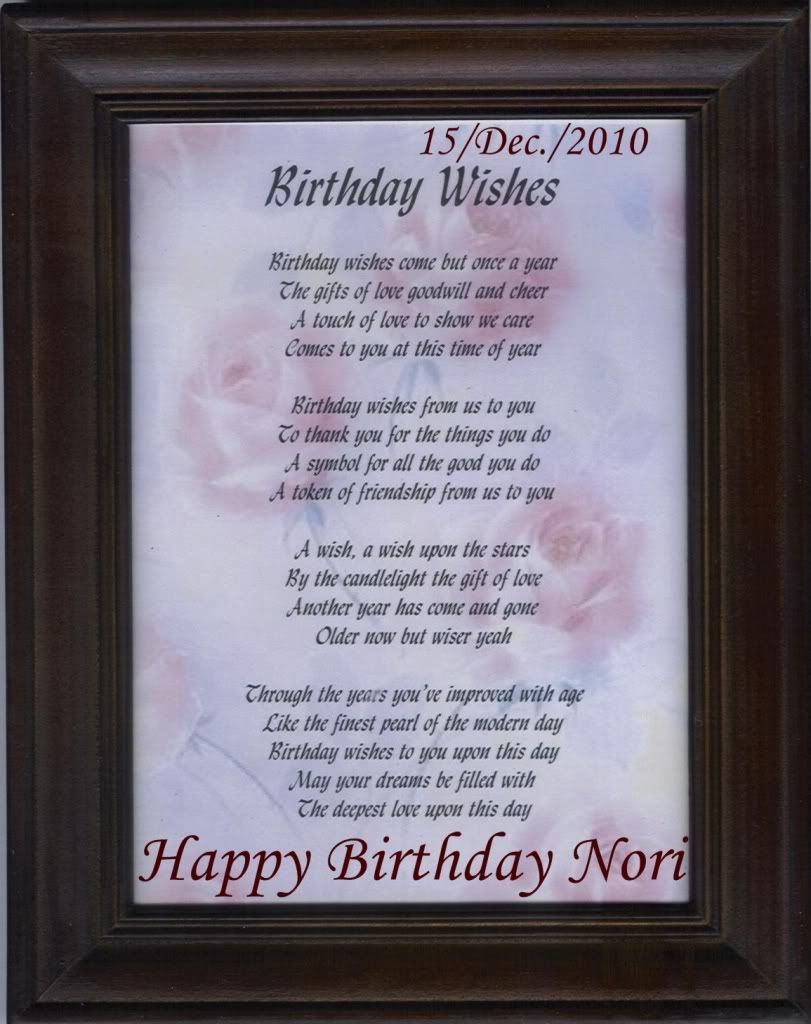 From Srishti
Mine KaShti
Thanku so much
Love the sig's
Thanks and its 16 dec
________________________________________________
Happy Birthday Noooorrrriiiii!

I don't know where to start from. Hmm.. i met you like a few months ago after my 'comeback' to the KaSh Heaven and I would have never thought we would become such good friends. You were one of the first few people i met when I came back together with swanz & riya and you guys really made me feel re-welcomed yeah. I've enjoyed all the times we've talked in the heaven or on Skype. ahh Skype.. i miss talking to you on Skype & listening to songs & interviews of KaSh! hopefully we'll do that soon again sometime.

Anyway, enough of my ramblings, have a great birthday. Have loads of cake, party hard! I really hope for all your wishes to come true! =)

Love, Anu[*Adorable_Anu*]
Anuuuuuuuu!!
Where r u now days I missed u
Thanku so much Muah !!
I really Enjoyed Our Heaven and Skype chats missed dem
and yaa Please come back soon to Heaven
Hope to talk with u soon!!
Thanks!!
__________________________________
Hi Nori <3
Happy Birthday Hun :) Hope you have an amazing birthday and may you get everything that you wish for. Though we kind of are not in touch anymore, I wish you nothing but happiness and success. I loved our chats in OHC and KaSh heaven once upon a time. Anyway party hard babe and have fun cos it's your special day!
From Sary
Sahar <3 Thanku so so much!!
I am really so Glad to see ur Post
I loved Our chats too
Hope u talk with u soon!!
Aww thanku for the KaSh avi !!
I really Love it
Thanks!!
Will def use it
_________________________________________
On your birthday I wish you much pleasure and joy..
I hope all of your wishes come true.
May each hour and minute be filled with delight,
And your birthday be perfect for you!



May you have an awesome blossom birthday Bond!!!!!!...may all your wishes come true...Keep Smiling
god bless you...

From Nikki
Kareenaaaaaaaaaaaaa!!
Thanku Very Much !!
Wohoo Cake Sig its so lovely Thanks!!
Will def use
- KaSh BOND 2310
_________________________________________________