-
-
-
It was a dream he dreamt a long time ago
But then he knew he had far to go
For it was early days into the world he stepped
It would take time for promises to be kept.
So bided his time and buckled down to work
And knew he was never one to shirk.
Five years ago was when the journey began
With Karan, who used to plot and plan
And then came Ali marching left, right, left
In and out breezed Akshat leaving fans bereft
Thereafter came the really big break
That would very soon a new star make.
Prem was the stuff that made up dreams
About whom his fans wrote up reams
But despite having made a stunning impact
With countless performances so power-packed
The recognition that should have been his rightful due
Was only acknowledged by far too few
And although there were many fans and much success
With the faithful, also came the fickle and faithless
But he soldiered on through the good, bad and the ugly
Knowing that he would one day scale the pinnacle of glory
And though there were many who thought he never could
There were also those who always knew he would!
And then happened Anurag, the biggest challenge so far
A difficult but loveable character to play by far
One so imperfect and human with many a frailty
Who finally even lost his grip on reality
Here is a character whom the script does not back
But the talent to pull it off he certainly did not lack.
And what a stupendous job he did
That got finally recognized as splendid indeed.
For here is an actor who can portray it all
From passion to anger, he can always enthrall
His mere presence on screen has an aura all its own
An arresting quality that has you totally blown
He can say with his eyes what a million words can't
And yet his voice gives you goose bumps that totally enchant
His attention to nuances can't help but astound
And his every performance holds you spell bound
So every award that comes his way
Is just one more jewel in a crown of many, we pray!
(Poem by Biraj)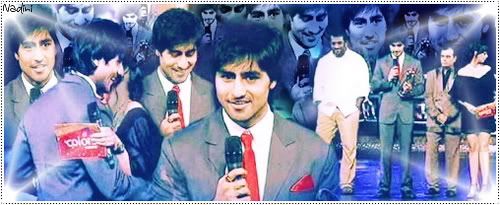 They say Indian Telly actors are over exposed; it is very difficult to play a character for two years and then with a gap of hardly four months, establish yourself as a totally new and different character that too in a lead role. Very few actors are able to do it, even fewer are able to do it with as much ease as Harshad!

Characters come and characters go, very few are able to impact you so much that they are instilled in your memory for ever. Characters are as the script wants them to be, characters are what the dialogues allow them to be and in Indian Telly world, characters are what the TRPs demand! Seems true doesn't it? But lo and behold there are characters that are made immortal by actors, their brilliance, their hard work, their ability to emote and hold the viewers' attention even when the script goes hay wire or does not support them.

Prem and Anurag are two characters that have been made memorable for those who have watched them by the sheer brilliance of an actor. He lived Prem's character for two years and now he seems to be living Anurag, turning and developing it into a character that will be remembered and cherished for years to come. Where Prem was supported by script and was almost a perfect human being, Anurag is unpredictable and jittery, makes mistakes, stumbles, is emotional and looks very human with nothing special about him, yet one finds him so special and so loveable. Some one who makes you think, some one you can never be sure about and still you feel with him, you want to laugh and cry with him and just be captivated by the magic he creates!



Those changing seasons of life
So unpredictable
No fixed months
You never know when it will rain happiness and joy
You never know when it's autumn time to be red and coy
Summer fun and winter chill
Onu's character still has beans to spill
But he did it all with just one look in his eye
Enough to make you laugh madly, or painfully cry
As you go through Onu's changing emotions
His talent will destroy all negative notions
Onu the one who always cared
Onu the one who so innocently stared
Onu the comic at atta dance
Onu the passionate when it comes to romance
He had so much to live up to, so many expectations
And yet I would like to say congratulations
HC, you got us falling in love again
With Onu's smile, and even his silent pain...
(Poem by Meg)


Direct Link: http://www.youtube.com/watch?v=Lrad_rgULc0