PART-4
The sky at the east horizon changed its color to red , giving its surroundings a pink shade.. which is bordered by the dark clouds.. The birds in the nest started flapping its wings welcoming the energy into the world. The dew dropes are still waiting at the tip of the leaf to fall onto the mud at any time.. The wet earth slowly started waking up.. Dev rubbed his eyes and slowly opened them to see the freshness of the chandenpur morning.. his ears sharpened as he heard the nature's song '.... an unknown smile appeared on his lips.. he went and opened the window, a gush of cold air rushed in. he felt a shiver passing through him.. he took a deep breath and tried to smell the fragrance of the air. He looked at the thick woods in his near sight. It was all dark when they reached here yesterday and he couldn't make out anything..
He went down to the main hall.. Found Sushma aunty doing the aarthi, he waited at the door side.. She came out and showed him the deep and he took the blessings..
" Good morning Prince".. with a happy smile on her face..
" Good morning" he replied spontaneously.. but then he looked at her out of curiosity listening to the way she addressed him.. as a Prince.. " aunty, I am Dev, not Prince".. he cleared his point.
Sushma gave a teasing smile : " I know your name is Dev, but you are the Prince whom Chandenpur waited for long"'..... she tried to clarify her side too..
" I didn't get it".. Dev again with tightening his forehead..
"You will, soon.. and you came just for that.. to satisfy the thirst of the villagers, to fill their eyes with the image of a prince that they dreamed everyday for years and years..".. she walked to the kitchen by saying that..
Dev stood in confusion, he didn't understand any word what his aunty just said.. 'Prince, and villagers waited for him.. sounds like fairy tale'.. But then he came back to his senses..
' Aunty , can I go for jogging".. Dev asked Sushma.
" Sure, why not?" she said .. " But wear something heavy, so that you won't feel cold.. our mornings are colder when compared to your city".. she added as she was measuring the daal.
"Thanks" dev with a happy smile..
He went upstairs and got ready within minutes and he grabbed his camera before setting out. But his mind again caught aunty's words.. what was she saying.. " prince?... they were waiting for years.. as far as I know we don't have any connection with any royal blood.. she is talking as if I am acting in an old time drama.. he remembered how she addressed him.. prince with sparkling eyes ; with a body of a warrior'... what rubbish.. I am Dev and only Dev Bhatt' ... really Chandenpur is a mystery'.. he smirked and fastened his steps....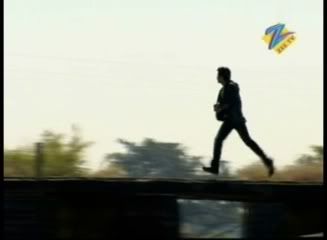 his ears caught the sound of birds.. he stopped few seconds and looked into the woods.. he could also hear gushing sound of flowing water.. he realized a river nearby.. he remembered the man's talk yesterday.. he moved into the direction from where the sound is coming.
He got amazed by seeing the beauty of nature. Every sound he heard has a rhythm of a melodious music. He loved it. He was getting attracted to the nature's play. He focused his camera to capture the image of a flying bird..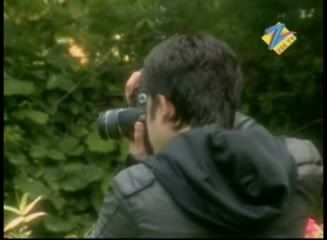 He walked further in.. he neared the river. Started walking along its side. He smiled at the splashes. He felt his each cell in his body is getting a new unknown energy from it. The sky got clear and time was passing by. Dev didn't realize it as he was enjoying every bit of his walk and capturing the image in his camera..
The area was clean with big trees carrying full thickness of greenery.. he paused under a big tree and was looking around. He kept his camera on to the ground and starched his hands up taking a deep breath.. He saw the nature in its full beauty.. he stood there in trance keeping his hands on his flank..
"aaaaaaa'. aouch'.." a girls sound from above head startled him.. before he could look up , somebody just fell onto him from the tree and unknowingly he tried to grab the person but fell onto the ground . he tried to grab the person safe as they started rolling down towards the river.. before he could hold onto anything he felt his body light as his body completely merged into the water.. he lost the grip on the other person.. he got scared for a moment as the water gushed to eyes and ears...'
He forced himself to raise above the water. Within few seconds he opened his mouth to fill his lungs.. he wiped off the water from his face. His heart was pacing faster. He thought of the other person.. he got alarmed.. he looked around in the flowing water.. he couldn't find any sign of the other person. His arms splashed on the surface of water as he turned around to look for the other person.. but then he heard the sound of payal .. he looked at the bank and found a girl in wet yellow dress, holding her duppatta side with her hand, covering her half face was looking at him in surprise....' Their eyes met and both froze for few seconds'.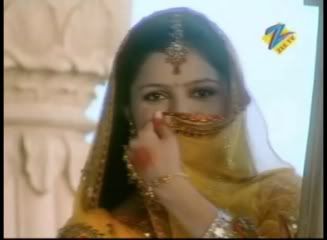 "Radhika deedi"'... a call came out from a distance. She jerked and turned to that side. She looked at him one more time and started running towards the sound. Her payal made the sound..and his eyes caught the sight if her ankles with silver color payal circling them... he raised his hands up to stop her.. but before he could say anything out, she disappeared from his sight. He came out from the water. Stood with holding his hands on his sides and blindly looked at the corner where her image disappeared..
He brushed his hair with his hands and walked over to the tree side. Took his camera.. 'Thank God.. I kept this over here, otherwise''.. he thought for a second.. then he looked up to the tree.. it was pretty big tree and he imagined her falling from its branch. How come she got up there? What she was doing there? Is the village girls are like this!!? I thought they are....... leave it, why should I think of all these.. Dev thought for a second..
But really, what she was doing up there? He got curious. He tried to climb by holding onto the truck. But slipped down easily.. he tried one more time , but no success. He gave a nice kick onto the trunk and got hurt..
"Ouch'., Oh my, this is not my day"'... he said it little loud..
'He he he he he he he'.. he heard the giggling sound of kids.. he looked around in surprise. But it was looking all empty with no signs of any kids.. he turned and about to walk away.. he heard the giggles again. He stopped for a second and turned quickly. He saw the shaking branches of nearby bush. He tried to go near.. but then
" Radhika Deedi .. run, he found us.. run".. a kid's voice reached his ears ..
Dev took few slow steps to the front ...
Suddenly a group of five or six kids started running out from the bush side'... and finally he saw the girl in yellow dress standing up with same posture.. she turned quickly as her eyes met his .. and covering her half face, she followed the kids.. he thought to follow them, but then stopped, but then the kids giggle challenged him, his legs started pacing.. he took the longer strokes and tried to reach near them.. but as he took the turn he saw only the kids.. the yellow color just disappeared. He stopped and looked around.. if she is real, she might be somewhere near , may be hiding.. his eyes searched for her.. again he heard the kids challenging giggle.. but his eyes were curious to find her..
" did she climbed any of these big trees again to hide from me".. his mind doubted. Just to confirm his trail of doubts, he looked up .. he saw the leaves shaking with the wind, as if they are also giggling at him with a challenging tone' "can you find her?"..
Part-5: please don't forget the like button if you are moving to next part. thanks
**************************************
Ok friends, now tell me, how was the first meeting? did you like it? can you imagine our avina? that is my biggest thing to know. so I will wait to hear from you..
Thanks and take care
Devika
Hei, try these links to connect with avina latest.....
AVINA discussion page:http://www.facebook.com/group.php?gid=145888922107749
Avinash-Official Fan page:http://www.facebook.com/pages/Avinash-Sachdev-Official-Fan-Page/110105482351570?v=wall&ref=ts


Edited by DEVIKA8 - 02 December 2010 at 12:00pm