Part-71
The morning tea making gave Radhika the first hand and instructions on how to use the new kitchen. Dev moved the hanging blinds to one side and opened the patio door. Radhika very enthusiastically joined him in that open area which opened to the front parking lot. She saw the parked cars with few open spaces.
Dev pointing at the front small building: that is our apartment office.
Radhika looked at there with sipping her tea
She saw the greenery surrounding the place. The smile grew seeing the small yellow flowers in groups and evenly spread all over the greenery. The cement pavement for walking gave nice boarder and that extended beyond the apartment office. She saw a small park with all the slides, monkey bars, swings, for children; on the left side of their patio. The flowering plants were planted nicely in a group and the green bushes plants were bordered at equal distance along the cement pavement.
Radhika: its really beautiful!
Dev: um. He saw her eyes looking around curiously. With a smile he asked: Radhika, where you want to visit first?
Radhika: ji ?
Dev: ha, let's go out after breakfast, I have only two days to roam around , then back to work untill next weekend. So tell me which place you want to see first.
Radhika without thinking twice: the place where you dreamed of
Dev raising his eye brows up: where?
Radhika with a smile looking at him: the university that you studied, which you talked to me about a lot, I was imagining those places, the red flowers, the lemon garden, the tall and thick trees, the walkways, the large campus, the dome; can we go there first?
Dev with a smile: um. But before that I am really feeling hungry.
Suddenly Radhika as if remembering something very important : let us make a call, I told mom that I will call, but then forgot.,
Dev: Radhika but you already talked to her yesterday for long.
Radhika: ha, but I told her that I will make a call once I reach home.
Dev: ok, baba, come .
Radhika went to kitchen to keep the cups away , while Dev made the call.
Dev: Hai dad, how are you?.. ha.. good, yes,.. Radhika likes here, will give to her, ha dad, ok.
Dev coming near Radhika: here, Dad, wants to talk to you. He gave the phone to Rahdika and then went to open his system. Time passed by.
Radhika came near and sat: I talked to lechu too, she said she send me a mail. She sat near him with so much happiness.
Dev: Radhika, will check all that later, you already talk to her na, I am really feeling hungry.
Radhika: ha, me too let me see what is there?.
Dev also accompanied her. She started opening the cupboards, finally she was able to find Atta
Radhika: there is atta !.
Dev: better check it for bugs, I brought that when mom came and used very rarely after that. She looked into it for tiny crawling lives, but looked safe in that part. She took a pinch and try to smell and then tasted little bit.
Radhika: it looks good.
Dev: ok then, why late, let's do it. What about the curry?
Radhika: you brought potatoes last night , rigt.
Dev: Ok then, let's start with poori masala.
Time ticked by, they enjoyed the fresh breakfast.
Dev: Radhika, today let's do a small grocery shopping too, will buy some cereal, totally forgot yesterday.
Radhika: ok.
Dev: ok, then let's get ready quick and will take you to my campus.
Radhika was about to clean the plates
Dev: Radhika, no need, let's use the dishwasher at the end of the day , ok. So just rinse and keep it in that, let me show you. He opened the dishwasher and put the plates and spoons in it. And then 'we will rinse it at night, ok"
Dev: now come let's get ready.
Radhika with a smile accompanied him but then with a doubt: which dress I should wear.
Dev: wear the jeans.
Radhika: ji
Dev in a normal tone: what Ji, it suited really well, will buy more of that kind, that will be easy here , ok.
Radhika: Ji
Radhika went and opened the suitcase and looked into it, she took the few tops that Suchi purchased for her along with her two jeans.
She looked at Dev for help who was shuffling through his own dress.
Radhika: which one I need to select.
Listening to her doubt Dev came near and he looked at those, four tops to choose from. He selected a maroon color and gave to her. "this one"
Then with a thinking: let me find a matching one, with a smile on his face.
Dev: Radhika, just hang the rest here, it will be easy
She did as he said, and then picked her top and jeans and was walking towards the washroom to change. Dev who was changing his homely tee, saw her walking away.
Dev: where are you going?
Radhika: to change
Dev: where?
Radhika washroom
Dev with a smile: so this space is not enough for you.
Radhika with a gulp: ji , vo
Dev walked near to her, shirtless: ji , vo, what?
Radhika: no, I will change in washroom and come back quick , saying that she tried to walk away quick, but he grabbed her hand
Dev with a passionate husky voice: feeling shy! By being near me. He held her shoulder from standing behind and forced her to move closer to him.
Radhika was unable to say anything. His lips came closer to her ears: nobody else is here around, no need to run away, this is our place, ok. So change here only, there is enough space for both of us.
Radhika with a forceful try: vo mei.
Dev: better change here, or I will help you to change. He turned her around to face him, his eyes moved up and down on her face to read her uneasiness.
Dev: Radhika, if you stand like this, we will get late and then don't blame me.
Radhika was thinking what to do next, and he is standing right in front of her. Suddenly bringing a normal face,
Radhika: ok, I will change in this closet room, saying in a normal tone.
Dev with a tease smile: you better.
Radhika walked very cool into that closet space with her dress in hand, trying to avoid a look with him.
She looked at the door to close it, suddenly Dev's hand blocked it.
Radhika looked at him puzzled
Dev: I need to change too. She noticed his tease smile at the corner lips.
Radhika: ok then, you change, I will change after that
Dev: no way, it may take long time, so you better change along with me.
Radhika looked at him with a pleading face.
Dev nodded his head in disagreement and got into that little space along with her. Acted like he is picking on his dress, while his eyes were cornering on hers.
Dev: Radhika, quick, you are wasting time.
She turned and said: its not me, you are wasting time, see you didn't even pick a dress.
Dev: oh really, ok then let's see who is going to dress up fast. Saying that he took a nice tee out and raised above head to slip it in. His eyes cornered on hers to see whether his challenging made any effect, and found her quickly changing into new top. His heart skipped few beats and he turned quick and grabbed her by sliding his arms around her bare skin around the stomach and brought her closer to his body. Radhika's body moved closer to him in shock.
Dev: so finally , fell in my words.
Radhika taking in deep breaths: chodiyena, we may get late, right.
Dev: who said we will get late.
Radhika: you only said earlier.
Dev: Radhika ,the campus is open and there is nobody waiting for us.
Radhika holding onto his upper torso and moving her upper body little back , looking at his face: you are very naughty.
Dev: ha, when it comes to you. Without playing some naughtiness, you won't listen, right. Then pulling in her upper back towards him, he kissed on her cheeks and down to her neck, he mumbled: actually we should stay back here, there is a lot to talk , you were very quiet recently. i am missing my bubbly Radhika.
Radhika: it was all your plan to go out , right.
Dev releasing her slightly: ha, yes, will go out as his hands were stroking on her back skin.
Radhika gave him a tight hug as she felt the tickling with his hand movement near her flanks, to escape from his stroke.
Dev hugging her back tight: feeling ticklish.
She with a smile: um.
Dev just took her in his arms and placed onto the bed. Suddenly she pulled onto the comforter.
Dev looked at her with a smile seeing her action.
Suddenly seeign his tease smile, Radhika turned her face down to the bed, soon she felt the weight near hers and his soft lips started trailing on her back skin down her spine. She giggled under his love. Time ticked by.
After couple of hours, Radhika was braiding her hair nicely standing in fornt of the mirror, dev came behind combing his hair and stood behind, he looked at her mirror image and tried to smile. Radhika looked down at her braiding as she felt shy to look back itno his eyes.
Suddenly Dev: Radhika, just leave it open , please.
Radhika pausing at her hand: why? I prefer it this way.
Dev: holding her shoulder: no, for today, you are going to listen to me. Ok. Saying that he brought her hair back and opened it and spread that on her back, then taking the comb from her , he combed it straight. Her wavy hair left open.
Dev: I like this curliness.
Radhika with a smile: sach
Dev: um.
Radhika smiled looking at his face which was admiring her hair.
Dev: ready, now let's go
Radhika: this dress is Ok , na?
Dev: um, what is the problem. he looked at her one more time head to toe, and the dress was perfectly shaped to her body. "it really suit you well' ok
Radhika: people won't say anything , right. Pulling on its edges
Dev with a smile: Radhika, here people don't have time to look at what they are wearing ., then.
Radhika looked at him puzzled
Dev with a smile: no dear, holding onto her body he said: actually they don't care what other's are wearing,they only care for themselves. so don't worry about others eyes on you. But defenitly my eyes will be checking on you, so worry about only that , ok.
Radhika: aap bhi na.
Dev: Seriously Radhika.
Radhika: um.
Dev: Radhika, don't you have a handbag to take with you.
Radhika: ha
Dev: then take that, here put this camera in that, ok.
Radhika: so this is for your camera.
Dev: ha, actually I was waiting for you to come and help me carrying this around.
As they were walking out from the apartment
Radhika: so you needed me for this,
Dev nearing her ears: what yo think?
She looked at his face and try to shoo him away, but then found a white man walking towards their way, so she acted nice and walked closer to dev
White man smiled at Dev : hi, how are you today?
Dev with a smile: fine, thank you and you?
White man as he walking away: good , thanks. Have a good day
Dev: you too.
Radhika tuned to look at him but by then he disappeared into the next section.
Radhika: who is he?
Dev: may be living in one of these apartment.
Radhika: so you don't know him!.
Dev: not much, has seen him few times passing by.
Radhika: oh, he is so good.
Dev with a smile: that is their courtesy Radhika
Radhika held his upper arm as they waited for the elevator. They went down to the parking lot .
Dev: so, Mrs. Dev, this is our Car, like it.?
Radhika looked at the cream color Toyota camry and just smiled at him.
Dev: step in with the right leg, ok.
She smiled and opened the front passenger door. She felt awkward as she sat on the right side of the front seat.
Dev: a purposeful change done by our great U.S. minds , not to follow Britain. Just like everything at home, from light switch to here in vehicle., to the road rules.
Rahdika smiled and sat comfortably inside.
Dev: like it.
She smield again.
Dev as igniting the engine: actually I was planning to buy a corolla, and then Balaji Sir talked to me about this, I was looking for a better one as I got the job, and this was owned by one of the Indian friend of Balaji Sir who were going back to India. So I got it in better prize. So basically it is second hand , but this itself is too much for just two of us, He continued his talk as he reversed the car to get it on track. And then in driving mode, he started going slow. He continued: ha radhika, so only i was preferring Corolla, but then Balaji sir and few of my co-workers suggested that this is better choice, as then I don't have to change it later. Then stopping at the stop sign , he looked both sideways and took a turn to the right , he continued: especially when the new addition comes na, then we may need a bigger one.
Radhika looked at him puzzled
Dev with a smile: Oh Radhika, not now, but later , may be after two or three years.
Radhika again looked at him in confusion.
Dev : what?
Rahdika kept the same gaze.
Dev: why, you prefer one soon.
Rahdika: what?
Dev with a tease smile: baby.
Radhika suddenly looked staright.
Dev: little Radhika or little dev. Then glancing at her once: may be after a year or two, ok.
Radhika smiled blushing slightly .
Dev: so then we don't have to look for a new car.
Radhika in her mind: he thought for that long!!.
as if hearing her mind talk , Dev: ha Radhika, we need to think and plan accordingly, especially here, we don't have anybody to depend on , so.
Radhika smiled and soon he took the exit towards the freeway. She saw the roads under the bright natural light. She saw the green ground , covered mostly with yellow flowers, she loved that green and yellow mixture so much.
Radhika: this place is very beautiful, what is that yellow flower, looks like our mums.
Dev with a loud smile: Radhika , that is actually a weed.
Radhika: what?
Dev looking forward with the merging traffic, carefully drove faster: ha Radhika, that is a weed, called dandelion.
Radhika: whatever, it looks so pretty.
Dev smiled and their talk continued and finally they reached the campus, Passing through a row of tall palm trees on both sides,
they entered the parking lot, he parked the car in one of the open space and both got out
Dev: ready
She smiled in response and then looking around she said: is this a campus!.
Dev: amazing , right?
Radhika: um
Dev coming near her: come, let's start from the main quad. Radhika walked along with him, remembering all the talk about the campus, and seeing him walking around with Ramesh and towards late alone. He held her hand and intertwined his fingers with hers and walked with a smiley face, showing her around, explaining to her about its importance. She saw the red geraniums waving its bulky red head with the wind and then walked towards the lemon garden area . She looked at everything with her widened eyes, and expressed her amazement for maintaining it in such a clean and tidy way inside a campus.
Hoover Tower--main landmark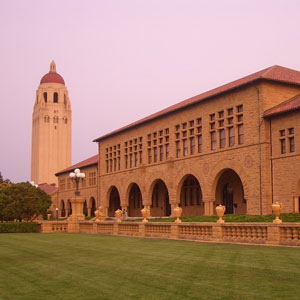 Courtyard with fountain
Lawn where there are concerts--
Dev: Remember me telling you, here we even have a Indian dance group.
Radhika smiled.
Dev: If you want to take any course, let's try here, you will love it, I am sure.
Radhika smiled , looking around and listening to his talk.
Radhika in trance: did you remember me, while you were walking along these beautiful places. As they walked inside the great architectural hallways. He saw her head facing up, looking at the finest work. He said: um.
Her heart was beating harder, imagining him , thinking of her, while he was walking within this beautiful campus.
Dev: I also dreamed of walking with you, holding your hand, and many times wished 'kash thum bhi yehe hothi , es campus mei, mere saath' .. showing you all these and now that dream came true.
She smiled looking at him, saying me too.
Dev again started showing her the sculptures and other important features of the campus, talking about how he used to imagine her smiley face looking at him, peeking from all these corners. She thought of her wait , imagining that magic to happen, to see him in front of her any minute, at any turn. He did the same, here. She tightened her fingers on his hand, thinking of that pain. It took more than hour to see around the campus in general.
Finally getting back into car
Dev: so what about lunch
Radhika: as you say.
Dev: let's go to Indian restaurant. Its run by a Panjabi couple , so good, they are really nice couple.
Radhika: what?
Dev with a smile : ha Radhika, let's go there.
Radhika smiled.
Dev: You know what the person who owns this restaurant is Mr & Mrs. Jaspal Bhatti (hope u can imagine his face).

.
He is awsome, more than anything we enjoy his jokes, very friendly and happy couple. She is the main chef.
Radhika sat listening to the couples story.
He parked the car and got out from it.
Dev continued: Sunnyvale, Santa Clara, San Jose are mostly populated with Indians and Bloomington where we live have very few Indian's around, so with the next renewal , we can also move to one of these areas Ok. But whatever, you will be able to see many Indian's here.
They entered inside listening to the soft Sithar playing at the background.
Mr. Jaspal was standing at the main desk, seeing them , he came out and approached them with his famous dialogues of welcoming his customers and guided them to a small table and giving a short explanation on available buffe menu along with serving them a glass of water.
Dev and Radhika went near the dishes ,and glanced at it once and then picked few of the starters with side dish. Dev was taking about the food, suddenly
"Dev, you came back!"
Dev turned and found Dr. Padmaja stanidng next to them
Dev: hello
Padmaja: so this is Radhika and then looking at Radhika; I heard about you more from Rema, you may be knowing her, and she told me about Dev's marriage, but never told me that you are back.
Dev: actually I didn't call Rema deeddi after reaching, we just came last night only, I thought to call her evening.
Padmaja: you better make that call, or you will be in trouble later.
Dev: sure , I will.
Padmaja: ok, it is nice to meet you Radhika, you continue , my frinds are waiting, it is ladies out.
Dev smiled
Radhika smiled and said: nice to meet you too.
Padmaja went to grab a new plate for the main course while Dev started telling Rahdika about Dr. Padmaja.
Radhika cornered her eyes on Padmaja's friends circle and met few eyes on her and then their laugh and small talks and sharing foods.
Dev said bye to Padamaja as they were walking out, and Radhika also smiled , saying bye to them.
Dev : Radhika let's go and enjoy few places.
Radhika nodded her head in agreement. Soon they reached the place. Radhika was looking at each and every corner with her smiley eyes. She saw the crowd there.
Dev: This is one of the favorite visitor's spot. That is why
Radhika saw the trolley and dev told her that is a local transport like buses. They got in one and sat inside closer to each other, with his hand holding onto hers , resting on her lap, dev explaining/describing everything around and Radhika watching it learning its importance.
He took her to the Lombard crooked street. Radhika amazed by seeing the number of turns that came so frequently and she started counting as per Dev's challenge. But lost it as the landscaping diverted her attention where the street is lined with beautifully pruned shrubs. Also the slow movement made her to really enjoy the scenery to its core. So many eyes along with Radhika was amazed by the man made wonder's with little things like this.
Time passed by.
Dev's cell rang and he attended , it was Balaji
Dev: ha Balaji Sir, we reached here yesterday. Ha, ji, ha, ok. Sure.
Turning his cell off.
Dev: Rema deedi got the news, I think it is Dr. Padmaja . So tomorrow lunch at Deedi's place.
Radhika listened as she adjusted her flying hair.
Dev: are you feeling tired.
Radhika: its ok
Dev: I would like to take you to one more place.
Radhika: where?
Dev: the beauty of it can be enjoyed after sunset only.
Radhika: where you want to take me.
Dev: ok then, little far away, but you will love it.
As they were travelling to that area
Dev: Radhika , Mom and all seen all these places when they came. And then I dreamed of taking you to see all these areas, sometimes I just look at these places and think of your Chandenpur. Imagining you running around thta meadow. Then looking at his Radhika with a flat affect: do you like here.
Radhika within fraction of seconds: ha, its so beautiful here, na. Even though you said that yellow flower is a weed, I love it, want to see it more closer .
Dev 's face beamed up listening to her: why not, tomorrow itself, we can walk around our apartment complex, ok.
Radhika with an ear to ear smile: really!.
Dev: um
The darkness spread around the atmosphere, still many cars and trucks were passing quickly through the freeway.
He guided her to one of the famous wonder's of the world by covering her eyes and then with a smile and a hope he moved his hands , instructing her not to open it until he says to which she agreed. Moving slightly to the front he turned and looked at her face to see the reaction, holding onto his camera quick..
Dev: Ok , now. She slowly opened her eyes
.
He clicked as her jaw dropped down, along with her widening eyes, she didn't say anything , but her eyes and her facial expressions spoke volumes seeing the golden lights. He came near and wrapped his arms around her shoulder , moved her closer as one of the other visitor focused his camera to copy them to the celluloid forever. Saying thanks to the travellor, Dev checked on the photo, then hanging it from his neck, he again went near and wrapped his arms around her shoulder, they stood there for long, holding onto each other , enjoying the line of those sparkly lights in front of them.
*********************
thank you frieds for commenting on articles. Hope you did with new one too, you can comment x4 or 3 on same day itself. please do it, if not. The updated part may not be likable one, but our AVINA is , so here is the link

Please Don't forget the like button , If you like my post
Part 72
1.Please click that CHASKA meter reading on left upper part of the first page.
3. Click on the below links and please comment. Goal to get >200 comments, ...
Rendezvous with Avinash Sachdev! (new article)

Devika.



Edited by Devika. - 22 February 2011 at 5:28pm