As we continue Anmol and Ragini's journey we see some closeness in them in terms of understanding each others space of comfort.. Especially Ragini's who has shown that she can converse with Anmol much better than she did during Tammy's birthday
Anmol and Ragini get to know details about Saakshi's report and interrogate her.
The report suggests that she had iron deficiancy and needs to eat well
Anmol goes to Alekh to tell him that he is looking really good and I just loved the emotions Anmol portrayed when Alkeh told him that this engagement with Saakshi is a game being played and Kushi told him to do so
One of my favourite scenes Anmol helping Ragini wear the necklace
I loved the facial expressions he makes when the necklace falls even though he wanted to help her and said she would take care of it and then he was like sorry madam some things you must leave it to the experts
Then came the teasing part where Anmol tells that he cannot find his handkerchief
Their expressions were just so sweet..
It was so much of fun capturing my best I felt ...
Then came the evening where Anmol finally wore a nice red shervani and ragini was looking gorgeous in the green saree and the pendent
Ragini suspects Tarun who is was dressed as a waiter and part of the event management .
The pleasent look they gave after the party !!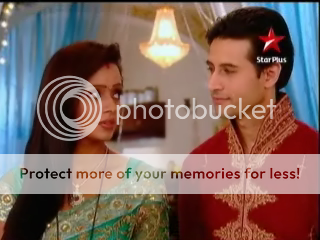 hope you are enjoying their journey ..as much as I am having posting them
Tobe continued !!!
PREVIOUS PICTURE POSTING
NEXT PICTURE POSTING


Edited by shanti05 - 21 April 2011 at 2:16am