It was time for the wedding..
Ragini's heart was not willing to letgo of ANmol.. , But hermind said somthing else.. It was more of a compromise for him, it was more of a promise to a friend.. Let go of him let him to to Shivani who loves him.. Bt then what abt me what abt my feelings.. This was something which kept killing Ragini a thousnad times with her battle of mind and heart...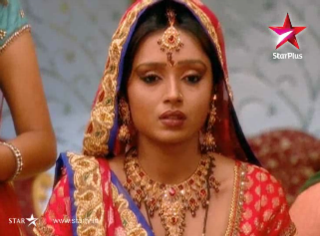 On teh other hand Tammy was eagerly waiting for Anmol to come and when Alkeh came but Anmol did 'nt turn up she was worried.. She questioned everyone and was in tears..
But how could this little child stay away from her papa. He came yes Anmol came and he walked in and she ran to him.. He lifted her up safe in his arms..
Everyone was glad that Anmol was back.. But then he was on a mission to get all the wrong notions which Ragini had about him his feelings and his thought about his past which she though still exists in his mind and heart.. He enacted a small drama about his property being lost and he was on the road without a penny to live on...THis was something which Shivani could'nt digest .. As the very reason she left ANmol was for money and nothing else and she never cared for his feelings and walked out when he needed her the most.. So again her true colors where out and Shivani who was disgused as the bride which Anmol knew waned to show teh world that she was Shivani and not Ragini who he was being trapped by and Ragini sacrificing her feelings her happiness...
Anmol really angry with Shivani
Daam he looks HOT in the Shervani and his gussa look !!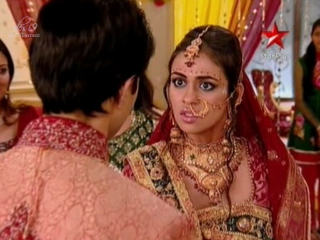 Its Over Yes Shivani's story was over and our very smart Anmol showed her the door and she walked out...But it was not over yet.. Anmol knew Ragini was still thinking that he was doing all this for the family and not for them... He had to clarify everything and tell what was running in his heart
"Ishq Kay Hai Ajab Imthe haan Jazbaad Magthey hai Zubaan !!!"
.He called out to Ragini who was hiding behind the pillar holding on to her feelings thinking that Shivani will take away her Anmol.. His call and she reponded... Her heart was winning over her mind and she came Yes and his eyes were relieved seeing her..
Ragini hiding behind pillar
Anmol is glad to see ragini coming out and he has his million dollor smile
Ragini is saad happy saab mixed expressions
Ragini told him that there is nothing you have to worry about we have everything for finacial support and we will be fine. Anmol told her that I have'nt lost anything.. and infact I have gained one precious person whom I want to tell somthing which was buried in my heart for a long time all these years...
Anmol confessed his feelings to Ragini.. Yes he did and said the three magical words to her which she was longing to hear .. She knew her heart was pacing up and down to hear something from him.. Maybe it was time for him to tell her how he felt. and he had to no mater what the consequences were...Ragini was speechless ...
The only reaction which she showed was she was holding the beautiful AR pendent which slipped from her hand due to the feelings her heart was'nt able to hold. Am I that lucky that Anmol is truly mine.. and he loves me...
Noticed it Yes Tammy who was a big cupid from the time she wanted Anmol to give a kiss to Ragini to become friends to making him take the place on the bed for story time to giving him the idea to get a gift for Ragini..
Came ahead and picked up the pendent and said..
AR ka matlab Anmol aur Ragini na...
Ragini now knew that she rules his heart and no one else said ..
Ha Anmol Aur Ragini aur hum hameesah Saat Rahengay !!
Anmol places the AR pendent for Ragini
And she smiles with happiness
So here we see how amongst all the anxiety finally Anmol confessed his feelings for Ragini and said those three beautiful words to her
"I love you Ragini "
and asked her with the permission of people present for the function whether she would marry hm..
A nod was all that he wanted and well she did give her Yes and we will now witness the beautiful wedding of Anmol and Ragini ...
To be continued !!


Edited by shanti05 - 15 April 2011 at 2:28am