Hello one and hello all.
The much awaited OS contest voting is here.
Just to give a background this OS contest to the new members, this contest was opened long time ago and DT didn't get to open it up to voting.Hence here we are. So for the new members sorry you couldn't be a part of it.. but we will have many more of these contests.
The track for this contest was:
Madhavi throws Khanak out of the Khandelwal home and Shaan gets very mad at Madz and goes to get Khanak back to 'their' home from Dhulwadi..
So now... grab those coffee mugs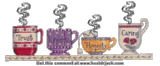 and get ready to read some awesome OS's and
yes.. please vote and comment
.

This is how we do it:
This is Round 1:
Vote 3 out of the 6.
Only 3. (if there are more than 3.. only the first three will be counted).Then we will have Round2 where one out of the three will be selected for the winner.
Contest will be open until 22 November for Round1.

Good luck all contestants.
Let the games begin..

Entry 1

Entry 1 - Sealed With A Kiss



Shaan felt stunned, he has frozen in shock, and everything started to fade out except his mother's poisonous words that reverberated around him. He was trapped amidst a pack of lies arranged by his mother, who has calumniated his wife several times before. He banged on the wall hard with his fist as a flow of tears streamed down his cheeks, mourning at the loss of the life that he wanted for him and Khanak, for them. He heard the sound of his heart breaking into pieces and his world shattering around him.
He had felt her presence everywhere; the smell of her perfume, her jovial laughter and he felt that his heart beat to the rhythm of her footsteps. He has walked down stairs with several questions in his eyes, but he did not want to voice them. He opened the main door, to step out but just then his mother held his wrist 'Shaan beta, where are you going at this time of the night?' He freed his hands from her as he felt his hand burning from her touch.
He turned away from her and slowly moved his feet, away from the pain that suffocated him with her gambits. He stopped with the urge to look at the mother he dearly loved and the house he dreamed to spend his whole life with his wife, Khanak. He had lived in a dream, not knowing what had happened around him, till to-date. It was late when he woke up from his dream, but he was not going to accept his defeat. He knew that he has to get her, it was now or never.
He started his journey to go to her, all alone in the middle of a night. The long and isolated roads to Dulwadi appeared dark and lonely like him. He has to suffer all the hardships that come on his way, rather than letting her gone away from his life, forever. He took his cell phone several times wanting to call her and ask her where she was, but the fact that he has not given her a phone made him to let out a painful moan 'Urgh.' He has been there only once in his life time and how much he disliked everything related to the town made him never to glance at it, ever again. With the fear of being unable to catch the sight of his destination, he halted the car in front of a small dhabba and waited outside.
A ray of hope lit in heart when he saw an old couple coming out of the dhabba, dressed in the same type of clothes he has seen from the people in Dulwadi wear. They greeted him with a pleasant smile and he reached out his hands to inquire about them 'hello uncle, can you please help me to locate Dulwadi from here. I have lost my way.' The old man looked at his wife and nodded 'you have left Dulwadi far behind you, son. You can come along with us if you want, we will be leaving in the afternoon.' Shaan thanked the old couple and agreed to travel with them, but wondered about the long time he has to waste, waiting for them to start the journey. He sat back in the car and took out the ring he brought with him to give Khanak as soon as he meets her.
He woke up with the sound of banging on the door of his car 'bhaiyya ji, we are ready to leave, hurry up and come' the old man called him. Shaan got out of the car and looked at it, thinking what he has to do with the car. Understanding the look at his eyes the old man told 'we will make sure that your car to be delivered with you, now come with me' and dragged him towards the loaded van.
Shaan sat quiet, looking at the long roads, counting the seconds and minutes, wondering when they could reach Dulwadi. The old man's wife offered him some food stuffs as they had food, introduced themselves to him as Mr and Mrs Balmohan. Shaan wondered about the unfamiliar name but smiled when he knew the meaning. 'Actually I was very handsome and attractive during my youth, all the girls were after me' Mr.Balmohan talked about his youth days. 'Still you are handsome and attractive' his wife added.
They asked Shaan the reason why he was going to Dulwadi, as he didn't belong there. He explained his story to them and Mr Balmohan agreed to help him. Shaan refused to accept their help but thanked them for what they are doing for him and said 'I have to do this by myself. This is for my life and love and I will do everything on my own.' Mr and Mrs Balmohan smiled at him as they wished all the best for him to get back his wife.
The bright sun almost set when they reached Dulwadi. He felt the sand blowing with wind getting into his hair and eyes as he stepped out of the van to bid a good bye to his companions. He saw his car behind the van and got the keys from the driver. He got into the car and started it, but the sand made it difficult for him to drive it. He tried several times, each time he increased his efforts better than the previous time. Finally with a smashing sound, the car started moving with a huge blow of sand all over the place.
Shaan drove the car all over the narrow lanes and the streets of Dulwadi, searching for what his eyes longed to see, until he could not drive any further. He stopped his car under a huge tree and put his head on the steering wheel of the car, in despair and agony.
He came out of the car and started walking slowly on the streets, listening to all the sounds, thinking that he may hear Khanak's voice among them. He thought he heard her call his name but it was a haze, his tongue was tied and he could not respond. He thought her hand was outstretched to touch him but he was unable to reach it. 'Ah!' he let out a sigh and brushed his hair with his fingers. Some people peeped out as he walked crazily all over the streets, again and again.
When the lights dimmed in the town, he approached towards the car, he parked under a tree. On his way, he came across a temple where an old priest told him 'my son, seems like a wind storm is on its way, better you get in here and find shelter.' Shaan went inside and sat with the priest who asked about his journey. He told the whole story and the priest gave his blessings on him 'beta, if you ask anything from the God, deep from your heart, he will definitely full fill it.' Shaan stood in front of the shrine and closed his eyes as he started worshipping.
Khanak wrapped herself in a green sari and headed towards the temple, where she spent the whole day, the previous day. She offered the stuffs she brought with her to the priest and stood in front of the shrine, to pray. She turned her head hearing the priest talking to a man 'I know you have nowhere to go from here, so please eat some of these food and then go' She saw the priest talking to a man who was looking at the opposite direction. Who could he be? She wanted to see his face, to know who he was.
She turned herself to the shrine upon seeing them approaching towards her. Her heart beat quickened with the thought of her being trapped in the temple with a stranger. She adjusted the veil that covered her head and face with trembling fingers.
Shaan stopped next to Khanak in the temple to pray and get blessing before he start on his mission. Just then a mild blow of wind made a flower to fall in front of them, with a sign from God. Shaan bent down to take the flower and unintentionally he glanced at the woman beside him. He then decided to tell her what she meant to him, right infront of God. He held the flower to her and called out her name 'Khanak!'
Khanak opened her eyes and saw her husband standing in front of her, covered with dust and dirt. His messed up hair style told how hard he has tried to reach her. The withheld tears in her eyes started to flow without giving a chance to her cheeks to get ready for those. 'Khanak? I don't want to see you cry. Today, in this holy place, in front of God, I promise you that no one can ever separate us' he pledged, kneeling in front of her. He placed the ring on her finger and he kissed her hand. He took her in his arms and wiped off all her tears and placed the flower into her hand and then closed it with his hand.
'Let's go home Khanak' Shaan asked her reaching his hand to her. She placed her hand on his and they walked slowly toward her home. Her parents were overjoyed when they knew Shaan came to pick his wife. They had their lunch together and bid her family good bye and headed towards Mumbai.
It was late mid night, they reached the Kandelwal house, Shaan led Khanak into his house and held her waist with his right arm, encouraging her. He lifted and carried her into the bedroom and placed her gently on his bed. He then held her hand with his hands and kissed her eyes, cheek and then on the lips, for which she too responded. They sealed each other's mouth promising that they will keep their promises of love, friendship and trust forever.

Entry 2

Entry 2 - Light My Fire
The phone call awakened Shaan with a fright; breaking the silence of the peaceful dream. He shook his head to clear his mind trying to focus through the haze. He wondered about how long his phone has been ringing while trying to glance at the clock. 'There are many hours before the dawn and all should be in bed' he murmured to himself. His heart filled with dread when he saw the well arranged pillows next to him. With a trembling hand he raised the phone to his panicked ear. He grasped the handle of the wardrobe door and stifled the silent screams 'damn it! Where could she be now?'
Shaan pulled on his shirt and rushed out of the room trying to button it on his way to down stairs. He skipped alternate steps in urgency, fleeing from the house and turned to have one last look at it. It was where he has lived throughout his life; where most of his memories are hidden. He threw himself into the front seat of the car started it with a bang.
He tried to recall their last meeting; he came home early because of a troubled headache. She made him to take the medicine and then to rest, the last thing he could remember was her massaging his head and neck. He bit his lower lip in despair as he leaned his head on the head rest of his seat. The pain in his dad's voice cleared his doubts of her not being in the city at the moment. He has never dreamed his mother being a double-faced, especially with them.
He stopped the car when he heard the exploding, crashing and thundering drums of heaven, enveloped in sound. Zaps of intense lightening started dancing across the sky spontaneously filling the sky with an orchestra of light and sound. The sky became alive with a prelude to a torrential rain as the downpour came fast and hard.
Shaan came out of the car remembering what he has heard before about rain; rain could wash away anything including the paint, sorrow, hurt and sufferings. The rain brings happiness to some people washing away all that are wrong, giving them a cleansing. On the other hand it also brings sadness with memories that cannot be forgotten. He opened his arms wide and closed his eyes so that no one could notice his tears in the rain.
'Son, please come with me, you are all wet and you may fall sick' he heard a soothing voice of a middle aged man standing in front him, holding an umbrella to him. He gave a puzzled look to the man and asked where they were at the moment. 'We have to walk for few hours to reach Dulwadi' the man explained to him. Shaan sighed with relief and a ray of light lit his face with hope.
They walked for three hours and finally reached to the man's house. Seeing Shaan's hesitation to get into the house the man spoke with affection 'son, you can stay here and when the rain stops you can leave and keep yourself dry and comfortable here'. Shaan was led into a small room where there was only a single bed covered with a stained sheet. He went into the room holding his breath and threw the towel onto the bed 'argh! This is terrible. I better stay like this rather than drying me with that stinking towel. I need to find Khanak and then go back home as soon as possible' he cupped his hands in astonishment.
He heard a knock at the door after few minutes and heard murmuring of few people. Without a second option he opened the door and saw the man's wife with a cup of hot tea waiting for him. The lady smiled at him and followed him to the living room where some men were enjoying tea. 'Please have a seat and enjoy your tea, it will help you to keep yourself warm' the man came to him and sat next to him. Shaan pretended him having tea with them and prayed silently for the rain to stop for a while. 'The rain won't stop soon. Seems like you are trapped here for a while' the man's words made him hopeless for a while.
Shaan expected to find sometime alone as the four men left together with their umbrellas. He went to the door step to have a look at outside and wondered where he could head to complete his mission. He headed towards the center of the village walking on the puddles making his shoes and jeans dirty. He felt the harsh and heavy rain drops hitting him hard in punishment, making him walk faster. As he walked through the narrow lanes and the silent streets of the village, he felt people glancing at him thinking he has gone crazy.
He stopped in the middle of the street feeling in despair as his eyes could not hold the tears of hopelessness. He took a complete turn and wiped off his eyes unable to believe of Khanak at his sight. His eyes would never lie to him with her sight. He would always be able to identify her among the millions. He has memorized her moves and features deep from his heart. He closed his eyes as a huge grin appeared on his face. He took one slow step towards her and then the other, overcoming the long distance between them.
Khanak turned to have one last look at outside before closing the door, but she was stunned at the door step seeing Shaan approaching to her. She skipped a heart beat but gathered back her consciousness and closed the door on Shaan's face. He knew she has every right to act like wise and he did not blame her for that. Knowing that she will be next to the door he spoke to her 'Khanak, I know you are angry and you have every right to be, but not at me. I swear that I have no idea of what mom was up to and when I came to know you came home, I followed you. Here I am asking for your forgiveness and please don't leave me.' He waited to hear her response for a while and started to walk away. 'Shantanu, I know it is difficult for us, but your mom is right that I don't deserve you. Please go away and let me live in peace' her trembling voice sounded more like plead to him. 'Will you be able to live without me?' He made her restless with his question. 'I don't know and I don't even want to know. Please go away' she ran into her room crying. Shaan knew he should talk her face to face. It was now or never for him. He decided to wait for her no matter how long it would take for him.
It was in the evening Khanak finally opened the door. She was surprised to see Shaan who was still waiting soaked in the rain. She ran to him unintentionally, dragged him inside and led him to her room, secretly. Shaan opened his mouth to talk but she hushed him by putting a finger on his lips and whispered 'I will talk to my mom first and then will come back. Till then be here' she left after handing him a towel and some clothes.
Shaan sat on the bed with a huge grin on his face and murmured proudly to himself 'well done! Shaan, no one can resist you.' Khanak rushed into the room with a plate of food knowing he would be hungry after a long journey. He smiled at her seeing the concern and affection she still has for him. He took the plate from her hand and made her to sit on the bed. 'Tell me Khanak, answer my question. Will you be able to live without me?' he demanded her to answer him.
She hesitated to answer knowing she could neither lie to him nor could tell him the truth. 'You need to change your clothes or else the delicate Shantanu will fall sick' she rose from the bed and tried to walk out of the room. He grasped her wrist and dragged her slowly towards him. She turned to him and slowly pulled his shirt off of his shoulder and tried to get an excuse to dry it for him. He shook his head taking back the shirt from her and threw it to the chair next to the bed.
'The only thing I want you to do is to give an answer to my question' he repeated what he wanted from her again. He was as stubborn as her, demanding for an answer while she did not want to reveal anything to him. He kept on demanding to know what she wanted for a long time and decided to leave as she did not clear the way.
Shaan took his wet shirt and pulled it on grasping the handle of the door to leave the room. He felt her soft hand on his and turned to glance at her troubled face. He raised his brows and gestured at her asking why she wanted to stop him. She lowered her gaze down and kept on looking at the ground. 'Khanak please say something, your silence will kill me' Shaan shook her while holding her shoulders. She lifted her face and looked at him with millions of questions in her eyes. He has been a fool never being able to understand what he saw in her eyes before and he would never let it happen now or ever again. He embraced her into his arms understanding her silence and accepting every single condition she could bring in front of him.
She slowly removed his shirt again and kept it on the chair offering him his favorite Gujarati food with her hands. She could not take her eyes off his bare chest and streams of water that ended at his waist line. Shaan blushed under gaze and tried to change her mind 'khanak, don't you think we need to leave now?' he asked her. Khanak wide opened her mouth and held her waist by both her hands 'Shantanu, have you gone mad? How can we travel at this time in this weather' she hit him with a pillow. Shaan hit her back as they began a real pillow fight like small kids laughing and enjoying it to the core.
The pillow fight stopped when Shaan wrapped her gently; tenderly at first with increasing passion. His lustrous caresses comforted her dissolving the cold melting her sorrows. Their breaths united in the cool air of the rainy night, inhaling the sweet dew that was spread over the land. They are lost in the moment's passion, bowing to each other's desire.

Entry 3

Entry 3 - Holding Onto Your Words
A lone tear escaped her eyes as she saw the smug look her mother and sister-in-law clad. She knew she had tried her best, the other option would be telling Shaan the truth but she knew the furore it would cause within the family, and that was the last thing she wanted. Looking at them for one final time she said 'You win, this is what you wanted...' Khusboo and Mummyji let out a callous laugh, 'You really think that you Khanak, YOU out of all people would have been a match for us. How can you even compare yourself next to my sister?' This time Khanak let out a laugh and shook her head and began speaking 'You know what, you may have managed to successfully kick me out of the house, but you both know that there is nothing you can do, NOTHING I tell you, to eradicate Shaantanu's love for me and my love for him. I govern his mind, his soul, my every heartbeat belongs to him and well quite frankly I pity you for treating your Son's life as a game. I knew Mother's were possessive over their children for their benefit, but never had I thought I would see the day when a mother would treat her child like a pawn.' 'HOW DARE YOU, HOW DARE YOU speak such filth' screeched Mummyji with anger coursing through her bloodstream and her cheeks displaying an inferno red hue. 'You can lower your voice, I am not a mile away and you don't need to encourage the drama, you have done a brilliant job as it is, do you want everyone to see your game? So take my advice and lower your voice, because quite frankly I do not want to see Shaantanu get hurt' Mummyji and Khusbhoo were rendered speechless to see how confident Khanak had blossomed out to become over the last 6 months. 'And as for your previous question yes I DARE. I dare to dream, I dare to believe and I dare to love, all because of Shaantanu, and what he taught me. Anyway, there is no point trying to tell fickle minded people this because if you really did care about your son's future and his welfare, you would never have started playing the cards to this dirty game which you claim you have won. You wanted to hear that you won, fine you win. I hope this makes you happy, and with all sincerity I pray that Natashaji is able to keep Shaantanu happy, because his happiness is all that matters to me.
'GET OUT' Mummyji spoke imperatively in a hoarse voice knitting her brows. 'DON'T EVER SHOW YOUR FACE TO ME ...EVER AGAIN!' 'Gladly' Khanak hissed back looking Mummyji and Khushboo in the eyes. She picked up her little faded blue metallic suitcase rattling with her few possessions, turning around one last time she gave one last look at the house which had changed her life over the last six months. A bout of nostalgia overrode her as her eyes fixated onto the stairwell, the way she had once been pulled down in her heavy lengha and nearly thrown out , what an arrival she thought to herself and sadly chuckled. With thoughts of Shaan bombarding her mind, she stepped out of the front door soaking herself and her sorrow in the rain, of having to leave Shaan. 'I guess the heavens too are crying.'
Back inside the Khandelwal household the cat had spilled out of the bag. Shaan had become privy to the secrets which had accumulated over the past few weeks. All the confusion was finally cleared, no more clouded thoughts, no more if's, no more how's, no more why's, the truth was finally out. He sat on his bed recalling what Natasha had just told him. He held the ring which Natasha had returned to him a while back. The doughnut of solid gold sat in his palm, with his eyes fixated upon it. He was glad that he and Natasha had ended their relationship on a good note, and opted not to get married. Natasha had seen the love Shaan held for Khanak in his eyes, and she didn't want to be part of a relationship where her feelings would be unreciprocated. However, alongside ending their relationship on a good note, Natasha had told him that she had overheard Mummyji and Khusbhoo's ruse to get Khanak kicked out and get himself and Natasha hitched. Shaan was disgusted not to mention hurt at hearing what Khanak had been put through by his Mother and Sister-in-law. He bit his lips and could feel his eyes welling at the thought of Khanak having left him. It was time to talk to his Mother once and for all. He placed the circular piece of gold metal onto the bedside table, as he went to place it, he saw that the black photo frame which encapsulated his picture had gone, and in its place was a thin trail of dust surrounding a dustless rectangle where the photo frame once stood. 'Khanak' her name escaped his lips and his eyes slightly watered. He strode right out of the room and made his way to the lounge where he knew his Mother and Khusbhoo would be gossiping about something or the other, or celebrating their victory.
As he walked into the lounge, he could hear their callous laughs and constant blabber, he also heard Khanak's name which was followed by a toast of champagne flutes. He shook his head in disgust and let out a cough to acknowledge the ladies of his presence. Khushboo immediately stood up, whereas Mummyji remained seated and smiled at her son. 'Shaan come here, sit with us'. So they still don't know that Natasha and I have broken up Shaan thought to himself. No wonder they are still so happy over Khanak's departure. 'Shaan why are you still standing there, she put her hands forward signalling him to come and take a seat beside her. Shaantanu stood rooted to his spot. His mother stood up when she saw no response from him and rapidly walked to his side, 'Shaan, darling is everything okay?', she asked and placed her palm on her sons shoulder. Shaan shook his head at his mother's touch and unceremoniously shook her palm off of his shoulder. Taking a few steps back he replied sarcastically 'Okay?... You are asking me whether or not I am okay,... I mean surely you should know seeing as you are the one who has been taking all the decisions in my life lately. You tell me Mother, how should I be feeling?' Mummyji and Khushboo were baffled at Shaans sudden outburst, Khushboo was first to overcome the shock 'Shaan, in what tone are you speaking to your mother, where have you left your manners?' 'MANNERS?' he spat back mercilessly 'Why the sudden need of manners?, I mean coming from your mouth it sounds so farce Bhabhi'. 'SHAANTANU' said his mother with wide eyes, 'How dare you speak to your sister-in-law in that tone, apologize right now!' 'Quite frankly yes an apology is required but no, not me apologizing to you, YOU NEED TO APOLOGIZE TO Natasha, and most importantly to Khanak. Despite the fact that you played with my life, my feelings I would never ask for you to ask for forgiveness, why you ask because Mom, Bhabhi that is respect and that is MANNERS! At the end of the day you are both still my family, but what hurts most is the fact my family played with our lives. 'Shaan, beta, I only did what I thought was for your best'. 'My best' Shaan replied tonelessly, the one person who I have faith was best for me has left me. Gone forever, and I wouldn't blame her if she refuses to come back, that's if she would ever give me one more chance. 'Shaan stop it, Tashu is best for you, and she will always be by your side.' 'By my side' he said nonchalantly 'Well here is some juicy news for your weekly town tattle, Tashu and I have decided to part ways and not get married.' 'WHATTTTTTTT!!!' both women shouted out simultaneously following a subsequent gasp. Before processing and registering the information, Khusbhoos tall silhouette could be seen running out of the lounge going to call her sister. Mummyji shook her head in despair, 'Why Shaan, why?, why did you do this?' After all that I did, we land back at square one'. A sudden shot of anger coursed through Shaantanu's body. 'YOU STILL DON'T GET IT DO YOU MOTHER!, THIS IS MY LIFE, NOT YOURS!!, I love Khanak, Khanak Mom, no one else, you can't can help it when you fall in love, it just happens, but it saddens me that you will not accept her. And she's gone due to your empty threats and nastiness'. 'But beta, she doesn't love you, Tashu does.' Shaan put his palm up to his mother, signalling her to stop her from talking any further. 'No mother, my LOVE was not unequivocal, nor was it selfish, I know she loves me, I have seen the depth and purity of her love in her eyes. It was her love for me and my welfare that made her leave. She didn't want to see our family breaking. Little did she know that just having her by my side is all the strength I yearn for, she is all I need and ever wanted, and well I do not think I told her this enough, had I told her, I think she would have spilled the truth to me herself. You know what your problem is Mother, you never understood her, nor did you understand me; because had you understood, you wouldn't have played this game. I knew you never liked her, but today I found out that my own mother doesn't like her son. Her own kin. I don't know whether to laugh or cry... My own mother...' 'Shaan' his mother said protesting, not knowing what else to say... ' Shaan displayed a weak smile, shook his head and left the room. As he left, his mobile phone beeped, furrowing his brows he read the text sent from his brother, 'Never give up on someone you can't go a day without thinking about'. For the first time in the whole day, Shaan felt a ray of hope, Khanak here I come he said to himself.
Getting down from the coach he brushed his hands through his hair, and placed his ray ban sunglasses on. He stopped at the local dhaaba in Dhulwadi to take rest and get some refreshments. The sight of the little dhaaba made him feel nostalgic. He remembered the time when he had once felt that the food from the streets was unpalatable; being the hygiene freak he was growing up and dining on his mothers best China plates. But today he chuckled at his previous naivety. He then remembered how Khanak had once brought him to a dhaaba, made him eat the array of fried foods, drink the cool lassi, he hated to admit it at the time, but it really was nice. It was so nice to sit in the open air, on a cross hatched stool, with the food right in front of you listening to the buzz of life as it passed by. And well having Khanak by his side made it all the more better. ' I wonder where she is, and how she is doing?'. Awaiting to give his order, he froze as he heard her tinkering laughter ricocheting off the walls of the dhaaba. On impulse his head rotated one hundred and eighty degrees and he was left stunned; before his eyes stood Khanak, clad in a lemon yellow salwaar suit innocently laughing with a young little boy who had managed to drop the tea cup, 'Master's going to tell you off Neev' she said whilst laughing with the little boy 'Quickly run, I will clean up this mess' the little boy gave her a kiss on the cheek and ran off before he would get in trouble. Shaan was rooted to his spot seeing Khanak. His heart drummed an arrhythmic beat seeing her. Without waiting for his brain to process what was going on, his feet took him to where she was standing and in an audible soft murmur her name escaped his lips 'Khanak'.
Khanak gulped, she heard her name being called from his voice 'Was he here? How can he be here? Why would he be here in Dhulwadi? I am sure he is happy with Natashaji' closing her eyes with those thoughts and answers vacillating in her mind she turned around. Slowly opening her eyes the sight before her overwhelmed her. She could see that he was fighting a losing battle trying not to betray his tears. His eyes at this moment in time spoke volumes; words be forgotten. On impulse she began to caress right cheek. Once realising what she was doing she abruptly withdrew her hand 'Ermm.. ermm I am sorry, I mean Shaantanu is that really you?' she whispered. Softly chuckling he replied 'No I am his doppelganger; of course it's me Khanak'. She opened her mouth wide about to shout at him, but burst out into a fit of laughter. 'Shaan, I mean you here? Is everything okay?' Shaan simply stared at his lady love, here she was without him, without anyone, but was worried about him. Instantaneously a surge of angst and anger overtook him because she had left him 'Everything is fine' he replied in a harsh tone. She could feel the once warm aura being canopied with a penumbra of coldness. She walked up to him and held onto his hands 'Shaan tell me, what's wrong?' He pulled his hand away from hers, and turned his head. She went in front of him and held his chin looking him in the eyes, but he was averting his gaze, 'Shaantanu tell me, what's wrong?, won't you tell your Khanak what's wrong' , 'My Khanak' he replied innocently 'So you admit that we are meant to be together'. Khanak realised where this conversation would end, she immediately took a step back. 'Umm umm that's not what I meant.' He took one step closer and grabbed her with one hand snaked around her waist and the other firmly on her arm. 'Shaantanu what are you doing? Everyone is watching us' she mumbled in a trembling voice. She was intoxicated by his presence and slowly the rest of the world was fading out. He took his one hand off of her arm and place on her lips as to quieten her. 'No Khanak, forget everyone else, it's about us, this is our life' 'Bbbbut... Mummyji, Khushboo Bhabhi?' she asked inquisitively 'No, Khanak this isn't about Mom or Bhabhi, I am talking about US, OUR life, it's not theirs to play games with'. Khanak felt her heart skip a beat, he had found out the truth. 'But..butttt... Natashaji?' she mumbled 'Natasha and I were never destined to be together, we decided to part ' 'Khanak can't you see we are meant to be together, me and you, why are you denying the love. You know I love you, but if you want I will say it a hundred times over until it is fixed in your brain!, and I know you love me too, I have seen it in your eyes, then why are you backing away now, nothing can get between us, I promise you. His words were music to her ears; she instantaneously enveloped him into a warm hug. Shaan genuinely smiled after what felt like a VERY long time. 'I Love You Khanak' he whispered into her ears. Khanak felt a sense of joy blanket her and she hugged him tighter. This was where she belonged; with him.

Entry 4

Entry 4 - Third Time Lucky?
Part 1
"She's going to regret it this time!" Shaan said to Akshay bitterly as they got settled and buckled themselves up in the plane. "Enough is enough yaar, seriously! This is the third time!! Third time! If people hear about this, they'll think I torture my wife all the time leading her to run away!"
"You're lucky, dude" Akshay said unconcernedly, flipping through the pages of Fashion Week, looking for a model worth drooling over. "It's just the third time for you! I've lost count of the number of times I'VE had to run after Khusboo to bring her back home," he said solemnly.
"Bhaiyya, it's NOT funny! Why does she keep doing this! Why does she'urggghhhh'.annoy me so much! It's like I don't exist! Doesn't she know how much I love her??! "
"Maybe not bro", said Akshay finally looking at him. "Did you ever SAY it to her?" he scrutinized Shaan through his glasses.
"WHAT?! Ofcourse I did! I mean'errr'indirectly'in that letter'I wrote it in hindi, there's no way she wouldn't have understood?!...ok that's mean'.but still! I did!"
"Wasn't that months ago Shaan? 3 months ago?! Are you trying to tell me that you have never, not once after that, told Khanak how much you love her?"
Shaan looked sheepish and turned away. " I'err'I'never got the chance" he said slowly. Then suddenly his expression turned furious again "She wouldn't stop fighting with me these 2 months! How in the world was I supposed to say?! Plus she knows I love her!"
"Hmmm' maybe she doesn't", said Akshay resuming flipping pages. "You assume too much, dude".
"No I don't!" said Shaan snatching the Fashion Week from Akshay and continuing to flip from where Akshay had left. Turning away, he pondered at what Akshay had said. Was it true that he 'assumed too much'? He 'assumed' Khanak knew how much he loved her. He 'assumed' Khanak would not leave him yet again. He 'assumed' their divorce, which was due in just a few days would never happen. He 'assumed' Khanak got his letter? Throughout the duration of the flight he wondered where he had gone wrong in expressing his love for her. It made him even more restless.
Scene shift
Khanak had already started her journey towards her hometown; her Dhulwadi. As she climbed the bus and settled herself, she felt a thrill of excitement. She was anything but worried and sad. In a few hours she was going to meet her Shaantanu at the place where their fate had begun to unfold itself. True, dear Mother-in-Law had kicked her out of the house showing her Shaantanu's fake signatures on the Divorce papers, proclaiming that it was a proof that Shaantanu wanted to end his relationship with her. But Khanak was not a fool. She had acted submissive and had indeed left the Khandelwal house, thinking it was a great chance of pulling Shaantanu towards Dhulwadi. She needn't have left a note; she knew her Shaantanu inside out, and vice versa. All she was concerned about was his anger. She'd have to work hard to pacify him this time.
Scene Shift
Shaantanu recalled the events of the past couple of hours. He had got off the plane and was heading home after an eventful 2 day tour to Delhi where he had sealed yet another business deal. Proud at his success, he had rushed to inform Khanak in their room but she was not there. She had left a note saying "Our six months are up. Nice knowing you". Shaan had been shocked and had questioned the only person present in the house about Khanak's whereabouts; his mom. His mom had informed him that Khanak had left, saying she did not want to live with him anymore because everything was too complicated. Mr.Agarwal's condition had been deteriorating and she did not want to be a cause of anything severe that may happen to him and Shaantanu was better off with Natasha. After that, everything was a blur. Shaan had rushed out of the house, Madhvi's yells begging him to stop echoing in his ears, Khanak's note still clutched in his hand , bumping into Akshay on the way, halting a taxi, both jumping into it and the next thing he knew he was promptly sitting on the seat of a plane which he had just got up from 2.5 hours ago!
As they waited in line for their check out from the airport, Shaan realized he still had Khanak's note in his hand, though it was a bit squashed. He read it again. And again. And then something in the note caught his attention. It was the way Khanak had dotted her 'i's in the words 'six' and 'knowing'. Khanak used to always make circles rather than dots for the 'i's. Shaan recalled scolding her about it at several Paathshaala lessons. But Khanak would not budge. Yet in this note the dots for the 'i' s were just that; dots! Not tiny circles. Shaan had always been a bit of a perfectionist when it came to forming the letters of the alphabet. It was an annoying habit that he had inherited from his mother. As he looked at the letter again and again he realized something didn't feel right. Did Khanak really write this note?
Part 2
"Whatchu got in your hand dude?" Akshay asked Shaan, who looked confused and had an expression which belonged to a person trying to put two and two together. Still in his thoughts Shaan passed the note to Akshay. Akshay read it and smiled, " Hmmm'interesting'seems like our dear Mom is also taking keen interest in Khanak's welfare ain't it? Look at the dots for the "i"s. Aren't they'.exactly 180 degrees in line and half a millimeter above the line for the 'i'?" Both Akshay and Shaan said the last bit of the sentence together and whereas Akshay laughed, Shaan looked troubled. "Mom totally drilled that into us didn't she?" Akshay carried on. "Come to think of it, Khanak's hand writing has become exactly like Mom's", Akshay looked the note closely. Shaan looked at Akshay as though he was seeing him for the first time. "Yea'Mom's'handwriting" he said more to himself than to Akshay. As his brain worked unusually at double speed, he understood loads of things which he had only 'assumed' previously. And as understanding dawned, Shaan finally hit himself hard on the head. "Urghh' Mom!" he said and left it at that.
Scene Shift
As Khanak neared her destination she begun to doubt whether Shaantanu would be successful in locating her at Dhulwadi. She wasn't going home, she was perfectly sure of that. Mummy jee had given the two of them the perfect chance to be bound again in Matrimony, this time a meaningful one but at the same place. At the same mandir where Shaantanu was spared his life, where Khanak had taken control of HER life, where they had united. Shaantanu would know; he'd reach there, she thought confidently.
Scene Shift
"Chill Man", Akshay said to a harassed looking Shaantanu as they left the airport and jumped into the car which was waiting at their disposal. "It'll just take us there in 90 minutes. I doubt even Khanak may have reached yet, you know. She's arriving by bus isn't she?" Akshay asked as casually as he would ask Shaan which colour shirt he'd wear to office the next day. Shaan gave him a dirty look and didn't answer while Akshay chuckled. In seriousness, accompanying Shaan had a strong motive behind it. It was the first time Shaan was going to Dhulwadi after his marriage and he wanted to make sure that the "gaoon" people don't beat him up again.
Shaan was quiet the entire journey. Akshay interrupted his terrain of thoughts when he asked him the way to Khanak's house. "She won't go there", Shaan said at once, still deep in thought. Once, when they had been in a bonding mood, Khanak had casually remarked that the next time she visits Dhulwadi, she would first like to go to the temple where they had got married. Shaan had asked her the reason but she had just blushed and changed the topic. "The Mandir" he murmured, jolting back to the present. "What?" Akshay asked bewildered. "She'll go to the mandir bhaiyaa!" he said again loudly, making the driver jump in his seat.
Scene Shift
Khanak waited for the next horse cart to arrive. As it stopped in front of her she climbed up it, placing her paiti in it before she could. She wondered how long it would take until Shaantanu would reach. Then it struck her that he must have already reached. He'd have come by plane; she smiled as she thought a bus was still too tacky for Shaantanu Khandelwal. The cart stopped in front of the mandir and Khanak got off with difficulty. As Khanak climbed the staircase carrying her paiti, she felt butterflies in her stomach. She knew who she'd see at the end of the staircase. And sure enough, there he stood.
Part 3
Shaantanu's face was impassive, Khanak's apprehensive as they both stood face to face, staring at each other. The evening wind blew across their faces and suddenly became stronger, blowing away Khanak's red odhani , which predictably landed on Shaantanu's face. Shaan let it stay there as Khanak moved closer, placed her palm on Shaantanu's hair and attempted to remove the odhani but Shaan clutched her palm tightly. "Let it be", he said, looking at her through the red coloured odhani. Slowly, he held the odhani with his free hand and removed it himself, placing it on khanak's shoulder. Khanak looked into his eyes, trying to discern what was going on in his mind. But Shaantanu continued to stare at her as though he was x-raying her. She finally looked away and said "Shaantanu I thought' I thought it's been ages since I came here' I wanted to'surprise you by leaving like this'I knew you'd come after me'aakhir bhagna toh meri khandani beemari hain na?" she added and gave a small smile which Shaantanu did not return. People all around the mandir had begun to stare at them too now. A few showed signs of recognition for the couple.
Shaantanu got hold of Khanak's shoulders and in a pleading voice, finally said "Khanak, tum kiss mitti say banee ho? Kyun jhoot par jhoot bole jarahee ho? Tum yahan kyun ayee ho?
"kyunkay mujhay bai aur ada kee yaad arahee theee", she said, changing her statement again and not meeting his eyes.
"Khanak buss hogaya haan tumhara jhoot! I know Mom kicked you out!Why the hell do you keep standing up for her?!" his hold on her shoulders tightened. Khanak's eyes filled with tears. "Now you're crying!Typical!"
"I'm crying because you're hurting me Shaantanu! Let go of me!" Khanak cried.
"You're such a drama Khanak! Itni bhee zore say nahi pakra hua mainay" Shaan said. "Who's the nazuk one now, haan?"
"Shaantanu, everyone's watching", Khanak looked around and saw a crowd of people pointing at them, whispering, some even openly laughing.
"Yea! They're trying to figure out how you've learnt such perfect English! You're such a'such a'"
"Such a what?!" Khanak yelled back, totally forgetting that just 30 seconds ago she was concerned about the crowd of people.
"ungrateful! That's what you are! And Stupid! Mom tells you to leave and you just left! Didn't think about me for even an instant, did you?
"I did!" Khanak calmed downed and spoke softly, "That's why I'm here, at the place where it all begun'aap jantay hain na kay app kahan kharay hain?"
Shaantanu let go of her as the force of her words hit him. Yes he was standing at the exact same place where it had indeed started. The journey of her life with Khanak 6 months ago. The Mandir. That is why Khanak had aspired to come here. Because she had wanted to capture that moment again. Because his presence in her life meant something to her. Because she loved him. And as it all came crashing to Shaanatanu he realized she needn't have said it now.
"Yea, I'I know'Humari yahan shaadi hui thee", Shaantanu said with a smile, looking around, ignoring the crowd. Khanak smiled back as Shaan held both her palms into his. ' Khanak'main tumsay'buhat'" but Khanak cut him out. "Mut kahiyay Shaantanu. Ub zaroori nahi hain! Main samajh gayee. Main toh buhat pehlay hee samajh gaee thee!"
Shaantanu just looked at her and nodded. He got hold of her red odhani, flared it in the wind, brought it behind Khanak and placed it over her head, so that she looked like a bride. " Khanak, I want to do this again. I want to' begin again at the place where it all began. Yaheen. Isee mandir main'.main tumsay shaadi karna chahta hoon. Tumharay saath sari zindagi guzarnay ka wachan laina chahta hoon."
Khanak nodded as tears filled up her eyes. Shaantanu pulled her close into a light hug. Khanak sobbed on Shatanu's chest. "Nautanki!" Shaan murmured. Khanak looked up and pouted as Shaantanu chuckled. "What?" said Shaantanu. "Nothing" said Khanak disgruntled, not wanting to start an argument again.
As Shaantanu looked around, he was shocked to notice that his own brother was part of the crowd that had been enjoying this debacle. Akshay walked towards them, pleased. "Lets get started on the wedding preparations now, shall we?" he said, rubbing his palms together excitedly. "By the way Shaan, I've been wondering ever since I arrived here" and as he talked, he looked around "So where EXACTLY WERE you beaten up 6 months ago?" Khanak chuckled as Akshay received a light punch in his stomach his brother.
And so Shaantanu and Khanak were bound again in matrimony; a meaningful one at that! Shaan was in is black dress pants and a white shirt this time, he was improving. 'Maybe when I get married the third time I can wear a Kurta', he thought. Khanak looked stunning in her red odhani; the odhani that had FINALLY changed its colour. After completing all the rituals, the 'newly weds' proceeded to Khanak's house, her mayka, her room, where they had truly met for the first time.

Entry 5

Entry 5 -
Khanak is sent to Dhulwadi by Madhvi and Khushboo helping her to do so....And when Shaan came to know about this he really became very angry and without even informing to his family he left for Dhulwadi which cleared everything for Natasha that no longer did Shaan was in her life and she decided not to intrude in Shaan's life and left for her world tour...!!On the other side Shaan reached Dhulwadi and recapitulated all his beautiful ,sweet and innocent moments with Khanak and smirked....!!!Dhulwadi was a small hamlet and Khanak was really popular in there and when Shaan landed in Dhulwadi the news spread like wild fire.....And "The Sarpanch" personally went to Shaan and escoretd him to Khanak's house...!!!Sarpanch asked for forgiveness for the inconvenience which was caused to due Shaan but Shaan said that he is grateful to the Sarpanch for giving him the best gift of his life [Khanak]but Sarpanch didnt understand it and just politely nodded his head....!!!
When Khanak came to know that Shaan has come she was as if was on cloud 9 because now she was sure that Shaan loved her and the love has brought him all the way to Dhulwadi.....!!!!But She was also "KFD" Khanak from Dhulwadi....itni jaldi manne wali nahi thi....!!!Now Shaan was in her territory and she was ready for the upcoming events...!!!All the friends of Khanak brought their Jiju to Khanak's house where he got a very warm welcome....Khanak's mom [Bai] was in catch 22 as to what will be she prepare for her "Videshi "son-in-law....But Khanak came to her help and she prepared kheer for Shaan as this was his favourite food and she personally went to serve him and after such a tiring journey also when Shaan saw Khanak he forgot his weariness....But when Khanak bent to give him the kheer she made a face at him indicating that she wont go back to Mumbai....!!!Then Khanak served Kheer to her family members also....!!!But KHanak was bent on irritating Shaan and so as expected she did put a lot of red chilli powder in his kheer and OMG...!!!Our Burthal Shaan had it without complaining but when his eyes started watering and he started huffing and puffing badly then Khanak d.id feel bad...!!!She was asked to Take Shaan to his room and give him some clothes to change in...!!!
When Khanak showed him his room and was about to leave Shaan called her "Aye,Baiko...""and Khanak was stunned to hear that word from Shaan and she turned and was astonishes[Ashcharyachakit]FPRIVATE "TYPE=PICT;ALT=Big smile".....Shaan comes close to Khanak
Shaan:Main yahaan par meri zindai lene aya hoon.....aur yeh Deewana apni dulhaniyan leke jayega
Khanak:koshish kar ke dekhlo....par yeh dulhaniyan itni jaldi nahi manne wali
Shaan:mera pyaar use majboor kar dega mere saath Mumbai chalne ke liye
Khanak:azma ke dekh lo...shayad safal ho jayo
Shaan[sardonically]....are!!Yaar ab tumhe manane ke liye mujhe fal"fruit"khanak parega.....???
Khanak[irritated]......Ap na Shantanu kabhi nahi sudhrenge....BURTHAL
Khanak was about to leave the room when Shaan said
Shaan:mera pyaar hi jeetega aur tumhari zidd har jayegi....!!!
Khanka:dekhenge...waise mujhe wapaass le jana hain toh mera dil jeetna hoga
Shaan:woh toh main jeet hi lunga
And then Shaan slowly comes near her and she gets all nervous put Shaan just goesout of the room
Khanak[to herself]:Main yahi asha karungi ki apka pyaar jeet jaye....!!!
The next Day when Shaan woke up he could hear a lot of noises...Noies of Ladies singing and then could smeel a sweet aroma....After getting fresh ,he came out and saw the house was being decorated by ladies and some men....The wok was on the fire and delicious dishes were being prepared...When a lady noticed Shaan she started sceraming "Jamaiji uth gaye" and then Khanak's mom brought in a plate filled with sweets ,chapattis and varoius types of curries....He didnt knew half of their names but his eyes were only searching for Khanak who was no where in the vicinity...!!!But even after a lot of coaxing he didnt have anything and went in search of Khanak but before that he decided to know about the strange happening in this house and he came to know that it was "Karvachauth".......In Dhulwadi they believed that if a girl is married or loves someone should keep fast and till the moon comes out she couldnt have anything and if a girl doesnt have anyone in her life then she can keep the vrat but she has to break her "vrat" after seeing the star....!!!Then a lady screamed "Are!!Jamaisa ap yaha bawarchikhane mein".....Shaan made a face as tried to repeat the word...Bawarchi....what....???Then Khanak's mom called everyone out and all the ladies left and kHanak was about to leave when Shaan caught her by her waist.....Then goes the background score....HEHEHE.....TURURURU.....and they kept looking into each other's eyes....
Khanka[after reaizaton]:Shantanu kya kar rahe ho...choro mujhe
Shaan:waise tum meri patni ho aur main joh chahu kar sakta hoon
Khanak tried to move a bit but in vain...Shaan came closer and was so close to her lips but then Khanak's bai came and Khanak gave a push to Shaan...Khanka's bai was shocked to see Shaan in the kitchen....
Bai:Jamaisa ap yaha par.........???
Shaan:ha ....woh main...main pani lene aya tha
Bai turns to Khanak and instructs her to give him a glass of water
When Shaan was taking the glass also he touched her fingers and a shiver ran through her.....!!!!
That day Shaan also kept a vrat.....!!!When in the evening he was asked to have something and he refused then people understood that he also kept a vrat and the girls started teasing him....
Wah!!!Khanak ke pyaar mein ap vrat bhi rakhne lage....???Kash hue bhi aisa hi pati mile joh hamare liye vrat rakhe....humse itna pyaar kare...ohhhhhhhhhhh!!!!!!!FPRIVATE "TYPE=PICT;ALT=LOL"
All religious and traditinal songs were sung and then a girl came running ....panting....!!!
Chand nikal aya hain...Chanad aa gaya hain
Everyone started their puja and other ritual but Khanak was still not there so Shaan went after Khanka's bai's request to bring Khanak to the place where all ladies were present...When Shaan entered Khanak's room he was amazed.....
Khanak was wearing a red Gujarati lehenga choli and was dazzling in it....She was tying the "dori"[knot]of the lehenkga but she was not being successful in that and so Shaan helped her....Her soft hair brushed against his face and his breath as if put a spell on Khanak....He turned her around and she had her eyes down and he lifted her faceand saw how beautiful she is....!!!!He put the mangalsutra and the sindoor which made her look more prettier....!!!
Then Shanak came out and did all the methods and followed all the "prathas"accordingly....When they heard a loud shout.....!!!A man was running toward them and was very worried....He fell to the ground and became stoic and then in low voice said "bere bete ko koi bachayo"...he has fallen in a pit....A wave of seriousness spread everywhere and People gathered around the pit but couldnt understand how to help the child....Shaan and Khanak came to the spot...Khanak went to ease Champa [mother of thekid]and Shaan saw the expressions on everyone's face...everyone was confused:Tum bahut badal gaye ho
Shaan:[sardonically]:Sab tumhari wajah se...tum aisi kyun ho.......??
Khanak:Matlab.....???
Shaan:tum bahut achi ho....!!!Aur main chahta hoon tum hamesha khush raho
Khanak *hugs*shantanu tightly
Then he instructs the villagers and started going down...when he was in the middle of the pit somehow the rope snapped and Shaan thumbed on the floor....Khanak screamedFPRIVATE "TYPE=PICT;ALT=Pinch"
Shantanu got some few scratches but he got hold of the child and rubbed his tears and told him not to worry....Khanak on the other hand panicked and asked someone to go their and see...People adviced Khanak to be patience and calm but she couldnt.....
She knew how it was to loose someone whom you love dearly....She has experienced the pain once but didnt have the strenght to bear it for the second time....!!!
It was high time that Shaan and the villagers had any communication and then it was too late also and they were almost loosing hope when they heard the fire brigade coming...Khanak was stoic from the time the rope snapped and she just wished for Shanatnu to come to her....They out in the crane inside andpulled out both the souls ...but after so much of panic and tension Shaan was not felling well and then he got fever and partly due to low oxygen content and other conditions....
When he woke up Khanak for the first time was beside him and she came closer when he opened his eyes....He was sleeping for the past 2 days and had high fever but now it was all under control as Khanak was up for the 2 mights and catered to Shaan ....He was still weak but Khanak helped him....After a week he was fit and fine and then one day he got a call from his dad Sunil Khandelwal....He asked Shaan to come back as he has a very important presentation and Shaan presence was necessary .....So Shaan decided to leave and he told this to Khanak
He said
Shaan:agar tum ana chahti ho toh aa sakti ho main zor nahi dunga..tum yaha rehna chahti ho to thik hain
Khanak was silent and when Shaan left...She turned back and saw him going....
Next morning he was all ready to leave and he had to take a bus....He thought of meeting Khanak for the last time but her Bai said that she has already left....He thought she didnt wanted to meet Shaan and so he didnt ask any further questions.....
His car was waiting outside to drop him to the bus stop....When he reached the bus stop he went to the enquiry to confirm his ticket and from the back he heard another voice...He turned and saw Khanak
Khanak[pushes aside Shaan]:[to the enquiry officer]:Bha zara batana Mumbai jane wali bus thik waqt par hain na.....???
Enquiry officer:Ha thik waqt par hain
Khanak:Ab kya kare mere pati toh apni peti utha kar chal diya ...Ab main bhi ek agyakari patni ki tarah unke peeche peeche jaa rahi hoon
Shaan was amazed to hear that........
Khanak turned to Shanatnu
Khanak:apne mujhse ek baar poocha bhi nahi ki main kya chahti hoon
Shaan:Mujhe laga tum mujhse naraaz ho
Khanak:us din main apko khone hi wali thi aur tab mujhe ehsaas hya ki apke bina reh nahi sakti
Ek baar apna pyaar kho chuki hoon dusre baar khone ki himmat nahi hain
Shaan:held her tightly close to his heart
Khanak[crying?FPRIVATE "TYPE=PICT;ALT=Cry"]:Main apko chor ke kabhi nahi jayungi
Shaan:Chalo akhir Deewana apni dulhania leke hi jaa raha hain
BOTH SMILE

Entry 6

Entry 6 - Destiny written together
After planning with Mr.Agarwal madhvi proposed the plan of fake heart attack in order to blackmail her son emotionally and that way get him married to Natasha.
Shaan was in his room thinking that whatever happened was indeed confusion for him like khanak telling him that their marriage was circumstantial and wanted him to go back to Natasha and then suddenly coming back and demanding his friendship again. But now finally what mattered to him was he and khanak were friends now and everything was back to normal where they also had some moments which was more than friendship.
Shanak suddenly entered the room with his clothes ironed and went to keep it in the cupboard and shaan the same moment wanted to ask khanak whether she wanted to shift back to their room but suddenly an eerie noise came from the hall. They ran and saw madhvi fainting. Then after checking, the doctor declared that she has had a severe attack and asked them to take care of her and give her whatever she wants'taking the advantage of the situation she emotionally blackmailed shaan to marry Natasha which was her last wish and she demanded that otherwise she can never let her soul in peace'
Khanak was deep hurt and shocked with the situation they were facing and shaan was not in a position to give any reply but seeing his mother and knowing if he denies it will be a threat he could n say anything but to stay in silence which was taken as an approval by all others...
After everyone dispersed madhvi came to khanak and made a smirk and told her that how she can go to any extent to win'she bad mouthed khanak as how she has lost shaantanu-her love life and friend and told her to get back to dhulwaadi'
She din want to fight back because she thought fighting with the evil soul like madhvi is not anymore a solution to the problem. Sometime back she wanted to declare her love for shaanthanu but seeing his position she thought its better to go back from his life leaving him with Natasha'thinking this was so painful for her which came out in the form of tears'she said this to herself if really her and shaantanu's love was real and it was destiny which brought them together in this pure relationship, then this time also it will make us unite. With this she started to dhulwaadi...
Shaan wanted to talk with Natasha before the marriage as he din want to anymore hide his feelings for khanak from Natasha..How their relationship had gone beyond friendship it should be known to Natasha and this was the last time he had to clear every misunderstanding make things straight in his life'
Meanwhile Natasha too wanted to meet shaan when suddenly khusboo came there and announced to tashu that khanak has left their house and from their life and without thinking she told the plan of agarwal, madhvi to unite shaan and tashu...hearing all this tashu din react to her sister but proceeded towards shaan..
Their confrontation started with Natasha asking shaan whether he is willing to accept her as his wife or just accepting her for madhvi aunty's last wish' He at last made his mind and revealed his love for khanak and how things have changed in their relationship. Hearing all this tashu busted out that then how on earth shaan can agree to this marriage..Did he think that having someone in his heart and marrying her would make the marriage work or at least that was the real power of his love for khanak in his heart which was so weak..?Hearing this made a plunge in his heart...she finally revealed all the plan of the evil trio and how khanak went back to dhulwaadi'
Hearing this shaan cannot think how his mother has stabbed him..the one who he loved more than himself..but then khanak leaving him was more painful that time because his entire path of life was lonely now..so he thought he can confront his mom later but now his mind was in dhulwaadi..to go back and win back khanak..his love and his life'Natasha also told that now she is out of his life and asked him to go get kahank back..shaan was overwhelmed and hugged tashu one last time and told she was his best friend and he is not her fit and told her she will get someone who will give her love which she deserves and started to dhulwaadi..
Now the car was proceeding towards dhulwaadi and so was shaan's mind...his thoughts were filled with his first meeting with khanak where she misunderstood him for a sweet seller and that was the first time he saw her face and smiled as though he saw something pure and innocent and from there their marriage and the closeness they shared..shaan was now confident in his love and thought of how to get her back..
Finally he was now in dhulwaadi the place where he got his life'First he met khanak and suraj's parents and gave money himself to suraj's parents which he thought was necessary. Then he narrated the entire story that happened after he took khanak to Mumbai and how now they love both each other and he has come to take her back. They were all happy now to see shaan back and the changed behavior in him'Shaan remembered how after his marriage he din get any elders wishes in the village but now he got wishes from adaa and bai..he thought of khanak's words that she is wife and his parents are her parents and now he also considered them as his parents'
After some time he wore dhoti and kurta and had some beard and with a new avatar went to khanak's room where she was sitting..he carried a sweet box and hided his face..he was shocked to see khanak still in chudidhar'he came inside and asked that they have ordered for sweets and where to keep it'he was sure of her reaction and same happened..she was surprised as if facing this question for second time and the voice was also familiar' she said that he has come to the wrong place and they haven't ordered for any sweets..the same time she saw his face in the thaali kept in the place and unknowingly started to smile as if she know him'Then shaan said that he has come to the right place cos this is where his Ms.Musibat lives now'
Hearing this she was in a sudden excitement and started shouting which made shaan to drop the sweet box..he started lauging when khanak pulled his beard and said aaaap???..she was very confused at the same time within was very happy that her trust on their love was right'shaan had atlast come to her but she din show that on her place..she asked what was he doing there when he was to be in marriage place..shaan told all that happened between him and Natasha and told all has been stteled between them and the marriage has been cancelled. He said now he has come to take her and asked her to chup chaap follow him..but khanak turned the other side with a big smile thought in her mind that now its not the time to accept what he says but instead make him woo her and take her back..she said that both of them need to express their feelings and this is the place..
With this she faced shaan and said that she cannot come with him because she is very hurt and shaan did not stop her properly so why should she come back.. He said that because he is her pati she has to obey him..but that was not satisfying khanak..so he asked what he should do'then finally he challenged her that he will make her come with him by some or other means and she really cannot stay away from him for long time and both of them said "lets see". Before leaving shaan asked why she was still in chudidaar was it because he said that she looked good in that one??khanak smiled but din say anything..but he said he wanted to see the bubbly kahank whom he met first in the gagra choli'with that he winked and bid a bye'
Next morning to khanak's surprise shaan was waiting with champak outside khanak's house..he went towards her and said he wanted to learn camel riding and with as usual arguments khanak started teaching him..finally now he was good at it but somehow wantedly managed to loose grip and fell from champak.. this time it was not on ground but on khanak'khanak really felt awkward the pose they were in but shaan din loose the chance and started to slowly touch the strand of the hair from her face and murmered that he wanted to meet her near the temple at night alone..she asked why but he said she has to come and gently placed a kiss on her cheeks.. Suddenly she got up said that this is not Mumbai and these things cannot happen here and she wont come at night and all..shaan also got angry and said ok don come..i will ask some other good looking girl to come and say all those that I wanted to say..she said ok..khanak was really angry'and said do whatever you want'with this both of them left..
It was night time and the moon was solace..shaantanu was standing in the sand enjoying the serenity of the situation..Last time he was not in the situation to enjoy it... It was that time he saw khanak coming that too in the way he wanted..she had her head covered with the lehenga...the red one in which she always looked angel and to his surprise the red bangles which they brought together'she came near him hurriedly and asked him why did he call her at this time' He asked her she was not willing to come then why she had come..Is it because she wanted to see whom he was with???she smiled and ran away toward the lake'he came there and took her hands..he started putting the other red bangles he had brought for her..he said remember khanak this one we brought together and some where with you and others which I got at that time for Natasha but couldn't give but now this is yours and I would like all the bangles to unite as a symbol of our love' he bent on his knees and proposed that he love her and want to spend his entire life with her and asked whether she loves him and wants the same'
Khanak said budthal and with blushing went away..shaan with his mischivoues smile said that this time she cannot escape him and have to tell the 3 words otherwise he will shout and wake the entire village'khanak din know what to do but thought this is the right time express her love also..she went back and stood in front of shaan and went near his ears and said shaantanu yes I Love You and take me with you'shaan was so happy and lifted khanak in his arms and gave a long kiss in her cheeks and demanded one from khanak..for his surprise he got one immediately'he said wow khanak how fast u are after declaring I luv you. She suddenly got down from his grip and said that yes because I m khanak'he smiled and ran behind her. He complemented how beautiful she was in this dress.. She too said he was looking good in kurta and now he has learnt himself to wear it..but shaan said know know next time I will come to u if I have to wear.. with his naughty look..khanak said you will never change shaantanu..Both of them felt very happy now having each others company...
He promised her that he will never leave her alone from now on and be a pillar of support in all ups and downs of life. she said that I will forget all my past and love you with my heart and soul and will always trust you in every step'both hugged with their usual closeness and the hug was as usual divine as it was earlier the 2 times they had hugged'both felt they were becoming too filmy and came back to their self laughing'
With a new happiness and feeling of spending the entire life with each other both started their new journey towards Mumbai for a fresh and meaningful journey of their marriage...