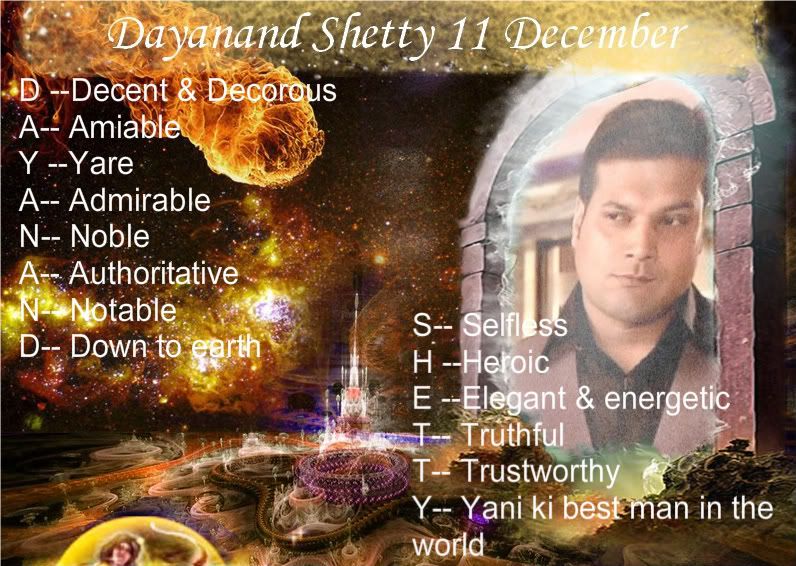 Dayanand Shetty was born in 1969,in a Tulu speaking Bunt family in Katapadi village of Udupi district of Karnataka State in India to Chandra prakash Shetty and Uma Shetty.He has two sisters.He did his B.com from Rizvi College, Bandra. He married Smitha Shetty and they have a eight year old daughter called viva.he has a stunning height of 6"2.he got the award 4 the best looking guy in indian television 2002.
He is basically a sports man turning an actor because of leg injury . He was a shot-put and discus thrower , which brought him many prizes in these sports in his former life. He was the champion of discus throw from State Maharastra in 1994.
He did his B.com from Rigvi College, Bandra. His wife's name is Smitha and he has a sweet little daughter named Viva.
He has acted in many commercials, and he even a theater artist and won many awards.
He has to shoot 4-5 days for one single episode in a week that is why he can't act in other serials.He has also acted in film Jonny Gaddar and Runway. He has also won the best looking guy vote conducted by Indian Television Awards in 2002.
CID Dayanand Shetty
In this edition is introduced one of the most importantand popular leads of CID, the show which has its records on the small screen. Ek show mein aath (8) saalon se ek hi role karke success pane waale Dayanand sirf small screen par hi contribute nai kar rahe. Jald hi ve "Johnny gaddaar" k saath silverscreen par b aane waale hain. (
Johnny gaddaar k saath. My mistake. I didn't get any other words)

SPORTSMAN:-
6 feet 2 inches in height
this charming young man looks more like a sportsperson than an actor. (
) . waise dekha jaaye to sabse pehle inhe prasiddhi (fame) aur acceptance sports mein hi mili thi.
Dayanand ka janm Dakshin Kannad (Southern Karnataka) Jile (town) k Katapadi (
I don't believe it) ke NUDIBETTU parrivaar mein hua. His father, Chandrashekhar Shetty has been the champion in rashtriya level weight lifting for 7 years. Unki patni Uma. This couple has 2 girls n a boy
(lucky one. I hav no siblings
)

Chandrashekher ji Mumbai mein railway udyogi the. Aage chal kar unhone hotel management mein pravesh kiya. (
srry guyz. Skuul mein pure hindi padhte padhte ab wo hi aata hai
)Tab Mumbai ek naatak ka kendr (centre) hote Ravindra kalaa kshetr k canteen chalaanewaale Chandrashekhar ek artist, leader aur popular b the.
Papa ke support k saath sports mein apne aap ko jodkar Dayanand ne Shortput aur discus throw ka field choose kar liya. Bandra k Rigvi college mein B. com. Pass karke hotel field mein apne papa ko sahara dete hue Dayanand apne sports ke activities continue karte rahe. Discus throw aur short put mein Dayanand ko kaafi prizes aur medals bhi mile hain. 1994 mein Maharashtra raajya ke discus throw mein ve Champion Reh chuke hain. Par pair (leg) mein dard ke wajah se unhe apne sports ko alvida kehna padaa (
sad).

In the field of Advertisements : -
Aakarshak roop (charming) ke iss yuvak
ko ad. Ke duniya ne pehchaan liya. Chavan Praash
aur kuch prasiddh kapdonke ad mein Dayanand dikhaayi pade hain. CID se fame milne par ab ad ki duniya se bohot contracts aa rahe hain. Most recently jo castrol ka ad aaya tha, it has blown so many minds
.

Acting ki duniya mein : -
Hindi aur Tulu dramas mein famous Chandru Prakash theatre k Prakash Shetty ne Dayanad ko stage plays mein introduce kiya. Unke dramas mein inhe chance dete aaye. Hindi aur Tulu languages mein popular dramas "SECRET" aur "EESHWAR ALLAH TERO NAAM" mein Dayanand ne important roles kiye hain. "SECRET" mein act karne k liye unhe "SRESHTA NATA" (best actor) award bhi mila hai. Ek prasiddh (famous) Tulu naatak "KAALA CHAKRA" mein inhone lead ki responsibility uthaayi thi.

CID ho kar : -
Famous Choreographer Ganesh Hegde ke asst. Sanjay Shetty Dayanand k dost hain.unke insist karne par hi CID TV show ke Producer B. P. Singh se milne Dayanand gayye. Aakarshak roop aur DHRIDAKAAY
(Daya's strong personality) ke ye yuvak unke show mein inspector ke role karne k YOGYA
(perfect n deserving) hain, ye Singh sahib ne unhe pehli baar dekte hi decide kar liya. Tab CID Sony par ghante aata tha. Already 14 episodes air ho chuke the. This Show had / has Hindi Marathi actor Shivaaji Satam as its lead. Dayanand joined from the 15th episode as Inspector Daya. 1988 se (
the magazine has made many mistakes . its actually 1998) continuous ghante ke 410 episodes ke baad show ko 1 ghante par extend hone par 45 episodes mein b Dayanand ne act kiya hai. Jald hi 500 episodes complete karne waala CID har hafte small screen par aane waala, India ka sabse long running show kehlaaya gayya hai. Aise hi ek scene ke liye ek ghanta aur 41/51 mins (total 111 mins ) k bina cut kiya shoot karke ye show Guinness book of records mein record hua hai. Iss show k popularity dekh kar show pe nirmaapak (producer or director?
) ne CID SPECIAL BUREAU naam ka doosra show shuru kiya. Usme bhi Dayanand ne kuch episodes mein guest appearance diye hain (I thot it ws only fr 1 episode). Waise hi JASSI JAISI KOI NAI, Kkusum jaise showz mein bhi Inspector Daya dikhaayi pade hain.

ONE SHOW ONE ROLE : -
Ek show mein ek hi role karke Dayanand ko jo fame mili, bohot surprising hai. when he goes outdoors for shooting, the fans come to him to meet him but actually attack him n jump for kissies
(poor boy. wife ko gussa nai aata to bach gayya
) Shaadi aur Dusre aise functions mein dostone aakar Dayanand ke bare mein unke abhipraay
(thoughts) express kiye hain. Holidayz (ya shoot? Vihaara matlab kya hai? Kannada mein? ) ke liye Singapore, Thailand jaane par wahaan ke Indians ne Daya ko pehchaan kar apni khushi express ki hai.

Par sabse zyaada apne role play ke liye compliments aur response police force se aayi hai, kehne waale Dayanand k saath aisa b hua hai ke kabhi - kabhi apni gaadi had ( limit ) se zyaada tez challate waqt pakde jaane par police waalo ne unhe fine kiye bina respect se chod diya hai. (
kitna maasoom lagta hai na?
)

Show mein apne role ko Daya naam rakhne ka kaaran unka real naam hai, naaki mashoor police officer Daya nayak jaise log samajhte hain kehete hain Dayanand (bhai hum to aise nai sochte. Kyun ji! ) Daya nayak unke close friend hain aur ve aur Prakaash bhandari ke bare mein unhe abhimaan hai aur unhe bhi apne (Daya) ke kaam ke bare mein khushi hai (srry ppl I didn't get the exact word in English or hindi. If anyone knows the meaning of MECHCHUGE then pls tell me n I'll edit.) aur "maine acting mein kisi ko copy nai kiya. Maine apne hi andaaz mein act ki hai. Pehele mere flaws uthaane waale bohot the par ab doosre log iss andaaz ko copy karte hain." Aise kehete hain Daya.

Har shukravaar (Friday) raat 10 o'clock sony par aane waale ek ghante ke CID ke episode ke liye haft eke 4 - 5 din shoot karma parta hai. Yehi ek wajah hai ke main koi aur showz nai kar sakta hun, ve kehete hain.

SILVER SCREEN : -
Small screen par successful hone ke baad Dayanand is on his way to the Silver screen. Sri ram Raghavan ke "Johnny gaddaar" movie ka production kuch saal pehele shuru hone ke baavjood bhi Producer Baamu sugandh ke money problems se postpone hota gayya.

Ab Manmohan Shetty ke production ki zimmedari uthaane ke baad the production is almost about to end.

"Johnny gaddaar" 5 aise criminals ki kahaani hai jo jald hi rich hone jaa rahe the. Dharmendra ji iss group ke senior hain. Neil kumar ( ? ), Dayanand, Zakhir aur Vinay phatak inke saathi hain. Film ke end tak ye sab mit jaate hain jiska matlab ke cheating se kisi ko bhi kuch nai milta. "Johnny gaddaar" January ( 2007 / 8) mein release hone waala hai. Small screen se Silverscreen par kadam rakhne wale dayanand Shetty ki zindgi kaisi twist legi ye sirf (w8 n watch
)

Dayanand ka parrivaar bohot hi chota hai. Unke papa ki death ho chuki hai. (my lifes most biggest fear. Loosing my parents. I even sometimes cry about this n that too openly). Patni SMITA aur beti VIVA ke saath Daya Upnagar (matlab?) Kandiwali ke 4 cope (
I meant Chaarkop. Dunno the xact spelling as m nt frm Mumbai) mein thehere hain.
----------------------------------------------------------------------------------------------------------------------------------------------
Now a few extra point. As in MAKING OF DAYANAND SHETTY CID in HINGLISH (hindi n English) offsets
Reference : -

Kannada Ratnakosha ' kannada abhivradhdhi praadhikaara Bengaluru (Bangalore).
People.
N ROOPATARA. A monthly magazine in Karnataka.


Edited by Puri_2711 - 01 October 2010 at 1:40am